Heat Shock Response: A model for handling cell stress
Cells are subjected to frequent assaults either from their environment or as a consequence of development or disease. Such stresses – which can be caused by a range of conditions, including changes in temperature and mechanical stresses – are damaging to proteins, so cells mount the so-called heat shock response. This response is an evolutionarily conserved transcriptional program that is orchestrated in eukaryotic cells by a protein called Hsf1 (short for heat shock factor 1; Morimoto, 1998). Three copies of this protein combine to form trimers that bind to the promoters of Hsf1-dependent genes, which leads to higher levels of heat shock proteins inside the cell. These proteins include the chaperones that refold misfolded proteins or target them for degradation. Once the effects of the stress have been dealt with, cells reduce the production of heat shock proteins to normal levels.
The heat shock response has been studied for more than 30 years, mainly in yeast and animal cells, and different models have been proposed to explain it (Anckar and Sistonen, 2011). The intrinsic response model, which assumes that Hsf1 directly senses increasing temperature (and potentially other stresses), relies on Hsf1 transitioning from a monomer to a trimer (Zhong et al., 1998; Hentze et al., 2016). This model can only apply to animal cells because Hsf1 forms trimers in yeast under all conditions, even in the absence of heat shock (Sorger et al., 1987).
The chaperone titration model assumes that Hsf1 is kept inactive in unstressed cells by its interactions with chaperones; the presence of misfolded proteins then activates Hsf1 by attracting (or "titrating") the chaperones away from Hsf1. Although there is evidence to support such a model, it was unclear which – if any – of the chaperones is the main regulator of the Hsf1 activity cycle. (Shi et al., 1998; Rabindran et al., 1994; Guo et al., 2001). In addition, Hsf1 is subject to a large number of post-translational modifications, such as phosphorylation, but the influence of these modifications on the heat shock response is a topic of controversy (Budzyński et al., 2015; Xia and Voellmy, 1997).
Now, in eLife, David Pincus and coworkers from the Whitehead Institute for Biomedical Research, Boston University and Harvard University – including Xu Zheng and Joanna Krakowiak as joint first authors – report how they have used a combination of mathematical modeling and cell biology experiments in yeast to address these issues (Zheng et al., 2016).
Initial experimental results demonstrated that a chaperone called Hsp70 – which is thought to damp down the heat shock response – binds to Hsf1 under non-stress conditions and is released upon a sudden increase in temperature. From these findings, Zheng et al. simulated how the expression of Hsf1-dependent genes changes in response to interactions between Hsp70, Hsf1 and misfolded proteins. Further support for the chaperone titration model came from experiments in which yeast cells expressed two types of Hsf1: wild-type Hsf1 and "decoy" Hsf1 (which can bind to Hsp70 but cannot activate the transcription of the Hsf1-dependent genes). These data are the strongest evidence to date that Hsp70 feedback regulates the heat shock response by directly associating with Hsf1, as happens in the chaperone titration model (Figure 1).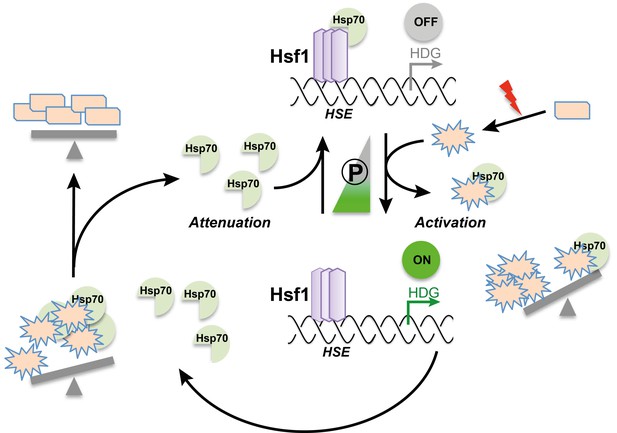 The overexpression of Hsf1 under otherwise unstressed conditions impairs the growth of yeast cells by over-activating the transcription of Hsf1-dependent genes. Elevating the levels of Hsp70 or one of its co-chaperones in such cells rescues growth and represses the transcription of Hsf1-dependent genes. In contrast, Hsp90 – a chaperone that was believed to repress Hsf1 under non-stress conditions (Duina et al., 1998; Zou et al., 1998) – had no effect on growth or the transcription of Hsf1-dependent genes in these cells. This argues against Hsp90 playing a major role in down-regulating Hsf1 activity. Thus, the effects of the down-regulation of Hsp90 or its co-chaperones on the heat shock response might be indirect in yeast.
Zheng et al. also investigated how the hyperphosphorylation of Hsf1 helps to regulate the heat shock response. They performed en masse mutations of Hsf1 by either removing all 152 potential phosphorylation sites, or mimicking phosphorylation at up to 116 sites. Unexpectedly, completely abolishing phosphorylation only mildly reduces Hsf1 activity upon heat shock, indicating that phosphorylation per se is not required to activate Hsf1. On the other hand, mimicking hyperphosphorylation activates Hsf1 even under non-stress conditions. Moreover, the activity of Hsf1 increases further upon heat shock, which means that hyperphosphorylation only partially overwrites the repression of Hsf1 by Hsp70. Phosphorylation is thus a dose-dependent mechanism for fine-tuning the activity of Hsf1 that mainly occurs after the initial phase of the heat shock response, enhancing and prolonging it. This also means that if the stress response is activated for developmental or other reasons, the cell is still able to react to acute assaults.
It will be important in the future to assess whether these findings also apply to animal Hsf1, which interacts with chaperones such as Hsp70 and Hsp90 while in its inactive monomeric form under non-stress conditions (Shi et al., 1998; Zou et al., 1998). It also remains to be discovered how these chaperones integrate with the ability of Hsf1 to directly sense stress (Zhong et al., 1998; Hentze et al., 2016).
Article and author information
Author details
© 2016, Le Breton et al.
This article is distributed under the terms of the Creative Commons Attribution License, which permits unrestricted use and redistribution provided that the original author and source are credited.
4,489

Page views

448

Downloads

7

Citations
Article citation count generated by polling the highest count across the following sources: Crossref, PubMed Central, Scopus.
A two-part list of links to download the article, or parts of the article, in various formats.
Downloads
(link to download the article as PDF)
Open citations
(links to open the citations from this article in various online reference manager services)
Cite this article
(links to download the citations from this article in formats compatible with various reference manager tools)
Laura Le Breton
Matthias P Mayer
Heat Shock Response: A model for handling cell stress
eLife 5:e22850.
https://doi.org/10.7554/eLife.22850
Further reading
Cell Biology

Computational and Systems Biology

Heat shock factor (Hsf1) regulates the expression of molecular chaperones to maintain protein homeostasis. Despite its central role in stress resistance, disease and aging, the mechanisms that control Hsf1 activity remain unresolved. Here we show that in budding yeast, Hsf1 basally associates with the chaperone Hsp70 and this association is transiently disrupted by heat shock, providing the first evidence that a chaperone repressor directly regulates Hsf1 activity. We develop and experimentally validate a mathematical model of Hsf1 activation by heat shock in which unfolded proteins compete with Hsf1 for binding to Hsp70. Surprisingly, we find that Hsf1 phosphorylation, previously thought to be required for activation, in fact only positively tunes Hsf1 and does so without affecting Hsp70 binding. Our work reveals two uncoupled forms of regulation - an ON/OFF chaperone switch and a tunable phosphorylation gain - that allow Hsf1 to flexibly integrate signals from the proteostasis network and cell signaling pathways.

Cell Biology

Developmental Biology

Spermatogenesis is a highly specialized differentiation process driven by a dynamic gene expression program and ending with the production of mature spermatozoa. Whereas hundreds of genes are known to be essential for male germline proliferation and differentiation, the contribution of several genes remains uncharacterized. The predominant expression of the latest globin family member, androglobin (Adgb), in mammalian testis tissue prompted us to assess its physiological function in spermatogenesis. Adgb knockout mice display male infertility, reduced testis weight, impaired maturation of elongating spermatids, abnormal sperm shape, and ultrastructural defects in microtubule and mitochondrial organization. Epididymal sperm from Adgb knockout animals display multiple flagellar malformations including coiled, bifid or shortened flagella, and erratic acrosomal development. Following immunoprecipitation and mass spectrometry, we could identify septin 10 (Sept10) as interactor of Adgb. The Sept10-Adgb interaction was confirmed both in vivo using testis lysates and in vitro by reciprocal co-immunoprecipitation experiments. Furthermore, the absence of Adgb leads to mislocalization of Sept10 in sperm, indicating defective manchette and sperm annulus formation. Finally, in vitro data suggest that Adgb contributes to Sept10 proteolysis in a calmodulin-dependent manner. Collectively, our results provide evidence that Adgb is essential for murine spermatogenesis and further suggest that Adgb is required for sperm head shaping via the manchette and proper flagellum formation.

Biochemistry and Chemical Biology

Cell Biology

Profilin-1 (PFN1) is a cytoskeletal protein that regulates the dynamics of actin and microtubule assembly. Thus, PFN1 is essential for the normal division, motility, and morphology of cells. Unfortunately, conventional fusion and direct labeling strategies compromise different facets of PFN1 function. As a consequence, the only methods used to determine known PFN1 functions have been indirect and often deduced in cell-free biochemical assays. We engineered and characterized two genetically encoded versions of tagged PFN1 that behave identical to each other and the tag-free protein. In biochemical assays purified proteins bind to phosphoinositide lipids, catalyze nucleotide exchange on actin monomers, stimulate formin-mediated actin filament assembly, and bound tubulin dimers (kD = 1.89 µM) to impact microtubule dynamics. In PFN1-deficient mammalian cells, Halo-PFN1 or mApple-PFN1 (mAp-PEN1) restored morphological and cytoskeletal functions. Titrations of self-labeling Halo-ligands were used to visualize molecules of PFN1. This approach combined with specific function-disrupting point-mutants (Y6D and R88E) revealed PFN1 bound to microtubules in live cells. Cells expressing the ALS-associated G118V disease variant did not associate with actin filaments or microtubules. Thus, these tagged PFN1s are reliable tools for studying the dynamic interactions of PFN1 with actin or microtubules in vitro as well as in important cell processes or disease-states.