Microscopy: Live imaging looks deeper
Iodixanol provides an easy and affordable solution to a problem that has limited resolution and brightness when imaging living samples.
Microscopes rely on lenses bending, or refracting, light in predictable ways to allow us to look at objects that are otherwise too small to see. Yet, for as long as scientists have used lenses to magnify and observe life, problems have occurred when light does not refract as predicted. Any departure from the norm is called an aberration, and modern imaging systems have complex arrays of lenses with specialized coatings to limit most optical aberrations. However, these highly engineered systems are designed to optimally focus on objects at a fixed distance, typically the surface of the coverslip placed over the sample on a microscopy slide (Cargille, 1985). Focusing any deeper into samples within a watery solution – like a living cell or tissue – raises problems once again because of a phenomenon known as spherical aberration.
Light travels faster through water than it travels through glass or most biological samples. The speed of light in a given material is described by a property called its refractive index; and the higher the refractive index the slower light will travel. Spherical aberration occurs when light from an object – such as a fluorescently tagged protein – crosses the boundary between two materials with different refractive indices – for example, the biological sample and the surrounding solution – at an angle, and then bends because it changes speed. As the sample moves deeper into an aqueous solution, the point where the light intersects with the coverslip moves as well, and further bending by refraction can prevent the light from being captured by the lens (Figure 1). This effectively decreases both the resolution and brightness of the image, making it too blurry and too dim to distinguish meaningful features of objects further into the sample.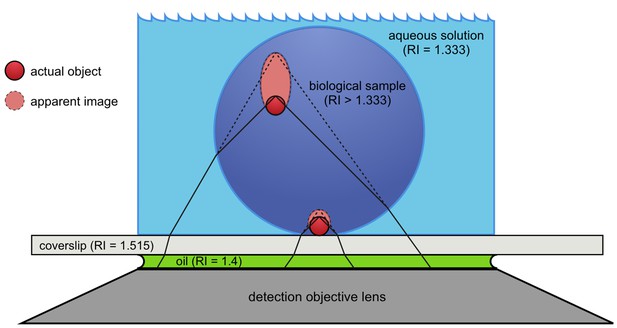 Biologists looking at living samples and wanting to see deeper than about 10 micrometers from the surface have previously needed microscopes with lower resolution, corrective adjustments, or 'adaptive optics systems' to minimize the effects of spherical aberration (Booth, 2007). These technologies, however, have limited practicality and are often expensive. Now, in eLife, Jochen Rink of the Max Planck Institute of Molecular Cell Biology and Genetics and colleagues report a simpler and more affordable approach (Boothe et al., 2017).
For non-living – or fixed – specimens, the problem of spherical aberrations has long been overcome by replacing the water with an optically clear substance with a high refractive index to better match that of glass. Yet many of the substances currently used, such as glycerol, are toxic to living samples. Rink and colleagues – including Tobias Boothe as first author – instead looked for a water-soluble compound with a high refractive index that was not toxic. A compound called iodixanol met all their requirements and they showed that when added to the surrounding solution at the proper concentration the biological sample effectively became 'invisible'. This occurred because light from the object did not experience a change in refractive index when it traveled between the sample and the solution, which meant that fluorescent objects within could be seen more clearly. No change in refractive index meant that the light was no longer refracted when it exited the sample. In other words, spherical aberration was greatly reduced.
Boothe et al. demonstrate the benefits of decreasing the spherical aberration in live samples by imaging deep into developing zebrafish embryos and planarian flatworms. Fluorescent markers in animals mounted in a solution containing iodixanol looked sharper and brighter than those in a more traditional aqueous solution. As would be expected, the improvements in optical resolution and brightness were more pronounced for objects at greater depths away from the coverslip.
Boothe et al. confirm that iodixanol is compatible with living samples by showing that various zebrafish embryos, human cell cultures and planarian flatworms can develop, proliferate, and even regenerate in the presence of high concentrations of the substance. This method represents a breakthrough for scientists looking to obtain high-quality images from living organisms. Microscopists will, however, still face challenges in matching the refractive index of the surrounding solution to the sample, because most organisms consist of multiple materials of different refractive indices. As such, the technique presented by Boothe et al. is a step forward for the field, but opportunities remain to further improve image quality in complex organisms.
New York Microscopical Society Yearbook

Immersion oil and the microscope, New York Microscopical Society Yearbook, Cargille-Sacher Laboratories, Inc.
Article and author information
Author details
© 2017, Fadero et al.
This article is distributed under the terms of the Creative Commons Attribution License, which permits unrestricted use and redistribution provided that the original author and source are credited.
3,244

Page views

273

Downloads

2

Citations
Article citation count generated by polling the highest count across the following sources: Crossref, PubMed Central, Scopus.
A two-part list of links to download the article, or parts of the article, in various formats.
Downloads
(link to download the article as PDF)
Open citations
(links to open the citations from this article in various online reference manager services)
Cite this article
(links to download the citations from this article in formats compatible with various reference manager tools)
Tanner C Fadero
Paul S Maddox
Microscopy: Live imaging looks deeper
eLife 6:e30515.
https://doi.org/10.7554/eLife.30515
Further reading
Cell Biology

Developmental Biology

In light microscopy, refractive index mismatches between media and sample cause spherical aberrations that often limit penetration depth and resolution. Optical clearing techniques can alleviate these mismatches, but they are so far limited to fixed samples. We present Iodixanol as a non-toxic medium supplement that allows refractive index matching in live specimens and thus substantially improves image quality in live-imaged primary cell cultures, planarians, zebrafish and human cerebral organoids.

MAF1, a key repressor of RNA polymerase III-mediated transcription, has been shown to promote mesoderm formation in vitro. Here, we show that MAF1 plays a critical role in the regulation of osteoblast differentiation and bone mass. A high bone mass phenotype was noted in mice with a global deletion of Maf1 (Maf1-/- mice). However, osteoblasts isolated from Maf1-/- mice showed reduced osteoblastogenesis ex vivo. Therefore, we determined the effect of MAF1 overexpression specifically in cells from the mesenchymal lineage (Prx1-Cre;LSL-MAF1 mice). These mice showed increased bone mass. Ex vivo, cells from Prx1-Cre;LSL-MAF1 mice showed enhanced osteoblastogenesis concordant with their high bone mass phenotype. Thus, the high bone mass phenotype in Maf1-/- mice is likely due to the confounding effects of the global absence of Maf1 in Maf1-/- mice. MAF1 overexpression promoted osteoblast differentiation and shRNA-mediated Maf1 downregulation inhibited differentiation of ST2 cells, overall indicating MAF1 enhances osteoblast formation. We also found that, in contrast to MAF1 overexpression, other perturbations that repress RNA pol III transcription, including Brf1 knockdown and chemical inhibition of RNA pol III by ML-60218, inhibited osteoblast differentiation. All perturbations that decrease RNA pol III transcription, however, enhanced adipogenesis in ST2 cell cultures. RNA-seq was used to determine the basis for these opposing actions on osteoblast differentiation. The modalities used to perturb RNA pol III transcription resulted in distinct gene expression changes, indicating that this transcription process is highly sensitive and triggers diverse gene expression programs and phenotypic outcomes. Specifically, MAF1 induced genes in ST2 cells known to promote osteoblast differentiation. Furthermore, genes that are induced during osteoblast differentiation displayed codon bias. Together, these results reveal a novel role for MAF1 and RNA pol III-mediated transcription in osteoblast fate determination and differentiation and bone mass regulation.

A developing understanding suggests that spatial compartmentalisation in pancreatic β cells is critical in controlling insulin secretion. To investigate the mechanisms, we have developed live-cell subcellular imaging methods using the mouse organotypic pancreatic slice. We demonstrate that the organotypic pancreatic slice, when compared with isolated islets, preserves intact β-cell structure, and enhances glucose-dependent Ca2+ responses and insulin secretion. Using the slice technique, we have discovered the essential role of local activation of integrins and the downstream component, focal adhesion kinase (FAK), in regulating β cells. Integrins and FAK are exclusively activated at the β-cell capillary interface and using in situ and in vitro models we show their activation both positions presynaptic scaffold proteins, like ELKS and liprin, and regulates glucose-dependent Ca2+ responses and insulin secretion. We conclude that FAK orchestrates the final steps of glucose-dependent insulin secretion within the restricted domain where β-cell contact the islet capillaries.