Sleep: To rebound or not to rebound
Sexual arousal in flies counteracts the effects of sleep deprivation.
How do we know we are tired and that it is time to sleep, and why can we go without sleep when we are excited? Usually, after a sleepless night, we make up for it the following day by taking a nap (if possible) or by going to bed earlier – a process referred to as rebound sleep. According to a long-standing model, this need to catch up on our sleep is modulated by two distinct mechanisms: the sleep homeostat, which controls how much we sleep, and the circadian clock, which dictates when we sleep (Borbély, 1982). While this model lays the foundation for understanding how sleep is regulated, it neglects a variety of other social, emotional and environmental factors that impact on sleep.
Sleep is highly conserved throughout the animal kingdom at both the genetic and the functional level. Some species are also known to skip sleep in favor of migration, mating or other social interactions. Flies, for example, can forgo sleep when they are exposed to mechanical stimulation or social interactions, which makes them a popular model for studying the regulation of sleep (Gilestro et al., 2009). Now, in eLife, Giorgio Gilestro of Imperial College and co-workers – Esteban Beckwith as first author, Quentin Geissmann and Alice French – report new insights into how sexual arousal in flies affects their need for sleep (Beckwith et al., 2017).
To examine how 'social sleep deprivation' affects rebound sleep, Beckwith et al. exposed the flies to different social scenarios. First, they placed a male fly into an arena that already contained a male resident. The presence of another male caused the resident to lose sleep, but he caught up via rebound sleep once the male intruder had been removed (Figure 1). The resident also lost sleep when a receptive female fly was introduced, but he did not catch up via rebound sleep once the female was removed. This suggests that the sexual arousal induced by the female fly was sufficient to override any need for the male to catch up after a sleepless night.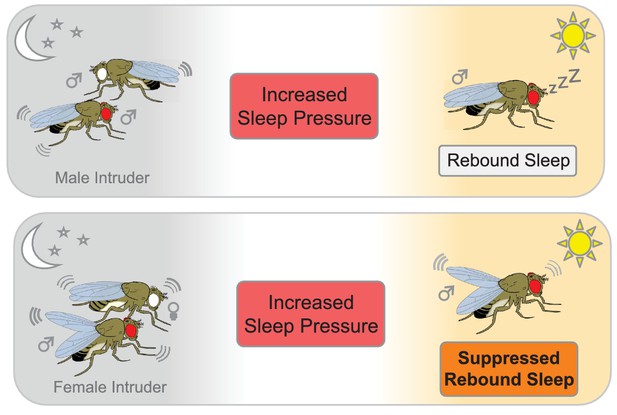 What allows sexual arousal to overcome rebound sleep? Fly courtship is a multisensory experience that involves visual, tactile, acoustic and pheromonal cues. Beckwith et al. found that exposing male flies to female pheromones, or transferring them into tubes that previously contained a female fly, was sufficient to suppress rebound sleep.
To get to the bottom of why sexually aroused males did not catch up on lost sleep, Beckwith et al. looked deeper into the fly brain. Previous research has shown that male flies sense certain pheromones through neurons (and their receptor proteins) on their forelegs – this is why male flies repeatedly tap female flies with their legs during courtship. Beckwith et al. discovered that when males lacked the pheromone receptor pickpocket 23 on these leg neurons, they did not notice the pheromones and rebound sleep occurred.
Moreover, the results showed that a specific cluster of neurons, called P1 neurons, are critical for courtship-suppressed sleep. When these neurons were stimulated, rebound sleep was inhibited. Taken together, these findings suggest that pickpocket 23 neurons detect pheromones and then activate P1 neurons which, in turn, suppress sleep and prevent rebound sleep.
To better understand the mechanisms underlying the sexual arousal vs. sleep trade-off, we need to identify how pheromone circuits interface with sleep centers in the brain to modulate behavior. Two other recent papers shed light on this issue. In males, P1 neurons are activated by contact with females, and Chen et al. have shown that these neurons are connected with a set of wake-promoting neurons (Chen et al., 2017). In a separate study, Machado et al. discovered another pair of wake-promoting neurons that directly modulate courtship circuits (Machado et al., 2017).
Despite this progress, two central questions persist: how is the need for sleep sensed, and is sleep loss centrally integrated within the brain? So far, researchers have discovered many different neuronal circuits for sleep homeostasis within the fly brain, which could be directly or indirectly affected by sexual arousal and result in suppressed rebound sleep (Liu et al., 2016; Pimentel et al., 2016; Seidner et al., 2015). Identifying the neural circuits that regulate sleep and courtship will serve as a framework for determining the molecular sensors that know when we need to sleep.
Together, these findings highlight the integrated nature of sleep, and the way it is affected by the internal clock, the need for sleep and external factors, such as arousal. However, there is much that we do not know: for example, how do other external influences, such as stress, excitement or caffeine consumption, affect sleep loss and rebound sleep? Answering these questions will shed light on the basic functions of sleep.
A two process model of sleep regulation

Human Neurobiology 1:195–204.
Article and author information
Author details
© 2017, Stahl et al.
This article is distributed under the terms of the Creative Commons Attribution License, which permits unrestricted use and redistribution provided that the original author and source are credited.
1,465

Page views

117

Downloads

1

Citations
Article citation count generated by polling the highest count across the following sources: Crossref, PubMed Central, Scopus.
A two-part list of links to download the article, or parts of the article, in various formats.
Downloads
(link to download the article as PDF)
Open citations
(links to open the citations from this article in various online reference manager services)
Cite this article
(links to download the citations from this article in formats compatible with various reference manager tools)
Bethany A Stahl
Alex C Keene
Sleep: To rebound or not to rebound
eLife 6:e31646.
https://doi.org/10.7554/eLife.31646
Further reading
Computational and Systems Biology
Neuroscience

In all animals, sleep pressure is under continuous tight regulation. It is universally accepted that this regulation arises from a two-process model, integrating both a circadian and a homeostatic controller. Here we explore the role of environmental social signals as a third, parallel controller of sleep homeostasis and sleep pressure. We show that, in Drosophila melanogaster males, sleep pressure after sleep deprivation can be counteracted by raising their sexual arousal, either by engaging the flies with prolonged courtship activity or merely by exposing them to female pheromones.

Computational and Systems Biology
Evolutionary Biology

Drug metabolism by the microbiome can influence anti-cancer treatment success. We previously suggested that chemotherapies with antimicrobial activity can select for adaptations in bacterial drug metabolism that can inadvertently influence the host's chemoresistance. We demonstrated that evolved resistance against fluoropyrimidine chemotherapy lowered its efficacy in worms feeding on drug-evolved bacteria (Rosener et al., 2020). Here we examine a model system that captures local interactions that can occur in the tumor microenvironment. Gammaproteobacteria colonizing pancreatic tumors can degrade the nucleoside-analog chemotherapy gemcitabine and, in doing so, can increase the tumor's chemoresistance. Using a genetic screen in Escherichia coli, we mapped all loss-of-function mutations conferring gemcitabine resistance. Surprisingly, we infer that one third of top resistance mutations increase or decrease bacterial drug breakdown and therefore can either lower or raise the gemcitabine load in the local environment. Experiments in three E. coli strains revealed that evolved adaptation converged to inactivation of the nucleoside permease NupC, an adaptation that increased the drug burden on co-cultured cancer cells. The two studies provide complementary insights on the potential impact of microbiome adaptation to chemotherapy by showing that bacteria-drug interactions can have local and systemic influence on drug activity.

Computational and Systems Biology
Neuroscience

The locus coeruleus (LC) houses the vast majority of noradrenergic neurons in the brain and regulates many fundamental functions including fight and flight response, attention control, and sleep/wake cycles. While efferent projections of the LC have been extensively investigated, little is known about its local circuit organization. Here, we performed large-scale multi-patch recordings of noradrenergic neurons in adult mouse LC to profile their morpho-electric properties while simultaneously examining their interactions. LC noradrenergic neurons are diverse and could be classified into two major morpho-electric types. While fast excitatory synaptic transmission among LC noradrenergic neurons was not observed in our preparation, these mature LC neurons connected via gap junction at a rate similar to their early developmental stage and comparable to other brain regions. Most electrical connections form between dendrites and are restricted to narrowly spaced pairs or small clusters of neurons of the same type. In addition, more than two electrically coupled cell pairs were often identified across a cohort of neurons from individual multi-cell recording sets that followed a chain-like organizational pattern. The assembly of LC noradrenergic neurons thus follows a spatial and cell type-specific wiring principle that may be imposed by a unique chain-like rule.