Plant Pathology: Plasmid-powered evolutionary transitions
The acquisition of a virulence plasmid is sufficient to turn a beneficial strain of Rhodococcus bacteria into a pathogen.
Many bacteria are closely associated with eukaryotic hosts. This relationship can be mutually beneficial, commensal (that is, it benefits one party without affecting the other), or pathogenic. Moreover, and perhaps surprisingly, there are many examples of pathogenic bacteria that are close relatives of mutualistic or commensal bacteria (Wood et al., 2001). For example, while most strains of E. coli are commensal, pathogenic strains – such as those that cause food poisoning – emerged from commensal ancestors (Pupo et al., 2000).
Historically, the bacterial genus Rhodococcus has been synonymous with pathogenesis because most described strains could cause a plant disease called leafy gall and stunt the growth of their plant hosts (Stes et al., 2011). Recently, it was found that some Rhodococcus strains are benign, and some are constituents of a healthy microbiome in plants (Bai et al., 2015; Hong et al., 2016). Now, in eLife, Jeff Chang of Oregon State University and co-workers – including Elizabeth Savory, Skylar Fuller and Alexandra Weisberg as joint first authors – report using a collection of Rhodococcus strains to study the molecular mechanisms that underlie distinct bacterial lifestyles (Savory et al., 2017).
Savory et al. isolated 60 strains of Rhodococcus bacteria from healthy and diseased plants from 16 nurseries over a period of several years and then sequenced their genomes and plasmids (which usually contain the virulence genes which make Rhodococcus pathogenic). The researchers compared pathogenic and commensal strains and used single nucleotide polymorphisms to reconstruct evolutionary histories within the Rhodococcus genus. They found relatively little correlation between the genome sequences of a strain and the DNA sequences in the plasmids. In particular, they found that isolates with similar genomes could have plasmids with radically different virulence genes, while plasmids with similar virulence genes could be found in strains with very different genomes. This suggests that the emergence of pathogenic strains may be driven by the transfer of plasmids between strains that are relatively evolutionarily distant from each other.
The researchers identified Rhodococcus isolates that lack a virulence plasmid but are close relatives of isolates that possess a plasmid. They showed that Rhodococccus isolates that lack a virulence plasmid can colonize Nicotiana benthamiana, a model plant that is susceptible to Rhodococcus infection. However, rather than causing disease, the strains lacking a virulence plasmid promoted the development of lateral roots and root hairs (Figure 1). This indicates that beneficial and pathogenic Rhodococcus are closely related, which led Savory et al. to hypothesize that the commensal and pathogenic Rhodococcus may evolve by the acquisition or loss of a virulence plasmid.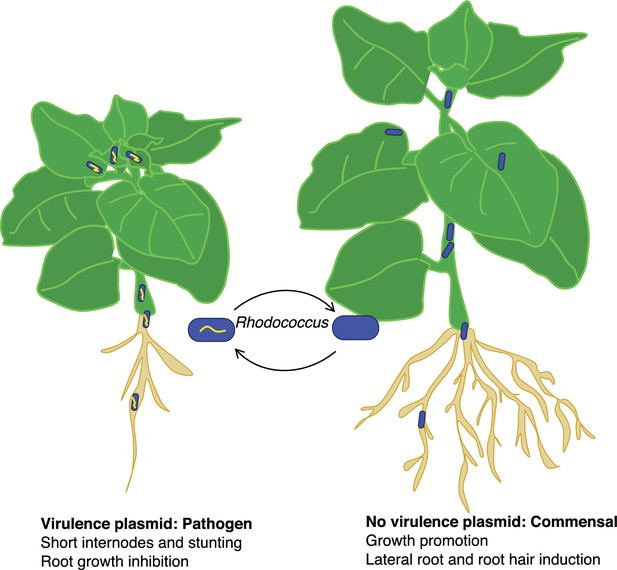 Savory et al. went on to experimentally demonstrate that pathogenic Rhodococcus strains can evolve from commensals. They showed that the introduction of a virulence plasmid from a pathogenic isolate into a beneficial strain was sufficient to cause disease in N. benthamiana. They also showed that the transition from commensal to pathogen is reversible: plasmid loss causes a virulent strain to become beneficial. By combining experimental data with genomic evidence, Savory et al. conclusively demonstrate that a readily transmissible plasmid is necessary and sufficient to reversibly transform beneficial Rhodococcus strains into pathogens.
Recently, it has been alleged that various strains of Rhodococcus are the cause of "pistachio bushy top syndrome" (PBTS), which has affected millions of pistachio trees in the United States and resulted in substantial economic losses (Stamler et al., 2015). However, rapid evolutionary changes present a challenge in identifying the pathogenic agents responsible for PBTS. Savory et al. tested the virulence of two Rhodococcus strains purported to be the causative agents of PBTS on several different hosts: they found that both isolates were not pathogenic. Moreover, they report that they were unable to amplify Rhodococcus virulence genes by PCR. This, combined with the fact that the published genomes of these strains do not contain virulence loci (Stamler et al., 2016), suggests that the plasmid was lost during isolation or that the disease was misdiagnosed.
The ambiguity of the cause of PBTS underscores the need for multiple independent methods that can verify the identity of an emerging plant pathogen, particularly when it has benign close relatives. To this end, Savory et al. developed an alternative method of identifying virulent strains of Rhodococcus based on recombinase polymerase amplification, and showed that this test could robustly discriminate between pathogenic and beneficial strains by targeting conserved loci in the virulence plasmid.
The work of Savory et al. provides insights into the evolutionary history of plant pathogens and mutualists. In particular, the coincidence of virulence and mutualism within the Rhodococcus clade suggests that both strategies are adaptive under certain conditions: sustained positive selection for one lifestyle would be unlikely to result in closely related strains with dramatically different effects on plant health. Building on this work may illuminate the evolutionary mechanisms that drive transitions from beneficial to pathogenic lifestyles in bacteria. This in turn could have profound implications for the management of emerging agricultural diseases and the evolution of plant-microbe interactions.
Article and author information
Author details
© 2017, Melnyk et al.
This article is distributed under the terms of the Creative Commons Attribution License, which permits unrestricted use and redistribution provided that the original author and source are credited.
1,339

Page views

160

Downloads

1

Citations
Article citation count generated by polling the highest count across the following sources: Crossref, PubMed Central, Scopus.
A two-part list of links to download the article, or parts of the article, in various formats.
Downloads
(link to download the article as PDF)
Open citations
(links to open the citations from this article in various online reference manager services)
Cite this article
(links to download the citations from this article in formats compatible with various reference manager tools)
Ryan A Melnyk
Cara H Haney
Plant Pathology: Plasmid-powered evolutionary transitions
eLife 6:e33383.
https://doi.org/10.7554/eLife.33383
Further reading
Epidemiology and Global Health

Plant Biology

Understanding how bacteria affect plant health is crucial for developing sustainable crop production systems. We coupled ecological sampling and genome sequencing to characterize the population genetic history of Rhodococcus and the distribution patterns of virulence plasmids in isolates from nurseries. Analysis of chromosome sequences shows that plants host multiple lineages of Rhodococcus, and suggested that these bacteria are transmitted due to independent introductions, reservoir populations, and point source outbreaks. We demonstrate that isolates lacking virulence genes promote beneficial plant growth, and that the acquisition of a virulence plasmid is sufficient to transition beneficial symbionts to phytopathogens. This evolutionary transition, along with the distribution patterns of plasmids, reveals the impact of horizontal gene transfer in rapidly generating new pathogenic lineages and provides an alternative explanation for pathogen transmission patterns. Results also uncovered a misdiagnosed epidemic that implicated beneficial Rhodococcus bacteria as pathogens of pistachio. The misdiagnosis perpetuated the unnecessary removal of trees and exacerbated economic losses.

Epidemiology and Global Health

Evolutionary Biology

Combining clinical and genetic data can improve the effectiveness of virus tracking with the aim of reducing the number of HIV cases by 2030.

Epidemiology and Global Health

Preference for sons and smaller families and, in the case of China, a one-child policy, have contributed to missing girl births in India and China over the last few decades due to sex-selective abortions. Selective abortion occurs also among Indian and Chinese diaspora, but their variability and trends over time are unknown. We examined conditional sex ratio (CSR) of girl births per 1000 boy births among second or third births following earlier daughters or sons in India, China, and their diaspora in Australia, Canada, United Kingdom (UK), and United States (US) drawing upon 18.4 million birth records from census and nationally representative surveys from 1999 to 2019. Among Indian women, the CSR in 2016 for second births following a first daughter favoured boys in India (866), similar to those in diaspora in Australia (888) and Canada (882). For third births following two earlier daughters in 2016, CSRs favoured sons in Canada (520) and Australia (653) even more than in India (769). Among women in China outside the one-child restriction, CSRs in 2015 for second order births somewhat favoured more girls after a first son (1154) but more heavily favoured boys after a first daughter (561). Third-birth CSRs generally fell over time among diaspora, except among Chinese diaspora in the UK and US. In the UK, third-birth CSRs fell among Indian but not among other South Asian diasporas. Selective abortion of girls is notable among Indian diaspora, particularly at higher-order births.