Development: Transforming a transcription factor
A transcription factor that regulates skeleton formation in sea urchin embryos has evolved a new domain that is essential for this process.
As an embryo develops, complex regulatory networks control where and when genes are activated, resulting in tissues and organs forming at the right time and place. Changes to these networks, in particular to DNA sequences that bind transcription factors, can affect how an organism develops and looks (Carroll, 2008; Wray, 2007; Peter and Davidson, 2011).
Transcription factors are proteins that help turn specific genes on or off by binding to nearby DNA, and a somewhat controversial theory suggests that changes affecting the strength of transcription factor binding may modify regulatory networks (Lynch and Wagner, 2008). Such changes are, however, less favored, as they could affect many genes and thus have a negative impact on the fitness of an organism. Now, in eLife, Jian Ming Khor and Charles Ettensohn of Carnegie Mellon University report how a specific region on a transcription factor can indeed affect skeleton formation in sea urchins (Khor and Ettensohn, 2017).
Sea urchins are a popular model organism in developmental biology and like most other echinoderms, the larvae of sea urchins are very different to their adult form. Sea urchins develop from an egg into a planktonic larva, before transforming into a bottom-dwelling juvenile, and unlike most echinoderms, they form a larval skeleton in the early embryonic stages (McClay, 2011).
A well-studied group of cells called the micromeres are key to this process, and are the first cells internalized as the embryo acquires its form (McIntyre et al., 2014). The molecular mechanisms that determine their fate have thus received considerable attention and were one of the first examples of a developmental gene regulatory network (Davidson et al., 2002; Ettensohn, 2009). Some of the molecular components of this network are located in the unfertilized egg and are divided unequally between new cells. Within the micromeres, regulatory genes control a hierarchical network of genes, which causes them to build a precisely positioned and patterned skeleton (Figure 1A–D).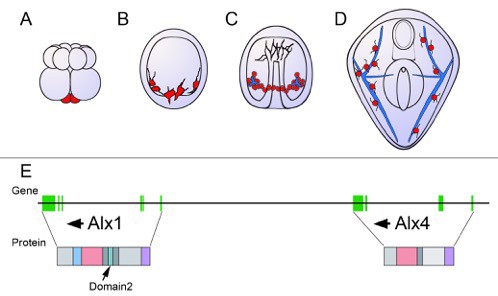 One key transcription factor in this regulatory network is Alx1, which is exclusively activated or expressed in the micromeres soon after they form (Ettensohn et al., 2003). Previous research has shown that when Alx1 is blocked, the embryos of sea urchins develop without forming a skeleton, but when Alx1 is overexpressed in cells other than the micromeres, they develop into skeleton-forming cells.
Khor and Ettensohn blocked Alx1 with a compound called a morpholino, and at the same time, injected the embryo with a version of Alx1 that is insensitive to this substance and restores skeleton formation. To identify the roles of the Alx1 protein, they deleted or mutated various parts of the morpholino-insensitive Alx1 and tested if the embryos were still able to build a skeleton. Most parts of the protein were dispensable, but a small domain unique to Alx1, called Domain 2, turned out to be essential for skeleton formation. Furthermore, Khor and Ettensohn discovered that when Domain 2 was inserted into Alx4, which is an adjacent copy of Alx1, sea urchins were able to form a normal skeleton.
Khor and Ettensohn then compared the genomes of other echinoderms and discovered that Alx4 was highly conserved within all members of this group, whereas Alx1 varied greatly. The Alx1 proteins of close relatives of the sea urchin were functionally interchangeable, while the Alx1 proteins of more distantly related echinoderms were not. Khor and Ettensohn suggest that this is due to differences in the regions outside Domain 2. Alx1 and Alx4 are thought to be the result of an ancient gene duplication, and the acquisition of Domain 2 may have determined their different roles (Figure 1E).
This study is a sterling example of a transcription factor altering its protein sequence and presumably its affinities, leading to the functional differences of Alx1 and Alx4. Khor and Ettensohn emphasize that to fully understand these evolutionary changes more research is needed to clarify how Alx4 contributes to the formation of the skeleton in adults. We also need to examine the protein structure of Alx1 more deeply to discover what Domain 2 interacts with, and how it initiates skeleton formation.
The transcription factor Alx has the potential to become an informative model for transcription factor evolution because of its detailed gene regulatory network and the comparisons that can be made between species that diverged at different times. This will deepen our knowledge of how mechanisms beyond mutations in DNA sequences have shaped the evolution of gene regulatory networks.
Article and author information
Author details
© 2018, Burke
This article is distributed under the terms of the Creative Commons Attribution License, which permits unrestricted use and redistribution provided that the original author and source are credited.
1,486

Page views

121

Downloads

1

Citations
Article citation count generated by polling the highest count across the following sources: Crossref, PubMed Central, Scopus.
A two-part list of links to download the article, or parts of the article, in various formats.
Downloads
(link to download the article as PDF)
Open citations
(links to open the citations from this article in various online reference manager services)
Cite this article
(links to download the citations from this article in formats compatible with various reference manager tools)
Robert D Burke
Development: Transforming a transcription factor
eLife 7:e33792.
https://doi.org/10.7554/eLife.33792
Further reading
Developmental Biology
Evolutionary Biology

Alx1 is a pivotal transcription factor in a gene regulatory network that controls skeletogenesis throughout the echinoderm phylum. We performed a structure-function analysis of sea urchin Alx1 using a rescue assay and identified a novel, conserved motif (Domain 2) essential for skeletogenic function. The paralogue of Alx1, Alx4, was not functionally interchangeable with Alx1, but insertion of Domain 2 conferred robust skeletogenic function on Alx4. We used cross-species expression experiments to show that Alx1 proteins from distantly related echinoderms are not interchangeable, although the sequence and function of Domain 2 are highly conserved. We also found that Domain 2 is subject to alternative splicing and provide evidence that this domain was originally gained through exonization. Our findings show that a gene duplication event permitted the functional specialization of a transcription factor through changes in exon-intron organization and thereby supported the evolution of a major morphological novelty.

The identification of genes affecting gonad development is essential to understand the mechanisms causing Variations/Differences in Sex Development (DSD). Recently, a DLC3 mutation was associated with male gonadal dysgenesis in 46,XY DSD patients. We have studied the requirement of Cv-c, the Drosophila ortholog of DLC3, in Drosophila gonad development, as well as the functional capacity of DLC3 human variants to rescue cv-c gonad defects. We show that Cv-c is required to maintain testis integrity during fly development. We find that Cv-c and human DLC3 can perform the same function in fly embryos, as flies carrying wild type but not patient DLC3 variations can rescue gonadal dysgenesis, suggesting functional conservation. We also demonstrate that the StART domain mediates Cv-c's function in the male gonad independently from the GAP domain's activity. This work demonstrates a role for DLC3/Cv-c in male gonadogenesis and highlights a novel StART domain mediated function required to organize the gonadal mesoderm and maintain its interaction with the germ cells during testis development.

Cell Biology
Developmental Biology

The skeletal system contains a series of sophisticated cellular lineages arising from the mesenchymal stem cells (MSCs) and hematopoietic stem cells (HSCs) that determine the homeostasis of bone and bone marrow. Here, we reasoned that osteocyte may exert a function in regulation of these lineage cell specifications and tissue homeostasis. Using a mouse model of conditional deletion of osteocytes by the expression of diphtheria toxin subunit α in dentin matrix protein 1 (DMP1)-positive osteocytes, we demonstrated that partial ablation of DMP1-positive osteocytes caused severe sarcopenia, osteoporosis, and degenerative kyphosis, leading to shorter lifespan in these animals. Osteocytes reduction altered mesenchymal lineage commitment, resulting in impairment of osteogenesis and induction of osteoclastogensis. Single-cell RNA sequencing further revealed that hematopoietic lineage was mobilized toward myeloid lineage differentiation with expanded myeloid progenitors, neutrophils, and monocytes, while the lymphopoiesis was impaired with reduced B cells in the osteocyte ablation mice. The acquisition of a senescence-associated secretory phenotype (SASP) in both osteogenic and myeloid lineage cells was the underlying cause. Together, we showed that osteocytes play critical roles in regulation of lineage cell specifications in bone and bone marrow through mediation of senescence.