Development: Transforming a transcription factor
A transcription factor that regulates skeleton formation in sea urchin embryos has evolved a new domain that is essential for this process.
As an embryo develops, complex regulatory networks control where and when genes are activated, resulting in tissues and organs forming at the right time and place. Changes to these networks, in particular to DNA sequences that bind transcription factors, can affect how an organism develops and looks (Carroll, 2008; Wray, 2007; Peter and Davidson, 2011).
Transcription factors are proteins that help turn specific genes on or off by binding to nearby DNA, and a somewhat controversial theory suggests that changes affecting the strength of transcription factor binding may modify regulatory networks (Lynch and Wagner, 2008). Such changes are, however, less favored, as they could affect many genes and thus have a negative impact on the fitness of an organism. Now, in eLife, Jian Ming Khor and Charles Ettensohn of Carnegie Mellon University report how a specific region on a transcription factor can indeed affect skeleton formation in sea urchins (Khor and Ettensohn, 2017).
Sea urchins are a popular model organism in developmental biology and like most other echinoderms, the larvae of sea urchins are very different to their adult form. Sea urchins develop from an egg into a planktonic larva, before transforming into a bottom-dwelling juvenile, and unlike most echinoderms, they form a larval skeleton in the early embryonic stages (McClay, 2011).
A well-studied group of cells called the micromeres are key to this process, and are the first cells internalized as the embryo acquires its form (McIntyre et al., 2014). The molecular mechanisms that determine their fate have thus received considerable attention and were one of the first examples of a developmental gene regulatory network (Davidson et al., 2002; Ettensohn, 2009). Some of the molecular components of this network are located in the unfertilized egg and are divided unequally between new cells. Within the micromeres, regulatory genes control a hierarchical network of genes, which causes them to build a precisely positioned and patterned skeleton (Figure 1A–D).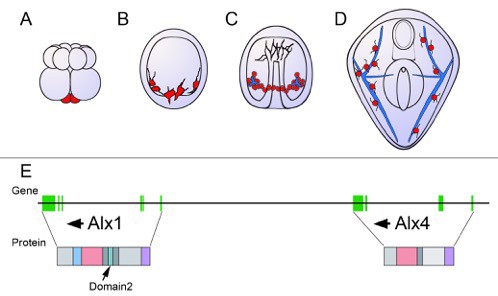 One key transcription factor in this regulatory network is Alx1, which is exclusively activated or expressed in the micromeres soon after they form (Ettensohn et al., 2003). Previous research has shown that when Alx1 is blocked, the embryos of sea urchins develop without forming a skeleton, but when Alx1 is overexpressed in cells other than the micromeres, they develop into skeleton-forming cells.
Khor and Ettensohn blocked Alx1 with a compound called a morpholino, and at the same time, injected the embryo with a version of Alx1 that is insensitive to this substance and restores skeleton formation. To identify the roles of the Alx1 protein, they deleted or mutated various parts of the morpholino-insensitive Alx1 and tested if the embryos were still able to build a skeleton. Most parts of the protein were dispensable, but a small domain unique to Alx1, called Domain 2, turned out to be essential for skeleton formation. Furthermore, Khor and Ettensohn discovered that when Domain 2 was inserted into Alx4, which is an adjacent copy of Alx1, sea urchins were able to form a normal skeleton.
Khor and Ettensohn then compared the genomes of other echinoderms and discovered that Alx4 was highly conserved within all members of this group, whereas Alx1 varied greatly. The Alx1 proteins of close relatives of the sea urchin were functionally interchangeable, while the Alx1 proteins of more distantly related echinoderms were not. Khor and Ettensohn suggest that this is due to differences in the regions outside Domain 2. Alx1 and Alx4 are thought to be the result of an ancient gene duplication, and the acquisition of Domain 2 may have determined their different roles (Figure 1E).
This study is a sterling example of a transcription factor altering its protein sequence and presumably its affinities, leading to the functional differences of Alx1 and Alx4. Khor and Ettensohn emphasize that to fully understand these evolutionary changes more research is needed to clarify how Alx4 contributes to the formation of the skeleton in adults. We also need to examine the protein structure of Alx1 more deeply to discover what Domain 2 interacts with, and how it initiates skeleton formation.
The transcription factor Alx has the potential to become an informative model for transcription factor evolution because of its detailed gene regulatory network and the comparisons that can be made between species that diverged at different times. This will deepen our knowledge of how mechanisms beyond mutations in DNA sequences have shaped the evolution of gene regulatory networks.
Article and author information
Author details
© 2018, Burke
This article is distributed under the terms of the Creative Commons Attribution License, which permits unrestricted use and redistribution provided that the original author and source are credited.
1,466

Page views

121

Downloads

1

Citations
Article citation count generated by polling the highest count across the following sources: Crossref, PubMed Central, Scopus.
A two-part list of links to download the article, or parts of the article, in various formats.
Downloads
(link to download the article as PDF)
Open citations
(links to open the citations from this article in various online reference manager services)
Cite this article
(links to download the citations from this article in formats compatible with various reference manager tools)
Robert D Burke
Development: Transforming a transcription factor
eLife 7:e33792.
https://doi.org/10.7554/eLife.33792
Further reading
Developmental Biology

Evolutionary Biology

Alx1 is a pivotal transcription factor in a gene regulatory network that controls skeletogenesis throughout the echinoderm phylum. We performed a structure-function analysis of sea urchin Alx1 using a rescue assay and identified a novel, conserved motif (Domain 2) essential for skeletogenic function. The paralogue of Alx1, Alx4, was not functionally interchangeable with Alx1, but insertion of Domain 2 conferred robust skeletogenic function on Alx4. We used cross-species expression experiments to show that Alx1 proteins from distantly related echinoderms are not interchangeable, although the sequence and function of Domain 2 are highly conserved. We also found that Domain 2 is subject to alternative splicing and provide evidence that this domain was originally gained through exonization. Our findings show that a gene duplication event permitted the functional specialization of a transcription factor through changes in exon-intron organization and thereby supported the evolution of a major morphological novelty.

Cell Biology

Developmental Biology

Spermatogenesis is a highly specialized differentiation process driven by a dynamic gene expression program and ending with the production of mature spermatozoa. Whereas hundreds of genes are known to be essential for male germline proliferation and differentiation, the contribution of several genes remains uncharacterized. The predominant expression of the latest globin family member, androglobin (Adgb), in mammalian testis tissue prompted us to assess its physiological function in spermatogenesis. Adgb knockout mice display male infertility, reduced testis weight, impaired maturation of elongating spermatids, abnormal sperm shape, and ultrastructural defects in microtubule and mitochondrial organization. Epididymal sperm from Adgb knockout animals display multiple flagellar malformations including coiled, bifid or shortened flagella, and erratic acrosomal development. Following immunoprecipitation and mass spectrometry, we could identify septin 10 (Sept10) as interactor of Adgb. The Sept10-Adgb interaction was confirmed both in vivo using testis lysates and in vitro by reciprocal co-immunoprecipitation experiments. Furthermore, the absence of Adgb leads to mislocalization of Sept10 in sperm, indicating defective manchette and sperm annulus formation. Finally, in vitro data suggest that Adgb contributes to Sept10 proteolysis in a calmodulin-dependent manner. Collectively, our results provide evidence that Adgb is essential for murine spermatogenesis and further suggest that Adgb is required for sperm head shaping via the manchette and proper flagellum formation.

Developmental Biology

Evolutionary Biology

Development of tooth shape is regulated by the enamel knot signalling centre, at least in mammals. Fgf signalling regulates differential proliferation between the enamel knot and adjacent dental epithelia during tooth development, leading to formation of the dental cusp. The presence of an enamel knot in non-mammalian vertebrates is debated given differences in signalling. Here, we show the conservation and restriction of fgf3, fgf10, and shh to the sites of future dental cusps in the shark (Scyliorhinus canicula), whilst also highlighting striking differences between the shark and mouse. We reveal shifts in tooth size, shape, and cusp number following small molecule perturbations of canonical Wnt signalling. Resulting tooth phenotypes mirror observed effects in mammals, where canonical Wnt has been implicated as an upstream regulator of enamel knot signalling. In silico modelling of shark dental morphogenesis demonstrates how subtle changes in activatory and inhibitory signals can alter tooth shape, resembling developmental phenotypes and cusp shapes observed following experimental Wnt perturbation. Our results support the functional conservation of an enamel knot-like signalling centre throughout vertebrates and suggest that varied tooth types from sharks to mammals follow a similar developmental bauplan. Lineage-specific differences in signalling are not sufficient in refuting homology of this signalling centre, which is likely older than teeth themselves.