Genome Evolution: We are not so special
New sequence data from choanoflagellates improves our understanding of the genetic changes that occurred along the branch of the evolutionary tree that gave rise to animals.
The most recent common ancestor of animals lived more than 600 million years ago, so we cannot sequence its genome. Nevertheless, we can identify a minimal set of gene families that were present in this long-dead ancestor by comparing genomic data across animals and their closest relatives. In addition to being interesting in its own right, this helps us identify which genes were gained and lost before the origin of animals and, likewise, which genes were gained and lost as animals diversified.
The challenge, though, is that there are strong sampling biases that can compromise these analyses. Genome sequencing has focused on species that are medically relevant, experimentally tractable, and easy to sequence (del Campo et al., 2014). Left unaddressed, these biases can frustrate efforts to reconstruct the genomes of our ancient ancestors. Take, for example, the simple case of three groups of organisms called O, C and M, and a gene that originated along the branch that gave rise to C and M (Figure 1A). If more sequencing effort has been invested in group M than in group C, the gene is more likely to be found in group M than in group C. And if the gene is found in M but not in C, even though it is present in both, then it will appear that the gene is specific to group M and younger than it actually is.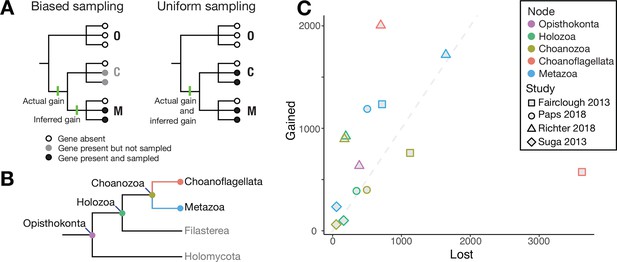 Now, in eLife, Daniel Richter, Parinaz Fozouni, Michael Eisen and Nicole King report their work to reduce sequencing bias by sampling many more genes in the sister group to animals, the choanoflagellates (Richter et al., 2018). They generated transcriptomic data for 19 species of choanoflagellates and analyzed them in combination with previously published metazoan (animal), choanoflagellate and other eukaryote genomes. In addition to presenting new data, Richter et al. – who are based at UC Berkeley, UCSF, the Gladstone Institutes and Station Biologique de Roscoff – applied new probabilistic methods to minimize the chance that a gene family would be predicted to be present in a taxonomic group based on the spurious assignment of unrelated genes to the same family.
In related work at the universities of Essex and Oxford, Jordi Paps and Peter Holland have reported an interesting analysis of gene gain and loss in early animal evolution (Paps and Holland, 2018). The studies agree on some key points. Both recovered a relatively large number of gene family gains along the 'animal stem' (the branch of the evolutionary tree that uniquely gives rise to animals; shown in blue in Figure 1B). However, while Paps and Holland estimate that the number of gains was much higher than the number of losses, which they interpreted as evidence for an accelerated expansion of gene families along the Metazoa stem, Richter et al. estimate approximately equal numbers of gains and losses (Figure 1C). This means that Richter et al. find evidence for accelerated churn of gene families along the Metazoa stem, not a burst of expansion. This incongruence is likely related to Paps and Holland analyzing two choanoflagellate species, compared to the 21 analyzed by Richter et al.
Another difference is that Paps and Holland did not estimate gene gain and loss along the Choanoflagellata stem, whereas Richter et al. did. This revealed more gene family gain and less gene family loss along the Choanoflagellata stem than along the Metazoa stem (Figure 1C). So, Richter et al. do find a burst of gene family expansion, but in Choanoflagellata rather than Metazoa. It will be critical to further test the findings of both studies with improved sampling of other closely related groups, which could change how the gains and losses are apportioned to these two stems.
The results presented by Richter et al. agree in important ways with other recent work (King et al., 2008; Suga et al., 2013). These analyses reveal that the genetic changes on the Metazoa stem included the evolution of new intercellular signaling pathways (Fairclough et al., 2013) and the integration of new ligands and receptors into intracellular pathways that were already present (such as the Hippo pathway; Sebé-Pedrós et al., 2012). Other changes included the expansion of a core set of transcription factors (de Mendoza et al., 2013), and increased cis-regulatory complexity (Sebé-Pedrós et al., 2016).
Comparative gene content analyses refine our understanding of what makes metazoans unique, and in the process we are learning about the underappreciated biology of our close non-metazoan relatives (Sebé-Pedrós et al., 2017). For instance, Richter et al. identified homologs of Toll-like receptors in most choanoflagellates. These genes were thought to be an animal-specific innovation for innate immunity. Future research could investigate if these genes have immune-like roles in non-animals.
It is impossible to know how special animals really are without also knowing something about our closest relatives. The more we learn about these relatives, the less special we seem to be.
Article and author information
Author details
© 2018, Lewis et al.
This article is distributed under the terms of the Creative Commons Attribution License, which permits unrestricted use and redistribution provided that the original author and source are credited.
3,011

Page views

293

Downloads

2

Citations
Article citation count generated by polling the highest count across the following sources: Crossref, PubMed Central, Scopus.
A two-part list of links to download the article, or parts of the article, in various formats.
Downloads
(link to download the article as PDF)
Open citations
(links to open the citations from this article in various online reference manager services)
Cite this article
(links to download the citations from this article in formats compatible with various reference manager tools)
Zachary R Lewis
Casey W Dunn
Genome Evolution: We are not so special
eLife 7:e38726.
https://doi.org/10.7554/eLife.38726
Further reading
Choanoflagellates, the closest living relatives of animals, can provide unique insights into the changes in gene content that preceded the origin of animals. However, only two choanoflagellate genomes are currently available, providing poor coverage of their diversity. We sequenced transcriptomes of 19 additional choanoflagellate species to produce a comprehensive reconstruction of the gains and losses that shaped the ancestral animal gene repertoire. We identified ~1944 gene families that originated on the animal stem lineage, of which only 39 are conserved across all animals in our study. In addition, ~372 gene families previously thought to be animal-specific, including Notch, Delta, and homologs of the animal Toll-like receptor genes, instead evolved prior to the animal-choanoflagellate divergence. Our findings contribute to an increasingly detailed portrait of the gene families that defined the biology of the Urmetazoan and that may underpin core features of extant animals.

Evolutionary Biology
Genetics and Genomics

The genetic variants introduced into the ancestors of modern humans from interbreeding with Neanderthals have been suggested to contribute an unexpected extent to complex human traits. However, testing this hypothesis has been challenging due to the idiosyncratic population genetic properties of introgressed variants. We developed rigorous methods to assess the contribution of introgressed Neanderthal variants to heritable trait variation relative to that of modern human variants. We applied these methods to analyze 235,592 introgressed Neanderthal variants and 96 distinct phenotypes measured in about 300,000 unrelated white British individuals in the UK Biobank. Introgressed Neanderthal variants have a significant contribution to trait variation consistent with the polygenic architecture of complex phenotypes (contributing 0.12% of heritable variation averaged across phenotypes). However, the contribution of introgressed variants tends to be significantly depleted relative to modern human variants matched for allele frequency and linkage disequilibrium (about 59% depletion on average), consistent with purifying selection on introgressed variants. Different from previous studies (McArthur 2021), we find no evidence for elevated heritability across the phenotypes examined. We identified 348 independent significant associations of introgressed Neanderthal variants with 64 phenotypes . Previous work (Skov 2020) has suggested that a majority of such associations are likely driven by statistical association with nearby modern human variants that are the true causal variants. We therefore developed a customized statistical fine-mapping methodology for introgressed variants that led us to identify 112 regions (at a false discovery proportion of 16%) across 47 phenotypes containing 4,303 unique genetic variants where introgressed variants are highly likely to have a phenotypic effect. Examination of these variants reveal their substantial impact on genes that are important for the immune system, development, and metabolism. Our results provide the first rigorous basis for understanding how Neanderthal introgression modulates complex trait variation in present-day humans.

Developmental Biology
Evolutionary Biology

The gill skeleton of cartilaginous fishes (sharks, skates, rays, and holocephalans) exhibits a striking anterior–posterior polarity, with a series of fine appendages called branchial rays projecting from the posterior margin of the gill arch cartilages. We previously demonstrated in the skate (Leucoraja erinacea) that branchial rays derive from a posterior domain of pharyngeal arch mesenchyme that is responsive to Sonic hedgehog (Shh) signaling from a distal gill arch epithelial ridge (GAER) signaling centre. However, how branchial ray progenitors are specified exclusively within posterior gill arch mesenchyme is not known. Here, we show that genes encoding several Wnt ligands are expressed in the ectoderm immediately adjacent to the skate GAER, and that these Wnt signals are transduced largely in the anterior arch environment. Using pharmacological manipulation, we show that inhibition of Wnt signalling results in an anterior expansion of Shh signal transduction in developing skate gill arches, and in the formation of ectopic anterior branchial ray cartilages. Our findings demonstrate that ectodermal Wnt signalling contributes to gill arch skeletal polarity in skate by restricting Shh signal transduction and chondrogenesis to the posterior arch environment and highlights the importance of signalling interactions at embryonic tissue boundaries for cell fate determination in vertebrate pharyngeal arches.