Genome Evolution: We are not so special
New sequence data from choanoflagellates improves our understanding of the genetic changes that occurred along the branch of the evolutionary tree that gave rise to animals.
The most recent common ancestor of animals lived more than 600 million years ago, so we cannot sequence its genome. Nevertheless, we can identify a minimal set of gene families that were present in this long-dead ancestor by comparing genomic data across animals and their closest relatives. In addition to being interesting in its own right, this helps us identify which genes were gained and lost before the origin of animals and, likewise, which genes were gained and lost as animals diversified.
The challenge, though, is that there are strong sampling biases that can compromise these analyses. Genome sequencing has focused on species that are medically relevant, experimentally tractable, and easy to sequence (del Campo et al., 2014). Left unaddressed, these biases can frustrate efforts to reconstruct the genomes of our ancient ancestors. Take, for example, the simple case of three groups of organisms called O, C and M, and a gene that originated along the branch that gave rise to C and M (Figure 1A). If more sequencing effort has been invested in group M than in group C, the gene is more likely to be found in group M than in group C. And if the gene is found in M but not in C, even though it is present in both, then it will appear that the gene is specific to group M and younger than it actually is.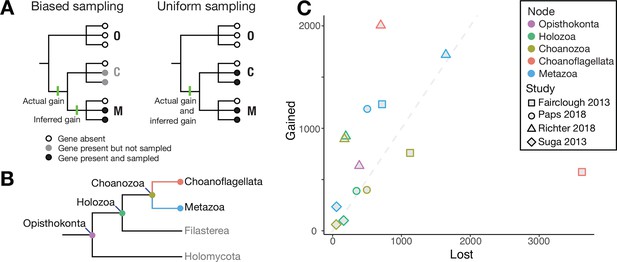 Now, in eLife, Daniel Richter, Parinaz Fozouni, Michael Eisen and Nicole King report their work to reduce sequencing bias by sampling many more genes in the sister group to animals, the choanoflagellates (Richter et al., 2018). They generated transcriptomic data for 19 species of choanoflagellates and analyzed them in combination with previously published metazoan (animal), choanoflagellate and other eukaryote genomes. In addition to presenting new data, Richter et al. – who are based at UC Berkeley, UCSF, the Gladstone Institutes and Station Biologique de Roscoff – applied new probabilistic methods to minimize the chance that a gene family would be predicted to be present in a taxonomic group based on the spurious assignment of unrelated genes to the same family.
In related work at the universities of Essex and Oxford, Jordi Paps and Peter Holland have reported an interesting analysis of gene gain and loss in early animal evolution (Paps and Holland, 2018). The studies agree on some key points. Both recovered a relatively large number of gene family gains along the 'animal stem' (the branch of the evolutionary tree that uniquely gives rise to animals; shown in blue in Figure 1B). However, while Paps and Holland estimate that the number of gains was much higher than the number of losses, which they interpreted as evidence for an accelerated expansion of gene families along the Metazoa stem, Richter et al. estimate approximately equal numbers of gains and losses (Figure 1C). This means that Richter et al. find evidence for accelerated churn of gene families along the Metazoa stem, not a burst of expansion. This incongruence is likely related to Paps and Holland analyzing two choanoflagellate species, compared to the 21 analyzed by Richter et al.
Another difference is that Paps and Holland did not estimate gene gain and loss along the Choanoflagellata stem, whereas Richter et al. did. This revealed more gene family gain and less gene family loss along the Choanoflagellata stem than along the Metazoa stem (Figure 1C). So, Richter et al. do find a burst of gene family expansion, but in Choanoflagellata rather than Metazoa. It will be critical to further test the findings of both studies with improved sampling of other closely related groups, which could change how the gains and losses are apportioned to these two stems.
The results presented by Richter et al. agree in important ways with other recent work (King et al., 2008; Suga et al., 2013). These analyses reveal that the genetic changes on the Metazoa stem included the evolution of new intercellular signaling pathways (Fairclough et al., 2013) and the integration of new ligands and receptors into intracellular pathways that were already present (such as the Hippo pathway; Sebé-Pedrós et al., 2012). Other changes included the expansion of a core set of transcription factors (de Mendoza et al., 2013), and increased cis-regulatory complexity (Sebé-Pedrós et al., 2016).
Comparative gene content analyses refine our understanding of what makes metazoans unique, and in the process we are learning about the underappreciated biology of our close non-metazoan relatives (Sebé-Pedrós et al., 2017). For instance, Richter et al. identified homologs of Toll-like receptors in most choanoflagellates. These genes were thought to be an animal-specific innovation for innate immunity. Future research could investigate if these genes have immune-like roles in non-animals.
It is impossible to know how special animals really are without also knowing something about our closest relatives. The more we learn about these relatives, the less special we seem to be.
Article and author information
Author details
© 2018, Lewis et al.
This article is distributed under the terms of the Creative Commons Attribution License, which permits unrestricted use and redistribution provided that the original author and source are credited.
2,999

Page views

292

Downloads

2

Citations
Article citation count generated by polling the highest count across the following sources: Crossref, PubMed Central, Scopus.
A two-part list of links to download the article, or parts of the article, in various formats.
Downloads
(link to download the article as PDF)
Open citations
(links to open the citations from this article in various online reference manager services)
Cite this article
(links to download the citations from this article in formats compatible with various reference manager tools)
Zachary R Lewis
Casey W Dunn
Genome Evolution: We are not so special
eLife 7:e38726.
https://doi.org/10.7554/eLife.38726
Further reading
Choanoflagellates, the closest living relatives of animals, can provide unique insights into the changes in gene content that preceded the origin of animals. However, only two choanoflagellate genomes are currently available, providing poor coverage of their diversity. We sequenced transcriptomes of 19 additional choanoflagellate species to produce a comprehensive reconstruction of the gains and losses that shaped the ancestral animal gene repertoire. We identified ~1944 gene families that originated on the animal stem lineage, of which only 39 are conserved across all animals in our study. In addition, ~372 gene families previously thought to be animal-specific, including Notch, Delta, and homologs of the animal Toll-like receptor genes, instead evolved prior to the animal-choanoflagellate divergence. Our findings contribute to an increasingly detailed portrait of the gene families that defined the biology of the Urmetazoan and that may underpin core features of extant animals.

The independent movements and flexibility of various parts of the skull, called cranial kinesis, are an evolutionary innovation that is found in living vertebrates only in some squamates and crown birds and is considered to be a major factor underpinning much of the enormous phenotypic and ecological diversity of living birds, the most diverse group of extant amniotes. Compared to the postcranium, our understanding of the evolutionary assemblage of the characteristic modern bird skull has been hampered by sparse fossil records of early cranial materials, with competing hypotheses regarding the evolutionary development of cranial kinesis among early members of the avialans. Here, a detailed three-dimensional reconstruction of the skull of the Early Cretaceous enantiornithine Yuanchuavis kompsosoura allows for its in-depth description, including elements that are poorly known among early-diverging avialans but are central to deciphering the mosaic assembly of features required for modern avian cranial kinesis. Our reconstruction of the skull shows evolutionary and functional conservation of the temporal and palatal regions by retaining the ancestral theropod dinosaurian configuration within the skull of this otherwise derived and volant bird. Geometric morphometric analysis of the palatine suggests that loss of the jugal process represents the first step in the structural modifications of this element leading to the kinetic crown bird condition. The mixture of plesiomorphic temporal and palatal structures together with a derived avialan rostrum and postcranial skeleton encapsulated in Yuanchuavis manifests the key role of evolutionary mosaicism and experimentation in early bird diversification.

Evolutionary Biology
Microbiology and Infectious Disease

Viruses have evolved diverse mechanisms to antagonize host immunity such as direct inhibition and relocalization of cellular APOBEC3B (A3B) by the ribonucleotide reductase (RNR) of Epstein-Barr virus. Here, we investigate the mechanistic conservation and evolutionary origin of this innate immune counteraction strategy. First, we find that human gamma-herpesvirus RNRs engage A3B via largely distinct surfaces. Second, we show that RNR-mediated enzymatic inhibition and relocalization of A3B depend upon binding to different regions of the catalytic domain. Third, we show that the capability of viral RNRs to antagonize A3B is conserved among gamma-herpesviruses that infect humans and Old World monkeys that encode this enzyme but absent in homologous viruses that infect New World monkeys that naturally lack the A3B gene. Finally, we reconstruct the ancestral primate A3B protein and demonstrate that it is active and similarly engaged by the RNRs from viruses that infect humans and Old World monkeys but not by the RNRs from viruses that infect New World monkeys. These results combine to indicate that the birth of A3B at a critical branchpoint in primate evolution may have been a driving force in selecting for an ancestral gamma-herpesvirus with an expanded RNR functionality through counteraction of this antiviral enzyme.