Protein Overexpression: Reaching the limit
How many copies of a protein can be made before it becomes toxic to the cell?
Cells can be pictured as factories that build proteins, the molecules essential for nearly all of life's processes. The body tightly controls production levels, because creating too many proteins – also known as protein overexpression – can be harmful to the cell. Yet, it is difficult to know how much of any given protein will be harmful, or why.
Indeed, high concentrations of enzymes and other proteins can harm cells in several ways, for example by activating or overloading specific biological pathways, disrupting regulation, or by aggregating together (Vavouri et al., 2009; Tang and Amon, 2013; Makanae et al., 2013). They can also upset the balance in protein complexes or make the different liquid phases separate in the cell (Birchler and Veitia, 2012; Bolognesi et al., 2016). Ultimately, overexpressing any protein will be destructive because it exhausts the resources of the cell to make and transport proteins (Stoebel et al., 2008). However, we did not know how much of a specific protein must be produced to cause this 'protein burden' and hinder cell growth.
Now, in eLife, Hisao Moriya and colleagues at the universities of Okayama, Kobe and Meiji – including Yuichi Eguchi as first author – report that many members of a group of enzymes can be overexpressed until they form 15% of the total proteins in a yeast cell (Eguchi et al., 2018). Only then do they start to cause damage because of protein burden. This matches the results of previous experiments from the same laboratory, which only focused on a single fluorescent protein that did not interfere with any components of the cell (Kintaka et al., 2016).
To discover this limit, Eguchi et al. relied on a method the lab developed in 2006. The technique involves inserting a small portion of DNA, called a plasmid, into the yeast cells. The plasmid carries two genes: the first is essential for growth, and the other codes for one of the enzymes studied. The cell increasingly needs to make new plasmids in order to grow, but this also creates more enzymes. In this 'tug-of-war' system, the yeast generates more and more plasmids until the expression of the enzyme of interest becomes harmful; at this point, plasmid production decreases. The number of plasmids in the cell thus reflects the quantity of protein that can be made before it turns toxic.
The experiments focused on a set of 29 glycolytic enzymes, which break down sugar in yeast. These enzymes are normally highly expressed in a cell, and their roles are well understood.
Out of the 29 proteins, three were not harmful in the experiment and could not be produced in high enough amounts to reach the burden limit. This was because the genes that encoded these enzymes contained sequences that were not optimal for protein production.
Another 19 enzymes could be expressed until they formed close to 15% of the total protein content of the cell, which suggests that protein burden is the cause of their toxicity. The fact that even large essential yeast enzymes could be produced up to this limit is unexpected, and it suggests that in many cases the toxicity created by protein overexpression does not depend on the specific characteristics of the proteins.
The cost of overexpression may come from the burden it puts on the machinery that assembles proteins in the cell, which requires particularly high levels of energy (Shah et al., 2013). Putting this apparatus under pressure could impair or slow it down; in turn, this may hinder the creation of other proteins and decrease the fitness of the cell. The other steps of protein production, such as 'reading' the genes, helping the protein to mature, bringing it to its right location in the cell, and degrading it, also use significant amounts of energy (Rice and McLysaght, 2017).
Seven proteins caused harm at concentrations far below the 15% limit, which means that they must damage the cell in other ways than by causing a protein burden. Eguchi et al. identified three mechanisms for this toxicity: the proteins aggregated together, they overloaded a transport system that takes them to a specific cell compartment, or the overexpressed enzymes produced too much catalytic activity (Figure 1). One might have expected this last process to drive the toxic effects of this group of proteins. Yet, killing catalytic activity in the enzymes (by introducing specific mutations) only relieved the toxicity caused by overexpression for two of the 18 proteins that were tested.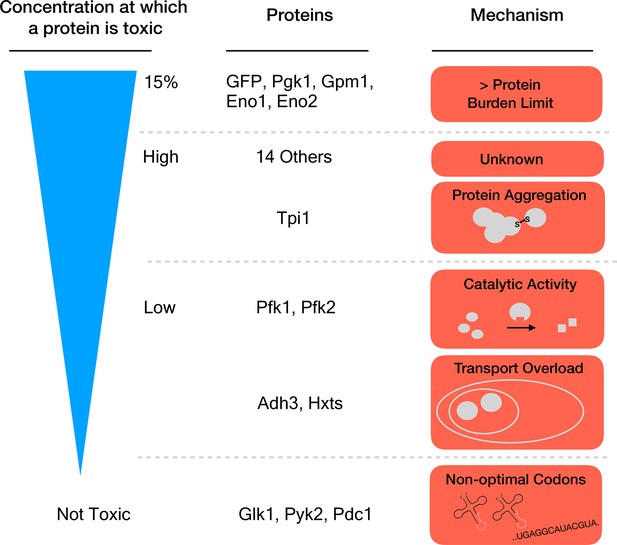 In many cases, removing one mechanism of toxicity increased the level to which an enzyme could be overexpressed, but it still did not allow expression up to the 15% limit. Proteins could therefore be damaging through a range of mechanisms, each of which gets triggered when the concentration in the cell reaches a particular level.
While the glycolytic enzymes belong to the same pathway and share extremely similar roles, their overexpression affects cell growth via diverse mechanisms. In other words, the biological role of a protein cannot be used to predict how it will harm the cell. Altogether, these results stimulate important lines of enquiry, such as looking into which of the above mechanisms damage cells when gene expression changes during disease. They also encourage further research so that we could predict at which concentration the expression of every human gene will be harmful in any tissue. And finally, they raise the question: is protein burden what has stopped increased gene expression during evolution?
Article and author information
Author details
© 2018, Bolognesi et al.
This article is distributed under the terms of the Creative Commons Attribution License, which permits unrestricted use and redistribution provided that the original author and source are credited.
15,093

Page views

653

Downloads

21

Citations
Article citation count generated by polling the highest count across the following sources: Crossref, PubMed Central, Scopus.
A two-part list of links to download the article, or parts of the article, in various formats.
Downloads
(link to download the article as PDF)
Open citations
(links to open the citations from this article in various online reference manager services)
Further reading
Computational and Systems Biology

The ultimate overexpression of a protein could cause growth defects, which are known as the protein burden. However, the expression limit at which the protein-burden effect is triggered is still unclear. To estimate this limit, we systematically measured the overexpression limits of glycolytic proteins in Saccharomyces cerevisiae. The limits of some glycolytic proteins were up to 15% of the total cellular protein. These limits were independent of the proteins' catalytic activities, a finding that was supported by an in silico analysis. Some proteins had low expression limits that were explained by their localization and metabolic perturbations. The codon usage should be highly optimized to trigger the protein-burden effect, even under strong transcriptional induction. The S–S-bond-connected aggregation mediated by the cysteine residues of a protein might affect its expression limit. Theoretically, only non-harmful proteins could be expressed up to the protein-burden limit. Therefore, we established a framework to distinguish proteins that are harmful and non-harmful upon overexpression.

Computational and Systems Biology

Genetics and Genomics

Thermal adaptation is an extensively used intervention for enhancing or suppressing thermogenic and mitochondrial activity in adipose tissues. As such, it has been suggested as a potential lifestyle intervention for body weight maintenance. While the metabolic consequences of thermal acclimation are not limited to the adipose tissues, the impact on the rest of the tissues in context of their gene expression profile remains unclear. Here, we provide a systematic characterization of the effects in a comparative multi-tissue RNA sequencing approach following exposure of mice to 10 °C, 22 °C, or 34 °C in a panel of organs consisting of spleen, bone marrow, spinal cord, brain, hypothalamus, ileum, liver, quadriceps, subcutaneous-, visceral- and brown adipose tissues. We highlight that transcriptional responses to temperature alterations exhibit a high degree of tissue-specificity both at the gene level and at GO enrichment gene sets, and show that the tissue-specificity is not directed by the distinct basic gene expression pattern exhibited by the various organs. Our study places the adaptation of individual tissues to different temperatures in a whole-organism framework and provides integrative transcriptional analysis necessary for understanding the temperature-mediated biological programming.

Computational and Systems Biology

Medicine

New SARS-CoV-2 variants, breakthrough infections, waning immunity, and sub-optimal vaccination rates account for surges of hospitalizations and deaths. There is an urgent need for clinically valuable and generalizable triage tools assisting the allocation of hospital resources, particularly in resource-limited countries. We developed and validate CODOP, a machine learning-based tool for predicting the clinical outcome of hospitalized COVID-19 patients. CODOP was trained, tested and validated with six cohorts encompassing 29223 COVID-19 patients from more than 150 hospitals in Spain, the USA and Latin America during 2020-22. CODOP uses 12 clinical parameters commonly measured at hospital admission for reaching high discriminative ability up to nine days before clinical resolution (AUROC: 0·90-0·96), it is well calibrated, and it enables an effective dynamic risk stratification during hospitalization. Furthermore, CODOP maintains its predictive ability independently of the virus variant and the vaccination status. To reckon with the fluctuating pressure levels in hospitals during the pandemic, we offer two online CODOP calculators, suited for undertriage or overtriage scenarios, validated with a cohort of patients from 42 hospitals in three Latin American countries (78-100% sensitivity and 89-97% specificity). The performance of CODOP in heterogeneous and geographically disperse patient cohorts and the easiness of use strongly suggest its clinical utility, particularly in resource-limited countries.