Malaria: Age, exposure and immunity
The acquisition of immunity to malaria by an individual depends on their age and the number of infectious mosquito bites they have received.
In a league table of infectious diseases, malaria would rank above all others in how often it causes infections and the number of parasites in infected hosts. In areas that are particularly favourable for malaria transmission, a single person can be infected more than 1,000 times per year (Smith et al., 2005). Each infection can potentially lead to a fatal episode of severe malaria that sees up to a trillion parasites circulating in the host's blood.
Although every new infection boosts immunity to further infections, this comes at a high price: in some areas malaria can kill up to 5% of children before their fifth birthday (Streatfield et al., 2014). Adults become immune more quickly than children, but are also more likely to die from severe malaria (Baird, 1998). It would be useful, therefore, to be able to quantify the rate at which an individual acquires immunity to malaria, and how this depends on their age and exposure. Now, in eLife, Isabel Rodriguez-Barraquer of the University of California, San Francisco and colleagues in the US, Uganda and the UK report how they have developed a new model that sheds light on these relationships (Rodriguez-Barraquer et al., 2018).
Rodriguez-Barraquer et al. looked at data from 773 children aged between six months and 10 years old in three Ugandan villages. Each child was monitored for up to three years in an attempt to understand the relationships between their age, how often they were infected, the number of parasites in their blood, and the number of parasites required to cause symptoms of malaria. A child was considered to have developed a case of clinical malaria if they had a body temperature above 38°C, and if the density of parasites in their blood was high enough to be seen under a microscope. Alongside clinical follow-up, there was an accompanying effort to catch mosquitoes in the children's houses. This allowed exposure to be measured in terms of the number of infectious mosquito bites the children received per year.
The villages had varying levels of malaria, with children experiencing an average of 22 bites and two cases of clinical malaria every year (Kamya et al., 2015). There was also a lot of variation in the number of cases per child, with one child experiencing 30 incidents of malaria over the course of the study.
Rodriguez-Barraquer et al. analysed data on two aspects of immunity – anti-parasite immunity (which reduces the number of parasites in the blood) and anti-disease immunity (which is the ability to tolerate a given parasite density without developing fever; Figure 1). They found that older children had fewer parasites than younger children, and that frequently infected children had fewer parasites than the less frequently infected. They also found that older children were less likely to develop fever than young children, and that frequently infected children were less likely to develop fever than the less frequently infected. These linear relationships agree with our current understanding of malaria immunity based on decades of epidemiological studies (Doolan et al., 2009).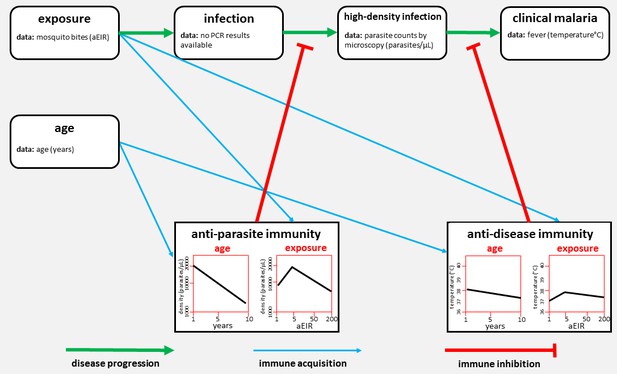 The researchers then investigated the nonlinear relationships between age, transmission and the acquisition of immunity. They found that children in the villages with the lowest rates of malaria transmission (who received an average of two infectious bites a year) developed immunity more efficiently than children in villages with moderate transmission rates (who received three times more bites). The average child coming to the health clinic in the low transmission village had both a lower parasite density and a lower body temperature than their counterpart from the moderate transmission village.
This is a counter-intuitive but statistically robust finding. If replicated elsewhere, it has important implications. Traditionally it has been assumed that as transmission rates decline, so does immunity, presenting an obstacle to malaria control (Rogier et al., 1999). However, the new analysis suggests a more complex pattern, which Rodriguez-Barraquer et al. suggest could be due to the lower genetic diversity found among parasites in low-transmission situations. This could mean that individuals may acquire immunity to infection more efficiently as malaria transmission is reduced, thus aiding control efforts. More work is needed to check if this association is causal and is free of selection bias. Selection bias could arise if the way children's parents seek treatment varies for different transmission intensities.
The latest analysis also suggests future avenues of research. Asymptomatic infections, and those that do not reach sufficiently high density to be seen under a microscope, could be detected using PCR (polymerase chain reaction) techniques. Exposure could be measured more accurately by using genotyping to count the number of parasite clones circulating in the host (Mueller et al., 2012). Measurements of anti-malarial antibody responses can also be used as markers of both exposure to the disease and protection from it (França et al., 2017).
Levels of immunity are not just dependent on age and exposure, but also on the cumulative number of episodes of clinical malaria that an individual has experienced (Rodriguez-Barraquer et al., 2016). Other data sources may shed light on this problem. An ideal target would be to identify combinations of immune responses that allow immunity to be quantified independently of age and exposure to the malaria parasites.
Plasmodium falciparum clinical malaria: lessons from longitudinal studies in Senegal

Parassitologia 41:255–259.
Article and author information
Author details
© 2018, White et al.
This article is distributed under the terms of the Creative Commons Attribution License, which permits unrestricted use and redistribution provided that the original author and source are credited.
3,865

Page views

308

Downloads

7

Citations
Article citation count generated by polling the highest count across the following sources: Crossref, PubMed Central, Scopus.
A two-part list of links to download the article, or parts of the article, in various formats.
Downloads
(link to download the article as PDF)
Open citations
(links to open the citations from this article in various online reference manager services)
Cite this article
(links to download the citations from this article in formats compatible with various reference manager tools)
Michael White
James Watson
Malaria: Age, exposure and immunity
eLife 7:e40150.
https://doi.org/10.7554/eLife.40150
Further reading
Epidemiology and Global Health

Fundamental gaps remain in our understanding of how immunity to malaria develops. We used detailed clinical and entomological data from parallel cohort studies conducted across the malaria transmission spectrum in Uganda to quantify the development of immunity against symptomatic P. falciparum as a function of age and transmission intensity. We focus on: anti-parasite immunity (i.e. ability to control parasite densities) and anti-disease immunity (i.e. ability to tolerate higher parasite densities without fever). Our findings suggest a strong effect of age on both types of immunity, not explained by cumulative-exposure. They also show an independent effect of exposure, where children living in moderate/high transmission settings develop immunity faster as transmission increases. Surprisingly, children in the lowest transmission setting appear to develop immunity more efficiently than those living in moderate transmission settings. Anti-parasite and anti-disease immunity develop in parallel, reducing the probability of experiencing symptomatic malaria upon each subsequent P. falciparum infection.

Epidemiology and Global Health
Genetics and Genomics

Ageing is a heterogenous process characterised by cellular and molecular hallmarks, including changes to haematopoietic stem cells and is a primary risk factor for chronic diseases. X chromosome inactivation (XCI) randomly transcriptionally silences either the maternal or paternal X in each cell of 46, XX females to balance the gene expression with 46, XY males. Age acquired XCI-skew describes the preferential selection of cells across a tissue resulting in an imbalance of XCI, which is particularly prevalent in blood tissues of ageing females, and yet its clinical consequences are unknown.

We assayed XCI in 1575 females from the TwinsUK population cohort using DNA extracted from whole blood. We employed prospective, cross-sectional, and intra-twin study designs to characterise the relationship of XCI-skew with molecular and cellular measures of ageing, cardiovascular disease risk, and cancer diagnosis.

We demonstrate that XCI-skew is independent of traditional markers of biological ageing and is associated with a haematopoietic bias towards the myeloid lineage. Using an atherosclerotic cardiovascular disease risk score, which captures traditional risk factors, XCI-skew is associated with an increased cardiovascular disease risk both cross-sectionally and within XCI-skew discordant twin pairs. In a prospective 10 year follow-up study, XCI-skew is predictive of future cancer incidence.

Our study demonstrates that age acquired XCI-skew captures changes to the haematopoietic stem cell population and has clinical potential as a unique biomarker of chronic disease risk.

KSS acknowledges funding from the Medical Research Council [MR/M004422/1 and MR/R023131/1]. JTB acknowledges funding from the ESRC [ES/N000404/1]. MM acknowledges funding from the National Institute for Health Research (NIHR)-funded BioResource, Clinical Research Facility and Biomedical Research Centre based at Guy's and St Thomas' NHS Foundation Trust in partnership with King's College London. TwinsUK is funded by the Wellcome Trust, Medical Research Council, European Union, Chronic Disease Research Foundation (CDRF), Zoe Global Ltd and the National Institute for Health Research (NIHR)-funded BioResource, Clinical Research Facility and Biomedical Research Centre based at Guy's and St Thomas' NHS Foundation Trust in partnership with King's College London.

Epidemiology and Global Health
Immunology and Inflammation

Background: The combined impact of immunity and SARS-CoV-2 variants on viral kinetics during infections has been unclear.

Methods: We characterized 1,280 infections from the National Basketball Association occupational health cohort identified between June 2020 and January 2022 using serial RT-qPCR testing. Logistic regression and semi-mechanistic viral RNA kinetics models were used to quantify the effect of age, variant, symptom status, infection history, vaccination status and antibody titer to the founder SARS-CoV-2 strain on the duration of potential infectiousness and overall viral kinetics. The frequency of viral rebounds was quantified under multiple cycle threshold (Ct) value-based definitions.

Results: Among individuals detected partway through their infection, 51.0% (95% credible interval [CrI]: 48.3-53.6%) remained potentially infectious (Ct<30) five days post detection, with small differences across variants and vaccination status. Only seven viral rebounds (0.7%; N=999) were observed, with rebound defined as 3+ days with Ct<30 following an initial clearance of 3+ days with Ct≥30. High antibody titers against the founder SARS-CoV-2 strain predicted lower peak viral loads and shorter durations of infection. Among Omicron BA.1 infections, boosted individuals had lower pre-booster antibody titers and longer clearance times than non-boosted individuals.

Conclusions: SARS-CoV-2 viral kinetics are partly determined by immunity and variant but dominated by individual-level variation. Since booster vaccination protects against infection, longer clearance times for BA.1-infected, boosted individuals may reflect a less effective immune response, more common in older individuals, that increases infection risk and reduces viral RNA clearance rate. The shifting landscape of viral kinetics underscores the need for continued monitoring to optimize isolation policies and to contextualize the health impacts of therapeutics and vaccines.

Funding: Supported in part by CDC contract #200-2016-91779, a sponsored research agreement to Yale University from the National Basketball Association contract #21-003529, and the National Basketball Players Association.