Sexual Differentiation: A matter of timing
A genetic pathway involved in development works together with the sex-determination pathway to control the timing of sexually dimorphic neural development in C. elegans.
The fate of a cell during development depends on several factors, such as its location in the body, developmental stage, and sex. However, most cells in the body do not 'know' what sex they are and function the same way, even though male and female cells have different sex chromosomes. How, then, do sexually dimorphic cells – the cells that are responsible for differences between males and females, such as differences in the adult brain – learn their sex during development?
The sex of an animal can modify the development of cells, such as neurons, in several ways. For example, males and females can produce the same type of cells, but then cause targeted cell death in a subset of cells in one of the sexes (Figure 1A; Kimura et al., 2008; Sanders and Arbeitman, 2008). Alternatively, an animal's sex can modify the number of cell divisions, producing extra cells in one sex (Figure 1B; Emmons, 2018; Taylor and Truman, 1992; Sanders and Arbeitman, 2008). Or, cells that are identical at first can be modified in different ways in males and females (Figure 1C). This mechanism is common in the worm Caenorhabditis elegans (reviewed in Portman, 2017), but less common in insects like the fruit fly (see, for example, Kohl et al., 2013).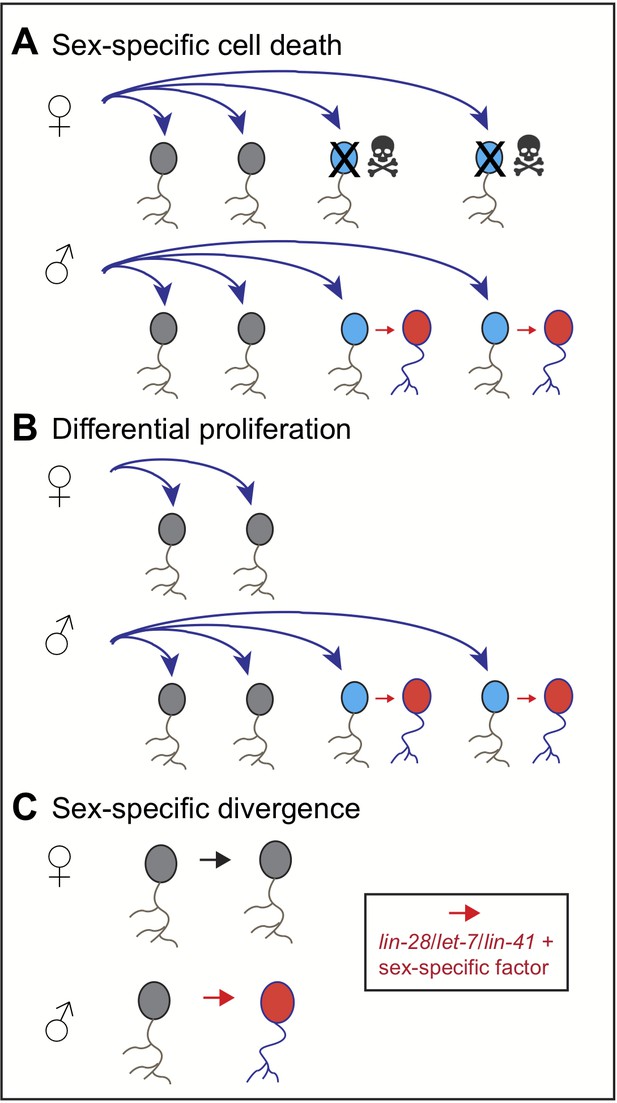 In C. elegans, most of these differences arise during the fourth stage of larval development, just before they become sexually active, but how do cells know when to become different? Now, in eLife, Oliver Hobert of Columbia University and colleagues – including Laura Pereira as first author – report that the heterochronic pathway (which regulates the larval development of worms) is also involved in controlling the timing of sexual differentiation in the nervous system of C. elegans (Pereira et al., 2019).
Pereira et al. – who are based at Columbia, Rochester, and Basel – reveal that three genes (let-7, lin-28 and lin-41) control when sexual maturation takes place in the neurons of C. elegans. Mutation of let-7 precociously initiates sex-specific changes in neurons, while overexpression overrides these changes. Furthermore, in young worms, lin-41 represses the production of a newly identified version of a gene called lin-29a, which is sexually specific. As the worms mature, however, the protein of lin-28 is lost, which allows let-7 to deactivate lin-41. In turn, lin-29a is then expressed in a subset of neurons. These neurons then turn on male-specific genes and adopt a male-specific shape and function (in the manner shown in Figure 1C). Both let-7 and lin-28 have been shown to control the timing of sexual differentiation in mice and humans, providing an intriguing hint of deeply conserved mechanisms (see, for example, Corre et al., 2016; Zhu et al., 2010; Chen et al., 2017).
The researchers discovered that the activation of lin-29a controls the sex-specific features of a neuron, called the AIM interneuron, which is important for the behavior of males. Male worms that lack this gene move in a way that is typical for hermaphrodites (modified females that can self-fertilize), providing a convincing demonstration that lin-29a provides the sex-specific input in the regulation of male genes. Pereira et al. further found that the pathway that determines the sex of a cell, including the gene tra-1, also regulates the production of lin-29a.
In other cells in C. elegans, homologs of a gene called doublesex, rather than lin29a, shape the sex-specific traits. The gene doublesex is well-known for being involved in the sex-specific development of the nervous system in insects, although another gene called fruitless (which is not present in worms), is even more important in this process. Given the similarities, it is tempting to draw parallels between lin-29a and fruitless, though no direct homology has been identified.
It is unknown whether a heterochronic pathway similar to the one in C. elegans affects sex-specific cell fate decisions in fruit flies. The genes fruitless and doublesex only start to exhibit sex-specific expression in the nervous system at the end of the last larval stage and the early pupal stages (but as soon as the neurons have formed), which can then result in sexual dimorphism (as in Figure 1). This is different from what Pereira et al. report in C. elegans, where the pathway acts on many types of neurons at roughly the same stage, often well after they have been specified. Whether any neurons in Drosophila exhibit a similar delay in sex-specific fate specification after patterning is unknown.
The links to let-7 and lin-28 in the sexual differentiation of vertebrates raise the question of how precisely these genes are affecting their neural development during puberty; whether the number or types of neurons are modified by this pathway, as they are in C. elegans; and whether similar connections to homologs of lin-29a or doublesex-like genes exist. The study of Pereira et al. has set the stage for future work in flies and vertebrates to test potentially shared components and interactions.
Commitment of abdominal neuroblasts in Drosophila to a male or female fate is dependent on genes of the sex-determining hierarchy

Development 114:625–642.
Article and author information
Author details
© 2019, Perry and Desplan
This article is distributed under the terms of the Creative Commons Attribution License, which permits unrestricted use and redistribution provided that the original author and source are credited.
1,558

Page views

138

Downloads

0

Citations
Article citation count generated by polling the highest count across the following sources: Crossref, PubMed Central, Scopus.
A two-part list of links to download the article, or parts of the article, in various formats.
Downloads
(link to download the article as PDF)
Open citations
(links to open the citations from this article in various online reference manager services)
Cite this article
(links to download the citations from this article in formats compatible with various reference manager tools)
Michael W Perry
Claude Desplan
Sexual Differentiation: A matter of timing
eLife 8:e41523.
https://doi.org/10.7554/eLife.41523
Further reading
The molecular mechanisms that control the timing of sexual differentiation in the brain are poorly understood. We found that the timing of sexually dimorphic differentiation of postmitotic, sex-shared neurons in the nervous system of the Caenorhabditis elegans male is controlled by the temporally regulated miRNA let-7 and its target lin-41, a translational regulator. lin-41 acts through lin-29a, an isoform of a conserved Zn finger transcription factor, expressed in a subset of sex-shared neurons only in the male. Ectopic lin-29a is sufficient to impose male-specific features at earlier stages of development and in the opposite sex. The temporal, sexual and spatial specificity of lin-29a expression is controlled intersectionally through the lin-28/let-7/lin-41 heterochronic pathway, sex chromosome configuration and neuron-type-specific terminal selector transcription factors. Two Doublesex-like transcription factors represent additional sex- and neuron-type specific targets of LIN-41 and are regulated in a similar intersectional manner.

Developmental Biology
Neuroscience

The organization of neural circuits determines nervous system function. Variability can arise during neural circuit development (e.g. neurite morphology, axon/dendrite position). To ensure robust nervous system function, mechanisms must exist to accommodate variation in neurite positioning during circuit formation. Previously, we developed a model system in the Drosophila ventral nerve cord to conditionally induce positional variability of a proprioceptive sensory axon terminal, and used this model to show that when we altered the presynaptic position of the sensory neuron, its major postsynaptic interneuron partner modified its dendritic arbor to match the presynaptic contact, resulting in functional synaptic input (Sales et al., 2019). Here, we investigate the cellular mechanisms by which the interneuron dendrites detect and match variation in presynaptic partner location and input strength. We manipulate the presynaptic sensory neuron by (a) ablation; (b) silencing or activation; or (c) altering its location in the neuropil. From these experiments we conclude that there are two opposing mechanisms used to establish functional connectivity in the face of presynaptic variability: presynaptic contact stimulates dendrite outgrowth locally, whereas presynaptic activity inhibits postsynaptic dendrite outgrowth globally. These mechanisms are only active during an early larval critical period for structural plasticity. Collectively, our data provide new insights into dendrite development, identifying mechanisms that allow dendrites to flexibly respond to developmental variability in presynaptic location and input strength.

Connections from the basolateral amygdala (BLA) to medial prefrontal cortex (PFC) regulate memory and emotion and become disrupted in neuropsychiatric disorders. The diverse roles attributed to interactions between the BLA and PFC may reflect multiple circuits nested within a wider network. To examine these circuits, we first used retrograde and anterograde anatomy to show that the rostral BLA (rBLA) and caudal BLA (cBLA) differentially project to prelimbic (PL) and infralimbic (IL) subregions of the mouse PFC. Using ex vivo whole-cell recordings and optogenetics, we then assessed which neuronal subtypes are targeted, showing that rBLA preferentially drives layer 2 (L2) cortico-amygdalar (CA) neurons in PL, whereas cBLA drives layer 5 (L5) pyramidal tract (PT) neurons in IL. We next combined in vivo silicon probe recordings and optogenetics to confirm that cBLA mainly influences IL L5, whereas rBLA primarily activates PL L2, but also evokes polysynaptic activity in PL L5. Lastly, we used soma-tagged optogenetics to explore the local circuits linking superficial and deep layers of PL, showing how rBLA can engage L2 CA neurons to impact L5 PT neuron activity. Together, our findings delineate how subregions of the BLA target distinct networks within the PFC and differentially influence output from PL and IL.