Different genetic mechanisms mediate spontaneous versus UVR-induced malignant melanoma
Genetic variation conferring resistance and susceptibility to carcinogen-induced tumorigenesis is frequently studied in mice. We have now turned this idea to melanoma using the collaborative cross (CC), a resource of mouse strains designed to discover genes for complex diseases. We studied melanoma-prone transgenic progeny across seventy CC genetic backgrounds. We mapped a strong quantitative trait locus for rapid onset spontaneous melanoma onset to Prkdc, a gene involved in detection and repair of DNA damage. In contrast, rapid onset UVR-induced melanoma was linked to the ribosomal subunit gene Rrp15. Ribosome biogenesis was upregulated in skin shortly after UVR exposure. Mechanistically, variation in the 'usual suspects' by which UVR may exacerbate melanoma, defective DNA repair, melanocyte proliferation, or inflammatory cell infiltration, did not explain melanoma susceptibility or resistance across the CC. Instead, events occurring soon after exposure, such as dysregulation of ribosome function, which alters many aspects of cellular metabolism, may be important.
https://doi.org/10.7554/eLife.42424.001
Melanoma is a type of skin cancer. Melanoma tumors form in the skin's pigment-producing cells or melanocytes. Growing evidence points to complex interactions between genetics and environmental exposures that contribute to the risk of developing melanoma. Ultraviolet (UV) radiation from the sun causes genetic mutations in melanocytes. This sun exposure interacts with genetic variations that may make people more or less vulnerable to such DNA damage. For example, genetic variations that control skin color or the cell's ability to repair DNA, and that influence how easily people develop sunburn, all affect whether UV damage leads to melanoma. However, some forms of melanoma are not caused by sun exposure at all.
Most of the genetic variations linked to melanoma have a small effect on the risk of developing the disease. So, it is unlikely that these genes alone cause melanoma. Few studies have been able to map the complex interactions between genes and the environment that lead to melanoma. So far, it has been unclear if there are different genetic mechanisms that lead to an increased risk for sun-exposure linked melanoma and non-sun linked melanoma.
Now, Ferguson et al. show that variations in the genes involved in DNA repair during normal cell growth are linked to non-sun linked melanoma. Sun-linked melanoma, on the other hand, was associated with genes involved in the production of proteins in part of the cell called ribosomes. In the experiments, the effects of both UV light and various genetic variations were assessed across many different strains of mice. Mutations that impair the cell's ability to repair UV-induced DNA damage or that contribute to excessive inflammation in response to sunburn did not increase melanoma susceptibility in these experiments.
Ferguson et al. show that the amount of UV-induced DNA damage alone does not explain melanoma risk, which may not always depend on skin pigmentation. The experiments also suggest that non-UV linked melanoma is caused by a different mechanism than sun exposure-linked melanoma. Learning more about different genetic factors that affect the risk of developing different types of melanoma may help scientists develop more specific treatments.
https://doi.org/10.7554/eLife.42424.002
Cutaneous malignant melanoma (MM) is well known to be associated with high levels of sun exposure. However, this is only true for intermittent rather than chronic exposures, with indoor workers having a higher risk for MM than outdoor workers (Gandini et al., 2005). Examples of intermittent sun exposures include number of waterside vacations and number of severe sunburns. One melanoma subtype, lentigo maligna melanoma (LMM), is invariably linked to chronic sun exposure. Individual risk for the development of MM is in part due to the number of UVR-induced mutations incurred (i.e. the environmental factor), but it is also due to genetic variation that controls skin color (degree of protection due to pigment), DNA repair capability (DiGiovanna and Kraemer, 2012), propensity to burn (inflammation), failure of programmed death of a damaged cell, and/or other factors that control melanocyte behavior (Sample and He, 2018). Genome-wide association studies (GWAS) point to genes regulating aspects of cell division control (e.g. CDKN2A/MTAP, PLA2G6, TERT), DNA repair (e.g. PARP1, APEX1, ATM), and pigmentation (e.g. MC1R, ASIP, TYR, SLC45A2, TYR) as the main players in conferring MM risk (Gerstenblith et al., 2010; Duffy et al., 2018). However only a small fraction of the variance in MM risk is explained by these genes, suggesting that there are still other genes involved in conferring MM risk in the general population (Hulur et al., 2017).
Clearly, MM is a heterogeneous disease with respect to both innate and somatic genetics, and also to environmental factors since each individual with MM was exposed to different levels of sun exposure. The most common superficial spreading melanomas (SSM) are sometimes found on sun-exposed body sites, but more often on non-sun exposed sites, and there can be great diversity in terms of the number of UVR signature mutations in individual lesions (Mukhopadhyay et al., 2017). While the number of UVR signature mutations in MMs strongly suggests a role for UVR in MM, the number of mutations present in a MM is due to not just obvious levels of exposure, and protective and repair differences between individuals, but also other factors, for instance the type of exposure. There is in vivo evidence that less intense exposures may be more important for skin cancer induction than more intense doses which cause more apoptosis (Lan et al., 2016), and even for a single exposure there are significant differences in skin responses between the same dose (i.e. the same levels of DNA damage) administered with high intensity over a short period versus a low intensity for a longer period (Iida et al., 2016). Our skin can protect itself via pigmentation responses (tanning), but also by 'photo-adaption', which is independent of pigmentation levels (Palmer et al., 2006). Thus, the skin of different individuals can respond and adapt to various forms of sun exposure in different ways, and there are potentially multiple and interacting mechanisms which might explain how UVR exposure could initiate or accelerate MM development in the general population.
For the above reasons, most experimental work on UVR carcinogenesis has used animal models. Natural genetic variation can confer resistance to many cancer types in mice (Balmain, 2002), and it is of great interest to determine why this is so. Most mouse MM models rapidly develop tumours after neonatal UVR exposure. Such models have provided tractable experimental systems to determine a MM action spectrum (De Fabo et al., 2004), to assess which type of UVR-induced DNA adducts are required, and to study the role of UVR-induced DNA damage, inflammation, and immunosuppression (Walker, 2008). It is not yet clearly known why a single neonatal UVR exposure so efficiently accelerates MM onset. We have shown previously that it is not via the acquisition of unrepaired UVR-induced damage leading to mutations in important cancer genes (Mukhopadhyay et al., 2016). A number of factors have been proposed to play a role: 1) there is a muted inflammatory response to UVR in neonates associated with immunosuppression (Wolnicka-Glubisz et al., 2007); 15,16), Muller et al., 2008) there is a heightened sensitivity of neonatal melanocytes to proliferate following UVR (Walker et al., 209) that is driven by inflammatory cytokines, especially interferon-γ (Zaidi et al., 2011).
We used the Cdk4R24C::Tyr-NRASQ61K (hereafter termed Cdk4::NRAS) mouse as a UVR-induced MM model. Somatic NRAS mutation is carried by 27% of MMs (http://www.cbioportal.org), and in ~90% of MMs the p16/CDK4/pRb pathway is deregulated via mutations in CDKN2A, CDK4, or RB1, and/or CDK4 or CCND1 amplification (Sheppard and McArthur, 2013). We studied the development of MM in mice of 70 diverse genetic backgrounds carrying these transgenes. To do so, we utilized the Collaborative Cross (CC), a set of recombinant inbred mouse strains generated from eight original founder strains, designed to enable rapid gene mapping (Churchill et al., 2004; Morahan et al., 2008). The CC is ideal for systematic analysis studies to discover modifier genes for complex diseases. Mice from each inbred CC strain may be considered as 'clones' of each other. Related to the CC is the diversity outbred (DO) population, in which mice descended from the same eight founders are generated as outbred stock (Churchill et al., 2012). The DO system allows very high levels of heterozygosity and recombination of CC founder alleles, but each DO mouse is genetically unique and not reproducible for experimentation requiring testing of multiple mice. The CC system has allowed us to study the influence of germline genetic background on MM induction using experimentally controlled UVR exposures. This approach tries to explain UVR-induced MM susceptibility and resistance by integrating the complex interaction of many kinds of genetic and biological information, and as such should provide much more realistic insights into MM than simple disease models focusing on single genes or proteins in isolation (e.g. Hamilton and Yu, 2012).
There are likely to be multiple and interacting mechanisms which might explain how UVR exposure could initiate or accelerate different types of MM. We have used a mouse MM model to study the development of MM on many CC strain backgrounds. The Cdk4::NRAS model we used is a well-characterized model of UVR-induced MM, and in terms of an acceleration of MM onset after neonatal UVR it behaves similarly to other models which carry constitutive oncogenic mutations in melanocytes (e.g. the Mt-Hgf model) (Noonan et al., 2001). But, surprisingly, we found that MM was not accelerated in a model carrying an inducible BrafV600E mutations in its melanocytes. It is known that modes of engineered oncogene expression in melanocytes can influence other phenotypes also. For example, BrafV600E induced in melanocytes in utero is incompatible with embryonic viability (e.g. Dankort et al., 2009), whereas in a non-inducible transgenic BrafV600E models it is not (Wurm et al., 2012). We do not know why MM was not accelerated in the inducible BrafV600E model, but one possibility is that there may be simply more activated melanocytes in the neonatal Tyr-NRASQ61K transgenics at the time of UVR exposure since NRASQ61K is expressed in utero, whereas BrafV600E is induced only for a short period of 3 days before UVR (i.e. P1-P3). We favour such an explanation rather than a mechanistic difference between the respective oncogenes (Braf vs NRAS) per se, since in another similar inducible BrafV600E model repeated UVR exposures significantly accelerate MM when the oncogene is activated at 4 weeks of age (Goel et al., 2009). In a model using inducible Trp53 deletion instead of constitutive Cdk4R24C we found that UVR accelerated MM, but whether Trp53 was deleted before or after UVR was inconsequential. This could be somewhat akin to the work of the Evans laboratory who showed that although TP53 is very important in helping modulate the acute DNA damage response to radiation, its function in this period does not contribute to protecting against transformation, in fact it is only within the long lag phase leading to cancer development that TP53 acts as a tumour suppressor (Christophorou et al., 2006). Therefore, mouse models appear to differ with respect to whether and by how much neonatal UVR accelerates MM. There is no perfect animal model for 'generalized' MM, but one would expect that the Cdk4::NRAS transgenic in combination with the CC should provide useful information as to how genetic background can influence UVR-induced murine MM.
Age of onset of spontaneous MM across the CC was underpinned by germline variation in the Prkdc gene on chr.16. This is overwhelmingly the best candidate in the mapped interval as the mutation carried on the 129S susceptibility allele has been functionally validated in other mouse models of cancer (Yu et al., 2001; Degg et al., 2003; Goodwin et al., 2015). Although it is known to be involved in recognition and removal of DNA damage, it is unclear whether its function in MM would be cell intrinsic or extrinsic, since it is ubiquitously expressed in skin cell types. In addition, this is quantitative genetics, and although the QTL explains a large proportion of the phenotypic variation, other cooperating loci may also exist, for instance on chr.5, (Figure 3C), which might become statistically significant (or disappear) if more CC strains were tested. In terms of possible human relevance, other genes (e.g. PARP1, APEX1) involved similarly in DNA repair, and whose expression is correlated with that of PRKDC in human skin, are associated with population-based MM risk (Duffy et al., 2018). Thus PRKDC may be an example of a modifier of MM in mice, but mediated by other genes of the same pathway in humans. But the mechanistic result of Prkdc deregulation might be similar to the effects of deregulating MM risk genes like PARP1 and APEX1, that is, all ultimately influencing DNA repair. Hence our genetic screen appears to have revealed mechanistically relevant information, notwithstanding that the particular causal gene variants can be different between mouse and man. One can also consider Prkdc as a MM modifier gene, that is, our genetic screen detects MM modifiers in the context of a mouse model which carries a germline Cdk4 variant. In keeping with this, PRKDC was also one of the few DNA repair genes associated that modified MM risk in MM-prone families (Liang et al., 2012), many of which carry a CDKN2A mutation, and a few CDK4 mutation. If we assume that Cdk4::NRAS mice may in some respects be ostensibly a model for familial MM, the findings of Liang et al., 2012 further support the possible relevance of our findings in human disease.
One of the most striking findings from our study was that the genetic polymorphisms modifying MM onset were very different between spontaneous and UV-induced disease (Figure 7). This is particularly notable since in this model MM is accelerated by just a single UVR exposure. The age of onset of neonatal UVR-induced MM in the transgenic-CC progeny across the CC was linked to a chr.1 locus containing a strong candidate, Rrp15, with a missense mutation. Taken together with the fact that of the candidates within the linked region, only Rrp15 was significantly differentially expressed between susceptible and resistant strains, only Rrp15 was upregulated in the epidermis of neonatal skin after UVR exposure (at 24 hr), we deemed it the strongest candidate. In addition, gene ontology and KEGG pathway analysis of UVR-induced gene expression changes in neonatal mouse skin revealed that ribosome biogenesis is one of the major gene networks upregulated at 6 and 24 hr after UVR. One caveat here is that for the UVR-induced gene expression studies we used whole epidermis (or dermis). Notwithstanding that there are differences in melanocyte and immune cell density over time between 1 and 3 d after neonatal UVR, most of the signal would have come from keratinocytes at all time- points since they are the most numerous cells in the epidermis. But our analysis of UVR-induced gene expression changes, based upon fold-change, are sensitive enough to pick up gene networks that reflect predictable changes in melanocyte and immune cell density (although not the type of immune cells). Rrp15 is expressed in all cell types within the neonatal skin (Figure 3F), but we do not know whether its mode of action in modifying melanocyte transformation is cell autonomous or non-cell autonomous. We assume that the upregulation of ribosomal metabolism we observe at 24 hr after UVR reflects mostly changes in keratinocytes, but very similar responses have also been found in UVR-treated cultured melanocytes (López et al., 2015). Single cell sequencing of different skin cells may help resolve these problems, but even such methods also have their drawbacks including unwanted gene expression changes induced soon after removal of cells from their microenvironment (Yuan et al., 2017).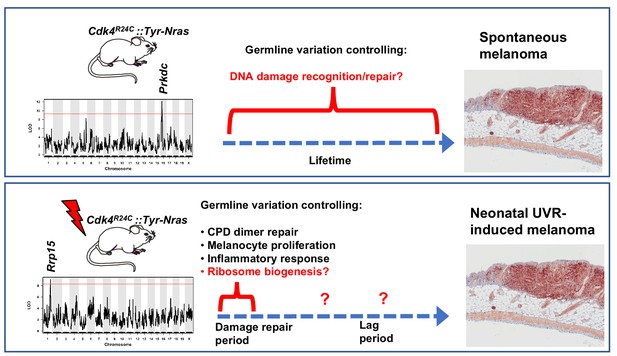 We have used inferences taken from a variety of sources, which are by themselves not confirmatory, to build a strong case for a role for variation in Rrp15 function influencing the propensity for UVR to accelerate MM. There is some evidence that SNPs near RRP15 are also associated with human MM in some contexts. The world melanoma genetics consortium found such evidence using a method for candidate genetic association to detect variants that may not reach genome-wide statistical significance after correction for multiple testing (Schoof et al., 2012; Wurm et al., 2012). There was no information on individual sun exposure in the tested cohorts. Of the 39 immune-related genes tested, SNPs near LGAL3 and TGFB2 were the most significantly associated with MM risk (Rendleman et al., 2013). Of note, the RRP15 and TGFB2 genes are located adjacent to one another and just 7 kb apart. Which of the two is the causal gene is difficult to elucidate in the human genetics study, but our systems analysis work using the CC has allowed us to build a very strong case for Rrp15.
We discovered that genetic background dramatically influences the propensity for melanocyte transformation after UVR. As well as discovering a gene likely to be associated with this, we also examined differences in skin responses between susceptible versus resistant mouse strains. We did not observe major differences in the propensity for removal of UVR-induced CPDs, nor in melanocyte proliferation, nor macrophage influx. We observed a weak correlation with the number of skin-infiltrating neutrophils at d1 after neonatal UVR and UVR-induced MM onset. However, depleting neutrophils before and after neonatal UVR did not reduce the time of onset of MM, somewhat in line with our previous finding that depletion of macrophage infiltration also did not abrogate the MM-accelerating effect of UVR (Handoko et al., 2015). It could be argued that by using immunohistochemical staining to assess removal of UVR-induced CPDs we could miss subtle differences between mouse strains in the repair process that may be consequential in terms of leaving a molecular memory of UVR damage in the transformed cells. But even our exome sequencing on the neonatal UVR-induced mouse melanomas does not suggest a major role for UVR-induced mutagenesis (Mukhopadhyay et al., 2016).
Researchers tend to look for measurable skin responses to UVR exposure to try to understand how melanocytes may be destabilized and ultimately transformed by DNA damage. The 'usual suspects' include defective DNA repair, photo-immunosuppression, inflammation, and cell proliferation, which are observable in the days following exposure. These can all enhance carcinogenesis in specific contexts. But our results suggest that earlier events in the few hours post UVR such as aberrant ribosome activity that can cause inappropriate protein expression, may be more important. It is not clear whether this would be acting during the acute damage repair period after neonatal UVR, or during the lag period leading to tumour initiation. The notion of a particular constellation of gene networks that vary between CC strains and confer resistance to the MM-accelerating effects of UVR may not be dissimilar to what occurs in amphibians, where regenerating limbs, but not non-regenerating body parts, are resistant to carcinogen-induced cancer (Sarig and Tzahor, 2017), despite the fact that both anatomical sites incur the requisite DNA damage. Particular molecular networks within skin cells in the MM-resistant strains appear to work against transformation, despite animals from all strains being exposed to high levels of UVR-induced damage. Hence in keeping with the fact that even non-cancerous human skin can carry UVR signature mutations in cancer genes (Martincorena et al., 2015), incorrectly repaired UVR-induced DNA damage leading to somatic mutation is in essence necessary but not sufficient to exacerbate MM, and the presence of germline variants for melanoma susceptibility and resistance is very important. Biological systems (e.g. skin and skin UVR responses) are very complex and varied across a population of different individuals. Our systems analysis strategy has attempted to harness such complexity and in doing so has resulted in the discovery of some potentially important findings with regards UVR-induced melanoma. We have performed a genetic screen for natural genes regulating MM age of onset and found surprisingly that different genes mediate spontaneous and UVR-induced MM susceptibility (Figure 7). We have identified a strong candidate genes and potential mechanisms in both cases.
All data generated in this manuscript are provided in the manuscript and supporting files.
Elevated breast cancer risk in irradiated BALB/c mice associates with unique functional polymorphism of the prkdc (DNA-dependent protein kinase catalytic subunit) gene

Cancer Research 61:1820–1824.
Richard M White

Reviewing Editor; Memorial Sloan Kettering Cancer Center, United States

Jeffrey Settleman

Senior Editor; Calico Life Sciences, United States
In the interests of transparency, eLife includes the editorial decision letter and accompanying author responses. A lightly edited version of the letter sent to the authors after peer review is shown, indicating the most substantive concerns; minor comments are not usually included.
Thank you for submitting your article "Different genetic mechanisms mediate spontaneous versus UVR-induced malignant melanoma" for consideration by eLife. Your article has been reviewed by three peer reviewers, and the evaluation has been overseen by a Reviewing Editor and Jeffrey Settleman as the Senior Editor. The reviewers have opted to remain anonymous.
The reviewers have discussed the reviews with one another and the Reviewing Editor has drafted this decision to help you prepare a revised submission.
Summary:
Overall, this manuscript addresses an important point regarding the etiology of melanoma in terms of UV versus non-UV related mechanisms. It makes excellent use of mouse genetics to identify QTLs associated with spontaneous versus UV generated melanoma. This has very important implications for the field, as it would suggest that different methods would be needed to target these two types of melanoma. Overall, all the reviewers were enthusiastic about the work and feel it makes an important contribution to the field. We would like the authors to address a few concerns, as detailed below, prior to publication.
Essential revisions:
1) Figure 1: have the tumors been tested to demonstrate that the expected mutations have been activated by Cre-mediated recombination? Since this is a somewhat unexpected result it would provide more confidence for the investigators to show that BRAFV600E is expressed, and that p53 is knocked out as predicted.
2) One significant concern with the paper is the experiment on the skin gene expression changes after neonatal UVR. For this experiment, the gene expression was tested in skin, epidermis, and dermis whole tissues. Melanocytes only make up a very small fraction of skin (~1%); ~85% of skin is keratinocytes; and the immune infiltrate is expected to be highly heterogeneous. These factors make the gene expression analysis in the above whole tissues highly unreliable and indiscernible. It is not clear whether any useful conclusions can be made out of such gene expression analyses, especially in the absence of any validation studies. At a minimum, the authors should state the fraction of cells in the skin that are melanocytes versus other cells, or at least address this point in their Discussion.
https://doi.org/10.7554/eLife.42424.018
Essential revisions:

1) Figure 1: have the tumors been tested to demonstrate that the expected mutations have been activated by Cre-mediated recombination? Since this is a somewhat unexpected result it would provide more confidence for the investigators to show that BRAFV600E is expressed, and that p53 is knocked out as predicted.
The reviewer has a good point. We have now included data and explanations in the manuscript which better show that the genes were included/deleted. However we did not test the tumours for expression of these genes, since they could be inadvertently switched off or lost by deletion in a tumour (this might particularly apply to p53). The proof that tamoxifen is deleting the respective genes instead comes from comparisons of the mice without tamox treatment, when the mice do not develop melanoma at all (in the case of Braf), or much slower, in the case of p53.
In terms of the Braf model, which carries the Cdk4 (constitutional) and Braf (melanocyte-specific) mutations, we have never seen a melanoma, with or without UVR, in Cdk4R24C mice without an accompanying melanocyte-specific Ras pathway mutation (Hacker et al., 2006, we have added this reference to the manuscript). Hence none of the Cdk4-Braf mice develop melanoma at all unless tamox is applied, and so BrafV600E must be activated in the mouse melanocytes in our study. We have updated the text in the first paragraph of the Results section to explain this.
Likewise, with respect to the p53floxed::TyrCre::Tyr-NRAS mice, they develop melanoma much more rapidly after tamox treatment than without, showing that p53 must be knocked out. See Figure 1C, which now shows the age of onset of animals not treated with tamox (essentially NRAS only), compared to those treated with tamox (essentially p53-null::NRAS). This is shown for both spontaneous and UVR-induced melanoma, and the second paragraph of the Results section, along with Figure 1E, is now amended accordingly.
2) One significant concern with the paper is the experiment on the skin gene expression changes after neonatal UVR. For this experiment, the gene expression was tested in skin, epidermis, and dermis whole tissues. Melanocytes only make up a very small fraction of skin (~1%); ~85% of skin is keratinocytes; and the immune infiltrate is expected to be highly heterogeneous. These factors make the gene expression analysis in the above whole tissues highly unreliable and indiscernible. It is not clear whether any useful conclusions can be made out of such gene expression analyses, especially in the absence of any validation studies. At a minimum, the authors should state the fraction of cells in the skin that are melanocytes versus other cells, or at least address this point in their Discussion.
As suggested by the reviewer, it is a good idea to discuss the limitations, and we have significantly altered the third paragraph of the Discussion to point out the caveats with respect to whole tissue gene expression analysis in this context. In essence we explain that we do not know the mode of action of potential causal gene(s) such as Rrp15, i.e. is its action cell or non-cell autonomous, and that we have taken data from a variety of sources and experiments to build our case for it. We also add that there is no perfect method of gene expression analysis, and that even methods based upon gene expression analyses using disaggregated single cells also have their drawbacks. Hence we have to glean information on skin gene expression from where we can. Skin cell type quantitation: we now state in the manuscript that keratinocytes are by far the most common cell type in skin, but we did not attempt a quantitation since the proportion of keratinocytes could be higher after UVR-induced epidermal thickening, and certainly the number of melanocytes and immune cells changes greatly between 1 and 3 days after UVR.
https://doi.org/10.7554/eLife.42424.019
Article and author information
Author details
Melanoma Research Alliance (Investigator Grant Award Number: 346859 2015-2018)
The funders had no role in study design, data collection and interpretation, or the decision to submit the work for publication.
This work was supported by Melanoma Research Alliance, Washington DC.
Animal experimentation: This study was performed in strict accordance with the recommendations Australian code of Practice for the care and use of animals for scientific purposes.. All of the animals were handled according to approved institutional animal care and use committee of the Queensland Institute of Medical research. The protocol was approved by the Committee (A98004M). No surgery was performed. Animals were sacrificed when tumours reached 10mm in diameter, or animals were otherwise distressed.
Jeffrey Settleman, Calico Life Sciences, United States
Richard M White, Memorial Sloan Kettering Cancer Center, United States
© 2019, Ferguson et al.
This article is distributed under the terms of the Creative Commons Attribution License, which permits unrestricted use and redistribution provided that the original author and source are credited.
1,472

Page views

260

Downloads

15

Citations
Article citation count generated by polling the highest count across the following sources: Crossref, PubMed Central, Scopus.
A two-part list of links to download the article, or parts of the article, in various formats.
Downloads
(link to download the article as PDF)
Open citations
(links to open the citations from this article in various online reference manager services)
Cite this article
(links to download the citations from this article in formats compatible with various reference manager tools)
Blake Ferguson
Herlina Y Handoko
Pamela Mukhopadhyay
Arash Chitsazan
Lois Balmer
Grant Morahan
Graeme J Walker
Different genetic mechanisms mediate spontaneous versus UVR-induced malignant melanoma
eLife 8:e42424.
https://doi.org/10.7554/eLife.42424
Further reading
Mice get melanoma faster when they have common, inherited variants in a few genes that control cell-wide changes but also respond to the environment.

Biochemistry and Chemical Biology
Cancer Biology

Nutrient stress in the tumor microenvironment requires cancer cells to adopt adaptive metabolic programs for survival and proliferation. Therefore, knowledge of microenvironmental nutrient levels and how cancer cells cope with such nutrition is critical to understand the metabolism underpinning cancer cell biology. Previously, we performed quantitative metabolomics of the interstitial fluid (the local perfusate) of murine pancreatic ductal adenocarcinoma (PDAC) tumors to comprehensively characterize nutrient availability in the microenvironment of these tumors (M. R. Sullivan, Danai, et al., 2019). Here, we develop Tumor Interstitial Fluid Medium (TIFM), a cell culture medium that contains nutrient levels representative of the PDAC microenvironment, enabling us to study PDAC metabolism ex vivo under physiological nutrient conditions. We show that PDAC cells cultured in TIFM adopt a cellular state closer to that of PDAC cells present in tumors compared to standard culture models. Further, using the TIFM model, we found arginine biosynthesis is active in PDAC and allows PDAC cells to maintain levels of this amino acid despite microenvironmental arginine depletion. We also show that myeloid derived arginase activity is largely responsible for the low levels of arginine in PDAC tumors. Altogether, these data indicate that nutrient availability in tumors is an important determinant of cancer cell metabolism and behavior, and cell culture models that incorporate physiological nutrient availability have improved fidelity to in vivo systems and enable the discovery of novel cancer metabolic phenotypes.

Cancer Biology
Computational and Systems Biology

Chronic myeloid leukemia (CML) is a blood cancer characterized by dysregulated production of maturing myeloid cells driven by the product of the Philadelphia chromosome, the BCR-ABL1 tyrosine kinase. Tyrosine kinase inhibitors (TKIs) have proved effective in treating CML, but there is still a cohort of patients who do not respond to TKI therapy even in the absence of mutations in the BCR-ABL1 kinase domain that mediate drug resistance. To discover novel strategies to improve TKI therapy in CML, we developed a nonlinear mathematical model of CML hematopoiesis that incorporates feedback control and lineage branching. Cell–cell interactions were constrained using an automated model selection method together with previous observations and new in vivo data from a chimeric BCR-ABL1 transgenic mouse model of CML. The resulting quantitative model captures the dynamics of normal and CML cells at various stages of the disease and exhibits variable responses to TKI treatment, consistent with those of CML patients. The model predicts that an increase in the proportion of CML stem cells in the bone marrow would decrease the tendency of the disease to respond to TKI therapy, in concordance with clinical data and confirmed experimentally in mice. The model further suggests that, under our assumed similarities between normal and leukemic cells, a key predictor of refractory response to TKI treatment is an increased maximum probability of self-renewal of normal hematopoietic stem cells. We use these insights to develop a clinical prognostic criterion to predict the efficacy of TKI treatment and design strategies to improve treatment response. The model predicts that stimulating the differentiation of leukemic stem cells while applying TKI therapy can significantly improve treatment outcomes.