Protein Evolution: Building bigger beta-barrels
The range of barrel-shaped proteins found in the outer membrane of certain bacteria evolved through multiple pathways.
You would have a difficult time today if you were looking for a cooper to make you a bespoke wooden barrel. But if you were lucky enough to find one, you would likely tell them the desired height, girth and shape of your new barrel. They would then disappear into a workshop and painstakingly create a series of long wooden boards to serve as the staves – each with precise dimensions, curvature and beveling of edges to meet your specifications – and a few days later you would be the proud owner of a new, one-of-a-kind wooden barrel.
While coopering is an ancient trade with a thousand years of history, nature has been building barrel-shaped proteins for even longer. Today, as protein engineering advances to the point where we hope to build synthetic, bespoke molecular barrels for a range of applications, it will be essential to understand how nature evolved barrels and learn the tricks of the trade.
Building barrels from wood or from amino acids presents different challenges. Let us say that you find your barrel is too small and you would like to make the opening at the top wider. You would be dismayed to learn that because the dimensions of the wooden staves are unique to that design, your cooper cannot simply add more staves to make the opening wider – a new barrel would need to be built. In contrast, biology creates new protein forms by tweaking existing ones using the tools of genetic variation: mutation, duplication and recombination.
Barrel-shaped proteins called OMBBs (which is short for outer-membrane beta-barrels) are found in the outer membranes of gram-negative bacteria, with beta strands playing the role of staves. These OMBBs always contain an even number of strands, with each pair adding a fraction of a nanometer to the diameter of the barrel opening: the smallest OMBBs have just eight beta strands and the largest we know of contain 26 (Franklin et al., 2018b). By varying the number of beta strands they have, natural OMBBs can dictate the transit of proteins and molecules through them based on size. The ability to similarly adjust the dimensions of synthetic barrels by adding or removing strands would enable researchers to design and build structures called nanopores that could, for example, be used to sequence DNA, or to sense chemicals in the environment with high selectivity and sensitivity (Trick et al., 2014).
OMBBs are repeat proteins – a diverse class of proteins that consist of two or more copies of a simpler structural unit, which is thought to be a 'beta hairpin' (that is, a structure in which two beta strands are joined together at one end to create a structure shaped like a hairpin; Remmert et al., 2010). The repetitive nature of these structures, combined with the exclusion of water in the membrane in which they are embedded, reduces the complexity of their amino acid sequences. While less complexity may sound like a good thing, it makes it more difficult to use phylogenetic methods to unravel the evolutionary histories and relationships of the beta-barrels found in nature today. Now, in eLife, Joanna Slusky of the University of Kansas and colleagues – including Meghan Franklin as first author – report how they have combined sequence and structural information on over 50,000 homologs of OMBBs to explore the evolutionary origins of these proteins (Franklin et al., 2018a).
The results are surprising. Rather than growing linearly from eight strands to 12 or more, the evolutionary road appears to have been replete with forks and alternate paths. Instead, transitions occur through unexpected mechanisms such as loop-to-strand conversions or the duplication of certain protein domains. In related work, the same team recently reported that certain classes of OMBBs, specifically lysins and efflux pumps, evolved independently of the remainder of OMBBs (Franklin et al., 2018b). Taken together, these results suggest that the emergence of OMBBs with large barrels happened through multiple pathways (Figure 1).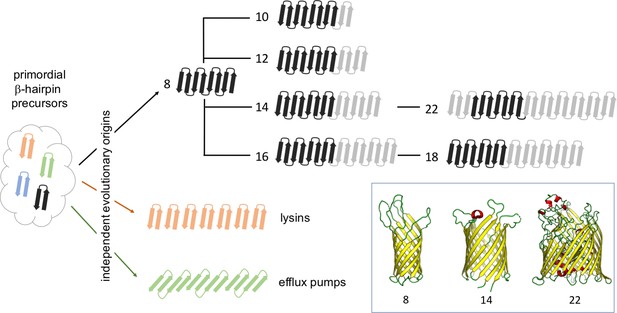 Another long-standing puzzle is how OMBBs fold into their final three-dimensional structure. OMBBs face challenges on two fronts: the constraints that apply to the folding of all repeat proteins (Björklund et al., 2006; Wright et al., 2005); and the need to coordinate folding with the insertion of the protein into a membrane (Fleming, 2014). Franklin et al. noted that elements of the original eight-strand sequence have persisted at the C-terminus of larger barrels, suggesting that this region might be responsible for the initial stages of protein folding. Moreover, previous efforts to design even modest variants of an eight-strand barrel were largely unsuccessful (Stapleton et al., 2015): this is consistent with the eight-strand barrels that are observed in nature evolving to have a central role in the folding of OMBBs. This suggests that the best way to engineer larger barrels is to focus on adding new strands to the N-terminus of an eight-strand OMBB.
In exposing the complex evolutionary history of OMBBs, Franklin et al. have given us insights into how nature builds complex proteins from simpler parts. Hopefully, coopers working at the molecular scale can learn from natural evolution and identify new rules for successfully engineering synthetic barrels.
Article and author information
Author details
© 2019, Nanda
This article is distributed under the terms of the Creative Commons Attribution License, which permits unrestricted use and redistribution provided that the original author and source are credited.
1,820

Page views

180

Downloads

1

Citations
Article citation count generated by polling the highest count across the following sources: Crossref, PubMed Central, Scopus.
A two-part list of links to download the article, or parts of the article, in various formats.
Downloads
(link to download the article as PDF)
Open citations
(links to open the citations from this article in various online reference manager services)
Cite this article
(links to download the citations from this article in formats compatible with various reference manager tools)
Vikas Nanda
Protein Evolution: Building bigger beta-barrels
eLife 8:e44076.
https://doi.org/10.7554/eLife.44076
Further reading
Evolutionary Biology
Structural Biology and Molecular Biophysics

Outer membrane proteins (OMPs) are the proteins in the surface of Gram-negative bacteria. These proteins have diverse functions but a single topology: the β-barrel. Sequence analysis has suggested that this common fold is a β-hairpin repeat protein, and that amplification of the β-hairpin has resulted in 8–26-stranded barrels. Using an integrated approach that combines sequence and structural analyses, we find events in which non-amplification diversification also increases barrel strand number. Our network-based analysis reveals strand-number-based evolutionary pathways, including one that progresses from a primordial 8-stranded barrel to 16-strands and further, to 18-strands. Among these pathways are mechanisms of strand number accretion without domain duplication, like a loop-to-hairpin transition. These mechanisms illustrate perpetuation of repeat protein topology without genetic duplication, likely induced by the hydrophobic membrane. Finally, we find that the evolutionary trace is particularly prominent in the C-terminal half of OMPs, implicating this region in the nucleation of OMP folding.

Vertebrate limb morphology often reflects the environment due to variation in locomotor requirements. However, proximal and distal limb segments may evolve differently from one another, reflecting an anatomical gradient of functional specialization that has been suggested to be impacted by the timing of development. Here we explore whether the temporal sequence of bone condensation predicts variation in the capacity of evolution to generate morphological diversity in proximal and distal forelimb segments across more than 600 species of mammals. Distal elements not only exhibit greater shape diversity, but also show stronger within-element integration and, on average, faster evolutionary responses than intermediate and upper limb segments. Results are consistent with the hypothesis that late developing distal bones display greater morphological variation than more proximal limb elements. However, the higher integration observed within the autopod deviates from such developmental predictions, suggesting that functional specialization plays an important role in driving within-element covariation. Proximal and distal limb segments also show different macroevolutionary patterns, albeit not showing a perfect proximo-distal gradient. The high disparity of the mammalian autopod, reported here, is consistent with the higher potential of development to generate variation in more distal limb structures, as well as functional specialization of the distal elements.

Developmental Biology
Evolutionary Biology

We have focused on the mushroom bodies (MB) of Drosophila to determine how the larval circuits are formed and then transformed into those of the adult at metamorphosis. The adult MB has a core of thousands of Kenyon neurons; axons of the early-born g class form a medial lobe and those from later-born a'b' and ab classes form both medial and vertical lobes. The larva, however, hatches with only g neurons and forms a vertical lobe 'facsimile' using larval-specific axon branches from its g neurons. Computations by the MB involves MB input (MBINs) and output (MBONs) neurons that divide the lobes into discrete compartments. The larva has 10 such compartments while the adult MB has 16. We determined the fates of 28 of the 32 types of MBONs and MBINs that define the 10 larval compartments. Seven larval compartments are eventually incorporated into the adult MB; four of their larval MBINs die, while 12 MBINs/MBONs continue into the adult MB although with some compartment shifting. The remaining three larval compartments are larval specific, and their MBIN/MBONs trans-differentiate at metamorphosis, leaving the MB and joining other adult brain circuits. With the loss of the larval vertical lobe facsimile, the adult vertical lobes, are made de novo at metamorphosis, and their MBONs/MBINs are recruited from the pool of adult-specific cells. The combination of cell death, compartment shifting, trans-differentiation, and recruitment of new neurons result in no larval MBIN-MBON connections persisting through metamorphosis. At this simple level, then, we find no anatomical substrate for a memory trace persisting from larva to adult. For the neurons that trans-differentiate, our data suggest that their adult phenotypes are in line with their evolutionarily ancestral roles while their larval phenotypes are derived adaptations for the larval stage. These cells arise primarily within lineages that also produce permanent MBINs and MBONs, suggesting that larval specifying factors may allow information related to birth-order or sibling identity to be interpreted in a modified manner in these neurons to cause them to adopt a modified, larval phenotype. The loss of such factors at metamorphosis, though, would then allow these cells to adopt their ancestral phenotype in the adult system.