Parallel visual circuitry in a basal chordate
A common CNS architecture is observed in all chordates, from vertebrates to basal chordates like the ascidian Ciona. Ciona stands apart among chordates in having a complete larval connectome. Starting with visuomotor circuits predicted by the Ciona connectome, we used expression maps of neurotransmitter use with behavioral assays to identify two parallel visuomotor circuits that are responsive to different components of visual stimuli. The first circuit is characterized by glutamatergic photoreceptors and responds to the direction of light. These photoreceptors project to cholinergic motor neurons, via two tiers of cholinergic interneurons. The second circuit responds to changes in ambient light and mediates an escape response. This circuit uses GABAergic photoreceptors which project to GABAergic interneurons, and then to cholinergic interneurons. Our observations on the behavior of larvae either treated with a GABA receptor antagonist or carrying a mutation that eliminates photoreceptors indicate the second circuit is disinhibitory.
https://doi.org/10.7554/eLife.44753.001
Ascidians, including members of the widely-studied Ciona genus, have a biphasic life cycle. At the start of their life, most ascidians spend their first few days as free-swimming tadpole larvae. It is at the larval stage that ascidians display unmistakable chordate traits, including a prominent notochord running the length of a muscular tail and a dorsal central nervous system (CNS). Ascidian morphology abruptly changes when the larvae attach via their adhesive palps and undergo metamorphosis, the product of which is a sessile filter-feeding juvenile with little resemblance to the larva (Satoh, 1994). Largely because of their conserved chordate body plan, ascidian embryos and larvae have been subjects of extensive investigation (Satoh, 2014). Ascidian larvae are small in comparison to vertebrate larvae, with the Ciona larva measuring only about 1 mm in length, with a total of ~2,600 cells (Satoh, 2014). Accordingly, the larval Ciona CNS is equally simple, having ~170 neurons (Ryan et al., 2016). Despite this simplicity, Ciona larvae display a range of integrated behaviors, including negative gravitaxis and phototaxis, and a response to dimming ambient light, all mediated by central sensory neurons. Also well documented is a mechanosensory/touch response, and possibly chemosensation, mediated by peripheral sensory neurons (Ryan et al., 2018). Anatomically, the Ciona larval CNS is comprised anteriorly of the brain vesicle (BV; also known as the sensory vesicle), a region homologous to the vertebrate forebrain and midbrain, followed by the neck region, a homolog of the vertebrate midbrain/hindbrain junction (Figure 1). Immediately posterior to the neck is the motor ganglion (MG; also known as the visceral ganglion). The MG is thought to be homologous to the vertebrate hindbrain and/or spinal cord, and contains ten motor neurons (MN) as well as a number of interneurons – including the two descending decussating neurons (ddN) which have been equated with vertebrate Mauthner cells which mediate the startle response (Ryan et al., 2017). With the completion of a synaptic connectome from one larva, the Ciona larval nervous system is now one of the best described, with the connectome providing a detailed and quantitative connectivity matrix of the 6618 chemical and 1206 electrical CNS synapses (Ryan et al., 2016).
Figure 1
with 2 supplements
see all

The Ciona visual system is the best characterized of the larval sensory systems (Kusakabe and Tsuda, 2007; Oonuma et al., 2016). The larval photoreceptors are ciliary, like those of vertebrates, and the photoreceptor opsins and visual cycle systems are, likewise, similar to those found in the vertebrate retina (Kusakabe and Tsuda, 2007; Kusakabe et al., 2001). The primary photoreceptive organ of Ciona is the ocellus, which consists of two groups of photoreceptors, three lens cells, and one pigment cell. The first group of photoreceptors (called here, PR-I) is comprised of 23 cells and clustered around the ocellus pigment cell (Figure 1). The opsin-containing outer segments of the PR-Is project into the cup shaped pigment cell, making this group sensitive to the direction of incident light and thereby mediating negative phototaxis (Horie et al., 2008a; Salas et al., 2018). The second group of ocellus photoreceptors (PR-II, Figure 1) is comprised of seven cells and is adjacent and anterior to the PR-Is, and is not associated with the pigment cell. The PR-II cluster mediates the light dimming response, likely with a contribution from the PR-Is, by evoking highly tortuous and leftward-biased swims (Salas et al., 2018). There is a third set of six photoreceptors (PR-IIIs) distal to the ocellus of unknown function, although they are not involved in phototaxis or the dimming response (Horie et al., 2008a), nor do they make extensive connections to interneurons, as do the PR-I and -IIs (Ryan et al., 2016).
The relationship between the ascidian ocellus and visual systems in other chordates is not fully resolved. Vertebrates are characterized by the presence of paired lateral (i.e., retinal) eyes, as well as an unpaired medial/pineal eye (Lamb et al., 2007). The cephalochordate Amphioxus by contrast, has four distinct photoreceptive organs (Pergner and Kozmik, 2017). The amphioxus frontal eye has been proposed as homologous to the vertebrate lateral eyes, while the lamellar body is thought to be homologous to the vertebrate pineal organ (Pergner and Kozmik, 2017; Vopalensky et al., 2012). The other two amphioxus photoreceptor types, the dorsal ocelli and the Joseph cells, are thought, based on a number of criteria, including their rhabdomeric morphology- which differs from the ciliary morphology of vertebrate and ascidian photoreceptors- to be vestiges of a more primitive photoreceptive system. Based on various criteria the ascidian ocellus has been proposed as having homology to either the medial or the retinal eyes (Kusakabe et al., 2001; Lamb et al., 2007).
The Ciona larval connectome predicts the neural circuity linking photoreceptors to motor activation (Ryan et al., 2016). Figure 1 shows the simplified minimal visuomotor circuit in which neurons of the same type are clustered (e.g., photoreceptors) and the number of neurons of each type is indicated in parentheses. The full connectivity for the visuomotor circuit showing all neurons along with chemical and gap junction/electrical synapses (and their relative strengths) is shown in Figure 1—figure supplements 1 and 2, respectively (derived from data tables in [Ryan et al., 2016]). As shown in Figure 1—figure supplement 2, gap junctions are few and relatively small in the BV and become more prominent in the MG.
The minimal circuit shows the PR-I and –II photoreceptors synapsing primarily onto two classes of relay neurons (RNs) in the posterior BV (pBV). The six photoreceptor RNs (prRN) receive input exclusively from the PR-I photoreceptors and then project posteriorly to the paired right/left MG interneurons (three on each side; MGIN in Figure 1 and Figure 1—figure supplement 1). A second cluster of eight RNs, the photoreceptor ascending MG RNs (pr-AMG RN) are postsynaptic to both the PR-I and PR-II photoreceptors, and are so-named because they, unlike the prRNs, receive input from the ascending MG peripheral interneurons (AMG neurons; not shown in Figure 1). There are also extensive synaptic connections between the pr-AMG RNs and the prRNs. Like the prRNs, the pr-AMG RNs project posteriorly to the left and right MGINs. The MGINs in turn synapse onto the paired right and left motor neurons (five on each side). The Ciona connectome thus predicts a complete visuomotor circuit from photoreceptors to muscle target cells, and provides a valuable comparative model to their chordate cousins, the vertebrates and cephalochordates (Vopalensky et al., 2012; Nilsson, 2009; Suzuki et al., 2015), as well as to other well-described but much more distantly related models such as Drosophila and Platynereis (Eichler et al., 2017; Larderet et al., 2017; Randel et al., 2014).
In the current study, we report that the Ciona PR-I and PR-II visual circuits operate by very different logic. We find that the PR-I circuit is an excitatory relay from glutamatergic photoreceptors signaling to AMPA receptors on cholinergic prRNs. On the other hand, the PR-II circuit initiates with GABAergic photoreceptors synapsing onto GABAergic pr-AMG RNs. Both the sequential array of GABAergic neurons in this pathway and the behavior of larvae treated with GABA inhibitors, or carrying a mutation that misspecifies the anterior BV, support a model in which this circuit is disinhibitory.
Figure 9 presents a model of the Ciona visuomotor circuitry that takes into account the connectome, neurotransmitter use, and behavioral observations. Absent from this model is the detailed and unique connectivity of each neuron in these pathways (Figure 1—figure supplement 1), as well as the inputs from other neurons which are not part of the minimal circuit. Nevertheless, we feel that this model will serve as a useful starting point for more detailed analyses of these components. Our findings support a model for two parallel visuomotor pathways, one mediated by the PR-Is and sensitive to the direction of light, and the other mediated by the PR-IIs and sensitive to changes in ambient light. A number of other sensory systems, including mammalian vision and olfaction and Drosophila CO2 detection (Callaway, 2005; Geramita et al., 2016; Lin et al., 2013) similarly split components of sensory information into parallel circuits. The PR-I circuit is a simple excitatory pathway with glutamatergic photoreceptors projecting to cholinergic prRNs, exciting them via cation-specific ionotropic AMPARs. The prRNs in turn synapse to the cholinergic MGINs, and then these onto the MNs. The fact that glutamate is used by the Ciona larvae exclusively in sensory neurons (photoreceptors, antenna cells, and epidermal sensory neurons), coupled with the very limited distribution of AMPARs, allowed us to validate essential components of this circuitry with perampanel. The PR-Is also synapse onto the pr-AMG RNs, which are predicted to be primarily GABAergic. Our observation that AMPAR expression is exclusive to the cholinergic RNs suggests that the response of GABAergic cells to the PR-Is may differ from cholinergic cells, and perhaps plays a role in visual information processing. In fact, the interconnections between the pr-AMG RNs and the AMPAR-expressing prRNs (black arrow Figure 9; see also Figure 1—figure supplement 1), are suggestive of an incoherent feedforward loop (Alon, 2007). We have already documented that Ciona larvae are able to phototax in a wide range of illumination conditions (Salas et al., 2018), and moreover, we have found that Ciona larvae show robust fold-change detection (Adler and Alon, 2018) behavior (manuscript in preparation). Together these observations suggest that the RN cluster plays a role in visual processing, rather than simply passing information to the MG.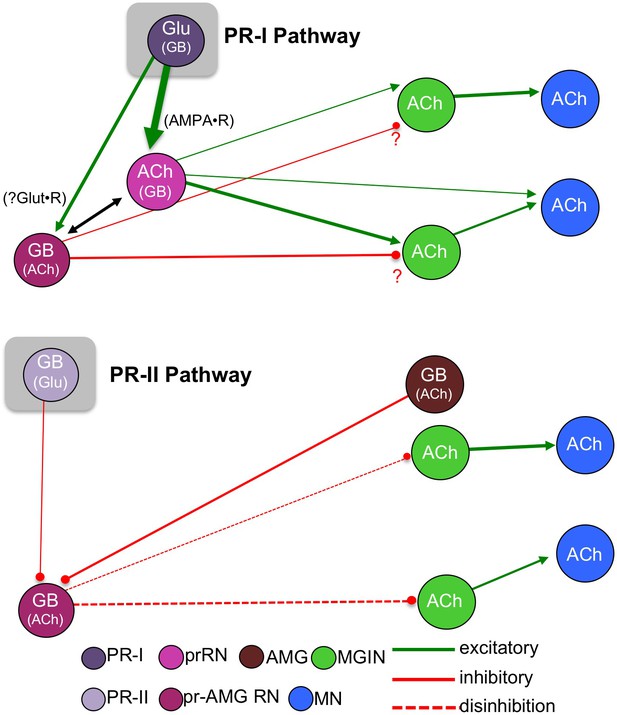 Our model for the PR-II mediated dimming/escape behavior is more surprising, and includes a novelty – inhibitory photoreceptors. From in situ hybridization we observed that some PR-IIs exclusively express VGAT, while other co-express VGAT and VGLUT. The significance of VGAT/VGLUT coexpression in the Ciona visuomotor pathway is not yet clear, although similar coexpression is widely observed in mammalian brains (Fattorini et al., 2015; Zander et al., 2010) and invertebrates (Fabian-Fine et al., 2015). It is speculated that co-release of GABA and GLUT may serve to tune excitatory/inhibitory balance. While the connectome shows that not all of the PR-IIs project to the RNs, with a subset instead forming extensive connections to other PR-Is and PR-IIs, the connectome indicates that several of the VGAT-exclusive PR-IIs do project to the pr-AMG RNs (Figure 2e and Ryan et al., 2016), consistent with our hypothesis that the PR-II output to the pr-AMG RNs is predominantly inhibitory.
The Ciona genome encodes seven ionotropic/Cl- GABA receptor subunit genes (GABAA) (Okamura et al., 2005), but does not have an ortholog of the cationic EXP-1 GABA receptor (Beg and Jorgensen, 2003), confirmation that the GABAergic synaptic events are most likely inhibitory. In addition, electrophysiological studies done nearly fifty years ago on larvae of the ascidian Amaroucium constellatum reported that their photoreceptors, like those of vertebrates, were hyperpolarizing (Gorman et al., 1971). In other words, dimming is likely to result in a release of GABA from the PR-IIs. Although the heterogeneity of ascidian photoreceptors (e.g., PR-I and –II) was not known at the time, both the vertebrate-like ciliary structure shared by all Ciona photoreceptors and the structure of Ciona opsins appear to rule out the possibility of depolarizing phototransduction (Kusakabe and Tsuda, 2007; Kusakabe et al., 2001). Also in agreement with an inhibitory output from the PR-IIs is our prediction that the majority of the pr-AMG RNs, the exclusive RNs of the PR-IIs, are themselves GABAergic, which would make a disinhibitory circuit most plausible (Figure 9). We also show that removal of BV sensory input with the frm mutant, or inhibition of GABA receptors with picrotoxin, leads to more frequent spontaneous swims, suggesting that a disinhibitory pathway could lead to stimulation of swimming. Finally, we observed that the AMGs, with the exception of one cell, are GABAergic. The AMGs are one of the primary relay centers for the PNS (Ryan et al., 2018) and project to the MGINs and MNs. However, the AMGs also project ascending axons to the pr-AMG RNs. It is thought that the convergence of PR-II and AMG inputs at the pr-AMG RNs serves to initiate an integrated escape response (Ryan et al., 2018). Our finding that these two classes of neurons (PR-IIs and AMGs) are likely to have the same input (inhibition) on the pr-AMG RNs further bolsters the integrated response model. Finally, the PR-II mediated dimming response was not inhibited by the AMPAR antagonist perampanel, suggesting the PR-II glutamate release at pr-AMG RNs acts through other receptors, such as the NMDA receptor, and may be more involved in modulating or processing the visual response, and that GABA release may be more important.
Validation of this hypothetical disinhibitory circuit will require analysis of individual neurons in behaving larvae. Although we have been able to get robust GCaMP imagery from the CNSs of transgenic Ciona larvae (our unpublished observations), the fact that the excitation and emission spectra of GCaMP (as well as red-shifted calcium indicators) overlap with the behavioral spectrum of Ciona, and the inefficacy of GCaMP for visualizing inhibition, led us to abandon this approach. We are currently exploring methods for electrophysiological recording of Ciona BV neurons.
Ascidians and the evolution of vertebrate visual systems
The evolutionary relationship between the ascidian ocellus and the visual organs of cephalochordates (e.g., amphioxus) and vertebrates remains unclear (Kusakabe and Tsuda, 2007; Lamb et al., 2007; Lamb, 2013). The observations that the Ciona PR-I and PR-II complexes are distinct morphologically, mediate different behaviors, project via distinct visuomotor circuits, and express different NTs, raises the possibility that these two complexes may have independent origins, and thus have different evolutionary relationships to the photoreceptor organs of other chordates. We speculate that the ascidian PR-I complex is likely to be homologous to the vertebrate lateral eyes and the amphioxus frontal eye, which like the PR-I complex is pigmented and appears to play a role in detecting the direction of light, although not necessarily in taxis (Stokes and Holland, 1995). On the other hand, the pineal eyes of amphibian tadpoles and fish larvae mediate a shadow/dimming response, suggesting homology with the ascidian PR-II photoreceptor complex (Jamieson and Roberts, 2000; Yoshizawa and Jeffery, 2008). Nevertheless, the inhibitory nature of the Ciona PR-IIs makes assigning homologies more difficult. It is possible that use of GABA by these photoreceptors is a derived feature of ascidians, as inhibitory photoreceptors have yet to be described elsewhere. Alternatively, in the vertebrate retina GABAergic/glycinergic horizontal and amacrine cells are prevalent, and, moreover, it has been proposed that these cells, as well as ganglion cells, are derived from an ancient photoreceptor (Lamb, 2013; Arendt, 2003). While this may imply an alternative evolutionary origin for the Ciona PR-IIs, these observations may simply support the plasticity of NT use in visual systems.
All data generated or analysed during this study are included in the manuscript and supporting files. Source data files have been provided for Figures 1, 2, 5 and 6.
Evolution of eyes and photoreceptor cell types

The International Journal of Developmental Biology 47:563–571.

Characterization of a notochord-specific enhancer from the brachyury promoter region of the ascidian, ciona intestinalis

Development 124:589–602.

Responses of young xenopus laevis tadpoles to light dimming: possible roles for the pineal eye

The Journal of Experimental Biology 203:1857–1867.

Book

Developmental Biology of Ascidians. Developmental and Cell Biology Series

Cambridge England; New York: Cambridge University Press.

Book

Developmental Genomics of Ascidians

Hoboken, New Jersey: Wiley Blackwell.
Oliver Hobert

Reviewing Editor; Howard Hughes Medical Institute, Columbia University, United States

Ronald L Calabrese

Senior Editor; Emory University, United States
In the interests of transparency, eLife includes the editorial decision letter and accompanying author responses. A lightly edited version of the letter sent to the authors after peer review is shown, indicating the most substantive concerns; minor comments are not usually included.
Thank you for submitting your article "Parallel Visual Circuitry in a Basal Chordate" for consideration by eLife. Your article has been reviewed by Ronald Calabrese as the Senior Editor, a Reviewing Editor, Oliver Hobert, and two reviewers. The reviewers have opted to remain anonymous.
The reviewers have discussed the reviews with one another and the Reviewing Editor has drafted this decision to help you prepare a revised submission.
The reviewers – and the Reviewing Editor – agree that the manuscript reports an interesting, exciting set of findings that provide new insight into how visual systems evolve. However, there is also agreement that the evidence behind the GABA receptors being involved in the behavioral response to dimming is entirely indirect, and would be substantially strengthened by a pharmacological parallel to the Glutamate receptor antagonist data. That is, according to the disinhibition model, acute blockade of GABA(A) receptors with a pharmacological antagonist should produce a "hyperactive" movement phenotype akin to the frm mutant animal, but one that should still be capable of phototaxis (but not a dimming response). Such a result would provide an elegant "double dissociation" that would parallel the findings with the AMPA receptor antagonist.
There is also agreement that the manuscript requires an extensive revision to the Introduction that puts the work in a broader context. At present, the manuscript begins largely with a description of the Ciona connectome, in relation to other complete connectomes, and then plunges directly into a more detailed description of ganglia, cells and synapses. A broader audience could be engaged by the work if the authors identified the key question of interest, and provides some of the background material currently found in the Discussion section, before diving into the pertinent details.
Reviewer #1:
How the functional architecture of visual systems has evolved to subserve different behavioral goals is a fundamental question of broad interest. At present, while we have a deep understanding of visual system organization in a few experimental models, such a fundamental question can be enriched through the exploration of evolutionarily divergent organisms. In this context, Smith and colleagues integrate a new description of neurotransmitter expression patterns, ultrastructural connectivity, pharmacology and behavior to derive new insights into the architecture of the Ascidian Ciona visual system.
First, by mapping RNA expression patterns onto neurons spanning the Ciona nervous system using a combination of HCR in situs and image registration, they assign neurotransmitter types to many neurons. Importantly, these studies reveal three classes of ocellus photoreceptors – one that uses glutamate as a transmitter, one that uses GABA, and one that appears to release both. Next, using a glutamate receptor antagonist, they demonstrate that blockade of signaling from glutamatergic photoreceptors blocks phototaxis, but does not affect a second behavior evoked by transient dimming. Finally, consistent with the idea that a subset of photoreceptors could control the dimming response by depolarizing to darkness, and releasing GABA, the authors describe a mutant in which visual input to motor pathways is disrupted, leading to an animal that swims constitutively.
Overall, this manuscript reports an interesting, exciting set of findings that provide new insight into how visual systems evolve. I find the idea that there might be photoreceptors that appear to hyperpolarize to light and release GABA particularly exciting, and it will be fascinating to learn more about how these photoreceptors are related to retinal and pineal photoreceptors in vertebrates. However, I do feel that the evidence behind these receptors being involved in the behavioral response to dimming is entirely indirect, and would be substantially strengthened by a pharmacological parallel to the Glutamate receptor antagonist data. That is, according to the disinhibition model, acute blockade of GABA(A) receptors with a pharmacological antagonist should produce a "hyperactive" movement phenotype akin to the frm mutant animal, but one that should still be capable of phototaxis (but not a dimming response). Such a result would provide an elegant "double dissociation" that would parallel the findings with the AMPA receptor antagonist.
Reviewer #2:
The fact that there is a full map of connections in Ciona provides a great opportunity to dissect circuits. Even better, the tools are there to perform some genetic and pharmacological pertubations, and evaluate effects on behavior. This study begins to exploit these features in a study of the Ciona visual system. The authors dug deeper into two circuits that begin with photoreception. They used transgenic reporter animals and in situ hybridization to define the use of two classical neurotransmitters, glutamate and GABA. Surprisingly, one type of photoreceptor uses GABA, an inhibitory neurotransmitter not previously described as used by photoreceptors in any species. From the known connections, they also make a case for how the two circuits are connected, and further suggest that one of the circuits is disinhibitory, perhaps along with other sensory inputs, for oscillatory swimming behavior. Through the use of a specific antagonist for a glutamate receptor they are able to show that one of the photoreceptor circuits is involved with detection of the direction of light (phototaxis), using a behavioral assay. Interestingly, inhibition of phototaxis has no effect on the other circuit, which detects dimming. However, it is likely that there is cross talk between the two photoreceptor circuits, as suggested by the known anatomy.
Overall this study provides a very nice example of photoreceptor directed behavior as controlled by two different circuits. It provides food for though regarding the evolution of different types of visually guided behaviors and the use of different types of photoreceptors. Optogenetic manipulations and calcium imaging (tried by the authors but did not work due to technical limitations) would greatly add to this story, but as it stands it constitutes a very nice addition to our understanding of a sensory circuit and behavior.
https://doi.org/10.7554/eLife.44753.036
The reviewers – and the reviewing editor – agree that the manuscript reports an interesting, exciting set of findings that provide new insight into how visual systems evolve. […] A broader audience could be engaged by the work if the authors identified the key question of interest, and provides some of the background material currently found in the Discussion section, before diving into the pertinent details.
In our revised manuscript we have thoroughly addressed the reviewers concerns and have included extensive new data from behavioral studies using a GABA receptor antagonist (Figure 7 in the revised manuscript, and related text). As you will read in the text, our results with the GABA receptor antagonist (picrotoxin) agree thoroughly with our disinhibition model (and with our observations of the frm mutant). The use of the GABA receptor antagonist was an excellent suggestion, and we feel that the results presented here greatly strengthen our model. As you will see in Figure 7, picrotoxin (like the frm mutant) leads to increased spontaneous swimming. Moreover, picrotoxin also leads to a dramatic reduction in the dimming response. We then show with use of picrotoxin combined with the AMPAR antagonist perampanel that the residual dimming response is due to parallel activation of the excitatory circuit. Finally, we show that picrotoxin-treated larvae are still capable of phototaxis. However, we observed that the phototaxis ability of the picrotoxin-treated larvae was somewhat dampened in comparison to controls, which we attribute to excitotoxicity of prolonged picrotoxin exposure (Movie5 documents the toxicity of prolonged picrotoxin exposure).
We have also extensively rewritten the Introduction along the lines suggested by the reviewer. Additionally, as requested, we have included in the text the number of animals tested using the pOpsin1/VGAT Kaede combination (n=5). Finally, we have collected additional data on neurotransmitter use by cells of the motor ganglion. These additional data are presented in revised versions of Figure 4 and Figure 4-figure supplement 1. Our conclusions regarding the minimal circuit are unchanged by this additional data; however, we are revising our neurotransmitter assignment to the anterior pair of ACINs. This reassignment was undertaken after consultation with Kerrianne Ryan (author of the Ciona connectome manuscript). We also include an approved personal communication from Dr. Ryan in this section.
https://doi.org/10.7554/eLife.44753.037
Article and author information
Author details
National Institute of Neurological Disorders and Stroke (R01NS103774)
The funders had no role in study design, data collection and interpretation, or the decision to submit the work for publication.
We thank Takeo Horie and Takahiro Kusakabe for the opsin1 promoter construct; Yasunori Sasakura for the stable pVGAT >kaede line and pVACHT >CFP plasmid; Haruo Okado for the pAMPAR >GFP construct. Kerrianne Ryan for her helpful discussion and sharing unpublished data. Chelsea Parlett-Pelleriti for her advice on statistical analysis. We acknowledge the use of the NRI-MCDB Microscopy Facility and the Resonant Scanning Confocal supported by NSF MRI grant 1625770. This work supported by an award from NIH (NS103774) to WCS and BM.
Ronald L Calabrese, Emory University, United States
Oliver Hobert, Howard Hughes Medical Institute, Columbia University, United States
© 2019, Kourakis et al.
This article is distributed under the terms of the Creative Commons Attribution License, which permits unrestricted use and redistribution provided that the original author and source are credited.
1,718

Page views

298

Downloads

17

Citations
Article citation count generated by polling the highest count across the following sources: Crossref, PubMed Central, Scopus.
A two-part list of links to download the article, or parts of the article, in various formats.
Downloads
(link to download the article as PDF)
Open citations
(links to open the citations from this article in various online reference manager services)
Cite this article
(links to download the citations from this article in formats compatible with various reference manager tools)
Matthew J Kourakis
Cezar Borba
Angela Zhang
Erin Newman-Smith
Priscilla Salas
B Manjunath
William C Smith
Parallel visual circuitry in a basal chordate
eLife 8:e44753.
https://doi.org/10.7554/eLife.44753
Further reading
Midbrain and striatal dopamine signals have been extremely well characterized over the past several decades, yet novel dopamine signals and functions in reward learning and motivation continue to emerge. A similar characterization of real-time sub-second dopamine signals in areas outside of the striatum has been limited. Recent advances in fluorescent sensor technology and fiber photometry permit the measurement of dopamine binding correlates, which can divulge basic functions of dopamine signaling in non-striatal dopamine terminal regions, like the dorsal bed nucleus of the stria terminalis (dBNST). Here, we record GRABDA signals in the dBNST during a Pavlovian lever autoshaping task. We observe greater Pavlovian cue-evoked dBNST GRABDA signals in sign-tracking (ST) compared to goal-tracking/intermediate (GT/INT) rats and the magnitude of cue-evoked dBNST GRABDA signals decreases immediately following reinforcer-specific satiety. When we deliver unexpected rewards or omit expected rewards, we find that dBNST dopamine signals encode bidirectional reward prediction errors in GT/INT rats, but only positive prediction errors in ST rats. Since sign- and goal-tracking approach strategies are associated with distinct drug relapse vulnerabilities, we examined the effects of experimenter-administered fentanyl on dBNST dopamine associative encoding. Systemic fentanyl injections do not disrupt cue discrimination but generally potentiate dBNST dopamine signals. These results reveal multiple dBNST dopamine correlates of learning and motivation that depend on the Pavlovian approach strategy employed.

The cell bodies of postganglionic sympathetic neurons innervating the heart primarily reside in the stellate ganglion (SG), alongside neurons innervating other organs and tissues. Whether cardiac-innervating stellate ganglionic neurons (SGNs) exhibit diversity and distinction from those innervating other tissues is not known. To identify and resolve the transcriptomic profiles of SGNs innervating the heart, we leveraged retrograde tracing techniques using adeno-associated virus (AAV) expressing fluorescent proteins (GFP or Td-tomato) with single cell RNA sequencing. We investigated electrophysiologic, morphologic, and physiologic roles for subsets of cardiac-specific neurons and found that three of five adrenergic SGN subtypes innervate the heart. These three subtypes stratify into two subpopulations; high (NA1a) and low (NA1b and NA1c) neuropeptide-Y (NPY) -expressing cells, exhibit distinct morphological, neurochemical, and electrophysiologic characteristics. In physiologic studies in transgenic mouse models modulating NPY signaling, we identified differential control of cardiac responses by these two subpopulations to high and low stress states. These findings provide novel insights into the unique properties of neurons responsible for cardiac sympathetic regulation, with implications for novel strategies to target specific neuronal subtypes for sympathetic blockade in cardiac disease.

Oscillations of extracellular voltage, reflecting synchronous, rhythmic activity in large populations of neurons, are a ubiquitous feature in the mammalian brain, and are thought to subserve important, if not fully understood roles in normal and abnormal brain function. Oscillations at different frequency bands are hallmarks of specific brain and behavioral states. At the higher end of the spectrum, 150-200 Hz ripples occur in the hippocampus during slow-wave sleep, and ultrafast (400-600 Hz) oscillations arise in the somatosensory cortices of humans and several other mammalian species in response to peripheral nerve stimulation or punctate sensory stimuli. Here we report that brief optogenetic activation of thalamocortical axons, in brain slices from mouse somatosensory (barrel) cortex, elicited in the thalamorecipient layer local field potential (LFP) oscillations which we dubbed "ripplets". Ripplets originated in the postsynaptic cortical network and consisted of a precisely repeating sequence of 2‑5 negative transients, closely resembling hippocampal ripples but, at ~400 Hz, over twice as fast. Fast-spiking (FS) inhibitory interneurons fired highly synchronous 400 Hz spike bursts entrained to the LFP oscillation, while regular-spiking (RS), excitatory neurons typically fired only 1-2 spikes per ripplet, in antiphase to FS spikes, and received synchronous sequences of alternating excitatory and inhibitory inputs. We suggest that ripplets are an intrinsically generated cortical response to a strong, synchronous thalamocortical volley, and could provide increased bandwidth for encoding and transmitting sensory information. Importantly, optogenetically induced ripplets are a uniquely accessible model system for studying synaptic mechanisms of fast and ultrafast cortical and hippocampal oscillations.