Locomotion: Building behaviors, one layer at a time
New interneurons are added in the hindbrain to support more complex movements as young zebrafish get older.
Most animals are born with an immature nervous system and, at first, they are only equipped with the rudimentary reflexes required to ingest food or avoid predators. As the nervous system matures, the complex movements needed for hunting or mating get added to the repertoire of the animals. However, it is not clear how these new motor skills are gradually acquired while the nervous system is still under construction.
This question remains challenging because it is difficult to estimate when the neurons that underpin specific behaviors are born. Now, in eLife, Avinash Pujala and Minoru Koyama of the Janelia Research Campus report that, in the hindbrain of zebrafish larvae, the birthdate of neurons determines in which type of movements these cells participate (Pujala and Koyama, 2019).
Zebrafish larvae are widely used as model organisms to study how the nervous system develops. This is because these fish are transparent, they grow outside of the mother's body, and a wide range of genetic techniques is available to study them. Two-day-old zebrafish larvae are mostly unable to move: however, they show strong and fast escape responses when exposed to acoustic or mechanical stimuli, and they produce slow but powerful struggling movements to free themselves if they are restrained. At five days, these behaviors persist but the larvae also start to produce comparatively weaker and slower tail bends that allow them to search their environment for food.
To explore how the nervous system develops in zebrafish, Pujala and Koyama focused on V2a interneurons, a group of excitatory neurons essential for locomotion. A subset of V2a neurons is present in the hindbrain and connects to neurons in the spinal cord (Kimura et al., 2013; Kinkhabwala et al., 2011). The Janelia team then combined three methods: age-dependent photoconversion of fluorescent proteins to time the birth of the hindbrain V2a interneurons; paired-electrophysiological recording to map their connectivity; and population recording to monitor their activity during movement. These experiments showed that V2a interneurons developed in the hindbrain to implement the new, refined movements. Meanwhile, early-born neurons continued to underpin the old and crude reflexes of escapes and struggles (Figure 1). Further experiments revealed that the birth order of the cells determined their biophysical properties and how they connected to spinal neurons, thus allowing V2a interneurons born at different times to support distinct behaviors.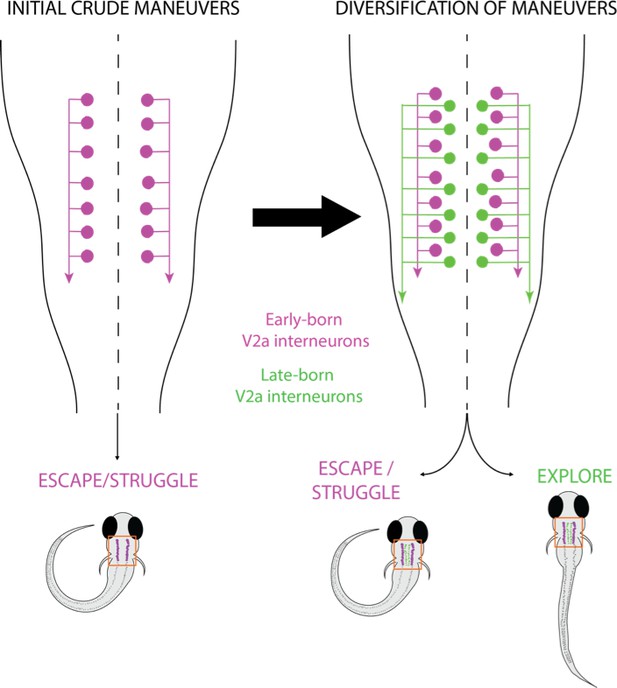 These experiments build on previous studies which demonstrated that, in zebrafish, the birthdate of premotor interneurons in the spinal cord determines which locomotion pattern these cells control (McLean et al., 2008; McLean et al., 2007). The study by Pujala and Koyama also extends to the hindbrain the concept of behavioral 'modules'. These units rely on subcircuits of neurons that are recruited based on the speed and vigor required by movements (Ampatzis et al., 2014; Song et al., 2018).
It was already known that new motor behaviors can emerge by reconfiguring existing circuits through changes in connectivity or the addition of neuromodulatory projections (Marder and Rehm, 2005; Marin-Burgin et al., 2008). For instance, neuromodulators such as dopamine can act on spinal or supraspinal targets, making motor patterns mature during development (Lambert et al., 2012; Thirumalai and Cline, 2008). What the study by Pujala and Koyama demonstrates is that new circuits can form alongside existing components, which helps to expand the repertoire of movements.
Why would organisms benefit from such a layered organization? First, gradually adding new circuits might be an efficient way to create modules that generate movements of varying speed and vigor; it might also help gate transitions between such modules. Different circuits may then be recruited to generate appropriate motor patterns in response to immediate needs.
Second, acquiring these parallel circuits one after the other helps to preserve the 'old' modules required for survival, even as many new neurons and connections appear in the central nervous system. Finally, this parallel organization allows new circuits and behaviors to be added in an open-ended manner, without imposing constraints based on existing circuits.
Many mechanisms, including the addition of new neurons, preside over the acquisition of brain functions such as language and memory. In the long run, the work by Pujala and Koyama provides a framework in which to investigate these processes.
Article and author information
Author details
© 2019, Wyart and Thirumalai
This article is distributed under the terms of the Creative Commons Attribution License, which permits unrestricted use and redistribution provided that the original author and source are credited.
1,605

Page views

162

Downloads

1

Citations
Article citation count generated by polling the highest count across the following sources: Crossref, PubMed Central, Scopus.
A two-part list of links to download the article, or parts of the article, in various formats.
Downloads
(link to download the article as PDF)
Open citations
(links to open the citations from this article in various online reference manager services)
Cite this article
(links to download the citations from this article in formats compatible with various reference manager tools)
Claire Wyart
Vatsala Thirumalai
Locomotion: Building behaviors, one layer at a time
eLife 8:e46375.
https://doi.org/10.7554/eLife.46375
Further reading
Developmental Biology
Neuroscience

The emergence of new and increasingly sophisticated behaviors after birth is accompanied by dramatic increase of newly established synaptic connections in the nervous system. Little is known, however, of how nascent connections are organized to support such new behaviors alongside existing ones. To understand this, in the larval zebrafish we examined the development of spinal pathways from hindbrain V2a neurons and the role of these pathways in the development of locomotion. We found that new projections are continually layered laterally to existing neuropil, and give rise to distinct pathways that function in parallel to existing pathways. Across these chronologically layered pathways, the connectivity patterns and biophysical properties vary systematically to support a behavioral repertoire with a wide range of kinematics and dynamics. Such layering of new parallel circuits equipped with systematically changing properties may be central to the postnatal diversification and increasing sophistication of an animal's behavioral repertoire.

The joint storage and reciprocal retrieval of learnt associated signals are presumably encoded by associative memory cells. In the accumulation and enrichment of memory contents in lifespan, a signal often becomes a core signal associatively shared for other signals. One specific group of associative memory neurons that encode this core signal likely interconnects multiple groups of associative memory neurons that encode these other signals for their joint storage and reciprocal retrieval. We have examined this hypothesis in a mouse model of associative learning by pairing the whisker tactile signal sequentially with the olfactory signal, the gustatory signal, and the tail-heating signal. Mice experienced this associative learning show the whisker fluctuation induced by olfactory, gustatory, and tail-heating signals, or the other way around, that is, memories to multi-modal associated signals featured by their reciprocal retrievals. Barrel cortical neurons in these mice become able to encode olfactory, gustatory, and tail-heating signals alongside the whisker signal. Barrel cortical neurons interconnect piriform, S1-Tr, and gustatory cortical neurons. With the barrel cortex as the hub, the indirect activation occurs among piriform, gustatory, and S1-Tr cortices for the second-order associative memory. These associative memory neurons recruited to encode multi-modal signals in the barrel cortex for associative memory are downregulated by neuroligin-3 knockdown. Thus, associative memory neurons can be recruited as the core cellular substrate to memorize multiple associated signals for the first-order and the second-order of associative memories by neuroligin-3-mediated synapse formation, which constitutes neuronal substrates of cognitive activities in the field of memoriology.

Chromosomes and Gene Expression
Neuroscience

Mathys et al. conducted the first single-nucleus RNA-seq (snRNA-seq) study of Alzheimer's disease (AD) (Mathys et al., 2019). With bulk RNA-seq, changes in gene expression across cell types can be lost, potentially masking the differentially expressed genes (DEGs) across different cell types. Through the use of single-cell techniques, the authors benefitted from increased resolution with the potential to uncover cell type-specific DEGs in AD for the first time. However, there were limitations in both their data processing and quality control and their differential expression analysis. Here, we correct these issues and use best-practice approaches to snRNA-seq differential expression, resulting in 549 times fewer DEGs at a false discovery rate of 0.05. Thus, this study highlights the impact of quality control and differential analysis methods on the discovery of disease-associated genes and aims to refocus the AD research field away from spuriously identified genes.