Cerebellum: Sensing how to balance
How does the inner ear communicate with the cerebellar cortex to maintain balance and posture?
Keeping your head upright may seem like a trivial task, but the neural circuitry required to perform this task is rather complex and not fully understood. This circuitry starts with the vestibular system: a sensory system in the inner ear that relies on hair cells to detect movements, and to provide our sense of balance and spatial awareness. The vestibular system contains five organs that are sensitive to different types of movement. The sacculus and the utricle detect gravity and linear movements, respectively, and there are three semi-circular canals that detect rotation. Information about these movements is sent from the vestibular system to the cerebellum, which co-ordinates the motor movements needed to maintain posture and balance (Ito, 2006).
The hair cells in the vestibular system contact VG (vestibular ganglion) neurons, which then send sensory information along nerve cells called mossy fibers to the vestibular region of the cerebellum (Dow, 1936). The fibers that send signals directly to the cerebellum are called primary afferents, and the fibers that send signals indirectly via the brainstem nuclei (which also receive information from other sensory systems) are called secondary afferents (Maklad and Fritzsch, 2003; see Figure 1).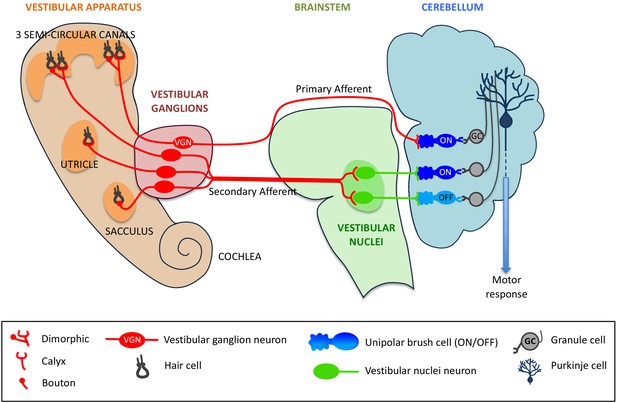 Both the primary and secondary afferents form synapses with neurons called granule cells in the cerebellum: granule cells are the most numerous excitatory neurons in the brain (Chadderton et al., 2004). A single mossy fiber can activate hundreds of granule cells which, in turn, form synapses with the dendrites of Purkinje cells. These cells are the sole output neurons from the cerebellar cortex and they have a crucial role in motor learning.
However, this is not the full story because the vestibular region of the cerebellum also contains a high proportion of excitatory neurons called unipolar brush cells (UBCs). These cells, which receive input from just a single mossy fiber, form synapses with the granule cells (Mugnaini et al., 2011). UBCs essentially create an intermediate step in the circuitry, where signals sent between mossy fibers and granule cells can be modified. How the signal is modified depends on the type of UBC involved: ON UBCs will have an amplified response, whereas OFF UBCs will have a dampened response (Borges-Merjane and Trussell, 2015). However, there is much about the pathways connecting the vestibular system and cerebellum that is not fully understood: for instance, how is information from the vestibular system processed once it reaches the cerebellum? Now, in eLife, Timothy Balmer and Laurence Trussell of Oregon Health and Science University report the results from experiments on genetically-modified mice that will help to answer such questions (Balmer and Trussell, 2019).
The two researchers used a combination of transgenic mice and retrograde-infecting viruses to map the morphology of the VG neurons. These experiments showed that the primary afferents largely originated at the three semi-circular canals of the vestibular system, and that the dendrites of the VG neurons mostly had a dimorphic morphology (see Figure 1). These results, combined with our current knowledge of the sensory organs of the vestibular system, led Balmer and Trussell to conclude that the primary afferents are responsible for sensing rotational movements of the head (Fernández et al., 1988).
An optogenetic approach was then employed to assess which neurons in the cerebellum were targeted by these dimorphic VG neurons. Using light to stimulate light-sensitive ion channels in VG neurons led to electric impulses being observed in UBCs in the cerebellum. The characteristics of this response were distinctive of ON UBCs, and a response could not be detected from the OFF UBCs. This finding was further bolstered by immunohistochemical staining, which showed primary afferent synapses projecting solely onto the ON UBC subtype. These data suggest that direct projections of VG neurons solely target ON UBCs, but not OFF UBCs.
Finally, Balmer and Trussell investigated the differences between the direct and the indirect pathways by expressing a light-sensitive channel in the vestibular region of the brainstem. In contrast with primary afferents, secondary afferents targeted both ON and OFF UBCs to a similar degree (see Figure 1).
The complexity of the circuitry revealed by Balmer and Trussell seems suited to the delicate task of balancing one's head, but a number of questions remain. In particular, how and where do the primary and secondary afferent pathways converge to trigger the relevant responses? An interesting follow up to this study would be to compare the role played by UBCs in maintaining balance and posture with their role in processing the other types of sensory inputs that are sent to the cerebellum.
Article and author information
Author details
© 2019, Ango and Dos Reis
This article is distributed under the terms of the Creative Commons Attribution License, which permits unrestricted use and redistribution provided that the original author and source are credited.
14,707

Page views

382

Downloads

6

Citations
Article citation count generated by polling the highest count across the following sources: Crossref, PubMed Central, Scopus.
A two-part list of links to download the article, or parts of the article, in various formats.
Downloads
(link to download the article as PDF)
Open citations
(links to open the citations from this article in various online reference manager services)
Cite this article
(links to download the citations from this article in formats compatible with various reference manager tools)
Fabrice Ango
Raphaël Dos Reis
Cerebellum: Sensing how to balance
eLife 8:e46973.
https://doi.org/10.7554/eLife.46973
Further reading
In vestibular cerebellum, primary afferents carry signals from single vestibular end organs, whereas secondary afferents from vestibular nucleus carry integrated signals. Selective targeting of distinct mossy fibers determines how the cerebellum processes vestibular signals. We focused on vestibular projections to ON and OFF classes of unipolar brush cells (UBCs), which transform single mossy fiber signals into long-lasting excitation or inhibition respectively, and impact the activity of ensembles of granule cells. To determine whether these contacts are indeed selective, connectivity was traced back from UBC to specific ganglion cell, hair cell and vestibular organ subtypes in mice. We show that a specialized subset of primary afferents contacts ON UBCs, but not OFF UBCs, while secondary afferents contact both subtypes. Striking anatomical differences were observed between primary and secondary afferents, their synapses, and the UBCs they contact. Thus, each class of UBC functions to transform specific signals through distinct anatomical pathways.

During fear learning, defensive behaviors like freezing need to be finely balanced in the presence or absence of threat-predicting cues (conditioned stimulus, CS). Nevertheless, the circuits underlying such balancing are largely unknown. Here, we investigate the role of the ventral tail striatum (vTS) in auditory-cued fear learning of male mice. In vivo Ca2+ imaging showed that sizable sub-populations of direct (D1R+) and indirect pathway neurons (Adora+) in the vTS responded to footshocks, and to the initiation of movements after freezing; moreover, a sub-population of D1R+ neurons increased its responsiveness to an auditory CS during fear learning. In-vivo optogenetic silencing shows that footshock-driven activity of D1R+ neurons contributes to fear memory formation, whereas Adora+ neurons modulate freezing in the absence of a learned CS. Circuit tracing identified the posterior insular cortex (pInsCx) as an important cortical input to the vTS, and recording of optogenetically evoked EPSCs revealed long-term plasticity with opposite outcomes at the pInsCx synapses onto D1R+ - and Adora+ neurons. Thus, direct- and indirect pathways neurons of the vTS show differential signs of plasticity after fear learning, and balance defensive behaviors in the presence and absence of learned sensory cues.

Computational and Systems Biology
Neuroscience

The locus coeruleus (LC) houses the vast majority of noradrenergic neurons in the brain and regulates many fundamental functions including fight and flight response, attention control, and sleep/wake cycles. While efferent projections of the LC have been extensively investigated, little is known about its local circuit organization. Here, we performed large-scale multi-patch recordings of noradrenergic neurons in adult mouse LC to profile their morpho-electric properties while simultaneously examining their interactions. LC noradrenergic neurons are diverse and could be classified into two major morpho-electric types. While fast excitatory synaptic transmission among LC noradrenergic neurons was not observed in our preparation, these mature LC neurons connected via gap junction at a rate similar to their early developmental stage and comparable to other brain regions. Most electrical connections form between dendrites and are restricted to narrowly spaced pairs or small clusters of neurons of the same type. In addition, more than two electrically coupled cell pairs were often identified across a cohort of neurons from individual multi-cell recording sets that followed a chain-like organizational pattern. The assembly of LC noradrenergic neurons thus follows a spatial and cell type-specific wiring principle that may be imposed by a unique chain-like rule.