Cerebellum: Sensing how to balance
How does the inner ear communicate with the cerebellar cortex to maintain balance and posture?
Keeping your head upright may seem like a trivial task, but the neural circuitry required to perform this task is rather complex and not fully understood. This circuitry starts with the vestibular system: a sensory system in the inner ear that relies on hair cells to detect movements, and to provide our sense of balance and spatial awareness. The vestibular system contains five organs that are sensitive to different types of movement. The sacculus and the utricle detect gravity and linear movements, respectively, and there are three semi-circular canals that detect rotation. Information about these movements is sent from the vestibular system to the cerebellum, which co-ordinates the motor movements needed to maintain posture and balance (Ito, 2006).
The hair cells in the vestibular system contact VG (vestibular ganglion) neurons, which then send sensory information along nerve cells called mossy fibers to the vestibular region of the cerebellum (Dow, 1936). The fibers that send signals directly to the cerebellum are called primary afferents, and the fibers that send signals indirectly via the brainstem nuclei (which also receive information from other sensory systems) are called secondary afferents (Maklad and Fritzsch, 2003; see Figure 1).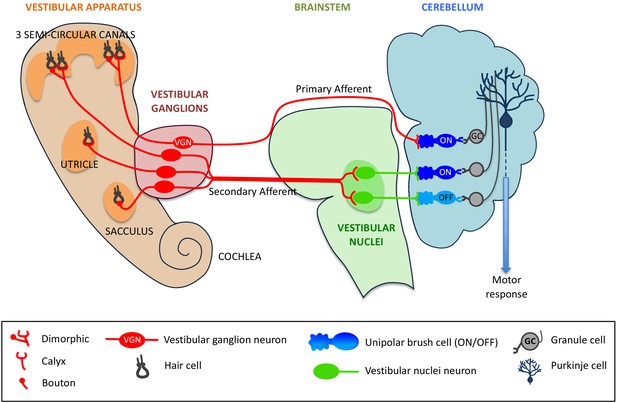 Both the primary and secondary afferents form synapses with neurons called granule cells in the cerebellum: granule cells are the most numerous excitatory neurons in the brain (Chadderton et al., 2004). A single mossy fiber can activate hundreds of granule cells which, in turn, form synapses with the dendrites of Purkinje cells. These cells are the sole output neurons from the cerebellar cortex and they have a crucial role in motor learning.
However, this is not the full story because the vestibular region of the cerebellum also contains a high proportion of excitatory neurons called unipolar brush cells (UBCs). These cells, which receive input from just a single mossy fiber, form synapses with the granule cells (Mugnaini et al., 2011). UBCs essentially create an intermediate step in the circuitry, where signals sent between mossy fibers and granule cells can be modified. How the signal is modified depends on the type of UBC involved: ON UBCs will have an amplified response, whereas OFF UBCs will have a dampened response (Borges-Merjane and Trussell, 2015). However, there is much about the pathways connecting the vestibular system and cerebellum that is not fully understood: for instance, how is information from the vestibular system processed once it reaches the cerebellum? Now, in eLife, Timothy Balmer and Laurence Trussell of Oregon Health and Science University report the results from experiments on genetically-modified mice that will help to answer such questions (Balmer and Trussell, 2019).
The two researchers used a combination of transgenic mice and retrograde-infecting viruses to map the morphology of the VG neurons. These experiments showed that the primary afferents largely originated at the three semi-circular canals of the vestibular system, and that the dendrites of the VG neurons mostly had a dimorphic morphology (see Figure 1). These results, combined with our current knowledge of the sensory organs of the vestibular system, led Balmer and Trussell to conclude that the primary afferents are responsible for sensing rotational movements of the head (Fernández et al., 1988).
An optogenetic approach was then employed to assess which neurons in the cerebellum were targeted by these dimorphic VG neurons. Using light to stimulate light-sensitive ion channels in VG neurons led to electric impulses being observed in UBCs in the cerebellum. The characteristics of this response were distinctive of ON UBCs, and a response could not be detected from the OFF UBCs. This finding was further bolstered by immunohistochemical staining, which showed primary afferent synapses projecting solely onto the ON UBC subtype. These data suggest that direct projections of VG neurons solely target ON UBCs, but not OFF UBCs.
Finally, Balmer and Trussell investigated the differences between the direct and the indirect pathways by expressing a light-sensitive channel in the vestibular region of the brainstem. In contrast with primary afferents, secondary afferents targeted both ON and OFF UBCs to a similar degree (see Figure 1).
The complexity of the circuitry revealed by Balmer and Trussell seems suited to the delicate task of balancing one's head, but a number of questions remain. In particular, how and where do the primary and secondary afferent pathways converge to trigger the relevant responses? An interesting follow up to this study would be to compare the role played by UBCs in maintaining balance and posture with their role in processing the other types of sensory inputs that are sent to the cerebellum.
Article and author information
Author details
© 2019, Ango and Dos Reis
This article is distributed under the terms of the Creative Commons Attribution License, which permits unrestricted use and redistribution provided that the original author and source are credited.
17,787

Page views

405

Downloads

6

Citations
Article citation count generated by polling the highest count across the following sources: Crossref, PubMed Central, Scopus.
A two-part list of links to download the article, or parts of the article, in various formats.
Downloads
(link to download the article as PDF)
Open citations
(links to open the citations from this article in various online reference manager services)
Cite this article
(links to download the citations from this article in formats compatible with various reference manager tools)
Fabrice Ango
Raphaël Dos Reis
Cerebellum: Sensing how to balance
eLife 8:e46973.
https://doi.org/10.7554/eLife.46973
Further reading
In vestibular cerebellum, primary afferents carry signals from single vestibular end organs, whereas secondary afferents from vestibular nucleus carry integrated signals. Selective targeting of distinct mossy fibers determines how the cerebellum processes vestibular signals. We focused on vestibular projections to ON and OFF classes of unipolar brush cells (UBCs), which transform single mossy fiber signals into long-lasting excitation or inhibition respectively, and impact the activity of ensembles of granule cells. To determine whether these contacts are indeed selective, connectivity was traced back from UBC to specific ganglion cell, hair cell and vestibular organ subtypes in mice. We show that a specialized subset of primary afferents contacts ON UBCs, but not OFF UBCs, while secondary afferents contact both subtypes. Striking anatomical differences were observed between primary and secondary afferents, their synapses, and the UBCs they contact. Thus, each class of UBC functions to transform specific signals through distinct anatomical pathways.

Evolutionary Biology
Neuroscience

The process of brain folding is thought to play an important role in the development and organisation of the cerebrum and the cerebellum. The study of cerebellar folding is challenging due to the small size and abundance of its folia. In consequence, little is known about its anatomical diversity and evolution. We constituted an open collection of histological data from 56 mammalian species and manually segmented the cerebrum and the cerebellum. We developed methods to measure the geometry of cerebellar folia and to estimate the thickness of the molecular layer. We used phylogenetic comparative methods to study the diversity and evolution of cerebellar folding and its relationship with the anatomy of the cerebrum. Our results show that the evolution of cerebellar and cerebral anatomy follows a stabilising selection process. We observed 2 groups of phenotypes changing concertedly through evolution: a group of 'diverse' phenotypes - varying over several orders of magnitude together with body size, and a group of 'stable' phenotypes varying over less than 1 order of magnitude across species. Our analyses confirmed the strong correlation between cerebral and cerebellar volumes across species, and showed in addition that large cerebella are disproportionately more folded than smaller ones. Compared with the extreme variations in cerebellar surface area, folial anatomy and molecular layer thickness varied only slightly, showing a much smaller increase in the larger cerebella. We discuss how these findings could provide new insights into the diversity and evolution of cerebellar folding, the mechanisms of cerebellar and cerebral folding, and their potential influence on the organisation of the brain across species.

Consumption of food and water is tightly regulated by the nervous system to maintain internal nutrient homeostasis. Although generally considered independently, interactions between hunger and thirst drives are important to coordinate competing needs. In Drosophila, four neurons called the interoceptive subesophageal zone neurons (ISNs) respond to intrinsic hunger and thirst signals to oppositely regulate sucrose and water ingestion. Here, we investigate the neural circuit downstream of the ISNs to examine how ingestion is regulated based on internal needs. Utilizing the recently available fly brain connectome, we find that the ISNs synapse with a novel cell-type bilateral T-shaped neuron (BiT) that projects to neuroendocrine centers. In vivo neural manipulations revealed that BiT oppositely regulates sugar and water ingestion. Neuroendocrine cells downstream of ISNs include several peptide-releasing and peptide-sensing neurons, including insulin producing cells (IPCs), crustacean cardioactive peptide (CCAP) neurons, and CCHamide-2 receptor isoform RA (CCHa2R-RA) neurons. These neurons contribute differentially to ingestion of sugar and water, with IPCs and CCAP neurons oppositely regulating sugar and water ingestion, and CCHa2R-RA neurons modulating only water ingestion. Thus, the decision to consume sugar or water occurs via regulation of a broad peptidergic network that integrates internal signals of nutritional state to generate nutrient-specific ingestion.