Social Psychology: A mathematical look at empathy
When an individual makes a judgement about the actions of another individual, taking the latter's viewpoint into consideration enhances cooperation in society at large.
The pros and cons of public and private transport are well known: public transport is more friendly to the environment and to society at large, but it can be inconvenient to the individual; cars and other forms of private transport, on the other hand, are convenient for individuals but are more harmful to the environment. The debate about public versus private transport is an example of a social dilemma that has fascinated psychologists, economists, mathematical biologists and many others for decades. In particular, how and why do humans (and other animals) cooperate and act in ways that put the interests of society at large ahead of their own interests and convenience?
Several mechanisms have been identified over the years to explain how cooperation is maintained when people are confronted with such social dilemmas (Sigmund, 2010). One explanation is that cooperation relies on a mechanism called 'indirect reciprocity' that is based on reputation: my decision to cooperate with you depends on your reputation. To illustrate this, consider the following example: Alice has to decide whether or not to help Bob. By helping Bob, Alice may improve her own reputation, and thus increase her chances of being helped by someone else in the future. Alternatively, if she decides not to help Bob, her reputation will be damaged, lowering her chances of being helped in the future.
Although the concept of reputation-based cooperation may sound intuitive, it is in fact more complex than it seems. First, we need to define what is meant by 'good' and 'bad'. For example, if Alice chooses to help Bob, but Bob is perceived to be a 'bad' person, should this result in a 'good' reputation? And if she decides not to help Bob (Figure 1), should this be seen as 'bad'? One can continue this line of thought and find the moral codes that allow cooperation to thrive, and show that few rules for assigning reputation are simple enough to appeal to intuition while also being able to promote cooperation (Ohtsuki and Iwasa, 2004; Ohtsuki and Iwasa, 2006; Santos et al., 2018).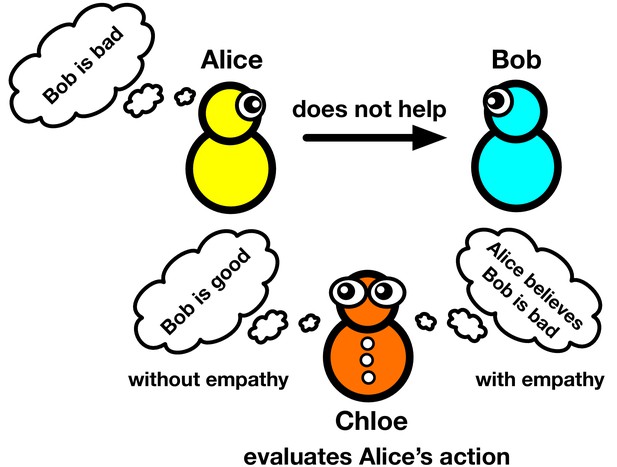 Second, the efficiency of these rules will depend on the information that is available to different people. Earlier mathematical models assumed that reputations are public, being instantly shared across society, but this is unlikely unless there is a central institution managing this information. It is more likely that different people will be able to have different opinions about reputations, making it more difficult to maintain cooperation (Uchida, 2010; Okada et al., 2017; Hilbe et al., 2018). Now, in eLife, Arunas Radzvilavicius and Joshua Plotkin of University of Pennsylvania, working with Alexander Stewart of University of Houston, report the results of mathematical modelling that offer new insights into the effect of empathy on cooperation when there is no consensus about reputations (Radzvilavicius et al., 2019).
In this context, empathy is the ability of someone to change their opinion of a person based on what other people think of that person (Radzvilavicius et al., 2019). Let us return to the example of Alice and Bob (Figure 1): Alice has chosen not to cooperate with Bob because she believes he is a 'bad' guy. A bystander, called Chloe, observes this action and, in the absence of empathy, she will assign Alice a bad reputation because, from her own perspective, she believes Bob to be good. Crucially, Radzvilavicius et al. included empathy – the possibility that Chloe may understand Alice's point of view – in their model. The level of empathy E could range from zero (ie, Chloe has zero empathy with Alice) to one (ie, Chloe completely empathizes with Alice). Complete empathy would mean that Chloe thinks: "OK, although it is different from my opinion, Alice thinks Bob is a bad guy and I accept her view". In other words, Chloe has some 'theory of mind', understanding Alice's intentions and perspective, even if they are different from her own. As a result, Chloe assigns Alice a good reputation because Alice has done the right thing according to Alice's (not Chloe's) point of view.
Radzvilavicius et al. conducted mathematical and numerical analysis to show that the empathy often enhances cooperation. Radzvilavicius et al. also showed that empathy itself is selected by evolution: if empathy is an individual property and is allowed to change over time through social learning (that is, through individuals mimicking other individuals who are successful), E often evolves towards larger values, leading to a more empathetic society.
Many questions, however, still remain. For instance, what are the mechanisms that enable an individual, such as Chloe, to know how a person's reputation, such as Bob's, is perceived by others? Secondly, if Chloe has more accurate information about Bob than Alice, how will this affect her empathy? Finally, does the structure of social networks (Newman, 2010) matter for how reputations spread in society? Empathy may also be seen as a form of tolerance and, in principle, be used to foster cooperation under the various and evolving moral codes that are typical of the world we live in. Overall, it may offer a new route towards a culture of tolerance, diversity and pro-sociality.
Book

Networks – An Introduction

Oxford University Press.

Book

The Calculus of Selfishness

Princeton University Press.
Article and author information
Author details
© 2019, Masuda and Santos
This article is distributed under the terms of the Creative Commons Attribution License, which permits unrestricted use and redistribution provided that the original author and source are credited.
2,396

Page views

213

Downloads

3

Citations
Article citation count generated by polling the highest count across the following sources: Crossref, PubMed Central, Scopus.
A two-part list of links to download the article, or parts of the article, in various formats.
Downloads
(link to download the article as PDF)
Open citations
(links to open the citations from this article in various online reference manager services)
Cite this article
(links to download the citations from this article in formats compatible with various reference manager tools)
Naoki Masuda
Francisco C Santos
Social Psychology: A mathematical look at empathy
eLife 8:e47036.
https://doi.org/10.7554/eLife.47036
Further reading
Social norms can promote cooperation by assigning reputations to individuals based on their past actions. A good reputation indicates that an individual is likely to reciprocate. A large body of research has established norms of moral assessment that promote cooperation, assuming reputations are objective. But without a centralized institution to provide objective evaluation, opinions about an individual's reputation may differ across a population. In this setting we study the role of empathy–the capacity to form moral evaluations from another person's perspective. We show that empathy tends to foster cooperation by reducing the rate of unjustified defection. The norms of moral evaluation previously considered most socially beneficial depend on high levels of empathy, whereas different norms maximize social welfare in populations incapable of empathy. Finally, we show that empathy itself can evolve through social contagion. We conclude that a capacity for empathy is a key component for sustaining cooperation in societies.

Evolutionary Biology
Genetics and Genomics

Cultural and socioeconomic differences stratify human societies and shape their genetic structure beyond the sole effect of geography. Despite mating being limited by sociocultural stratification, most demographic models in population genetics often assume random mating. Taking advantage of the correlation between sociocultural stratification and the proportion of genetic ancestry in admixed populations, we sought to infer the former process in the Americas. To this aim, we define a mating model where the individual proportions of the genome inherited from Native American, European and sub-Saharan African ancestral populations constrain the mating probabilities through ancestry-related assortative mating and sex bias parameters. We simulate a wide range of admixture scenarios under this model. Then, we train a deep neural network and retrieve good performance in predicting mating parameters from genomic data. Our results show how population stratification shaped by socially constructed racial and gender hierarchies have constrained the admixture processes in the Americas since the European colonisation and the subsequent Atlantic slave trade.

Ecology
Evolutionary Biology

Groups of animals inhabit vastly different sensory worlds, or umwelten, which shape fundamental aspects of their behaviour. Yet the sensory ecology of species is rarely incorporated into the emerging field of collective behaviour, which studies the movements, population-level behaviours, and emergent properties of animal groups. Here, we review the contributions of sensory ecology and collective behaviour to understanding how animals move and interact within the context of their social and physical environments. Our goal is to advance and bridge these two areas of inquiry and highlight the potential for their creative integration. To achieve this goal, we organise our review around the following themes: (1) identifying the promise of integrating collective behaviour and sensory ecology; (2) defining and exploring the concept of a 'sensory collective'; (3) considering the potential for sensory collectives to shape the evolution of sensory systems; (4) exploring examples from diverse taxa to illustrate neural circuits involved in sensing and collective behaviour; and (5) suggesting the need for creative conceptual and methodological advances to quantify 'sensescapes'. In the final section, (6) applications to biological conservation, we argue that these topics are timely, given the ongoing anthropogenic changes to sensory stimuli (e.g. via light, sound, and chemical pollution) which are anticipated to impact animal collectives and group-level behaviour and, in turn, ecosystem composition and function. Our synthesis seeks to provide a forward-looking perspective on how sensory ecologists and collective behaviourists can both learn from and inspire one another to advance our understanding of animal behaviour, ecology, adaptation, and evolution.