Biomarkers: Improving survival prediction for melanoma
The survival of patients with cutaneous melanoma can be accurately predicted using just four DNA methylation marks.
Predicting the risk of outcomes in patients with cancer has traditionally relied on clinical observations: the age of the patient, the size of the tumor, how far it spreads, and how the tumor cells look under the microscope. The accuracy of these clinical evaluations depends on the type of cancer: this approach usually delivers good predictions for cancers that do not spread, but once the cancer metastasizes, the predictive power of this approach declines rapidly.
One of the most challenging cancers to make predictions for is cutaneous melanoma because it progresses rapidly and often spreads into the lymph nodes and other distant organs (Homsi et al., 2005). Cutaneous melanoma is the deadliest skin cancer (Miller and Mihm, 2006), so it is important to be able to manage patient expectations. This means that we need methods other than those based on clinical observations that can predict patient survival.
One alternative approach is based on biomarkers – biological properties within tumors that are associated with melanoma survival. For instance, research showed that several drugs for the treatment of melanoma only targeted tumors that carried a specific mutation in the BRAF gene: the presence of this mutation in a patient is therefore associated with a higher chance of survival due to a positive drug response (Figure 1). Indeed, subsequent research has shown that the higher the mutational 'burden' in the melanoma, the better the response to treatment (Goodman et al., 2017; Figure 1). The interaction between the transcription of genes in the tumor and the immune system is also important: depending on the melanoma tumor type, low levels of transcription of a gene called MITF results in fewer immune cells being attracted to the tumor, which leads to an acceleration in tumor growth (Wiedemann et al., 2019). Taken together, these findings highlight that understanding the biological characteristics of melanoma tumors is critical for predicting outcomes and developing new treatments.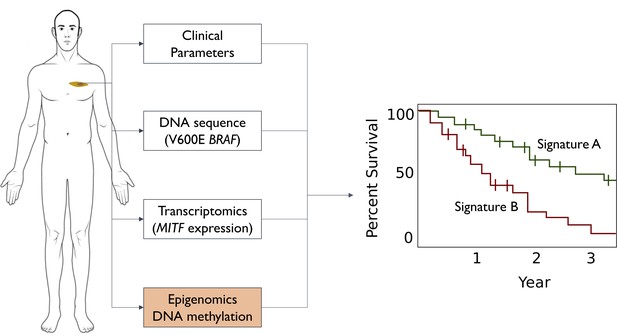 To continue the search for better biomarkers researchers went from studying genomics and transcriptomics to studying epigenomic changes such as DNA methylation (Figure 1). Multiple studies have shown that the addition of methyl group to certain DNA nucleotides plays important roles in tumor formation and cancer progression. Furthermore, these methyl markers are easily detectable and remain stable in biological samples, making them clinically useful as biomarkers (Keeley et al., 2013). Now, in eLife, Qiang Wang, Jian-Qun Chen and co-workers at Nanjing University and Shanghai University – including Wenna Guo and Liucun Zhu as joint first authors – report the discovery of a biomarker based on DNA methylation that provides the most accurate predictions of melanoma survival to date (Guo et al., 2019).
Guo et al. studied the methylation profile of 461 cutaneous melanoma patients from the Cancer Genome Atlas Project (International Cancer Genome Consortium et al., 2010). Regression analysis of this dataset revealed 4,454 DNA methylation sites that were associated with overall melanoma survival. Exploring all possible combinations of these markers identified a combination of four methylation marks that could optimally predict the survival of melanoma patients (Figure 1). Intriguingly, two out of the four methylation marks are in close proximity to two genes that are known to be associated with cutaneous melanoma: OCA2, which was found to be genetically varied in melanoma patients (Law et al., 2015), and RAB37, which is a member of an oncogene family.
Understanding the biological basis of the link between these methylation marks and survival will be challenging. DNA methylation could be controlling gene expression: however, the direction of this effect would need to be determined on gene by gene basis. Interestingly, Guo et al. also found that their four-methylation-mark signature has similarities to a signature used in cancer immunotherapy. The predictive power of the new biomarker is also higher than that of other biomarkers, including the five-DNA methylation signature that can predict the immune response to tumors (Jeschke et al., 2017).
Improvements in our ability to predict disease outcome are valuable in their own right. Moreover, a better understanding of the biology responsible for the correlations observed between the methylation signature, gene expression and immunotherapy targets has the potential to contribute to the global efforts to find a cure for melanoma.
Article and author information
Author details
© 2019, Artomov
This article is distributed under the terms of the Creative Commons Attribution License, which permits unrestricted use and redistribution provided that the original author and source are credited.
1,231

Page views

108

Downloads

3

Citations
Article citation count generated by polling the highest count across the following sources: Crossref, PubMed Central, Scopus.
A two-part list of links to download the article, or parts of the article, in various formats.
Downloads
(link to download the article as PDF)
Open citations
(links to open the citations from this article in various online reference manager services)
Cite this article
(links to download the citations from this article in formats compatible with various reference manager tools)
Mykyta Artomov
Biomarkers: Improving survival prediction for melanoma
eLife 8:e48145.
https://doi.org/10.7554/eLife.48145
Further reading
Cutaneous melanoma (CM) is a life-threatening form of skin cancer. Prognostic biomarkers can reliably stratify patients at initial melanoma diagnosis according to risk, and may inform clinical decisions. Here, we performed a retrospective, cohort-based study analyzing genome-wide DNA methylation of 461 patients with CM from the TCGA database. Cox regression analyses were conducted to establish a four-DNA methylation signature that was significantly associated with the overall survival (OS) of patients with CM, and that was validated in an independent cohort. Corresponding Kaplan–Meier analysis displayed a distinct separation in OS. The ROC analysis confirmed that the predictive signature performed well. Notably, this signature exhibited much higher predictive accuracy in comparison with known biomarkers. This signature was significantly correlated with immune checkpoint blockade (ICB) immunotherapy-related signatures, and may have potential as a guide for measures of responsiveness to ICB immunotherapy.

Biochemistry and Chemical Biology
Cancer Biology

The oxidative tricarboxylic acid (TCA) cycle is a central mitochondrial pathway integrating catabolic conversions of NAD +to NADH and anabolic production of aspartate, a key amino acid for cell proliferation. Several TCA cycle components are implicated in tumorigenesis, including loss-of-function mutations in subunits of succinate dehydrogenase (SDH), also known as complex II of the electron transport chain (ETC), but mechanistic understanding of how proliferating cells tolerate the metabolic defects of SDH loss is still lacking. Here, we identify that SDH supports human cell proliferation through aspartate synthesis but, unlike other ETC impairments, the effects of SDH inhibition are not ameliorated by electron acceptor supplementation. Interestingly, we find aspartate production and cell proliferation are restored to SDH-impaired cells by concomitant inhibition of ETC complex I (CI). We determine that the benefits of CI inhibition in this context depend on decreasing mitochondrial NAD+/NADH, which drives SDH-independent aspartate production through pyruvate carboxylation and reductive carboxylation of glutamine. We also find that genetic loss or restoration of SDH selects for cells with concordant CI activity, establishing distinct modalities of mitochondrial metabolism for maintaining aspartate synthesis. These data therefore identify a metabolically beneficial mechanism for CI loss in proliferating cells and reveal how compartmentalized redox changes can impact cellular fitness.

The adhesion protein Kindlin-1 is over-expressed in breast cancer where it is associated with metastasis-free survival; however, the mechanisms involved are poorly understood. Here, we report that Kindlin-1 promotes anti-tumor immune evasion in mouse models of breast cancer. Deletion of Kindlin-1 in Met-1 mammary tumor cells led to tumor regression following injection into immunocompetent hosts. This was associated with a reduction in tumor infiltrating Tregs. Similar changes in T cell populations were seen following depletion of Kindlin-1 in the polyomavirus middle T antigen (PyV MT)-driven mouse model of spontaneous mammary tumorigenesis. There was a significant increase in IL-6 secretion from Met-1 cells when Kindlin-1 was depleted and conditioned media from Kindlin-1-depleted cells led to a decrease in the ability of Tregs to suppress the proliferation of CD8+ T cells, which was dependent on IL-6. In addition, deletion of tumor-derived IL-6 in the Kindlin-1-depleted tumors reversed the reduction of tumor-infiltrating Tregs. Overall, these data identify a novel function for Kindlin-1 in regulation of anti-tumor immunity, and that Kindlin-1 dependent cytokine secretion can impact the tumor immune environment.