Biomarkers: Improving survival prediction for melanoma
The survival of patients with cutaneous melanoma can be accurately predicted using just four DNA methylation marks.
Predicting the risk of outcomes in patients with cancer has traditionally relied on clinical observations: the age of the patient, the size of the tumor, how far it spreads, and how the tumor cells look under the microscope. The accuracy of these clinical evaluations depends on the type of cancer: this approach usually delivers good predictions for cancers that do not spread, but once the cancer metastasizes, the predictive power of this approach declines rapidly.
One of the most challenging cancers to make predictions for is cutaneous melanoma because it progresses rapidly and often spreads into the lymph nodes and other distant organs (Homsi et al., 2005). Cutaneous melanoma is the deadliest skin cancer (Miller and Mihm, 2006), so it is important to be able to manage patient expectations. This means that we need methods other than those based on clinical observations that can predict patient survival.
One alternative approach is based on biomarkers – biological properties within tumors that are associated with melanoma survival. For instance, research showed that several drugs for the treatment of melanoma only targeted tumors that carried a specific mutation in the BRAF gene: the presence of this mutation in a patient is therefore associated with a higher chance of survival due to a positive drug response (Figure 1). Indeed, subsequent research has shown that the higher the mutational 'burden' in the melanoma, the better the response to treatment (Goodman et al., 2017; Figure 1). The interaction between the transcription of genes in the tumor and the immune system is also important: depending on the melanoma tumor type, low levels of transcription of a gene called MITF results in fewer immune cells being attracted to the tumor, which leads to an acceleration in tumor growth (Wiedemann et al., 2019). Taken together, these findings highlight that understanding the biological characteristics of melanoma tumors is critical for predicting outcomes and developing new treatments.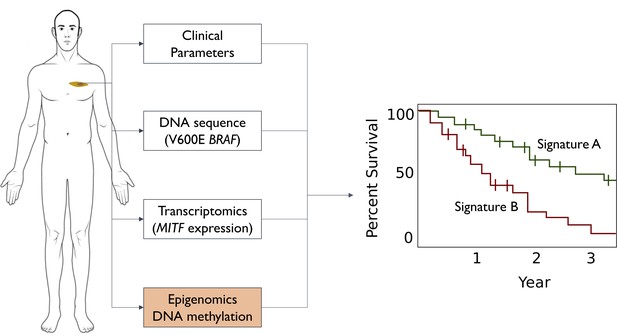 To continue the search for better biomarkers researchers went from studying genomics and transcriptomics to studying epigenomic changes such as DNA methylation (Figure 1). Multiple studies have shown that the addition of methyl group to certain DNA nucleotides plays important roles in tumor formation and cancer progression. Furthermore, these methyl markers are easily detectable and remain stable in biological samples, making them clinically useful as biomarkers (Keeley et al., 2013). Now, in eLife, Qiang Wang, Jian-Qun Chen and co-workers at Nanjing University and Shanghai University – including Wenna Guo and Liucun Zhu as joint first authors – report the discovery of a biomarker based on DNA methylation that provides the most accurate predictions of melanoma survival to date (Guo et al., 2019).
Guo et al. studied the methylation profile of 461 cutaneous melanoma patients from the Cancer Genome Atlas Project (International Cancer Genome Consortium et al., 2010). Regression analysis of this dataset revealed 4,454 DNA methylation sites that were associated with overall melanoma survival. Exploring all possible combinations of these markers identified a combination of four methylation marks that could optimally predict the survival of melanoma patients (Figure 1). Intriguingly, two out of the four methylation marks are in close proximity to two genes that are known to be associated with cutaneous melanoma: OCA2, which was found to be genetically varied in melanoma patients (Law et al., 2015), and RAB37, which is a member of an oncogene family.
Understanding the biological basis of the link between these methylation marks and survival will be challenging. DNA methylation could be controlling gene expression: however, the direction of this effect would need to be determined on gene by gene basis. Interestingly, Guo et al. also found that their four-methylation-mark signature has similarities to a signature used in cancer immunotherapy. The predictive power of the new biomarker is also higher than that of other biomarkers, including the five-DNA methylation signature that can predict the immune response to tumors (Jeschke et al., 2017).
Improvements in our ability to predict disease outcome are valuable in their own right. Moreover, a better understanding of the biology responsible for the correlations observed between the methylation signature, gene expression and immunotherapy targets has the potential to contribute to the global efforts to find a cure for melanoma.
Article and author information
Author details
© 2019, Artomov
This article is distributed under the terms of the Creative Commons Attribution License, which permits unrestricted use and redistribution provided that the original author and source are credited.
1,198

Page views

108

Downloads

2

Citations
Article citation count generated by polling the highest count across the following sources: Crossref, PubMed Central, Scopus.
A two-part list of links to download the article, or parts of the article, in various formats.
Downloads
(link to download the article as PDF)
Open citations
(links to open the citations from this article in various online reference manager services)
Cite this article
(links to download the citations from this article in formats compatible with various reference manager tools)
Mykyta Artomov
Biomarkers: Improving survival prediction for melanoma
eLife 8:e48145.
https://doi.org/10.7554/eLife.48145
Further reading
Cutaneous melanoma (CM) is a life-threatening form of skin cancer. Prognostic biomarkers can reliably stratify patients at initial melanoma diagnosis according to risk, and may inform clinical decisions. Here, we performed a retrospective, cohort-based study analyzing genome-wide DNA methylation of 461 patients with CM from the TCGA database. Cox regression analyses were conducted to establish a four-DNA methylation signature that was significantly associated with the overall survival (OS) of patients with CM, and that was validated in an independent cohort. Corresponding Kaplan–Meier analysis displayed a distinct separation in OS. The ROC analysis confirmed that the predictive signature performed well. Notably, this signature exhibited much higher predictive accuracy in comparison with known biomarkers. This signature was significantly correlated with immune checkpoint blockade (ICB) immunotherapy-related signatures, and may have potential as a guide for measures of responsiveness to ICB immunotherapy.

Cancer Biology

Cell Biology

Centrosomes act as the main microtubule organizing center (MTOC) in metazoans. Centrosome number is tightly regulated by limiting centriole duplication to a single round per cell cycle. This control is achieved by multiple mechanisms, including the regulation of the protein kinase PLK4, the most upstream facilitator of centriole duplication. Altered centrosome numbers in mouse and human cells cause p53-dependent growth arrest through poorly defined mechanisms. Recent work has shown that the E3 ligase TRIM37 is required for cell cycle arrest in acentrosomal cells. To gain additional insights into this process, we undertook a series of genome-wide CRISPR/Cas9 screens to identify factors important for growth arrest triggered by treatment with centrinone B, a selective PLK4 inhibitor. We found that TRIM37 is a key mediator of growth arrest after partial or full PLK4 inhibition. Interestingly, PLK4 cellular mobility decreased in a dose-dependent manner after centrinone B treatment. In contrast to recent work, we found that growth arrest after PLK4 inhibition correlated better with PLK4 activity than with mitotic length or centrosome number. These data provide insights into the global response to changes in centrosome number and PLK4 activity and extend the role for TRIM37 in regulating the abundance, localization, and function of centrosome proteins.

Cancer Biology

Cell Biology

Hyperactivation of oncogenic pathways downstream of RAS and PI3K/AKT in normal cells induces a senescence-like phenotype that acts as a tumor-suppressive mechanism that must be overcome during transformation. We previously demonstrated that AKT-induced senescence (AIS) is associated with profound transcriptional and metabolic changes. Here, we demonstrate that human fibroblasts undergoing AIS display upregulated cystathionine-β-synthase (CBS) expression and enhanced uptake of exogenous cysteine, which lead to increased hydrogen sulfide (H2S) and glutathione (GSH) production, consequently protecting senescent cells from oxidative stress-induced cell death. CBS depletion allows AIS cells to escape senescence and re-enter the cell cycle, indicating the importance of CBS activity in maintaining AIS. Mechanistically, we show this restoration of proliferation is mediated through suppressing mitochondrial respiration and reactive oxygen species (ROS) production by reducing mitochondrial localized CBS while retaining antioxidant capacity of transsulfuration pathway. These findings implicate a potential tumor-suppressive role for CBS in cells with aberrant PI3K/AKT pathway activation. Consistent with this concept, in human gastric cancer cells with activated PI3K/AKT signaling, we demonstrate that CBS expression is suppressed due to promoter hypermethylation. CBS loss cooperates with activated PI3K/AKT signaling in promoting anchorage-independent growth of gastric epithelial cells, while CBS restoration suppresses the growth of gastric tumors in vivo. Taken together, we find that CBS is a novel regulator of AIS and a potential tumor suppressor in PI3K/AKT-driven gastric cancers, providing a new exploitable metabolic vulnerability in these cancers.