Morphogenesis: Mathematical models with frills
The spectacular frill around the neck of the lizard Chlamydosaurus has its origins in a mechanical instability that arises during development.
The development of tissues and organs involves a combination of mechanical forces and various chemical and genetic cues (Mammoto et al., 2013; Nelson, 2016). A remarkable example of the role of mechanical forces during development is the formation of ridges and grooves (termed gyri and sulci) in the cerebral cortex to maximize its surface area-to-volume ratio. This process, which is called gyrification, does not require increased cell proliferation at the location of the gyri or other spatial patterning. Instead, it relies on a mechanical instability: the cerebral cortex (the outer layer of grey matter) grows uniformly, but it grows more than the underlying white matter to which it is attached, causing it to buckle and hence to form ridges and grooves (Figure 1; Tallinen et al., 2014; Nelson, 2016). An analogous mechanism of buckling due to differential growth has been proposed to explain the formation of the loops in the gut (Hannezo et al., 2011; Shyer et al., 2013).
Now, in eLife, Sophie Montandon, Anamarija Fofonjka and Michel Milinkovitch report that a similar instability plays a role in the development of the distinctive frill around the neck of Chlamydosaurus kingii, a lizard that is commonly called the 'frilled dragon' (Montandon et al., 2019). The frill is an outgrowth of cartilage and skin that, when erect for the purposes of defense or courtship, is rather akin to the ruffs that are found on the costumes of Elizabethan period dramas (Figure 1A). When at rest each of the two lobes of the frill settles into three folds (Figure 1B).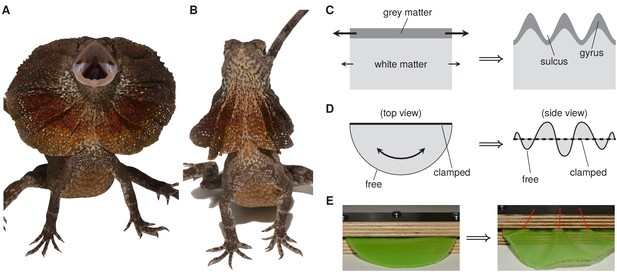 Montandon et al., who are based at the University of Geneva and the SIB Swiss Institute of Bioinformatics, showed that the three folds appear on each lobe during embryonic development. However, staining for cell proliferation did not reveal any localized differences in cell division rates, so spatial patterning of cell proliferation cannot be responsible for the formation of the folds. Therefore the researchers hypothesized that the folds form due to the growth of the frill being frustrated by its attachment to the neck. A similar boundary frustration causes the folds of a draped curtain (Cerda et al., 2004).
To test their hypothesis, Montandon et al. performed an elegant experiment in which a semicircle of a gel (representing the frill) was first clamped between two blocks of wood (mimicking the attachment to the neck) and then immersed in a chemical. This caused the gel to swell, thus mimicking the growth of the frill (Figure 1E). The gel buckled to form three folds similar to those of the frill of Chlamydosaurus. The researchers then turned to numerical simulations of the frustrated growth of a thin elastic sheet, first in a simplified geometry, then in more realistic geometries, and were able to reproduce the transition from two folds to three folds that is seen during embryonic development in Chlamydosaurus.
The frills in Chlamydosaurus and the gyrification seen in the cerebral cortex both result from frustrated growth, though they differ in that the former involves frustration along an edge and the latter involves frustration along a surface. While the work of Montandon et al. highlights the importance of frustrated growth for morphogenesis, other researchers have shown that the gyrification observed in the cerebellum in mice, though superficially similar to that seen in the cerebral cortex, cannot be explained by the same model of frustrated growth (Engstrom et al., 2018).
The success of mechanisms of frustrated growth at explaining very different developmental processes (at least to a first approximation) suggests that continuum models (that is, models of continuous biological materials that average over different cells and other structures) have much to offer to the field of development. However, the occasional failure of continuum models emphasizes the importance of understanding the links between these models and the underlying biological processes.
An important challenge for these models is to move from qualitative comparisons between experimental systems and continuum models to more quantitative comparisons. Developing continuum models for this purpose again requires understanding how they link to the underlying biological processes. For example, continuum models often assume that Hooke's law is valid (that is, that the extension of the material is proportional to the force applied), but one would not expect this law to apply for large deformations of biological materials. Indeed, Hooke's law does not hold for brain tissue (Mihai et al., 2015). Theoretical work has shown how to extend Hooke's law to biological tissues by deriving the nonlinear continuum limit of simple cell-based models (Haas and Goldstein, 2019), and by using a framework of 'active gels' to describe biological materials that are out of equilibrium (Prost et al., 2015). However, the development of equations that can describe large deformations of general biological materials remains a long way away.
Article and author information
Author details
© 2019, Haas
This article is distributed under the terms of the Creative Commons Attribution License, which permits unrestricted use and redistribution provided that the original author and source are credited.
1,390

Page views

118

Downloads

0

Citations
Article citation count generated by polling the highest count across the following sources: Crossref, PubMed Central, Scopus.
A two-part list of links to download the article, or parts of the article, in various formats.
Downloads
(link to download the article as PDF)
Open citations
(links to open the citations from this article in various online reference manager services)
Cite this article
(links to download the citations from this article in formats compatible with various reference manager tools)
Pierre A Haas
Morphogenesis: Mathematical models with frills
eLife 8:e48520.
https://doi.org/10.7554/eLife.48520
Further reading
Evolutionary Biology
Physics of Living Systems

We study the morphogenesis and evolutionary origin of the spectacular erectile ruff of the frilled dragon (Chlamydosaurus kingii). Our comparative developmental analyses of multiple species suggest that the ancestor of Episquamata reptiles developed a neck fold from the hyoid branchial arch by preventing it to fully fuse with posterior arches. We also show that the Chlamydosaurus embryonic neck fold dramatically enlarges and its anterior surface wrinkles, establishing three convex ridges on each lobe of the frill. We suggest that this robust folding pattern is not due to localised increased growth at the positions of the ridges, but emerges from an elastic instability during homogeneous growth of the frill skin frustrated by its attachment to adjacent tissues. Our physical analog experiments and 3D computational simulations, using realistic embryonic tissue growth, thickness and stiffness values, recapitulate the transition from two to three ridges observed during embryonic development of the dragon's frill.

Evolutionary Biology
Microbiology and Infectious Disease

Many bacterial genomes carry prophages whose induction can eliminate competitors. In response, bacteria may become resistant by modifying surface receptors, by lysogenization, or by other poorly known processes. All these mechanisms affect bacterial fitness and population dynamics. To understand the evolution of phage resistance, we co-cultivated a phage-sensitive strain (BJ1) and a poly-lysogenic Klebsiella pneumoniae strain (ST14) under different phage pressures. The population yield remained stable after 30 days. Surprisingly, the initially sensitive strain remained in all populations and its frequency was highest when phage pressure was strongest. Resistance to phages in these populations emerged initially through mutations preventing capsule biosynthesis. Protection through lysogeny was rarely observed because the lysogens have increased death rates due to prophage induction. Unexpectedly, the adaptation process changed at longer time scales the frequency of capsulated cells in BJ1 populations increased again, because the production of capsule was fine-tuned, reducing the ability of phage to absorb. Contrary to the lysogens, these capsulated resistant clones are pan-resistant to a large panel of phages. Intriguingly, some clones exhibited transient non-genetic resistance to phages, suggesting an important role of phenotypic resistance in coevolving populations. Our results show that interactions between lysogens and sensitive strains are shaped by antagonistic co-evolution between phages and bacteria. These processes may involve key physiological traits, such as the capsule, and depend on the time frame of the evolutionary process. At short time scales, simple and costly inactivating mutations are adaptive, but in the long-term, changes drawing more favorable trade-offs between resistance to phages and cell fitness become prevalent.

The globally invasive mosquito subspecies Aedes aegypti aegypti is an effective vector of human arboviruses, in part because it specializes in biting humans and breeding in human habitats. Recent work suggests that specialization first arose as an adaptation to long, hot dry seasons in the West African Sahel, where Ae. aegypti relies on human-stored water for breeding. Here, we use whole-genome cross-coalescent analysis to date the emergence of human-specialist populationsand thus further probe the climate hypothesis. Importantly, we take advantage of the known migration of specialists out of Africa during the Atlantic Slave Trade to calibrate the coalescent clock and thus obtain a more precise estimate of the older evolutionary event than would otherwise be possible. We find that human-specialist mosquitoes diverged rapidly from ecological generalists approximately 5000 years ago, at the end of the African Humid Period—a time when the Sahara dried and water stored by humans became a uniquely stable, aquatic niche in the Sahel. We also use population genomic analyses to date a previously observed influx of human-specialist alleles into major West African cities. The characteristic length of tracts of human-specialist ancestry present on a generalist genetic background in Kumasi and Ouagadougou suggests the change in behavior occurred during rapid urbanization over the last 20–40 years. Taken together, we show that the timing and ecological context of two previously observed shifts towards human biting in Ae. aegypti differ; climate was likely the original driver, but urbanization has become increasingly important in recent decades.