Mosquitos: The taste of water
Female mosquitos require a specific ion-channel protein to sense the presence of fresh water in which they can lay their eggs.
We may be scared of sharks, snakes or spiders, yet the deadliest animals are the blood-feeding insects that spread dangerous diseases. For instance, the mosquito Aedes aegypti transmits yellow fever as well as dengue fever, chikungunya and Zika virus. A better understanding of the biology of Aedes mosquitos would, therefore, help to stop these infections in their tracks.
Mosquitos reproduce by laying eggs near fresh water, which then becomes infested with larvae that metamorphose and hatch into adults (Bentley and Day, 1989). One way to limit the spread of disease by Aedes aegypti would be to prevent egg-laying (oviposition) in standing water, as the insects often breed in the bodies of water commonly found near human settlements.
Not all sources of water are suitable for larvae, and mosquitos carefully select the best site in which to lay their eggs so their offspring can survive. Yet, it is largely unknown how the females detect that one pool of water is better than the other. Now, in eLife, Benjamin Matthews, Meg Younger and Leslie Vosshall of the Rockefeller University report on the first clues that show how Aedes aegypti assesses the suitability of potential oviposition sites (Matthews et al., 2019).
In nature, many factors contribute to the choice of the egg-laying site: the amount of food available in the body of water, the number of larvae already present, the temperature, the amount of light and so on (Bentley and Day, 1989). To reduce this complexity, Matthews, Younger and Vosshall focused on one critical variable: the salinity of the oviposition site. To this end, they developed simple behavioral assays where the mosquitos could choose to lay their eggs in sites ranging from pure fresh water to pure seawater. This revealed that the females have a strong preference for fresh water and a nearly complete aversion to sites with seawater. This behavior was key for the insect's survival, as larvae started die when they were in water contaminated with as little as 12.5% of seawater.
How do mosquitos sense whether the water is fresh or salty? Careful observations revealed that the mosquitos were 'dipping' their legs and mouthparts into the liquid before deciding on a site. In other insects such as fruit flies, this is a behavior associated with water and salt sensing. The legs and mouthparts of these animals carry taste receptor organs, hollowed-out bristles which each contains the projections of two to four gustatory receptor neurons. A neuron carries specific sensory receptors which allow the cell to detect a given type of molecules, for example water, amino acids, sugars, low or high salt, bitter chemicals or pheromones (Freeman and Dahanukar, 2015). In flies, water is detected thanks to the ion channel ppk28, a protein embedded in the neurons which opens due to differences in concentration between the inside of the cell and the water (Jaeger et al., 2018; Alves et al., 2014; Cameron et al., 2010).
Armed with this knowledge, Matthews et al. searched the genome of Aedes aegypti for sequences that encode proteins related to ppk28, and decided to focus on a gene called ppk301. CRISPR technology was then employed to design tools that can deactivate this gene in a group of mosquitos (Kistler et al., 2015). The researchers found that, compared to wild-type insects, the mutants were less likely to lay eggs in the presence of water, and slightly more likely to choose sites where salt levels were high. Further experiments used other mutants where the expression pattern of ppk301 could be examined, and these revealed that the gene is present in the gustatory receptor neurons of the legs and the mouthparts. Finally, mosquitos were genetically engineered to encode calcium sensors that could report on how the neurons carrying ppk301 were activated. The mutants were mounted under the lens of a confocal microscope, and the neuron projections featuring ppk301 were examined as water or salt solutions were applied to the legs (Figure 1). As expected, water activated the ppk301 neurons in the wild-type mosquitos, but not in the mutant strain in which ppk301 was out of action. Salt water also activated the cells, but this response persisted even when the ppk301 gene was deleted, suggesting that other sensor molecules help to detect salt in the ppk301 cell population.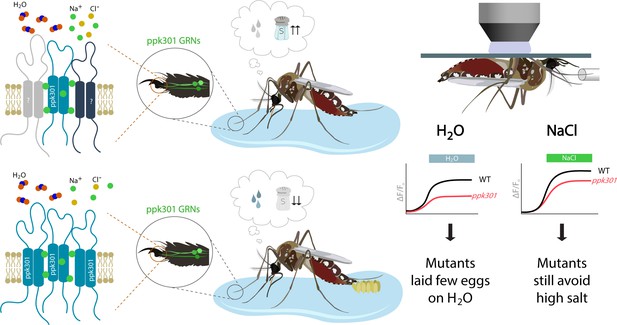 The results by Matthews et al. offer fascinating insights into the molecular, cellular and organismal mechanisms that preside over egg laying behaviors, while also demonstrating how CRISPR-based technology can transform the work on non-model organisms (Knott and Doudna, 2018).
Article and author information
Author details
© 2019, Tracey
This article is distributed under the terms of the Creative Commons Attribution License, which permits unrestricted use and redistribution provided that the original author and source are credited.
2,279

Page views

145

Downloads

0

Citations
Article citation count generated by polling the highest count across the following sources: Crossref, PubMed Central, Scopus.
A two-part list of links to download the article, or parts of the article, in various formats.
Downloads
(link to download the article as PDF)
Open citations
(links to open the citations from this article in various online reference manager services)
Cite this article
(links to download the citations from this article in formats compatible with various reference manager tools)
W Daniel Tracey
Mosquitos: The taste of water
eLife 8:e48654.
https://doi.org/10.7554/eLife.48654
Further reading
Genetics and Genomics

Neuroscience

Female Aedes aegypti mosquitoes are deadly vectors of arboviral pathogens and breed in containers of freshwater associated with human habitation. Because high salinity is lethal to offspring, correctly evaluating water purity is a crucial parenting decision. We found that the DEG/ENaC channel ppk301 and sensory neurons expressing ppk301 control egg-laying initiation and choice in Ae. aegypti. Using calcium imaging, we found that ppk301-expressing cells show ppk301-dependent responses to water but, unexpectedly, also respond to salt in a ppk301-independent fashion. This suggests that ppk301 is instructive for egg-laying at low-salt concentrations, but that a ppk301-independent pathway is responsible for inhibiting egg-laying at high-salt concentrations. Water is a key resource for insect survival and understanding how mosquitoes interact with water to control different behaviors is an opportunity to study the evolution of chemosensory systems.

Cell Biology

Genetics and Genomics

In the first meiotic cell division, proper segregation of chromosomes in most organisms depends on chiasmata, exchanges of continuity between homologous chromosomes that originate from the repair of programmed double-strand breaks (DSBs) catalyzed by the Spo11 endonuclease. Since DSBs can lead to irreparable damage in germ cells, while chromosomes lacking DSBs also lack chiasmata, the number of DSBs must be carefully regulated to be neither too high nor too low. Here, we show that in Caenorhabditis elegans, meiotic DSB levels are controlled by the phosphoregulation of DSB-1, a homolog of the yeast Spo11 cofactor Rec114, by the opposing activities of PP4PPH-4.1 phosphatase and ATRATL-1 kinase. Increased DSB-1 phosphorylation in pph-4.1 mutants correlates with reduction in DSB formation, while prevention of DSB-1 phosphorylation drastically increases the number of meiotic DSBs both in pph-4.1 mutants as well as in the wild type background. C. elegans and its close relatives also possess a diverged paralog of DSB-1, called DSB-2, and loss of dsb-2 is known to reduce DSB formation in oocytes with increasing age. We show that the proportion of the phosphorylated, and thus inactivated, form of DSB-1 increases with age and upon loss of DSB-2, while non-phosphorylatable DSB-1 rescues the age-dependent decrease in DSBs in dsb-2 mutants. These results suggest that DSB-2 evolved in part to compensate for the inactivation of DSB-1 through phosphorylation, to maintain levels of DSBs in older animals. Our work shows that PP4PPH-4.1, ATRATL-1, and DSB-2 act in concert with DSB-1 to promote optimal DSB levels throughout the reproductive lifespan.

Genetics and Genomics

Microbiology and Infectious Disease

Antibiotic resistance in the important opportunistic human pathogen Streptococcus pneumoniae is on the rise. This is particularly problematic in the case of the β-lactam antibiotic amoxicillin, which is the first-line therapy. It is therefore crucial to uncover targets that would kill or resensitize amoxicillin-resistant pneumococci. To do so, we developed a genome-wide, single-cell based, gene silencing screen using CRISPR interference called sCRilecs-seq (subsets of CRISPR interference libraries extracted by fluorescence activated cell sorting coupled to next generation sequencing). Since amoxicillin affects growth and division, sCRilecs-seq was used to identify targets that are responsible for maintaining proper cell size. Our screen revealed that downregulation of the mevalonate pathway leads to extensive cell elongation. Further investigation into this phenotype indicates that it is caused by a reduced availability of cell wall precursors at the site of cell wall synthesis due to a limitation in the production of undecaprenyl phosphate (Und-P), the lipid carrier that is responsible for transporting these precursors across the cell membrane. The data suggest that, whereas peptidoglycan synthesis continues even with reduced Und-P levels, cell constriction is specifically halted. We successfully exploited this knowledge to create a combination treatment strategy where the FDA-approved drug clomiphene, an inhibitor of Und-P synthesis, is paired up with amoxicillin. Our results show that clomiphene potentiates the antimicrobial activity of amoxicillin and that combination therapy resensitizes amoxicillin-resistant S. pneumoniae. These findings could provide a starting point to develop a solution for the increasing amount of hard-to-treat amoxicillin-resistant pneumococcal infections.