Oxygen Sensors: When is a target not a target?
Cells rely on prolyl hydroxylase enzymes to sense low levels of oxygen, but they might act on fewer targets than previously thought.
Oxygen is essential for life – just count how many times you need to breathe while reading this article – and is used by virtually every cell in the human body. Most cells are able to sense a diminished oxygen supply (hypoxia) and respond by making changes to cellular metabolism, blood vessel formation and oxygen delivery. For example, physiological hypoxia, such as that encountered in anemia or at high altitudes, induces the production of a hormone called EPO, which causes the body to make more red blood cells to improve oxygen delivery.
Cells must have highly responsive oxygen sensors to regulate these processes, but to date researchers have found only one family of enzymes – the 2-oxoglutarate dioxygenase enzyme family – that is capable of sensing physiological levels of oxygen. These enzymes use molecular oxygen (O2), iron ions and 2-oxogluterate (a molecule with the chemical formula C5H6O5) to catalyze the transfer of oxygen onto amino acid or DNA substrates (Islam et al., 2018). They act as both hydroxylases, catalyzing the addition of a hydroxyl group (OH) to substrates, and dioxygenases, using O2 as a cosubstrate. Researchers have identified four enzymes from this family that act as oxygen sensors to regulate three transcription factors called HIF1α, HIF2α and HIF3α, which in turn regulate how cells express genes in response to hypoxia. Three of these enzymes are prolyl hydroxylase (PHD) enzymes, and the fourth is called factor inhibiting HIF (Epstein et al., 2001; Ivan et al., 2001; Hewitson et al., 2002; Lando et al., 2002).
The PHD enzymes use molecular oxygen to catalyze the hydroxylation of two proline amino acids in the HIFα proteins. When oxygen levels are normal, the HIFα proteins are hydroxylated, which causes them to be degraded by the cell (Figure 1). However, when oxygen levels decrease, leading to hypoxia, the HIFα proteins are not hydroxylated, so they are not degraded as rapidly. This allows them to migrate to the nucleus and activate the genes responsible for adapting to hypoxia (Kaelin and Ratcliffe, 2008).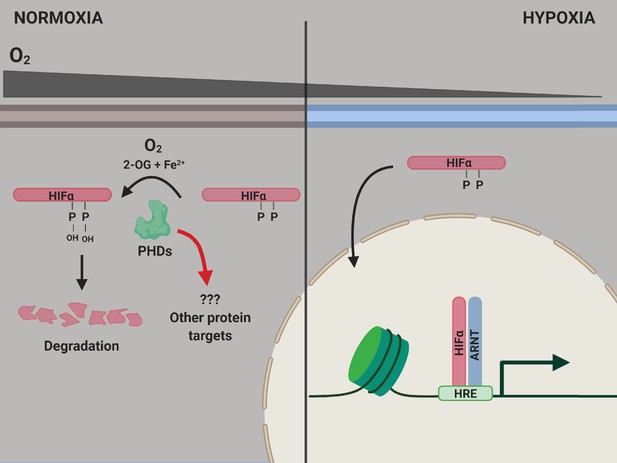 Since the discovery of the PHD enzymes and factor inhibiting HIF, it has been unclear whether these enzymes could hydroxylate targets other than the HIFα proteins. If PHD enzymes hydroxylate other targets it would suggest that additional non-HIF pathways might be involved in the hypoxia response. Previous research efforts have identified many other potential targets for the PHD enzymes, including some with links to physiological responses to hypoxia (Strowitzki et al., 2019). However, many of these studies did not demonstrate that the PHD enzymes were directly catalyzing the hydroxylation of these proteins, raising doubts as to whether these proteins are bona fide targets for the PHD enzymes. Now, in eLife, Matthew Cockman (Francis Crick Institute), Peter Ratcliffe (University of Oxford) and co-workers – including Kerstin Lippl and Ya-Min Tian (both in Oxford) as joint first authors with Cockman, and other researchers from the Crick, Oxford and the University of Oulu – report on a fascinating study that seeks to clarify the situation (Cockman et al., 2019).
Cockman et al. undertook a rigorous array of in vitro biochemical and mass spectrometry experiments using purified enzymes and substrates. While they confirmed that the PHD enzymes robustly catalyze the hydroxylation of proline residues in HIFα proteins, they found no evidence for the hydroxylation of any of the other targets in vitro. Overall, they studied more than 20 different candidate target proteins and 40 potential modification sites. The substrates used in the experiments were short synthetic peptides and full-length recombinant proteins.
These results suggest that the HIFα proteins are the only primary targets of the oxygen-sensing PHD enzymes. If this is the case, then PHD enzymes have a more focused role in hypoxic signaling than previously thought. This is important for predicting the consequences of manipulating PHD activity for therapeutic purposes. However, while these well-controlled, designed and executed biochemical experiments show that targets other than HIFα proteins cannot be efficiently hydroxylated in vitro, they do not preclude the modification of these targets in vivo. This is because living cells might contain additional cofactors that the PHD enzymes need to hydroxylate non-HIFα targets. Furthermore, modulating the activity of the PHD enzymes affects HIF-independent processes, indirectly pointing to potential non-HIF targets. (Strowitzki et al., 2019).
If in vivo experiments confirm that the HIFα proteins are the only primary targets of the PHD enzymes, as Cockman et al. suggest, this would make these enzymes central to of one of the most specialized sensing and control systems in the cell.
Article and author information
Author details
© 2019, Bersten and Peet
This article is distributed under the terms of the Creative Commons Attribution License, which permits unrestricted use and redistribution provided that the original author and source are credited.
1,207

Page views

97

Downloads

4

Citations
Article citation count generated by polling the highest count across the following sources: Crossref, PubMed Central, Scopus.
A two-part list of links to download the article, or parts of the article, in various formats.
Downloads
(link to download the article as PDF)
Open citations
(links to open the citations from this article in various online reference manager services)
Cite this article
(links to download the citations from this article in formats compatible with various reference manager tools)
David C Bersten
Daniel J Peet
Oxygen Sensors: When is a target not a target?
eLife 8:e50585.
https://doi.org/10.7554/eLife.50585
Further reading
Biochemistry and Chemical Biology

Human and other animal cells deploy three closely related dioxygenases (PHD 1, 2 and 3) to signal oxygen levels by catalysing oxygen regulated prolyl hydroxylation of the transcription factor HIF. The discovery of the HIF prolyl-hydroxylase (PHD) enzymes as oxygen sensors raises a key question as to the existence and nature of non-HIF substrates, potentially transducing other biological responses to hypoxia. Over 20 such substrates are reported. We therefore sought to characterise their reactivity with recombinant PHD enzymes. Unexpectedly, we did not detect prolyl-hydroxylase activity on any reported non-HIF protein or peptide, using conditions supporting robust HIF-α hydroxylation. We cannot exclude PHD-catalysed prolyl hydroxylation occurring under conditions other than those we have examined. However, our findings using recombinant enzymes provide no support for the wide range of non-HIF PHD substrates that have been reported.

Biochemistry and Chemical Biology
Cancer Biology

Identification oncogenes is fundamental to revealing the molecular basis of cancer. Here, we found that FOXP2 is overexpressed in human prostate cancer cells and prostate tumors, but its expression is absent in normal prostate epithelial cells and low in benign prostatic hyperplasia. FOXP2 is a FOX transcription factor family member and tightly associated with vocal development. To date, little is known regarding the link of FOXP2 to prostate cancer. We observed that high FOXP2 expression and frequent amplification are significantly associated with high Gleason score. Ectopic expression of FOXP2 induces malignant transformation of mouse NIH3T3 fibroblasts and human prostate epithelial cell RWPE-1. Conversely, FOXP2 knockdown suppresses the proliferation of prostate cancer cells. Transgenic overexpression of FOXP2 in the mouse prostate causes prostatic intraepithelial neoplasia. Overexpression of FOXP2 aberrantly activates oncogenic MET signaling and inhibition of MET signaling effectively reverts the FOXP2-induced oncogenic phenotype. CUT&Tag assay identified FOXP2-binding sites located in MET and its associated gene HGF. Additionally, the novel recurrent FOXP2-CPED1 fusion identified in prostate tumors results in high expression of truncated FOXP2, which exhibit a similar capacity for malignant transformation. Together, our data indicate that FOXP2 is involved in tumorigenicity of prostate.

Biochemistry and Chemical Biology
Cell Biology

Pancreatic a-cells secrete glucagon, an insulin counter-regulatory peptide hormone critical for the maintenance of glucose homeostasis. Investigation of the function of human a-cells remains a challenge due to the lack of cost-effective purification methods to isolate high-quality a-cells from islets. Here, we use the reaction-based probe diacetylated Zinpyr1 (DA-ZP1) to introduce a novel and simple method for enriching live a-cells from dissociated human islet cells with ~ 95% purity. The a-cells, confirmed by sorting and immunostaining for glucagon, were cultured up to 10 days to form a-pseudoislets. The a-pseudoislets could be maintained in culture without significant loss of viability, and responded to glucose challenge by secreting appropriate levels of glucagon. RNA-sequencing analyses (RNA-seq) revealed that expression levels of key a-cell identity genes were sustained in culture while some of the genes such as DLK1, GSN, SMIM24 were altered in a-pseudoislets in a time-dependent manner. In conclusion, we report a method to sort human primary a-cells with high purity that can be used for downstream analyses such as functional and transcriptional studies.