Speciation: How predictable is genome evolution?
Similar patterns of genomic divergence have been observed in the evolution of plant species separated by oceans.
Understanding the formation of new species – a process called speciation – is a central challenge in evolutionary biology and genomics, but many questions remain (Arnegard et al., 2014; Riesch et al., 2017). In particular, are there certain patterns of genome evolution that are repeated? And, if there are, can we predict how genomes will change as new species emerge and diverge?
To date, most studies have focused on the genomes of pairs of closely related species living in close proximity (such as two species of whitefish living in the same set of lakes; Gagnaire et al., 2013), or on the genomes of different lineages within a single species (such as one species of stick insect living on two different host plants; Soria-Carrasco et al., 2014), and have predominantly investigated scenarios where there is some degree of gene flow between the different species or lineages (Wolf and Ellegren, 2017). However, it is thought that most new species emerge in geographically isolated populations and in the absence of gene flow. Now, in eLife, a team of researchers from the United States, China and Canada – including Yibo Dong (North Carolina State University) and Shichao Chen (University of Florida and Tongji University) as joint first authors – report how pairs of closely related flowering plants which live thousands of miles apart genetically diverged during evolution (Dong et al., 2019).
Dong et al. systematically collected and sequenced 20 pairs of closely related species, including 16 pairs that diverged between 2 and 10 million years ago as a result of the Eastern Asian–Eastern North American floristic disjunction (Figure 1). These pairs of species are the ideal system in which to study allopatric speciation (that is, speciation in geographically isolated populations).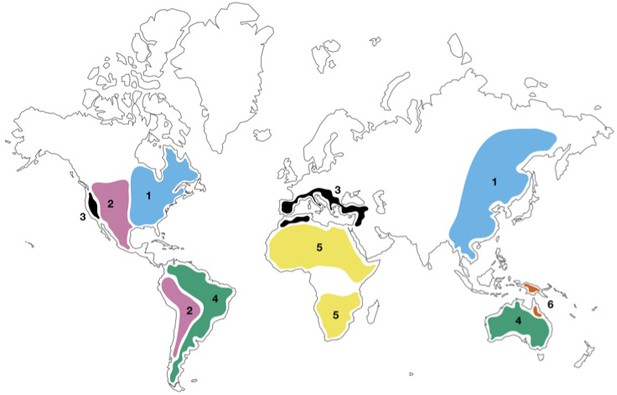 Dong et al. examined divergence in thousands of genes by measuring the rate at which nucleotide substitutions resulted in a change in the amino acid coded for (Ka), and the rate of nucleotide substitutions that did not result in such a change (Ks). The ratio Ka/Ks is a common index for identifying the selective pressure on a gene: values significantly above one indicate positive selection (i.e. an increase in the frequency of beneficial mutations), and values significantly below one indicate purifying selection (i.e. the removal of deleterious mutations). Despite investigating a diverse range of taxa, Dong et al. found that all species pairs experienced similar patterns of genomic divergence and selection, regardless of their ecologies and morphologies.
In fact, most of the genes measured showed little divergence and, intriguingly, the peak frequencies of Ks, Ka and Ka/Ks for each pair clustered within narrow ranges of small values. This is indicative of a common pattern in the relative numbers of genes at different levels of divergence during allopatric speciation, with only a small number of loci in the genome displaying high levels of divergence. Furthermore, by categorising the Ka/Ks ratios into six groups, Dong et al. found that in all pairs of species the relative number of genes under different selection pressures followed the same order. Moderate purifying selection was most common, followed by strong purifying selection, relaxed purifying selection, weak/moderate positive selection, putatively neutral selection and, finally, strong positive selection. Overall the patterns observed by Dong et al. suggest that it might be possible to make predictions about genome evolution.
While the study focused on the Eastern Asian–Eastern North American floristic disjunction, it is likely that these patterns of genome evolution are a common feature of allopatric speciation. Many other disjunctions exist around the world (Figure 1), and similar analyses of these would determine whether the findings of Dong et al. represent a common rule of genomic divergence. Indeed, recent work by some of the present authors and colleagues has shown that two pairs of palm species – one widely separated, the other not – have values of Ka, Ks and Ka/Ks similar to those reported by Dong et al. (Osborne et al., 2019). This supports the idea that these patterns may be common to genomic divergence in general, regardless of geography.
Article and author information
Author details
© 2019, Coathup et al.
This article is distributed under the terms of the Creative Commons Attribution License, which permits unrestricted use and redistribution provided that the original author and source are credited.
1,862

Page views

180

Downloads

0

Citations
Article citation count generated by polling the highest count across the following sources: Crossref, PubMed Central, Scopus.
A two-part list of links to download the article, or parts of the article, in various formats.
Downloads
(link to download the article as PDF)
Open citations
(links to open the citations from this article in various online reference manager services)
Cite this article
(links to download the citations from this article in formats compatible with various reference manager tools)
Matthew J Coathup
Owen G Osborne
Vincent Savolainen
Speciation: How predictable is genome evolution?
eLife 8:e50784.
https://doi.org/10.7554/eLife.50784
Further reading
Evolutionary Biology

Plant Biology

Although geographic isolation is a leading driver of speciation, the tempo and pattern of divergence at the genomic level remain unclear. We examine genome-wide divergence of putatively single-copy orthologous genes (POGs) in 20 allopatric species/variety pairs from diverse angiosperm clades, with 16 pairs reflecting the classic eastern Asia-eastern North America floristic disjunction. In each pair, >90% of POGs are under purifying selection, and <10% are under positive selection. A set of POGs are under strong positive selection, 14 of which are shared by 10–15 pairs, and one shared by all pairs; 15 POGs are annotated to biological processes responding to various stimuli. The relative abundance of POGs under different selective forces exhibits a repeated pattern among pairs despite an ~10 million-year difference in divergence time. Species divergence times are positively correlated with abundance of POGs under moderate purifying selection, but negatively correlated with abundance of POGs under strong purifying selection.

Evolutionary Biology

Medicine

Abiraterone acetate is an effective treatment for metastatic castrate-resistant prostate cancer (mCRPC), but evolution of resistance inevitably leads to progression. We present a pilot study in which abiraterone dosing is guided by evolution-informed mathematical models to delay onset of resistance.

In the study cohort, abiraterone was stopped when PSA was <50% of pretreatment value and resumed when PSA returned to baseline. Results are compared to a contemporaneous cohort who had >50% PSA decline after initial abiraterone administration and met trial eligibility requirements but chose standard of care (SOC) dosing.

17 subjects were enrolled in the adaptive therapy group and 16 in the SOC group. All SOC subjects have progressed, but four patients in the study cohort remain stably cycling (range 53–70 months). The study cohort had significantly improved median time to progression (TTP; 33.5 months; p<0.001) and median overall survival (OS; 58.5 months; hazard ratio, 0.41, 95% confidence interval (CI), 0.20–0.83, p<0.001) compared to 14.3 and 31.3 months in the SOC cohort. On average, study subjects received no abiraterone during 46% of time on trial. Longitudinal trial data demonstrated the competition coefficient ratio (αRS/αSR) of sensitive and resistant populations, a critical factor in intratumoral evolution, was two- to threefold higher than pre-trial estimates. Computer simulations of intratumoral evolutionary dynamics in the four long-term survivors found that, due to the larger value for αRS/αSR, cycled therapy significantly decreased the resistant population. Simulations in subjects who progressed predicted further increases in OS could be achieved with prompt abiraterone withdrawal after achieving 50% PSA reduction.

Incorporation of evolution-based mathematical models into abiraterone monotherapy for mCRPC significantly increases TTP and OS. Computer simulations with updated parameters from longitudinal trial data can estimate intratumoral evolutionary dynamics in each subject and identify strategies to improve outcomes.

Moffitt internal grants and NIH/NCI U54CA143970-05 (Physical Science Oncology Network).

Epidemiology and Global Health

Evolutionary Biology

Mobile genetic elements (MGEs) are agents of horizontal gene transfer in bacteria, but can also be vertically inherited by daughter cells. Establishing the dynamics that led to contemporary patterns of MGEs in bacterial genomes is central to predicting the emergence and evolution of novel and resistant pathogens. Methicillin-resistant Staphylococcus aureus (MRSA) clonal-complex (CC) 398 is the dominant MRSA in European livestock and a growing cause of human infections. Previous studies have identified three categories of MGEs whose presence or absence distinguishes livestock-associated CC398 from a closely related and less antibiotic-resistant human-associated population. Here, we fully characterise the evolutionary dynamics of these MGEs using a collection of 1180 CC398 genomes, sampled from livestock and humans, over 27 years. We find that the emergence of livestock-associated CC398 coincided with the acquisition of a Tn916 transposon carrying a tetracycline resistance gene, which has been stably inherited for 57 years. This was followed by the acquisition of a type V SCCmec that carries methicillin, tetracycline, and heavy metal resistance genes, which has been maintained for 35 years, with occasional truncations and replacements with type IV SCCmec. In contrast, a class of prophages that carry a human immune evasion gene cluster and that are largely absent from livestock-associated CC398 have been repeatedly gained and lost in both human- and livestock-associated CC398. These contrasting dynamics mean that when livestock-associated MRSA is transmitted to humans, adaptation to the human host outpaces loss of antibiotic resistance. In addition, the stable inheritance of resistance-associated MGEs suggests that the impact of ongoing reductions in antibiotic and zinc oxide use in European farms on livestock-associated MRSA will be slow to be realised.