Speciation: How predictable is genome evolution?
Similar patterns of genomic divergence have been observed in the evolution of plant species separated by oceans.
Understanding the formation of new species – a process called speciation – is a central challenge in evolutionary biology and genomics, but many questions remain (Arnegard et al., 2014; Riesch et al., 2017). In particular, are there certain patterns of genome evolution that are repeated? And, if there are, can we predict how genomes will change as new species emerge and diverge?
To date, most studies have focused on the genomes of pairs of closely related species living in close proximity (such as two species of whitefish living in the same set of lakes; Gagnaire et al., 2013), or on the genomes of different lineages within a single species (such as one species of stick insect living on two different host plants; Soria-Carrasco et al., 2014), and have predominantly investigated scenarios where there is some degree of gene flow between the different species or lineages (Wolf and Ellegren, 2017). However, it is thought that most new species emerge in geographically isolated populations and in the absence of gene flow. Now, in eLife, a team of researchers from the United States, China and Canada – including Yibo Dong (North Carolina State University) and Shichao Chen (University of Florida and Tongji University) as joint first authors – report how pairs of closely related flowering plants which live thousands of miles apart genetically diverged during evolution (Dong et al., 2019).
Dong et al. systematically collected and sequenced 20 pairs of closely related species, including 16 pairs that diverged between 2 and 10 million years ago as a result of the Eastern Asian–Eastern North American floristic disjunction (Figure 1). These pairs of species are the ideal system in which to study allopatric speciation (that is, speciation in geographically isolated populations).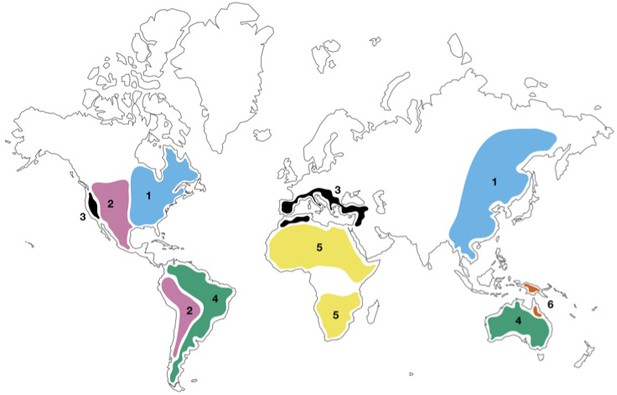 Dong et al. examined divergence in thousands of genes by measuring the rate at which nucleotide substitutions resulted in a change in the amino acid coded for (Ka), and the rate of nucleotide substitutions that did not result in such a change (Ks). The ratio Ka/Ks is a common index for identifying the selective pressure on a gene: values significantly above one indicate positive selection (i.e. an increase in the frequency of beneficial mutations), and values significantly below one indicate purifying selection (i.e. the removal of deleterious mutations). Despite investigating a diverse range of taxa, Dong et al. found that all species pairs experienced similar patterns of genomic divergence and selection, regardless of their ecologies and morphologies.
In fact, most of the genes measured showed little divergence and, intriguingly, the peak frequencies of Ks, Ka and Ka/Ks for each pair clustered within narrow ranges of small values. This is indicative of a common pattern in the relative numbers of genes at different levels of divergence during allopatric speciation, with only a small number of loci in the genome displaying high levels of divergence. Furthermore, by categorising the Ka/Ks ratios into six groups, Dong et al. found that in all pairs of species the relative number of genes under different selection pressures followed the same order. Moderate purifying selection was most common, followed by strong purifying selection, relaxed purifying selection, weak/moderate positive selection, putatively neutral selection and, finally, strong positive selection. Overall the patterns observed by Dong et al. suggest that it might be possible to make predictions about genome evolution.
While the study focused on the Eastern Asian–Eastern North American floristic disjunction, it is likely that these patterns of genome evolution are a common feature of allopatric speciation. Many other disjunctions exist around the world (Figure 1), and similar analyses of these would determine whether the findings of Dong et al. represent a common rule of genomic divergence. Indeed, recent work by some of the present authors and colleagues has shown that two pairs of palm species – one widely separated, the other not – have values of Ka, Ks and Ka/Ks similar to those reported by Dong et al. (Osborne et al., 2019). This supports the idea that these patterns may be common to genomic divergence in general, regardless of geography.
Article and author information
Author details
© 2019, Coathup et al.
This article is distributed under the terms of the Creative Commons Attribution License, which permits unrestricted use and redistribution provided that the original author and source are credited.
1,943

Page views

186

Downloads

0

Citations
Article citation count generated by polling the highest count across the following sources: Crossref, PubMed Central, Scopus.
A two-part list of links to download the article, or parts of the article, in various formats.
Downloads
(link to download the article as PDF)
Open citations
(links to open the citations from this article in various online reference manager services)
Cite this article
(links to download the citations from this article in formats compatible with various reference manager tools)
Matthew J Coathup
Owen G Osborne
Vincent Savolainen
Speciation: How predictable is genome evolution?
eLife 8:e50784.
https://doi.org/10.7554/eLife.50784
Further reading
Evolutionary Biology
Plant Biology

Although geographic isolation is a leading driver of speciation, the tempo and pattern of divergence at the genomic level remain unclear. We examine genome-wide divergence of putatively single-copy orthologous genes (POGs) in 20 allopatric species/variety pairs from diverse angiosperm clades, with 16 pairs reflecting the classic eastern Asia-eastern North America floristic disjunction. In each pair, >90% of POGs are under purifying selection, and <10% are under positive selection. A set of POGs are under strong positive selection, 14 of which are shared by 10–15 pairs, and one shared by all pairs; 15 POGs are annotated to biological processes responding to various stimuli. The relative abundance of POGs under different selective forces exhibits a repeated pattern among pairs despite an ~10 million-year difference in divergence time. Species divergence times are positively correlated with abundance of POGs under moderate purifying selection, but negatively correlated with abundance of POGs under strong purifying selection.

Evolutionary Biology
Microbiology and Infectious Disease

Many bacterial genomes carry prophages whose induction can eliminate competitors. In response, bacteria may become resistant by modifying surface receptors, by lysogenization, or by other poorly known processes. All these mechanisms affect bacterial fitness and population dynamics. To understand the evolution of phage resistance, we co-cultivated a phage-sensitive strain (BJ1) and a poly-lysogenic Klebsiella pneumoniae strain (ST14) under different phage pressures. The population yield remained stable after 30 days. Surprisingly, the initially sensitive strain remained in all populations and its frequency was highest when phage pressure was strongest. Resistance to phages in these populations emerged initially through mutations preventing capsule biosynthesis. Protection through lysogeny was rarely observed because the lysogens have increased death rates due to prophage induction. Unexpectedly, the adaptation process changed at longer time scales the frequency of capsulated cells in BJ1 populations increased again, because the production of capsule was fine-tuned, reducing the ability of phage to absorb. Contrary to the lysogens, these capsulated resistant clones are pan-resistant to a large panel of phages. Intriguingly, some clones exhibited transient non-genetic resistance to phages, suggesting an important role of phenotypic resistance in coevolving populations. Our results show that interactions between lysogens and sensitive strains are shaped by antagonistic co-evolution between phages and bacteria. These processes may involve key physiological traits, such as the capsule, and depend on the time frame of the evolutionary process. At short time scales, simple and costly inactivating mutations are adaptive, but in the long-term, changes drawing more favorable trade-offs between resistance to phages and cell fitness become prevalent.

The globally invasive mosquito subspecies Aedes aegypti aegypti is an effective vector of human arboviruses, in part because it specializes in biting humans and breeding in human habitats. Recent work suggests that specialization first arose as an adaptation to long, hot dry seasons in the West African Sahel, where Ae. aegypti relies on human-stored water for breeding. Here, we use whole-genome cross-coalescent analysis to date the emergence of human-specialist populationsand thus further probe the climate hypothesis. Importantly, we take advantage of the known migration of specialists out of Africa during the Atlantic Slave Trade to calibrate the coalescent clock and thus obtain a more precise estimate of the older evolutionary event than would otherwise be possible. We find that human-specialist mosquitoes diverged rapidly from ecological generalists approximately 5000 years ago, at the end of the African Humid Period—a time when the Sahara dried and water stored by humans became a uniquely stable, aquatic niche in the Sahel. We also use population genomic analyses to date a previously observed influx of human-specialist alleles into major West African cities. The characteristic length of tracts of human-specialist ancestry present on a generalist genetic background in Kumasi and Ouagadougou suggests the change in behavior occurred during rapid urbanization over the last 20–40 years. Taken together, we show that the timing and ecological context of two previously observed shifts towards human biting in Ae. aegypti differ; climate was likely the original driver, but urbanization has become increasingly important in recent decades.