Speciation: How predictable is genome evolution?
Similar patterns of genomic divergence have been observed in the evolution of plant species separated by oceans.
Understanding the formation of new species – a process called speciation – is a central challenge in evolutionary biology and genomics, but many questions remain (Arnegard et al., 2014; Riesch et al., 2017). In particular, are there certain patterns of genome evolution that are repeated? And, if there are, can we predict how genomes will change as new species emerge and diverge?
To date, most studies have focused on the genomes of pairs of closely related species living in close proximity (such as two species of whitefish living in the same set of lakes; Gagnaire et al., 2013), or on the genomes of different lineages within a single species (such as one species of stick insect living on two different host plants; Soria-Carrasco et al., 2014), and have predominantly investigated scenarios where there is some degree of gene flow between the different species or lineages (Wolf and Ellegren, 2017). However, it is thought that most new species emerge in geographically isolated populations and in the absence of gene flow. Now, in eLife, a team of researchers from the United States, China and Canada – including Yibo Dong (North Carolina State University) and Shichao Chen (University of Florida and Tongji University) as joint first authors – report how pairs of closely related flowering plants which live thousands of miles apart genetically diverged during evolution (Dong et al., 2019).
Dong et al. systematically collected and sequenced 20 pairs of closely related species, including 16 pairs that diverged between 2 and 10 million years ago as a result of the Eastern Asian–Eastern North American floristic disjunction (Figure 1). These pairs of species are the ideal system in which to study allopatric speciation (that is, speciation in geographically isolated populations).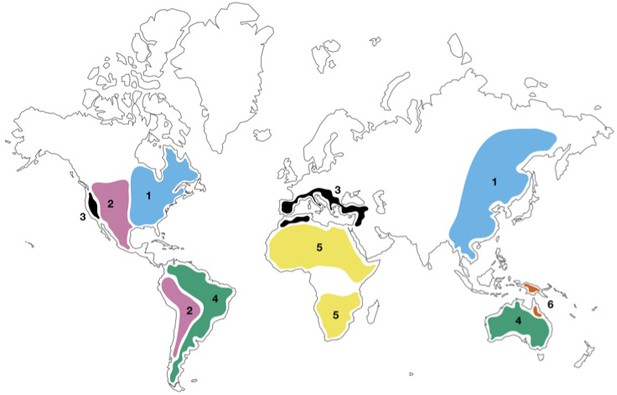 Dong et al. examined divergence in thousands of genes by measuring the rate at which nucleotide substitutions resulted in a change in the amino acid coded for (Ka), and the rate of nucleotide substitutions that did not result in such a change (Ks). The ratio Ka/Ks is a common index for identifying the selective pressure on a gene: values significantly above one indicate positive selection (i.e. an increase in the frequency of beneficial mutations), and values significantly below one indicate purifying selection (i.e. the removal of deleterious mutations). Despite investigating a diverse range of taxa, Dong et al. found that all species pairs experienced similar patterns of genomic divergence and selection, regardless of their ecologies and morphologies.
In fact, most of the genes measured showed little divergence and, intriguingly, the peak frequencies of Ks, Ka and Ka/Ks for each pair clustered within narrow ranges of small values. This is indicative of a common pattern in the relative numbers of genes at different levels of divergence during allopatric speciation, with only a small number of loci in the genome displaying high levels of divergence. Furthermore, by categorising the Ka/Ks ratios into six groups, Dong et al. found that in all pairs of species the relative number of genes under different selection pressures followed the same order. Moderate purifying selection was most common, followed by strong purifying selection, relaxed purifying selection, weak/moderate positive selection, putatively neutral selection and, finally, strong positive selection. Overall the patterns observed by Dong et al. suggest that it might be possible to make predictions about genome evolution.
While the study focused on the Eastern Asian–Eastern North American floristic disjunction, it is likely that these patterns of genome evolution are a common feature of allopatric speciation. Many other disjunctions exist around the world (Figure 1), and similar analyses of these would determine whether the findings of Dong et al. represent a common rule of genomic divergence. Indeed, recent work by some of the present authors and colleagues has shown that two pairs of palm species – one widely separated, the other not – have values of Ka, Ks and Ka/Ks similar to those reported by Dong et al. (Osborne et al., 2019). This supports the idea that these patterns may be common to genomic divergence in general, regardless of geography.
Article and author information
Author details
© 2019, Coathup et al.
This article is distributed under the terms of the Creative Commons Attribution License, which permits unrestricted use and redistribution provided that the original author and source are credited.
1,990

Page views

188

Downloads

0

Citations
Article citation count generated by polling the highest count across the following sources: Crossref, PubMed Central, Scopus.
A two-part list of links to download the article, or parts of the article, in various formats.
Downloads
(link to download the article as PDF)
Open citations
(links to open the citations from this article in various online reference manager services)
Cite this article
(links to download the citations from this article in formats compatible with various reference manager tools)
Matthew J Coathup
Owen G Osborne
Vincent Savolainen
Speciation: How predictable is genome evolution?
eLife 8:e50784.
https://doi.org/10.7554/eLife.50784
Further reading
Evolutionary Biology
Plant Biology

Although geographic isolation is a leading driver of speciation, the tempo and pattern of divergence at the genomic level remain unclear. We examine genome-wide divergence of putatively single-copy orthologous genes (POGs) in 20 allopatric species/variety pairs from diverse angiosperm clades, with 16 pairs reflecting the classic eastern Asia-eastern North America floristic disjunction. In each pair, >90% of POGs are under purifying selection, and <10% are under positive selection. A set of POGs are under strong positive selection, 14 of which are shared by 10–15 pairs, and one shared by all pairs; 15 POGs are annotated to biological processes responding to various stimuli. The relative abundance of POGs under different selective forces exhibits a repeated pattern among pairs despite an ~10 million-year difference in divergence time. Species divergence times are positively correlated with abundance of POGs under moderate purifying selection, but negatively correlated with abundance of POGs under strong purifying selection.

Developmental Biology
Evolutionary Biology

The study of color patterns in the animal integument is a fundamental question in biology, with many lepidopteran species being exemplary models in this endeavor due to their relative simplicity and elegance. While significant advances have been made in unraveling the cellular and molecular basis of lepidopteran pigmentary coloration, the morphogenesis of wing scale nanostructures involved in structural color production is not well understood. Contemporary research on this topic largely focuses on a few nymphalid model taxa (e.g., Bicyclus, Heliconius), despite an overwhelming diversity in the hierarchical nanostructural organization of lepidopteran wing scales. Here, we present a time-resolved, comparative developmental study of hierarchical scale nanostructures in Parides eurimedes and five other papilionid species. Our results uphold the putative conserved role of F-actin bundles in acting as spacers between developing ridges, as previously documented in several nymphalid species. Interestingly, while ridges are developing in P. eurimedes, plasma membrane manifests irregular mesh-like crossribs characteristic of Papilionidae, which delineate the accretion of cuticle into rows of planar disks in between ridges. Once the ridges have grown, disintegrating F-actin bundles appear to reorganize into a network that supports the invagination of plasma membrane underlying the disks, subsequently forming an extruded honeycomb lattice. Our results uncover a previously undocumented role for F-actin in the morphogenesis of complex wing scale nanostructures, likely specific to Papilionidae.

5-Methylcytosine (5mC) and DNA methyltransferases (DNMTs) are broadly conserved in eukaryotes but are also frequently lost during evolution. The mammalian SNF2 family ATPase HELLS and its plant ortholog DDM1 are critical for maintaining 5mC. Mutations in HELLS, its activator CDCA7, and the de novo DNA methyltransferase DNMT3B, cause immunodeficiency-centromeric instability-facial anomalies (ICF) syndrome, a genetic disorder associated with the loss of DNA methylation. We here examine the coevolution of CDCA7, HELLS and DNMTs. While DNMT3, the maintenance DNA methyltransferase DNMT1, HELLS, and CDCA7 are all highly conserved in vertebrates and green plants, they are frequently co-lost in other evolutionary clades. The presence-absence patterns of these genes are not random; almost all CDCA7 harboring eukaryote species also have HELLS and DNMT1 (or another maintenance methyltransferase, DNMT5). Coevolution of presence-absence patterns (CoPAP) analysis in Ecdysozoa further indicates coevolutionary linkages among CDCA7, HELLS, DNMT1 and its activator UHRF1. We hypothesize that CDCA7 becomes dispensable in species that lost HELLS or DNA methylation, and/or the loss of CDCA7 triggers the replacement of DNA methylation by other chromatin regulation mechanisms. Our study suggests that a unique specialized role of CDCA7 in HELLS-dependent DNA methylation maintenance is broadly inherited from the last eukaryotic common ancestor.