Intracellular Organization: Getting ready for DNA duplication
The discovery of a biomolecular condensate involved in DNA replication has wide ranging implications.
Research into biomolecular condensates – self-contained regions within cells where specific reactions take place – is taking cell biology by storm. Biomolecular condensates do not have membranes, but they are able to keep the proteins and/or nucleic acids involved in a particular reaction separate from the rest of the cell. Biomolecular condensates do not have membranes, but they are able to keep the molecules involved in a particular reaction (usually proteins, but sometimes also nucleic acids) separate from the rest of the cell (Boeynaems et al., 2018; Ditlev et al., 2018). They can be found in both the nucleus and the cytoplasm, and are involved in reactions ranging from signal transduction to RNA metabolism. The nucleolus, a structure in the nucleus where ribosomes are synthesized, is an example of a biomolecular condensate (Ahmad et al., 2009).
The physics behind the formation of biomolecular condensates is not fully understood but it often involves at least one protein with an intrinsically disordered region that does not fold into a specific 3D structure, and a process called phase separation (which, as its name suggests, involves regions with different physical properties separating from each other). The molecules required for the formation of condensates are called scaffolding factors, while the molecules encapsulated inside are known as clients. A given condensate typically contains only those clients involved in the relevant reaction.
Now, in eLife, Michael Botchan (UC Berkeley), James Berger (Johns Hopkins) and colleagues – including Matthew Parker as first author – report on the discovery of a biomolecular condensate required for the initiation of DNA replication in the fruit fly Drosophila melanogaster (Parker et al., 2019). Three proteins – ORC, Cdc6 and Cdt1 – form the scaffold along with DNA, while a hexamer ring protein called Mcm2-7 is the client. During the G1 phase of the cell cycle, the scaffold proteins load two Mcm2-7 hexamers onto the DNA to form the pre-replicative complex, which marks the spot where DNA replication will begin (Figure 1A–C; Bell and Labib, 2016; Bleichert et al., 2017). Later, in the S phase of the cell cycle, other proteins assemble onto the complex, converting the Mcm2-7 hexamers into helicases that unwind the DNA for replication (Figure 1D).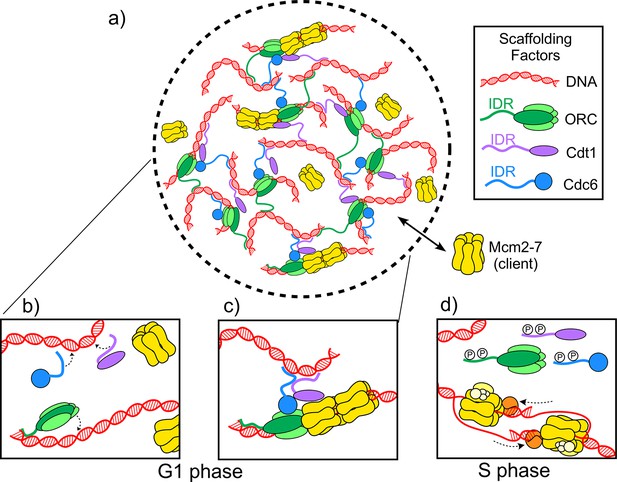 When Parker et al. mixed Drosophila Cdt1 with DNA, they obtained a turbid solution that formed oil-like droplets under the microscope, a hallmark of biomolecular condensates. The same effect was observed when they mixed Drosophila ORC and Cdc6 with DNA. Additionally, Parker et al. found that they could disrupt the formation of these condensates by deleting the intrinsically disordered regions of any of the three proteins involved. On the other hand, Mcm2-7 failed to form a condensate when mixed with DNA. Instead, it acted as a client that could enter the 'initiator biomolecular condensate' formed by the scaffold proteins, and once inside, be loaded onto the DNA. Parker et al. demonstrated the selectivity of this condensate by showing that it denied entry to a protein that can form other biomolecular condensates but is not involved in initiating DNA replication.
The initiator biomolecular condensate is required for DNA replication to start, an important step in the cell cycle. Parker et al. found that Cdc6, Cdt1 and ORC could all be phosphorylated on their intrinsically disordered regions by cell cycle kinases, which stopped the formation of the condensate. This interaction between cell cycle kinases and the scaffold proteins links the formation of the pre-replicative complex to the cell cycle.
But why would the cell form a biomolecular condensate for the pre-replicative complex reaction at all? Parker et al. note that the budding yeast, a cell with a relatively small genome, does not form an initiator condensate. Hence, the selection pressure to evolve this particular condensate might lie in the genomic complexity of organisms.
When animal cells divide, DNA duplication starts at specific sites in the genome called origins of replication, where the pre-replicative complexes are assembled. There are multiple origins of replication throughout the genome, and the start of DNA duplication at each one is referred to as 'firing'. Origins of replication appear to fire stochastically, with some firing early during the S phase of the cell cycle and others later on (Kaykov and Nurse, 2015). But if one takes an eagle's view, there are indications that the process may happen in a particular order in time and space. For example, origins that fire early sometimes appear in clusters, and certain origins prevent others from firing, suggesting that the origins can communicate with each other (Cayrou et al., 2011; Duriez et al., 2019). Thus, initiator biomolecular condensates might gather distant regions of DNA to form pre-replicative complexes in a cluster, facilitating temporal and spatial organization of replication start sites. The discovery of these condensates therefore represents an important step toward a more complete understanding of DNA replication in complex genomes.
Article and author information
Author details
© 2019, Yao and O'Donnell
This article is distributed under the terms of the Creative Commons Attribution License, which permits unrestricted use and redistribution provided that the original author and source are credited.
1,691

Page views

187

Downloads

2

Citations
Article citation count generated by polling the highest count across the following sources: Crossref, PubMed Central, Scopus.
A two-part list of links to download the article, or parts of the article, in various formats.
Downloads
(link to download the article as PDF)
Open citations
(links to open the citations from this article in various online reference manager services)
Cite this article
(links to download the citations from this article in formats compatible with various reference manager tools)
Nina Y Yao
Michael E O'Donnell
Intracellular Organization: Getting ready for DNA duplication
eLife 8:e51291.
https://doi.org/10.7554/eLife.51291
Further reading
Biochemistry and Chemical Biology

The initiation of DNA replication in metazoans occurs at thousands of chromosomal sites known as origins. At each origin, the Origin Recognition Complex (ORC), Cdc6, and Cdt1 co-assemble to load the Mcm2-7 replicative helicase onto chromatin. Current replication models envisage a linear arrangement of isolated origins functioning autonomously; the extent of inter-origin organization and communication is unknown. Here, we report that the replication initiation machinery of D. melanogaster unexpectedly undergoes liquid-liquid phase separation (LLPS) upon binding DNA in vitro. We find that ORC, Cdc6, and Cdt1 contain intrinsically disordered regions (IDRs) that drive LLPS and constitute a new class of phase separating elements. Initiator IDRs are shown to regulate multiple functions, including chromosome recruitment, initiator-specific co-assembly, and Mcm2-7 loading. These data help explain how CDK activity controls replication initiation and suggest that replication programs are subject to higher-order levels of inter-origin organization.

Biochemistry and Chemical Biology

Nearly all mitochondrial proteins need to be targeted for import from the cytosol. For the majority, the first port of call is the translocase of the outer membrane (TOM complex), followed by a procession of alternative molecular machines, conducting transport to their final destination. The pre-sequence translocase of the inner membrane (TIM23-complex) imports proteins with cleavable pre-sequences. Progress in understanding these transport mechanisms has been hampered by the poor sensitivity and time resolution of import assays. However, with the development of an assay based on split NanoLuc luciferase, we can now explore this process in greater detail. Here, we apply this new methodology to understand how ∆ψ and ATP hydrolysis, the two main driving forces for import into the matrix, contribute to the transport of pre-sequence-containing precursors (PCPs) with varying properties. Notably, we found that two major rate-limiting steps define PCP import time: passage of PCP across the outer membrane and initiation of inner membrane transport by the pre-sequence – the rates of which are influenced by PCP size and net charge. The apparent distinction between transport through the two membranes (passage through TOM is substantially complete before PCP-TIM engagement) is in contrast with the current view that import occurs through TOM and TIM in a single continuous step. Our results also indicate that PCPs spend very little time in the TIM23 channel – presumably rapid success or failure of import is critical for maintenance of mitochondrial fitness.

Biochemistry and Chemical Biology

Cell Biology

Profilin-1 (PFN1) is a cytoskeletal protein that regulates the dynamics of actin and microtubule assembly. Thus, PFN1 is essential for the normal division, motility, and morphology of cells. Unfortunately, conventional fusion and direct labeling strategies compromise different facets of PFN1 function. As a consequence, the only methods used to determine known PFN1 functions have been indirect and often deduced in cell-free biochemical assays. We engineered and characterized two genetically encoded versions of tagged PFN1 that behave identical to each other and the tag-free protein. In biochemical assays purified proteins bind to phosphoinositide lipids, catalyze nucleotide exchange on actin monomers, stimulate formin-mediated actin filament assembly, and bound tubulin dimers (kD = 1.89 µM) to impact microtubule dynamics. In PFN1-deficient mammalian cells, Halo-PFN1 or mApple-PFN1 (mAp-PEN1) restored morphological and cytoskeletal functions. Titrations of self-labeling Halo-ligands were used to visualize molecules of PFN1. This approach combined with specific function-disrupting point-mutants (Y6D and R88E) revealed PFN1 bound to microtubules in live cells. Cells expressing the ALS-associated G118V disease variant did not associate with actin filaments or microtubules. Thus, these tagged PFN1s are reliable tools for studying the dynamic interactions of PFN1 with actin or microtubules in vitro as well as in important cell processes or disease-states.