Morphology: Too hip for two sacral vertebrae
A complex pelvic morphology has been discovered in the fossils of one of the largest crocodylians.
The properties of vertebrae – the bones that make up the backbone – have a crucial influence on the way that mammals, birds, fishes and many other vertebrate species move. Some vertebrates have vertebrae that are rather charismatic in terms of size, shape or number. For example, all mammals possess seven vertebrae within their necks, whether they are a giraffe or a mouse, and the length of these vertebrae depends on the length of the neck.
Reptiles typically have two vertebrae in their sacrum, which is near the pelvis (Hoffstetter and Gasc, 1969). Having two sacral vertebrae is characteristic of the Archosauromorpha, a group that includes crocodylians (large, predatory, aquatic and semiaquatic reptiles) and their extinct close relatives (Nesbitt, 2011; Griffin et al., 2017). However, birds and their close relatives among non-avian theropods (dinosaurs with hollow bones and three toes) deviate from this trend of having two vertebrae in the sacrum. Many birds have at least 12 sacral vertebrae, and swans have 24 (Turner et al., 2012)!
Studies of growth in living species, like the chicken, show that the ordering of the body during development – and the number of vertebrae formed – is controlled by a group of genes called the Hox genes. These genes have recently been shown to control patterning in other archosauromorphs, including crocodylians (e.g. Böhmer et al., 2015).
But this is all in living species, what about fossils? It is known, for example, that some early theropod fossils (like those of Tyrannosaurus or Velociraptor) exhibit more than two sacral vertebrae (Turner et al., 2012). Exploring the vertebrae of fossils helps to fill in the gaps in our understanding of morphology, and helps explain why modern groups look the way they do and how extinct members of those groups organized their body plans.
Now, in eLife, Torsten Scheyer of the University of Zurich and co-workers in Switzerland, the United Kingdom, Italy, Spain and Venezuela report on a crocodylian fossil that has more than two sacral vertebrae (Scheyer et al., 2019). The extinct Purussaurus mirandai, one of the largest known crocodylians, is found fossilized in rocks in northern South America that are between 5 and 13 million years old, and is related to crocodylians alive today. This giant caiman is known for its very large skull, but Scheyer et al. have now described all the other bones known to be associated with the species. As part of that description, they examined the sacral vertebrae and found the first non-pathological case of a crocodylian with more than two vertebrae in their sacrum (Figure 1).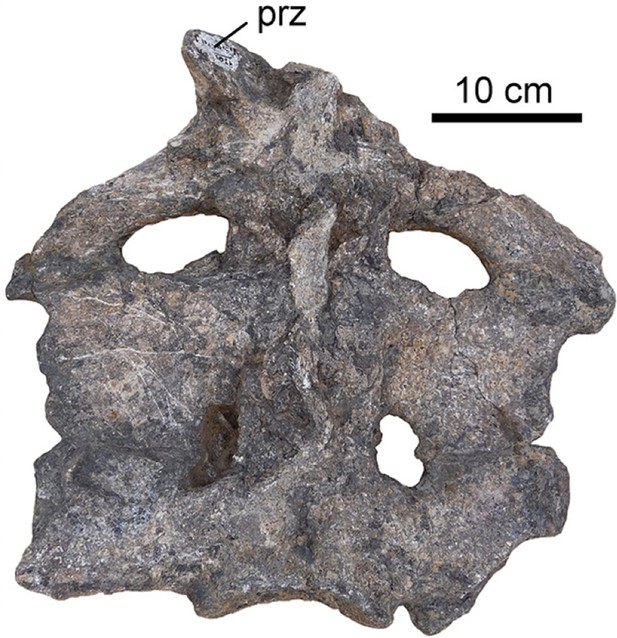 How did the number of vertebrae increase? As the skeleton grows, three types of changes are possible: a vertebra could be added from the tail (i.e., the 'caudal' vertebrae), creating a caudosacral; a vertebra could be inserted between the original two; or a vertebra could be added from the front, creating a dorsosacral. Scheyer et al. show that P. mirandai has the two original sacral vertebrae as well as a dorsosacral, similar to some extinct crocodylian-like animals called phytosaurs (Griffin et al., 2017).
But why would a species add vertebrae? An expanded sacrum might give vertebrates increased stability. This is important when a species increases in size, or when it becomes bipedal (and has to be able to balance while standing on two legs). Scheyer et al. looked at other parts of the skeleton to answer why P. mirandai had an extra vertebra, examining the shoulder girdle. In these specimens, the shoulder girdle is oriented more vertically than in other crocodylians with just two sacral vertebrae. This, along with the expanded pelvis, is evidence for weight being supported by the limbs rather than the trunk, hinting at the species becoming more upright. Crocodylians also have massive, muscular tails, which add to the weight that has to be supported and also changes the center of mass (Molnar et al., 2014).
These newly examined specimens of P. mirandai show that crocodylians have the ability to expand the number of sacral vertebrae, suggesting a change in the pattern of Hox gene expression in this species. There is evidence that other non-dinosaurian archosauromorphs, such as phytosaurs, expanded their sacral vertebrae, too, despite having evolved separately (Griffin et al., 2017). However, a sacrum with more than two sacral vertebrae has evolved multiple times independently, especially in animals from the Triassic Period (~250–200 million years ago). The confirmation that crocodylians can have more than two sacral vertebrae rewrites what was thought of as possible for this group of animals, adding an interesting new layer of developmental and morphological flexibility.
Book

Vertebrae and ribs of modern reptiles

In: Gans C, Bellairs A. D. A, Parsons T. S, editors. Biology of the Reptilia. Volume 1. Morphology A. London: Academic Press. pp. 201–310.
Article and author information
Author details
© 2019, Stocker
This article is distributed under the terms of the Creative Commons Attribution License, which permits unrestricted use and redistribution provided that the original author and source are credited.
930

Page views

40

Downloads

1

Citations
Article citation count generated by polling the highest count across the following sources: Crossref, PubMed Central, Scopus.
A two-part list of links to download the article, or parts of the article, in various formats.
Downloads
(link to download the article as PDF)
Open citations
(links to open the citations from this article in various online reference manager services)
Cite this article
(links to download the citations from this article in formats compatible with various reference manager tools)
Michelle R Stocker
Morphology: Too hip for two sacral vertebrae
eLife 8:e53399.
https://doi.org/10.7554/eLife.53399
Further reading
The number of precaudal vertebrae in all extant crocodylians is remarkably conservative, with nine cervicals, 15 dorsals and two sacrals, a pattern present also in their closest extinct relatives. The consistent vertebral count indicates a tight control of axial patterning by Hox genes during development. Here we report on a deviation from this pattern based on an associated skeleton of the giant caimanine Purussaurus, a member of crown Crocodylia, and several other specimens from the Neogene of the northern neotropics. P. mirandai is the first crown-crocodylian to have three sacrals, two true sacral vertebrae and one non-pathological and functional dorsosacral, to articulate with the ilium (pelvis). The giant body size of this caiman relates to locomotory and postural changes. The iliosacral configuration, a more vertically oriented pectoral girdle, and low torsion of the femoral head relative to the condyles are hypothesized specializations for more upright limb orientation or weight support.

Developmental Biology
Evolutionary Biology

The study of color patterns in the animal integument is a fundamental question in biology, with many lepidopteran species being exemplary models in this endeavor due to their relative simplicity and elegance. While significant advances have been made in unraveling the cellular and molecular basis of lepidopteran pigmentary coloration, the morphogenesis of wing scale nanostructures involved in structural color production is not well understood. Contemporary research on this topic largely focuses on a few nymphalid model taxa (e.g., Bicyclus, Heliconius), despite an overwhelming diversity in the hierarchical nanostructural organization of lepidopteran wing scales. Here, we present a time-resolved, comparative developmental study of hierarchical scale nanostructures in Parides eurimedes and five other papilionid species. Our results uphold the putative conserved role of F-actin bundles in acting as spacers between developing ridges, as previously documented in several nymphalid species. Interestingly, while ridges are developing in P. eurimedes, plasma membrane manifests irregular mesh-like crossribs characteristic of Papilionidae, which delineate the accretion of cuticle into rows of planar disks in between ridges. Once the ridges have grown, disintegrating F-actin bundles appear to reorganize into a network that supports the invagination of plasma membrane underlying the disks, subsequently forming an extruded honeycomb lattice. Our results uncover a previously undocumented role for F-actin in the morphogenesis of complex wing scale nanostructures, likely specific to Papilionidae.

5-Methylcytosine (5mC) and DNA methyltransferases (DNMTs) are broadly conserved in eukaryotes but are also frequently lost during evolution. The mammalian SNF2 family ATPase HELLS and its plant ortholog DDM1 are critical for maintaining 5mC. Mutations in HELLS, its activator CDCA7, and the de novo DNA methyltransferase DNMT3B, cause immunodeficiency-centromeric instability-facial anomalies (ICF) syndrome, a genetic disorder associated with the loss of DNA methylation. We here examine the coevolution of CDCA7, HELLS and DNMTs. While DNMT3, the maintenance DNA methyltransferase DNMT1, HELLS, and CDCA7 are all highly conserved in vertebrates and green plants, they are frequently co-lost in other evolutionary clades. The presence-absence patterns of these genes are not random; almost all CDCA7 harboring eukaryote species also have HELLS and DNMT1 (or another maintenance methyltransferase, DNMT5). Coevolution of presence-absence patterns (CoPAP) analysis in Ecdysozoa further indicates coevolutionary linkages among CDCA7, HELLS, DNMT1 and its activator UHRF1. We hypothesize that CDCA7 becomes dispensable in species that lost HELLS or DNA methylation, and/or the loss of CDCA7 triggers the replacement of DNA methylation by other chromatin regulation mechanisms. Our study suggests that a unique specialized role of CDCA7 in HELLS-dependent DNA methylation maintenance is broadly inherited from the last eukaryotic common ancestor.