The social life of Norway rats (Rattus norvegicus)
The Norway rat has important impacts on our life. They are amongst the most used research subjects, resulting in ground-breaking advances. At the same time, wild rats live in close association with us, leading to various adverse interactions. In face of this relevance, it is surprising how little is known about their natural behaviour. While recent laboratory studies revealed their complex social skills, little is known about their social behaviour in the wild. An integration of these different scientific approaches is crucial to understand their social life, which will enable us to design more valid research paradigms, develop more effective management strategies, and to provide better welfare standards. Hence, I first summarise the literature on their natural social behaviour. Second, I provide an overview of recent developments concerning their social cognition. Third, I illustrate why an integration of these areas would be beneficial to optimise our interactions with them.
The Norway rat (Rattus norvegicus, hereafter referred to as rat) is one of the most abundant mammals with a nearly worldwide distribution (Galef, 2009; Puckett et al., 2016). Today, almost all wild rats live in close association with humans, leading to various forms of adverse interactions (Barnett, 2001). For example, rats are known to transmit diseases (Himsworth et al., 2013b), destroy stored food (Meerburg et al., 2009) and damage infrastructure by gnawing on wires or fundaments (Booy et al., 2017). Consequently, it has been estimated that rats cost only the US economy a minimum of two billion dollars each year (Pimentel et al., 2005). Furthermore, rats are predators that can be a threat to other species, especially when introduced to a new area (Moors et al., 1992). Thus, there has been a huge interest to control rat populations since mediaeval times (e.g., Barnett, 2001).
Today, controlling rat populations is becoming ever more important since the human population grows with increasing speed and in 2030 it is expected that more than 75% of all humans will live in cities, which means that they most likely will live together with rats (Cohen, 2003). Therefore, interactions with rats are likely to increase in the future, if the rat population control remains that ineffective (Parsons et al., 2017). At the same time, population control must not induce unnecessary pain or suffering in rats. To reduce rat populations humanely and effectively, however, detailed knowledge on their individual behaviour and social interactions is needed (Himsworth et al., 2013b; Parsons et al., 2017).
Whereas wild rats are undesired in close proximity to humans, domesticated rats are more than welcome as pet rats in households, where approximately 100'000 lived in 2019 in the UK alone (PFMA, 2020), and as laboratory rats in scientific institutes, where more than 20 million rats are used worldwide for research every year (Baumans, 2004). The use of rats have led to key advances in various fields (Suckow et al., 2006). The first described scientific experiment using rats as model organism dates back to the 1850s (Philipeaux, 1856). Ever since, rats turned into one of the most important model organisms, resulting in over 350 different laboratory strains available today (http://www.rrrc.us/search/). In 2004, the full genome of one strain (BN/SsNHsd) was sequenced, which further increased the possibilities of research in the fields of biochemistry, genetics, genomics and physiology (Gibbs et al., 2004). Today, it has been estimated that worldwide approximately one study is published per hour that used rats as model organism (Berdoy, 2002).
The use of any non-human animal species in research raises ethical issues, concerning under which conditions humans are allowed to use and potentially harm them. Moreover, it has been pointed out that poor welfare can impact the quality of science and may hence be one factor of the reproducibility crisis in science (Garner, 2005). In order to provide optimal handling and care and identify factors inducing potential harm and pain, detailed knowledge on the rat's social needs are essential (Bracke and Hopster, 2006; Keifer and Summers, 2016).
Given their omnipresence and close association with humans, it is surprising how little is known about the rats' individual social behaviour under natural conditions. One reason for this shortcoming is that rats as nocturnal and sub-terrestrial animals are notoriously difficult to observe. Despite these challenges, there is the general assumption that wild rats are not being particularly prosocial towards their conspecifics (e.g., Barnett, 1957; Feng and Himsworth, 2014; Inglis et al., 1996). This stands in stark contrast to recent laboratory studies showing that rats are highly social animals that depend strongly on conspecific cooperative interactions and consequently show elaborate prosocial behaviours, such as freeing trapped partners and exchanging favours (Mogil, 2019; Schweinfurth, 2020; Wrighten and Hall, 2016).
These different conclusions about the social behaviour of rats are surprising and require further investigations. One possibility is to compare the different lines of research on domesticated and wild rats. Since domestication of rats has started in the 19th century (Lindsey and Baker, 2006), it is sensible to assume that selective breeding and adaptions in response to artificial environments occurred and hence wild rats differ from domesticated rats in their social behaviour. Furthermore, wild rats have the propensity to rapidly adapt to environmental changes (Johnson and Munshi-South, 2017). In accordance, direct comparisons between the behaviour of wild and domesticated rats show that, for instance, wild rats burrow less (Price, 1973), are more neophobic (Mitchell, 1976), learn more slowly (Boice, 1972) and are more aggressive towards conspecifics (de Boer et al., 2003). Consequently, wild rats dominate domesticated rats in direct interactions (Boreman and Price, 1972). However, the described differences between wild and domesticated rats are rather quantitative than qualitative (Figure 1). Indeed, domesticated rats show the full behavioural repertoire of wild rats (Boice, 1981; Boice, 1973). Consequently, domesticated rats have been shown to survive and reproduce under semi-natural conditions (Adams and Boice, 1983; Blanchard et al., 1988; Boice, 1977), even if predators were present (Berdoy, 2002). Thus, the behaviour of domesticated and wild rats can be representative for each other and hence the obtained knowledge on domesticated rats can inform studies on wild rats and vice versa. An integration of laboratory and field studies would therefore be highly valuable for all human interactions with this animal in general.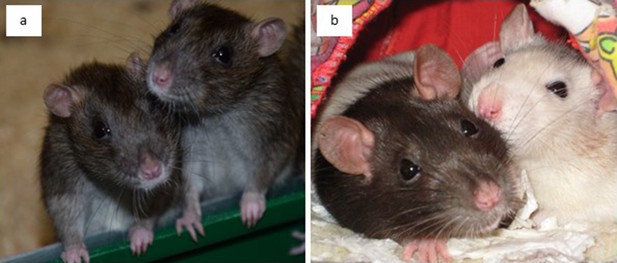 Although few other vertebrates have a similar impact on humans as the rat, we know surprisingly little about their individual social behaviour in nature. Furthermore, their social cognition has been largely ignored in developing management strategies for wild rats or lab protocols and welfare recommendations for laboratory rats. This review is an attempt to rectify this problem. In the first part of this review, I provide a summary of the social structure and the individual social behaviour of rats, as far as it is known. In the second part, I then review recent developments on the social skills of rats, mostly performed under controlled laboratory conditions. Finally, I elaborate on why an integration of both research lines would be desirable.
Social behaviour of wild rats
Wild rats live almost exclusively in close contact with humans (Singleton et al., 2003). Still, knowledge of wild rats is almost exclusively based on a few early pioneering studies, which have rarely been pursued because formerly used methods are not considered ethical or safe enough anymore. Still, there are more recent studies that tested either wild-derived rats, that is laboratory-reared descendants of wild rats, or wild-caught rats in captivity. Here I aim at synthesising this body of literature, which has not been recently reviewed in the light of the rat's social life, to make the information easily accessible to those working with rats. Given the new developments in the field of social cognition, a comprehensive review on the natural social behaviour is needed to align the disciplines and potentially inform each other. Throughout, I highlight the potential of more research on their social life for future research in various disciplines.
Groups of wild rats are socially complex as they live in long-term groups of multiple generations, which allows for repeated interactions with differently familiar and related individuals (see Scheiber et al., 2017 for the characteristics of social complexity). Their complex social system implies that rats need certain cognitive adaptations to deal with challenges like mate or food competition that can be overcome, for instance, by cooperation or social learning (Byrne and Whiten, 1988). Yet, the social system of rats does not allow general conclusions about the underlying cognitive mechanisms of their behaviours. In recent years, there has been a considerable interest in understanding cognitive and emotional mechanisms of (mostly domesticated) rats when interacting with conspecifics. However, this recent development has not yet been aligned with the rat's natural social environment. Hence in the second part, I elucidate the socio-cognitive skills of rats, which have mostly been studied under controlled laboratory conditions, to highlight the rat's high social and emotional abilities.
Thus far, this review illustrated that the social system of rats is highly complex, both in the wild and in the laboratory. Rats form large socially structured colonies in the wild and exhibit various sophisticated social skills in the laboratory. Still, the inherent value of information on their social behaviour and their sophisticated social skills have not been acknowledged enough in welfare and management recommendations. Furthermore, current research on domesticated rats is often decoupled from information on their natural life and research on wild rats is decoupled of information on their social cognition, although such an integration could greatly inform each other. Hence in the third part, I discuss potential applications and future directions of such knowledge in different fields.
Book

The Story of Rats: Their Impact on Us, and Our Impact on Them

Crows Nest, NSW, Australia: Allen and Unwin.

Feeding, social behaviour and interspecific competition in wild rats

Behaviour 3:229–242.

Book

Animal Play: Evolutionary, Comparative and Ecological Perspectives

Cambridge: Cambridge University Press.

Arms race and rat race: adaptations against poisoning in the Brown rat

Ecological Reviews 48:215–228.

Concepts, Cognition, Emotion, and Behavior: Handbook of Stress

Aggressive behavior and social stress, Concepts, Cognition, Emotion, and Behavior: Handbook of Stress,  Elsevier.

Use of foraging trails by Norway rats

Animal Behaviour 51:765–771.

Ethological aspects of predation by rats, Rattus norvergicus (Berkenhout), on bivalves Unio pictorum L. and Cerastoderma Lamarcki (Reeve)

Bolletino Di Zoologia 40:69–74.

Book

Animal models of psychiatric disorders

In: Bloom F. E, Kupfer D. J, editors. Psychophramacology: The Fourth Generation of Progress. New York: Raven Press. pp. 787–798.

Housing and welfare in laboratory rats: welfare implications of isolation and social contact among caged males

Animal Welfare 6:329–347.

What animals don't do or fail to find: a novel observational approach for studying cognition in the wild

Journal of Evolutionary Anthropology pp. 1–18.

Thesis

Landete-Castillejos T

Chemical communication in wild Norway rats (Rattus norvegicus Berkenhout) PhD thesis

University of Nottingham, Nottingham, UK.

Studies of individual and paired interactional problem solving behavior of rats (Mus norvegicus albinus)

Behaviour 7:189–206.

Book

The behaviour and ecology of Rattus norvegicus: from opportunism to kamikaze tendencies

In: Singleton G, Lyn A, Hinds H. L, Canberra Z. Z, editors. Ecologically-Based Management of Rodent Pests. Australian Centre for International Agricultural Research. pp. 49–80.

Book

Handbook of Psychological Research on the Rat

Massachusetts USA: The Riverside Press.

Book

Animal ethics

In: Appleby M. C, editors. Animal Welfare. Oxfordshire: CAB Internatonal. pp. 1–12.

Rats demand social contact

Animal Welfare 11:327–332.

Enrichment of laboratory caging for rats: a review

Animal Welfare 13:209–214.

Animal Behaviour - Evolution and Mechanisms

Kin recognition: an overview of conceptual issues, mechanisms and evolutionary theory, Animal Behaviour - Evolution and Mechanisms, Springer, 10.1007/978-3-642-02624-9_3.

Note sur l'expiration des capsules survenales chez les rats albinos (Mus rattus)

Comptes Rendus Hebd Des Séances L'académie Des Sci 43:904–906.

Cooperative social coordination and aggression: II. Effects of sex and housing among three strains of intact laboratory rats differing in aggressiveness

The Quarterly Journal of Experimental Psychology 46:367–390.

The Cambridge Handbook of Animal Cognition

Reciprocity in Norway rats, The Cambridge Handbook of Animal Cognition, Cambridge, Cambridge University Press..

Book

Cooperation in Rats Playing an Iterated Prisoner's Dilemma Game: Influence of a Game Matrix Formed with Qualitatively Distinct Payoffs MSc Thesis

Lisbon, Portugal:  University of Lisbon.

Conference

Rodent biology and management. Canberra

International Conference on Australian Centre for International Agricultural Research Rats, Mice and People: Rodent Biology and Management.

Beiträge zur Soziologie und sonstigen Biologie der Wanderratte

Zeitschrift für Tierpsychologie 21:356–379.

Book

The Laboratory Rat

New York: Elsevier.

Beitrag zur Erkenntnis der Verhaltensweise von Ratten, vergleichend dargestellt bei Rattus norvegicus und Rattus rattus

Zeitschrift für Angewandte Zoologie 53:129–196.

Thesis

Timmermans PJA

Social behaviour in the rat

University of te Nijmegen, Nijmegen, Netherlands PhD thesis.

Book

Predator odours as reproductive inhibitors for Norway rats

In: Singleton GR, Hinds LA, Krebs CJ, Spratt DM, editors. Rats, Mice and People: Rodent Biology and Management. Canberra, Australia: ACIAR. pp. 131–136.

Book

The Behavior of the Laboratory Rat: A Handbook with Tests

Oxford: Oxford Scholarship.
Article and author information
Author details
Bundesbehörden der Schweizerischen Eidgenossenschaft (Early Postdoc.Mobility P2BEP3 175269)
The funders had no role in study design, data collection and interpretation, or the decision to submit the work for publication.
I am grateful to Joachim Frommen, Sara Hintze and Isabella Scheiber for their very helpful comments on the manuscript and to Josep Call for logistical support. I would like to thank Michelle Gygax for providing the drawings. A former draft of this article benefitted from thoughtful comments of four anonymous referees. This work was supported by a grant of the Swiss National Science Foundation (grant number P2BEP3 175269).
Catherine Dulac, Harvard University, United States
Tali Kimchi, Weizmann Institute of Science, Israel
© 2020, Schweinfurth
This article is distributed under the terms of the Creative Commons Attribution License, which permits unrestricted use and redistribution provided that the original author and source are credited.
26,694

Page views

1,040

Downloads

50

Citations
Article citation count generated by polling the highest count across the following sources: Crossref, Scopus, PubMed Central.
A two-part list of links to download the article, or parts of the article, in various formats.
Downloads
(link to download the article as PDF)
Open citations
(links to open the citations from this article in various online reference manager services)
Cite this article
(links to download the citations from this article in formats compatible with various reference manager tools)
Manon K Schweinfurth
The social life of Norway rats (Rattus norvegicus)
eLife 9:e54020.
https://doi.org/10.7554/eLife.54020
Further reading
Ecology

Evolutionary Biology

Cooperative breeding allows the costs of parental care to be shared, but as groups become larger, such benefits often decline as competition increases and group cohesion breaks down. The counteracting forces of cooperation and competition are predicted to select for an optimal group size, but variation in groups is ubiquitous across cooperative breeding animals. Here, we experimentally test if group sizes vary because of sex differences in the costs and benefits of cooperative breeding in captive ostriches, Struthio camelus, and compare this to the distribution of group sizes in the wild. We established 96 groups with different numbers of males (1 or 3) and females (1, 3, 4, or 6) and manipulated opportunities for cooperation over incubation. There was a clear optimal group size for males (one male with four or more females) that was explained by high costs of competition and negligible benefits of cooperation. Conversely, female reproductive success was maximised across a range of group sizes due to the benefits of cooperation with male and female group members. Reproductive success in intermediate sized groups was low for both males and females due to sexual conflict over the timing of mating and incubation. Our experiments show that sex differences in cooperation and competition can explain group size variation in cooperative breeders.

Ecology

Evolutionary Biology

Evolutionary theories predict that sibling relationships will reflect a complex balance of cooperative and competitive dynamics. In most mammals, dispersal and death patterns mean that sibling relationships occur in a relatively narrow window during development and/or only with same-sex individuals. Besides humans, one notable exception is mountain gorillas, in which non-sex-biased dispersal, relatively stable group composition, and the long reproductive tenures of alpha males mean that animals routinely reside with both maternally and paternally related siblings, of the same and opposite sex, throughout their lives. Using nearly 40,000 hr of behavioral data collected over 14 years on 699 sibling and 1235 non-sibling pairs of wild mountain gorillas, we demonstrate that individuals have strong affiliative preferences for full and maternal siblings over paternal siblings or unrelated animals, consistent with an inability to discriminate paternal kin. Intriguingly, however, aggression data imply the opposite. Aggression rates were statistically indistinguishable among all types of dyads except one: in mixed-sex dyads, non-siblings engaged in substantially more aggression than siblings of any type. This pattern suggests mountain gorillas may be capable of distinguishing paternal kin but nonetheless choose not to affiliate with them over non-kin. We observe a preference for maternal kin in a species with a high reproductive skew (i.e. high relatedness certainty), even though low reproductive skew (i.e. low relatedness certainty) is believed to underlie such biases in other non-human primates. Our results call into question reasons for strong maternal kin biases when paternal kin are identifiable, familiar, and similarly likely to be long-term groupmates, and they may also suggest behavioral mismatches at play during a transitional period in mountain gorilla society.

Ecology

Evolutionary Biology

Sustainable cities depend on urban forests. City trees-pillars of urban forests - improve our health, clean the air, store CO2, and cool local temperatures. Comparatively less is known about city tree communities as ecosystems, particularly regarding spatial composition, species diversity, tree health, and the abundance of introduced species. Here, we assembled and standardized a new dataset of N=5,660,237 trees from 63 of the largest US cities with detailed information on location, health, species, and whether a species is introduced or naturally occurring (i.e., 'native'). We further designed new tools to analyze spatial clustering and the abundance of introduced species. We show that trees significantly cluster by species in 98% of cities, potentially increasing pest vulnerability (even in species-diverse cities). Further, introduced species significantly homogenize tree communities across cities, while naturally occurring trees (i.e., 'native' trees) comprise 0.51%-87.3% (median=45.6%) of city tree populations. Introduced species are more common in drier cities, and climate also shapes tree species diversity across urban forests. Parks have greater tree species diversity than urban settings. Compared to past work which focused on canopy cover and species richness, we show the importance of analyzing spatial composition and introduced species in urban ecosystems (and we develop new tools and datasets to do so). Future work could analyze city trees and socio-demographic variables or bird, insect, and plant diversity (e.g., from citizen-science initiatives). With these tools, we may evaluate existing city trees in new, nuanced ways and design future plantings to maximize resistance to pests and climate change. We depend on city trees.