Translation: Finding sense in the context
Ribosomal profiling has shed new light on how ribosomes can ignore stop codons in messenger RNA.
When a ribosome is translating a molecule of messenger RNA (mRNA) to produce a protein, it stops when it encounters a triplet of nucleotides called a termination codon. Ribosomes recognize three different termination codons – UAG, UAA and UGA – but a genetic event called a nonsense mutation can change a codon that normally codes for an amino acid – such as UAU, which codes for tyrosine – into a codon that stops translation prematurely. This results in the production of a truncated protein that does not work properly. Indeed, nonsense mutations cause a wide range of genetic conditions in millions of people worldwide, representing as much as 11% of all disease-associated gene lesions (Mort et al., 2008).
One way to treat the conditions caused by nonsense mutations would be to target premature termination events (Lee and Dougherty, 2012; Keeling et al., 2014; Dabrowski et al., 2018). For example, small molecules such as aminoglycoside antibiotics can help ribosomes to ignore premature termination codons and produce some full-length working proteins, an event called 'readthrough'. However, aminoglycosides may also help ribosomes to readthrough normal termination codons: this can produce longer-than-normal proteins that are harmful to cells.
Now, in eLife, Jamie Wangen and Rachel Green of Johns Hopkins University School of Medicine report new insights into the way that aminoglycosides suppress termination (Wangen and Green, 2020; Figure 1). To do so, they harnessed and adapted a method known as ribosomal profiling, which reveals all the mRNAs that are being translated at a given time in a cell. In particular, the technique can highlight where ribosomes start and stop translation (Figure 1).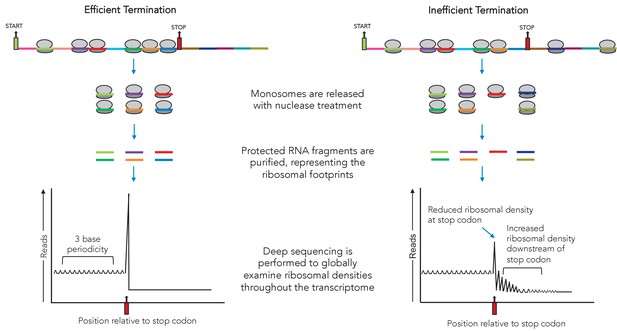 First, Wangen and Green used ribosomal profiling to examine translation in human cells treated with the aminoglycoside G418. Cells that were exposed to G418 had fewer ribosomes attached to normal termination codons; more ribosomes, however, were bound to regions of mRNA downstream of these termination codons, indicating that readthrough had occurred (thus allowing ribosomes to continue to translate past the normal stop points). Together, these findings indicate that G418 helps ribosomes to bypass normal termination codons; other results also suggest that the drug broadly interferes with other steps of the translation process.
Second, ribosomal profiling was used to examine how the mRNA sequence around a termination codon influences readthrough: this approach confirmed and built upon results from a number of previous studies (Martin, 1994; Phillips-Jones et al., 1995; Manuvakhova et al., 2000; Cassan and Rousset, 2001; Namy et al., 2001). Whether the termination codon was UAG, UAA or UGA, the identity of the two nucleotides directly downstream of these sequences had the greatest impact on readthrough. In addition, if neighboring sequences were rich in adenine and uridine, readthrough became more frequent.
Third, in cells treated with G418, readthrough events happened less often for normal termination codons than they did for other, downstream termination codons (which are not normally read by ribosomes). This indicates that normal termination codons have evolved safeguards to protect themselves from readthrough. It also suggests it may be possible to target premature termination codons – which may be more vulnerable since they have not been through a similar selection process – without disrupting accurate termination events.
Fourth, Wangen and Green explored the biological consequences of G418 inducing readthrough of normal termination codons. The majority of mRNAs were only modestly affected, but certain genes were more sensitive to the translation events induced by the drug – namely, the histone, selenoprotein, and S-adenosylmethionine decarboxylase genes.
Multiple genetic and biochemical studies have investigated the mechanisms of nonsense suppression, but only for a few transcripts at a time. The work by Wangen and Green, on the other hand, highlights how ribosomal profiling can confirm these findings at a genomic level. This confirmation is important when considering how to suppress premature termination codons for therapeutic purposes. By adapting ribosomal profiling to explore translation termination, Wangen and Green have created an important tool to investigate nonsense suppression in normal circumstances and under the influence of aminoglycosides. The method could also be used to examine how other readthrough agents act on premature and normal termination codons, as well as on global gene expression. This work could potentially help to identify new, safe and effective molecules that could be developed for clinical use.
Article and author information
Author details
© 2020, Keeling and Bedwell
This article is distributed under the terms of the Creative Commons Attribution License, which permits unrestricted use and redistribution provided that the original author and source are credited.
999

Page views

111

Downloads

1

Citations
Article citation count generated by polling the highest count across the following sources: Crossref, PubMed Central, Scopus.
A two-part list of links to download the article, or parts of the article, in various formats.
Downloads
(link to download the article as PDF)
Open citations
(links to open the citations from this article in various online reference manager services)
Cite this article
(links to download the citations from this article in formats compatible with various reference manager tools)
Kim M Keeling
David M Bedwell
Translation: Finding sense in the context
eLife 9:e55960.
https://doi.org/10.7554/eLife.55960
Further reading
Chromosomes and Gene Expression

Stop codon readthrough (SCR) occurs when the ribosome miscodes at a stop codon. Such readthrough events can be therapeutically desirable when a premature termination codon (PTC) is found in a critical gene. To study SCR in vivo in a genome-wide manner, we treated mammalian cells with aminoglycosides and performed ribosome profiling. We find that in addition to stimulating readthrough of PTCs, aminoglycosides stimulate readthrough of normal termination codons (NTCs) genome-wide. Stop codon identity, the nucleotide following the stop codon, and the surrounding mRNA sequence context all influence the likelihood of SCR. In comparison to NTCs, downstream stop codons in 3′UTRs are recognized less efficiently by ribosomes, suggesting that targeting of critical stop codons for readthrough may be achievable without general disruption of translation termination. Finally, we find that G418-induced miscoding alters gene expression with substantial effects on translation of histone genes, selenoprotein genes, and S-adenosylmethionine decarboxylase (AMD1).

Chromosomes and Gene Expression
Neuroscience

Mathys et al. conducted the first single-nucleus RNA-seq (snRNA-seq) study of Alzheimer's disease (AD) (Mathys et al., 2019). With bulk RNA-seq, changes in gene expression across cell types can be lost, potentially masking the differentially expressed genes (DEGs) across different cell types. Through the use of single-cell techniques, the authors benefitted from increased resolution with the potential to uncover cell type-specific DEGs in AD for the first time. However, there were limitations in both their data processing and quality control and their differential expression analysis. Here, we correct these issues and use best-practice approaches to snRNA-seq differential expression, resulting in 549 times fewer DEGs at a false discovery rate of 0.05. Thus, this study highlights the impact of quality control and differential analysis methods on the discovery of disease-associated genes and aims to refocus the AD research field away from spuriously identified genes.

Chromosomes and Gene Expression
Genetics and Genomics

Spermatogenesis in the Drosophila male germline proceeds through a unique transcriptional program controlled both by germline-specific transcription factors and by testis-specific versions of core transcriptional machinery. This program includes the activation of genes on the heterochromatic Y chromosome, and reduced transcription from the X chromosome, but how expression from these sex chromosomes is regulated has not been defined. To resolve this, we profiled active chromatin features in the testes from wildtype and meiotic arrest mutants and integrate this with single-cell gene expression data from the Fly Cell Atlas. These data assign the timing of promoter activation for genes with germline-enriched expression throughout spermatogenesis, and general alterations of promoter regulation in germline cells. By profiling both active RNA polymerase II and histone modifications in isolated spermatocytes, we detail widespread patterns associated with regulation of the sex chromosomes. Our results demonstrate that the X chromosome is not enriched for silencing histone modifications, implying that sex chromosome inactivation does not occur in the Drosophila male germline. Instead, a lack of dosage compensation in spermatocytes accounts for the reduced expression from this chromosome. Finally, profiling uncovers dramatic ubiquitinylation of histone H2A and lysine-16 acetylation of histone H4 across the Y chromosome in spermatocytes that may contribute to the activation of this heterochromatic chromosome.