Neurogenesis: Delayed gratification in the adult brain
Some immature neurons in the cerebral cortex of mammals might wait for years before they become activated and finish their development.
The history of adult neurogenesis – the ability of the developed brain to generate new neurons – is somewhat convoluted. In ground-breaking experiments at MIT in the early 1960s, Joseph Altman and Gopal Das injected thymidine that had been labeled with tritium into the brains of young rats: when labeled thymidine was later observed in neurons, the obvious explanation was that these neurons had been generated by the adult brain (Altman and Das, 1965). Altman and Das had speculated that 'some' progenitor cells must have been responsible, but it was only with the discovery of neural stem cells in the early 1990s that the origins of adult neurogenesis became clear (Cameron et al., 1993; Gage, 2000).
Many fish and birds can form new neurons from stem cells in their entire brain and throughout their life (Kaslin et al., 2008), but mammals seem to lack this ability – or have only limited potential to do so. The reduced regenerative capacity that might arise from this has been interpreted as the price that mammals pay for the unsurpassed complexity of the neocortex.
Neuronal development in the embryo is mainly a preset process that is defined by decisive cell divisions at the stem cell level. However, extrinsic regulation and behavioral activity have extensive influence in the adult brain, and control adult neurogenesis in mammals at many levels. But what if new neurons could also develop from other cells within the neurogenic lineage, such as dormant intermediate cells waiting to become activated? A similar mechanism can, for example, be found in human oocytes, where germ cell proliferation ceases well before sexual maturity and further development originates from dormant cells many years later.
Now, in eLife, Luca Bonfanti and colleagues – including Chiara La Rosa as first author – report new insights into this theory by describing immature neurons in the cortex of different mammals (La Rosa et al., 2020). Although first classified in 2008, we still know little about these cortical immature neurons, especially about their functional relevance (Gómez-Climent et al., 2008; Bonfanti and Nacher, 2012). These cells are created before birth but seem to be arrested in a state that lacks the final leap in maturation required for full functionality. It is thought that they could serve as a dormant reservoir of cells beyond the proliferative precursor cell stage, and as a delayed starting point for neurogenesis dissociated from stem cell division. Neurogenesis without cell division would presumably be faster and safer than the risky process of proliferation followed by differentiation (which requires many checkpoints in its early stages).
The researchers – who are based at the University of Turin and other research institutes in Italy, Spain, Switzerland, the UK and the US – studied the distribution and properties of cortical immature neurons in 80 brains across a phylogenetically diverse range of mammal species. They discovered that the larger the brain, the greater the number of immature neurons in the second cortical layer just below the brain surface (and thus far away from the niche for precursor cells near the ventricular wall). Moreover, brains with more folds contained greater densities of immature neurons across their neocortex (Figure 1).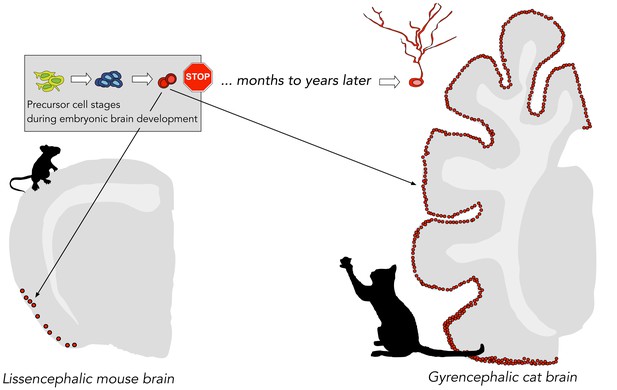 La Rosa et al. suggest that these cells provide a reservoir of undifferentiated neurons, which may represent a mechanism for plasticity that varies among mammalian species. Immature cortical neurons could be adaptable and help maintain cognitive processes throughout life. Indeed, previous studies in adult mice revealed that immature neurons in the piriform cortex showed signs of both immaturity and synaptic plasticity (Klempin et al., 2011). Their further development remains to be proven, but is a fascinating hypothesis and has interesting implications for the role of brain plasticity in health and disease.
Dormant immature neurons could also play a role in adult neurogenesis of the human hippocampus (Kempermann et al., 2018), which shares many similarities in learning and memory with its rodent counterpart, but might show different dynamics in adult neurogenesis. Consequently, adult mammals with large brains – especially humans – might not necessarily lack adult neurogenesis (or have very low levels of it); they may simply delay the maturation of new neurons for decades. In theory, this process could allow quicker adaptive responses than adult neurogenesis, which has to be stimulated at the stem cell level.
The study of La Rosa et al. supports such speculations, inviting further research on the exact nature of these immature neurons: How do they maintain their supposedly dormant state? How do they end this state, if ever? And what is their ultimate fate and function? Maybe they are not as dormant as we are tempted to think?
Article and author information
Author details
© 2020, Kempermann
This article is distributed under the terms of the Creative Commons Attribution License, which permits unrestricted use and redistribution provided that the original author and source are credited.
1,707

Page views

152

Downloads

3

Citations
Article citation count generated by polling the highest count across the following sources: Crossref, PubMed Central, Scopus.
A two-part list of links to download the article, or parts of the article, in various formats.
Downloads
(link to download the article as PDF)
Open citations
(links to open the citations from this article in various online reference manager services)
Cite this article
(links to download the citations from this article in formats compatible with various reference manager tools)
Gerd Kempermann
Neurogenesis: Delayed gratification in the adult brain
eLife 9:e59786.
https://doi.org/10.7554/eLife.59786
Further reading
The adult mammalian brain is mainly composed of mature neurons. A limited amount of stem cell-driven neurogenesis persists in postnatal life and is reduced in large-brained species. Another source of immature neurons in adult brains is cortical layer II. These cortical immature neurons (cINs) retain developmentally undifferentiated states in adulthood, though they are generated before birth. Here, the occurrence, distribution and cellular features of cINs were systematically studied in 12 diverse mammalian species spanning from small-lissencephalic to large-gyrencephalic brains. In spite of well-preserved morphological and molecular features, the distribution of cINs was highly heterogeneous, particularly in neocortex. While virtually absent in rodents, they are present in the entire neocortex of many other species and their linear density in cortical layer II generally increased with brain size. These findings suggest an evolutionary developmental mechanism for plasticity that varies among mammalian species, granting a reservoir of young cells for the cerebral cortex.

Medial frontal cortical areas are thought to play a critical role in the brain's ability to flexibly deploy strategies that are effective in complex settings, yet the underlying circuit computations remain unclear. Here, by examining neural ensemble activity in male rats that sample different strategies in a self-guided search for latent task structure, we observe robust tracking during strategy execution of a summary statistic for that strategy in recent behavioral history by the anterior cingulate cortex (ACC), especially by an area homologous to primate area 32D. Using the simplest summary statistic – strategy prevalence in the last 20 choices – we find that its encoding in the ACC during strategy execution is wide-scale, independent of reward delivery, and persists through a substantial ensemble reorganization that accompanies changes in global context. We further demonstrate that the tracking of reward by the ACC ensemble is also strategy-specific, but that reward prevalence is insufficient to explain the observed activity modulation during strategy execution. Our findings argue that ACC ensemble dynamics is structured by a summary statistic of recent behavioral choices, raising the possibility that ACC plays a role in estimating – through statistical learning – which actions promote the occurrence of events in the environment.

Postsynaptic mitochondria are critical for the development, plasticity, and maintenance of synaptic inputs. However, their relationship to synaptic structure and functional activity is unknown. We examined a correlative dataset from ferret visual cortex with in vivo two-photon calcium imaging of dendritic spines during visual stimulation and electron microscopy reconstructions of spine ultrastructure, investigating mitochondrial abundance near functionally and structurally characterized spines. Surprisingly, we found no correlation to structural measures of synaptic strength. Instead, we found that mitochondria are positioned near spines with orientation preferences that are dissimilar to the somatic preference. Additionally, we found that mitochondria are positioned near groups of spines with heterogeneous orientation preferences. For a subset of spines with a mitochondrion in the head or neck, synapses were larger and exhibited greater selectivity to visual stimuli than those without a mitochondrion. Our data suggest mitochondria are not necessarily positioned to support the energy needs of strong spines, but rather support the structurally and functionally diverse inputs innervating the basal dendrites of cortical neurons.