Connectomes: Mapping the mind of a fly
Scientists have created the most detailed map of the fruit fly brain to date, identifying over 25,000 neurons and 20 million synapses.
Every thought, feeling and action emerges from the electrical interplay of billions of neurons in the brain – wired together by an intricate network of cables that connect through hundreds of billions of synapses. Therefore, to fully understand how the brain works we need to consider all parts of the brain and the connections between them.
A connectome is a comprehensive map of the structural and functional neural connections in the brain that enables scientists to explore and compare different pathways, circuits and regions. Creating such a map is a difficult endeavor: neurons are minuscule, and their extensive branches are even smaller (for example, neuronal branches in the brain of a fruit fly are often thinner than 50 nm – about a thousandth of the width of a human hair).
To achieve such a high resolution, ultrathin layers of brain tissue are imaged with an electron microscope, and the neurons and their connections are reconstructed in 3D. This is no small undertaking, and in the case of the roundworm Caenorhabditis elegans (whose brain only consists of 302 neurons), it took the better part of a decade to generate a comprehensive connectome (White et al., 1986). This dissuaded attempts to create connectomes for larger brains, until the technological advances in microscopy and computer vision finally caught up with demand (Denk and Horstmann, 2004; Heymann et al., 2006; Januszewski et al., 2018).
Nowadays, multiple efforts have been underway to conquer the next model organism, the fruit fly Drosophila melanogaster. In a space smaller than a pinhead, the brain of a fruit fly contains over 100,000 neurons with around 100 million synapses (Simpson, 2009). So far, 3D reconstructions of its brain have tended to either be sparse or limited to small sub-regions (Eichler et al., 2017; Takemura et al., 2017; Zheng et al., 2018). Now, in eLife, Louis Scheffer, Stephen Plaza (both Janelia Research Campus, HHMI) and colleagues – including Scheffer, Shan Xu, Michal Januszewski, Zhiyuan Lu, Shin-ya Takemura, Kenneth Hayworth, Gary B. Huang and Kazunori Shinomiya as joint first authors – report that they have created the largest high-resolution connectome in any animal to date (Scheffer et al., 2020).
The researchers (who are based in the US, Canada, Switzerland, Japan, Germany and UK) generated a connectome for one half of the largely symmetrical fly brain, comprising over 25,000 neurons and 20 million synapses (Figure 1A). To achieve this, Scheffer et al. analyzed 3D reconstructions of the neurons and their synapses using machine learning algorithms and more than 50 person-years of work to proofread the computer-generated map. This involved transforming more than 20 terabytes of raw image data into a 26-megabyte network diagram.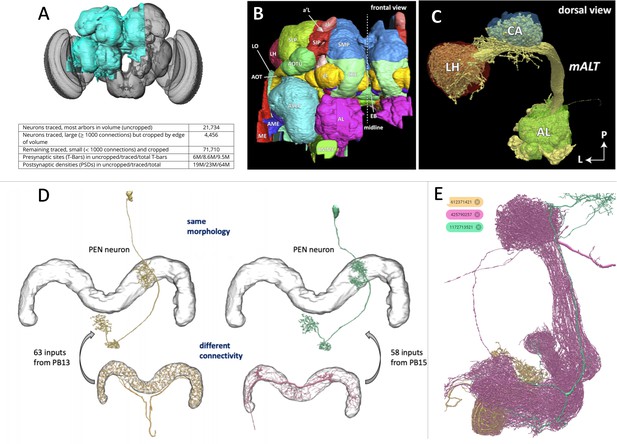 A good map should be informative, accurate and usable. Towards that end, Scheffer et al. have labelled regions according to existing atlases of the fly brain (Figure 1B). In addition, they subdivided the brain based on the tracts of neuronal branches and large tangles called neuropils, which are thought to be sites of local computation (Figure 1C). With regions delineated in this way, individual neurons could be categorized based on the neuropils they connect to. This is particularly useful for distinguishing neurons that have similar anatomies, which would be difficult to tell apart using light microscopy alone (Figure 1D). Moreover, the connectome is freely available at the online portal 'Neuprint', and anyone can search the database for a neuron of interest, observe the images it was traced from, plot it in 3D and see which brain regions it interacts with (Figure 1E).
Scheffer et al. were also able to quantify how highly interconnected the fly brain is. For example, the path distance between neurons (i.e., how many neurons there are between a connected pair) is low – three quarters of neurons were linked by three or fewer interneurons. Moreover, they demonstrated that the different neuropils are indeed segregated electrically, suggesting that the same neuron can perform separate computations in different regions at the same time.
Of course, no map is perfect. Most branches traced belong to yet unidentified neurons (presumably the ones that reside outside the borders of the sequenced brain). Many of the tiniest twigs that are difficult for both human and machine eyes to trace may have been missed or lie 'disconnected' from their true parent neuron, which may reside in the other unmapped half of the brain. This could potentially reduce the number of synapses between two cells.
Scheffer et al. have pledged to improve and update their connectome over time – after all, another half of the fly brain remains to be analyzed. Nevertheless, the current map marks a significant increase in scale over the one of C. elegans and will undoubtedly help unravel the neurological basis underlying a fly's behavior. And it may bring us one step closer to creating connectomes of larger animals, including vertebrates.
Article and author information
Author details
© 2020, Pipkin
This article is distributed under the terms of the Creative Commons Attribution License, which permits unrestricted use and redistribution provided that the original author and source are credited.
2,310

Page views

116

Downloads

2

Citations
Article citation count generated by polling the highest count across the following sources: Crossref, PubMed Central, Scopus.
A two-part list of links to download the article, or parts of the article, in various formats.
Downloads
(link to download the article as PDF)
Open citations
(links to open the citations from this article in various online reference manager services)
Cite this article
(links to download the citations from this article in formats compatible with various reference manager tools)
Jason Pipkin
Connectomes: Mapping the mind of a fly
eLife 9:e62451.
https://doi.org/10.7554/eLife.62451
Further reading
Computational and Systems Biology

Neuroscience

The neural circuits responsible for animal behavior remain largely unknown. We summarize new methods and present the circuitry of a large fraction of the brain of the fruit fly Drosophila melanogaster. Improved methods include new procedures to prepare, image, align, segment, find synapses in, and proofread such large data sets. We define cell types, refine computational compartments, and provide an exhaustive atlas of cell examples and types, many of them novel. We provide detailed circuits consisting of neurons and their chemical synapses for most of the central brain. We make the data public and simplify access, reducing the effort needed to answer circuit questions, and provide procedures linking the neurons defined by our analysis with genetic reagents. Biologically, we examine distributions of connection strengths, neural motifs on different scales, electrical consequences of compartmentalization, and evidence that maximizing packing density is an important criterion in the evolution of the fly's brain.

Computational and Systems Biology

Neuroscience

Sleep is generally considered to be a state of large-scale synchrony across thalamus and neocortex; however, recent work has challenged this idea by reporting isolated sleep rhythms such as slow oscillations and spindles. What is the spatial scale of sleep rhythms? To answer this question, we adapted deep learning algorithms initially developed for detecting earthquakes and gravitational waves in high-noise settings for analysis of neural recordings in sleep. We then studied sleep spindles in non-human primate electrocorticography (ECoG), human electroencephalogram (EEG), and clinical intracranial electroencephalogram (iEEG) recordings in the human. Within each recording type, we find widespread spindles occur much more frequently than previously reported. We then analyzed the spatiotemporal patterns of these large-scale, multi-area spindles and, in the EEG recordings, how spindle patterns change following a visual memory task. Our results reveal a potential role for widespread, multi-area spindles in consolidation of memories in networks widely distributed across primate cortex.

Computational and Systems Biology

Stem Cells and Regenerative Medicine

Induced differentiation is one of the most experience- and skill-dependent experimental processes in regenerative medicine, and establishing optimal conditions often takes years. We developed a robotic AI system with a batch Bayesian optimization algorithm that autonomously induces the differentiation of induced pluripotent stem cell-derived retinal pigment epithelial (iPSC-RPE) cells. From 200 million possible parameter combinations, the system performed cell culture in 143 different conditions in 111 days, resulting in 88% better iPSC-RPE production than that obtained by the pre-optimized culture in terms of the pigmentation scores. Our work demonstrates that the use of autonomous robotic AI systems drastically accelerates systematic and unbiased exploration of experimental search space, suggesting immense use in medicine and research.