Enzymes: The two roles of complex III in plants
Atomic structures of mitochondrial enzyme complexes in plants are shedding light on their multiple functions.
Every year land plants assimilate about 120 billion tons of carbon from the atmosphere through photosynthesis (Jung et al., 2011). However, plants also rely on respiration to produce energy, and this puts about half the amount of carbon back into the atmosphere (Gonzalez-Meler et al., 2004). Mitochondria have a central role in cellular respiration in plants and other eukaryotes, harboring the enzymes involved in the citric acid cycle and the respiratory electron transport chain.
The basic functioning of mitochondria is highly conserved across evolution. In plants, however, these organelles perform additional roles linked to photosynthesis (Millar et al., 2011). In particular, under certain conditions they employ enzymes called alternative oxidoreductases, which may help to reduce the formation of reactive oxygen species (Vanlerberghe, 2013).
The mitochondrial electron transport chain is similar in plants, fungi and animals, where it is formed of four enzyme complexes – complex I, II, III and IV – as well as further components such as cytochrome c and the lipid ubiquinone. In plants, alternative oxidoreductases are also involved. The structure and function of the complexes I to IV have been extensively investigated in animals and fungi, but less so in plants. Now, in eLife, Maria Maldonado, Fei Guo and James Letts from the University of California Davis present the first atomic models of the complexes III and IV from plants, giving astonishing insights into how the mitochondrial electron transport chain works in these organisms (Maldonado et al., 2021).
For their investigation, Maldonado et al. isolated mitochondria from etiolated mung bean seedlings; the protein complexes of the electron transport chain were then purified, and their structure was analyzed using a new experimental strategy based on single-particle cryo-electron microscopy combined with computer-based image processing (Kuhlbrandt, 2014). The team used pictures of 190,000 complex I particles, 48,000 complex III2 particles (III2 is the dimer formed by complex III), and 28,000 particles of a supercomplex consisting of complexes III2 and IV. Average structures of all three types of particles were calculated with resolutions in the range of 3.5 Angstroms, which allow side chains of amino acids to become visible. Finally, the amino acid sequences of the protein subunits were fitted into the structures, generating models of the protein complex at atomic resolution. Results of this experimental approach on a large subcomplex of plant complex I have been published before, and they revealed an extra functional module that may be relevant when cellular respiration takes place alongside photosynthesis (Maldonado et al., 2020). This suggests that complex I has additional roles in plants.
Now, the atomic models for plant complex III2 and the supercomplex III2-IV indicate that these share highly conserved features with the corresponding animal and fungi structures. The plant complex IV, for instance, which had never been precisely defined so far, consists of 10 protein subunits that are all homologs of animal and fungi complex IV subunits. Similarly, plant complex III2, which is formed of a pair of 10 subunits, much resembles its animal and fungi counterparts, and performs a similar role in cellular respiration (Figure 1).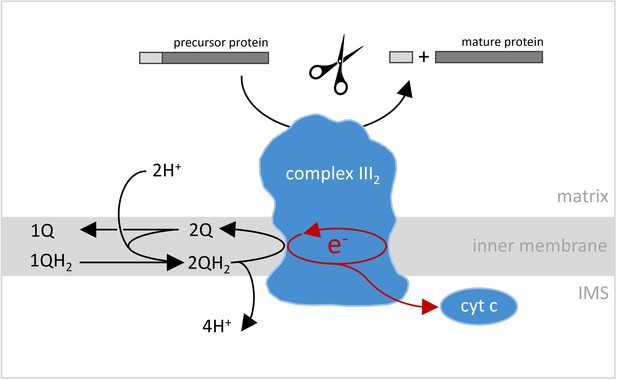 However, at the same time, complex III2 is special in plants because it also includes the activity of the mitochondrial processing peptidase (MPP for short), an enzyme which cleaves off the transit sequences that help to import certain preproteins into mitochondria (Braun et al., 1992; Eriksson et al., 1994; Figure 1). For the very first time, structural details of the two MPP subunits of plant complex III2 are presented, showing that they form a large central cavity with a negative surface that is probably essential for preprotein binding. The structural model also includes a catalytic zinc ion at the active site of the subunit which cleaves the preproteins. In addition, compared to similar protein subunits in animal or fungi complex III2, the plant MPP subunits are more stably connected to the remaining complex III2 subunits. Finally, Maldonado et al. offer further structural insights into the functioning of complex IV and supercomplex III2-IV, which provide clues as to the way their enzyme activities take place.
Overall, the bifunctionality of complex III2 in plants may be another example that mitochondria work differently in the context of photosynthesis. Indeed, the way MPP is attached to complex III reflects that the presence of chloroplasts makes it more complicated for proteins to be transported and processed within plant cells. The atomic models revealed by Maldonado et al. will help further genetic and biochemical investigations into the physiology of the mitochondrial electron transport chain of plants.
Article and author information
Author details
© 2021, Braun
This article is distributed under the terms of the Creative Commons Attribution License, which permits unrestricted use and redistribution provided that the original author and source are credited.
870

Page views

112

Downloads

2

Citations
Article citation count generated by polling the highest count across the following sources: Crossref, PubMed Central, Scopus.
A two-part list of links to download the article, or parts of the article, in various formats.
Downloads
(link to download the article as PDF)
Open citations
(links to open the citations from this article in various online reference manager services)
Cite this article
(links to download the citations from this article in formats compatible with various reference manager tools)
Hans-Peter Braun
Enzymes: The two roles of complex III in plants
eLife 10:e65239.
https://doi.org/10.7554/eLife.65239
Further reading
Plant Biology
Structural Biology and Molecular Biophysics

Mitochondrial complex III (CIII2) and complex IV (CIV), which can associate into a higher-order supercomplex (SC III2+IV), play key roles in respiration. However, structures of these plant complexes remain unknown. We present atomic models of CIII2, CIV, and SC III2+IV from Vigna radiata determined by single-particle cryoEM. The structures reveal plant-specific differences in the MPP domain of CIII2 and define the subunit composition of CIV. Conformational heterogeneity analysis of CIII2 revealed long-range, coordinated movements across the complex, as well as the motion of CIII2's iron-sulfur head domain. The CIV structure suggests that, in plants, proton translocation does not occur via the H channel. The supercomplex interface differs significantly from that in yeast and bacteria in its interacting subunits, angle of approach and limited interactions in the mitochondrial matrix. These structures challenge long-standing assumptions about the plant complexes and generate new mechanistic hypotheses.

Physics of Living Systems
Plant Biology

Animal migration is highly sensitised to environmental cues, but plant dispersal is considered largely passive. The common dandelion, Taraxacum officinale, bears an intricate haired pappus facilitating flight. The pappus enables the formation of a separated vortex ring during flight; however, the pappus structure is not static but reversibly changes shape by closing in response to moisture. We hypothesised that this leads to changed dispersal properties in response to environmental conditions. Using wind tunnel experiments for flow visualisation, particle image velocimetry, and flight tests we characterised the fluid mechanics effects of the pappus morphing. We also modelled dispersal to understand the impact of pappus morphing on diaspore distribution. Pappus morphing dramatically alters the fluid mechanics of diaspore flight. We found that when the pappus closes in moist conditions, the drag coefficient decreases and thus the falling velocity is greatly increased. Detachment of diaspores from the parent plant also substantially decreases. The change in detachment when the pappus closes increases dispersal distances by reducing diaspore release when wind speeds are low. We propose that moisture-dependent pappus-morphing is a form of informed dispersal allowing rapid responses to changing conditions.

Microbiology and Infectious Disease
Plant Biology

Pathogens utilize a panoply of effectors to manipulate plant defense. However, despite their importance, relatively little is actually known about regulation of these virulence factors. Here, we show that the effector Fol-Secreted Virulence-related Protein1 (FolSvp1), secreted from fungal pathogen Fusarium oxysporum f. sp. lycopersici (Fol), directly binds and translocates the tomato pathogenesis-related protein1, SlPR1, from the apoplast outside the plasma membrane to the host nucleus via its nuclear localization signal. Relocation of SlPR1 abolishes generation of the defense signaling peptide, CAPE1, from its C-terminus, and as a consequence, facilitates pathogen invasion of plants. The action of FolSvp1 requires covalent modification by acetylation for full virulence in host tomato tissues. The modification is catalyzed by the Fol FolArd1 lysine acetyltransferase prior to secretion. Addition of an acetyl group to one residue, K167, prevents ubiquitination-dependent degradation of FolSvp1 in both Fol and plant cells with different mechanisms, allowing it to function normally in fungal invasion. Either inactivation of FolSvp1 or removal of the acetyl group on K167 leads to impaired pathogenicity of Fol. These findings indicate that acetylation can regulate the stability of effectors of fungal plant pathogens with impact on virulence.