Bioacoustics: Characterizing the hum of hovering animals
The sounds of flying animals, such as the hum of a hummingbird as it hovers, are influenced by the unique forces generated by the flapping of their wings.
Flight is an inherently noisy form of locomotion. For example, the sounds generated by a flock of pigeons can tell a listener exactly how urgently they are flying and their precise position (Clark, 2016; Larsson, 2012). Some species have even evolved specialized feathers that produce extra sounds to communicate the difference between casual and emergency take-off events (Murray et al., 2017). The characteristic hum of a hummingbird and the buzz of a mosquito are both produced by the motion of their wings during flight. Yet it is poorly understood how the act of flapping can generate such distinct sounds.
During flight, flapping wings generate vertical (lift) and horizontal (drag) forces that oscillate with every wingbeat. These forces can be observed as changes in the air pressure around an animal as it flaps. Similarly, sound waves move through the air as small, rippling changes in air pressure. Using exciting new tools and techniques a team of reasearchers at Stanford University were able to directly measure both types of pressure fluctuations in live hummingbirds as they hovered. Now, in eLife, Ben J Hightower (Stanford University) and Patrick WA Wijnings (Eindhoven University of Technology), and their team led by David Lentink (Stanford University), report new insights into the link between oscillating lift and drag forces and the acoustic qualities of the hummingbird's hum (Hightower et al., 2021).
By adapting a model for propeller noise (Lowson, 1965), the team were able to mathematically describe the relationship between a flapping wing and the sound pressure waves it produces. The model created by Hightower et al. combines information about a wing's motion and the forces it creates to predict how a wing sound will radiate through the air. These modeled sound waves are very similar to those observed in live hummingbirds and precisely matched some of their acoustic characteristics, like their pitch and loudness.
But as any musician can tell you, there is more to sound than just its pitch and loudness. The timbre, or acoustic quality, of a sound is the primary reason why different instruments playing the same note sound distinct from one another (Figure 1A and B). The simplest physical attribute of a sound that can help define its timbre is its harmonic content – that is, the distinct tones that are naturally produced beyond the original tone, or fundamental frequency, as it is played. The number and loudness of these harmonic tones largely determines the timbre of a sound.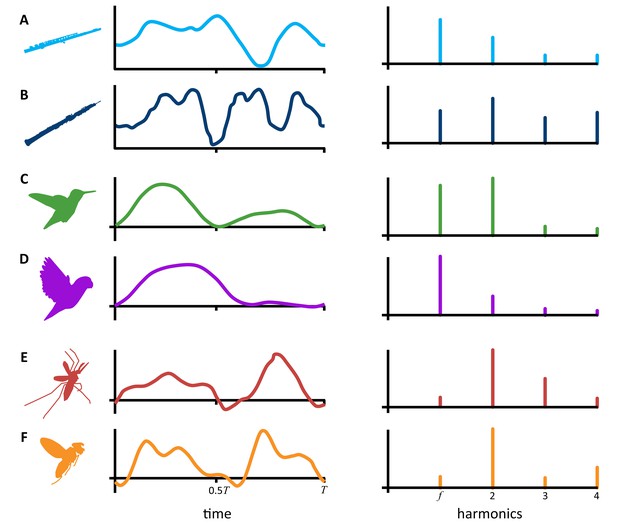 Using their model, Hightower et al. were also able to determine the precise links between aerodynamic forces, wing motion, and the harmonic content of the hummingbird's hum. They found that the loudness of the second and fourth harmonic tones corresponds to the generation of vertical forces which happens twice per wingbeat in hummingbirds – first on the downstroke and then again on the upstroke (Warrick et al., 2005). Whereas the loudness of the fundamental frequency and the third harmonic are influenced by rotational horizontal forces which vary throughout the wingbeat. Taken together, the unique aerodynamic forces of the hummingbird's wingbeat are responsible for the relative loudness and harmonic content of the wing's sound, giving the hummingbird's hum its characteristic timbre (Figure 1C).
So, if we know a little bit about the forces an animal produces throughout a single wingbeat, we should be able to predict the timbre of its wing sound using this simplified model. Unlike hummingbirds, larger animals, such as parrotlets and pigeons, only produce lift forces once per wingbeat on the powerful downstroke, and not on the upstroke (Crandell and Tobalske, 2015; Hightower et al., 2017). This generates a loud wing sound that has relatively low second and fourth harmonics (Figure 1D).
Conversely, small insects like mosquitos (Figure 1E) and compact flies (Figure 1F) generate smaller aerodynamic forces but produce them on the downstroke, upstroke, and in between (Bomphrey et al., 2017). This creates more complex and louder harmonics that make the flies' buzzing seem much louder relative to their size. In courtship displays, these tiny insects actually manipulate this relationship by shortening their strokes to generate louder, even more complex tones that attract females (Bennet-Clark and Ewing, 1968).
The model designed by Hightower et al. can be used to create detailed predictions, not only about the loudness and timbre of wing sounds, but also about the directionality of the noise and how it might be perceived over various distances. Furthermore, the model can be used to test whether wing sounds behave as would be expected. Animals that make wing sounds that do not match these predictions might be doing something unusual like using their wings for acoustic communication. Ultimately, this model will be a useful tool for studying animal behavior and the evolution of specialized wing sounds.
The wing mechanism involved in the courtship of Drosophila

The Journal of Experimental Biology 49:117–128.
Article and author information
Author details
© 2021, Niese
This article is distributed under the terms of the Creative Commons Attribution License, which permits unrestricted use and redistribution provided that the original author and source are credited.
410

Page views

27

Downloads

0

Citations
Article citation count generated by polling the highest count across the following sources: Crossref, PubMed Central, Scopus.
A two-part list of links to download the article, or parts of the article, in various formats.
Downloads
(link to download the article as PDF)
Open citations
(links to open the citations from this article in various online reference manager services)
Cite this article
(links to download the citations from this article in formats compatible with various reference manager tools)
Robert Niese
Bioacoustics: Characterizing the hum of hovering animals
eLife 10:e68072.
https://doi.org/10.7554/eLife.68072
Further reading
How hummingbirds hum is not fully understood, but its biophysical origin is encoded in the acoustic nearfield. Hence, we studied six freely hovering Anna's hummingbirds, performing acoustic nearfield holography using a 2176 microphone array in vivo, while also directly measuring the 3D aerodynamic forces using a new aerodynamic force platform. We corroborate the acoustic measurements by developing an idealized acoustic model that integrates the aerodynamic forces with wing kinematics, which shows how the timbre of the hummingbird's hum arises from the oscillating lift and drag forces on each wing. Comparing birds and insects, we find that the characteristic humming timbre and radiated power of their flapping wings originates from the higher harmonics in the aerodynamic forces that support their bodyweight. Our model analysis across insects and birds shows that allometric deviation makes larger birds quieter and elongated flies louder, while also clarifying complex bioacoustic behavior.

Specific aerodynamic forces created by its wings explain the hum of the Hummingbird


Evolutionary Biology
Microbiology and Infectious Disease

Viruses have evolved diverse mechanisms to antagonize host immunity such as direct inhibition and relocalization of cellular APOBEC3B (A3B) by the ribonucleotide reductase (RNR) of Epstein-Barr virus. Here, we investigate the mechanistic conservation and evolutionary origin of this innate immune counteraction strategy. First, we find that human gamma-herpesvirus RNRs engage A3B via largely distinct surfaces. Second, we show that RNR-mediated enzymatic inhibition and relocalization of A3B depend upon binding to different regions of the catalytic domain. Third, we show that the capability of viral RNRs to antagonize A3B is conserved among gamma-herpesviruses that infect humans and Old World monkeys that encode this enzyme but absent in homologous viruses that infect New World monkeys that naturally lack the A3B gene. Finally, we reconstruct the ancestral primate A3B protein and demonstrate that it is active and similarly engaged by the RNRs from viruses that infect humans and Old World monkeys but not by the RNRs from viruses that infect New World monkeys. These results combine to indicate that the birth of A3B at a critical branchpoint in primate evolution may have been a driving force in selecting for an ancestral gamma-herpesvirus with an expanded RNR functionality through counteraction of this antiviral enzyme.