Cardiovascular Disease: Exploring risk factors at the molecular level
Risk factors for cardiovascular diseases trigger molecular changes that harm the endothelial cells in the heart, but exercise can suppress these effects.
Being older, being overweight and having high blood pressure are all factors that increase the risk of developing cardiovascular diseases. Exercise protects against these diseases, but the details of how this happens at the cellular level are not fully understood.
The heart, like all other tissues, is composed of many types of cells, with endothelial cells – the building blocks for blood vessels – being one of the most common (Pinto et al., 2016). In the heart, endothelial cells control oxygen and nutrient supply, and contribute to immune protection (Aird, 2007). When endothelial cells malfunction, they affect neighboring cells and ultimately the health of the heart. Thus, it is recognized that endothelial cells have a central role in the development of cardiovascular diseases (Heitzer et al., 2001).
It is known that individual risk factors for cardiovascular diseases, such as obesity and aging, impair endothelial cell functions (Donato et al., 2007; de Jongh et al., 2004), but a number of questions remain unanswered. What are the effects of these risk factors at a molecular level? Do the different risk factors trigger a common set of disruptions in endothelial cells? And are the benefits of physical activity due to exercise repressing the detrimental molecular changes triggered by these risk factors?
Now, in eLife, Riikka Kivelä and colleagues at the Wihuri Research Institute and the University of Helsinki – including Karthik Hemanthakumar as first author – report that they have identified genes that are dysregulated by one or more cardiovascular risk factors and improved by exercise (Hemanthakumar et al., 2021). The researchers used mouse models that mimic human obesity, aging, cardiac overload and exercise training, and employed a procedure called fluorescence-activated cell sorting to collect cardiac endothelial cells. Hemanthakumar et al. then used RNA sequencing and various bioinformatics analyses to study the cells.
The analyses revealed that obesity and cardiac overload deteriorate the molecular characteristics of endothelial cells, in a similar way to aging (Figure 1). Cells from the mouse models for cardiac overload and obesity overexpressed genes associated with biological aging (senescence), inflammation, oxidative stress and pathways involving a signaling protein called TGF-β (which is involved in cell proliferation, differentiation and various other processes). Moreover, molecular pathways involved in cell number maintenance and vascular development were repressed by the same risk factors, indicating that these conditions impair the ability of the cells to coordinate the growth of new vessels. Obesity and aging also reduced the expression of genes traditionally associated with endothelial cell identity; instead, cells in these mice expressed genes associated with cells known as mesenchymal cells. This type of identity transition (endothelial-to-mesenchymal) has been linked to cardiovascular diseases in other studies (reviewed by Kovacic et al., 2019).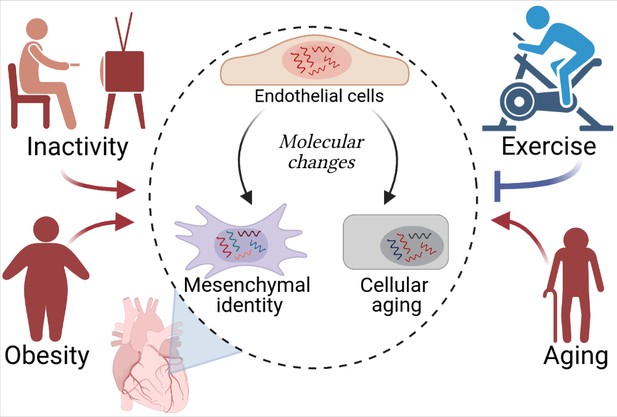 Exercise, on the other hand, suppressed the activity of genes associated with cellular aging and mesenchymal identity, and increased the expression of genes involved in endothelial development. In fact, the mice serving as a model for the effects of physical activity exhibited a higher density of blood vessels in their hearts.
Hemanthakumar et al. also identified a cluster of genes on which risk factors and exercise exert opposite effects. The levels of expression of one gene in this cluster (a gene called Serpinh1) were increased by aging and obesity, and decreased by exercise in both young and old mice. Experiments using human cells grown in vitro showed that expression of this gene can be driven by TGF-β and oxidative stress. Moreover, human endothelial cells that were forced to overexpress SERPINH1 became larger and expressed more genes related to senescence and mesenchymal-like identity.
While these results highlight the potential for targeting SERPINH1 to counteract the effects of various risk factors for cardiovascular diseases on endothelial cells, they also raise a number of questions. For example, it has been reported that the protein encoded by SERPINH1 – heat shock protein 47 – co-localizes with endothelial-to-mesenchymal markers in endothelial cells from patients with atrial fibrillation (Kato et al., 2017). But is the production of SERPINH1 increased in the cardiac endothelial cells of patients with cardiovascular diseases? If so, how does this increase contribute to cardiovascular diseases? Could blocking the endothelial production of SERPINH1 protect against the development of cardiovascular diseases associated with aging and obesity?
The study by Hemanthakumar et al. also reinforces existing evidence that physical activity improves the health of endothelial cells (Ashor et al., 2015). However, further studies are needed to explore which of the deleterious changes evoked by aging or obesity can be reversed by exercise.
Finally, what other genes should be explored to better understand cardiovascular pathology? In addition to SERPINH1, Hemanthakumar et al. have generated a wealth of information on genes dysregulated by major risk factors for cardiovascular diseases, and their findings could help to reveal additional endothelial genes that are important for cardiovascular health. This analysis will be a stepping stone towards a better understanding of the damaging effects of cardiovascular risk factors at the molecular level, paving the way to effective interventions.
Article and author information
Author details
© 2021, Rudnicki and Haas
This article is distributed under the terms of the Creative Commons Attribution License, which permits unrestricted use and redistribution provided that the original author and source are credited.
877

Page views

80

Downloads

1

Citations
Article citation count generated by polling the highest count across the following sources: Crossref, PubMed Central, Scopus.
A two-part list of links to download the article, or parts of the article, in various formats.
Downloads
(link to download the article as PDF)
Open citations
(links to open the citations from this article in various online reference manager services)
Cite this article
(links to download the citations from this article in formats compatible with various reference manager tools)
Martina Rudnicki
Tara L Haas
Cardiovascular Disease: Exploring risk factors at the molecular level
eLife 10:e68271.
https://doi.org/10.7554/eLife.68271
Further reading
Chromosomes and Gene Expression
Medicine

Aging, obesity, hypertension, and physical inactivity are major risk factors for endothelial dysfunction and cardiovascular disease (CVD). We applied fluorescence-activated cell sorting (FACS), RNA sequencing, and bioinformatic methods to investigate the common effects of CVD risk factors in mouse cardiac endothelial cells (ECs). Aging, obesity, and pressure overload all upregulated pathways related to TGF-β signaling and mesenchymal gene expression, inflammation, vascular permeability, oxidative stress, collagen synthesis, and cellular senescence, whereas exercise training attenuated most of the same pathways. We identified collagen chaperone Serpinh1 (also called as Hsp47) to be significantly increased by aging and obesity and repressed by exercise training. Mechanistic studies demonstrated that increased SERPINH1 in human ECs induced mesenchymal properties, while its silencing inhibited collagen deposition. Our data demonstrate that CVD risk factors significantly remodel the transcriptomic landscape of cardiac ECs inducing inflammatory, senescence, and mesenchymal features. SERPINH1 was identified as a potential therapeutic target in ECs.

Cell Biology
Chromosomes and Gene Expression

Most studies of cohesin function consider the Stromalin Antigen (STAG/SA) proteins as core complex members given their ubiquitous interaction with the cohesin ring. Here, we provide functional data to support the notion that the SA subunit is not a mere passenger in this structure, but instead plays a key role in the localization of cohesin to diverse biological processes and promotes loading of the complex at these sites. We show that in cells acutely depleted for RAD21, SA proteins remain bound to chromatin, cluster in 3D and interact with CTCF, as well as with a wide range of RNA binding proteins involved in multiple RNA processing mechanisms. Accordingly, SA proteins interact with RNA, and R-loops, even in the absence of cohesin. Our results place SA1 on chromatin upstream of the cohesin ring and reveal a role for SA1 in cohesin loading which is independent of NIPBL, the canonical cohesin loader. We propose that SA1 takes advantage of structural R-loop platforms to link cohesin loading and chromatin structure with diverse functions. Since SA proteins are pan-cancer targets, and R-loops play an increasingly prevalent role in cancer biology, our results have important implications for the mechanistic understanding of SA proteins in cancer and disease.

Chromosomes and Gene Expression
Genetics and Genomics

Degradation of most yeast mRNAs involves decapping by Dcp1/Dcp2. DEAD-box protein Dhh1 has been implicated as an activator of decapping, in coupling codon non-optimality to enhanced degradation, and as a translational repressor, but its functions in cells are incompletely understood. RNA-Seq analyses coupled with CAGE sequencing of all capped mRNAs revealed increased abundance of hundreds of mRNAs in dcp2Δ cells that appears to result directly from impaired decapping rather than elevated transcription. Interestingly, only a subset of mRNAs requires Dhh1 for targeting by Dcp2, and also generally requires the other decapping activators Pat1, Edc3 or Scd6; whereas most of the remaining transcripts utilize NMD factors for Dcp2-mediated turnover. Neither inefficient translation initiation nor stalled elongation appears to be a major driver of Dhh1-enhanced mRNA degradation. Surprisingly, ribosome profiling revealed that dcp2Δ confers widespread changes in relative translational efficiencies (TEs) that generally favor well-translated mRNAs. Because ribosome biogenesis is reduced while capped mRNA abundance is increased by dcp2&Delta, we propose that an increased ratio of mRNA to ribosomes increases competition among mRNAs for limiting ribosomes to favor efficiently translated mRNAs in dcp2Δ cells. Interestingly, genes involved in respiration or utilization of alternative carbon or nitrogen sources are up-regulated, and both mitochondrial function and cell filamentation are elevated in dcp2Δ cells, suggesting that decapping sculpts gene expression post-transcriptionally to fine-tune metabolic pathways and morphological transitions according to nutrient availability.