Aging: The temporary cost of dominance
In a population of wild baboons, a new way to assess biological age reveals a surprising effect of social hierarchy.
Aging is inevitable, but also unfair: individuals can share the same number of years, yet their bodies may be getting older at different rates. Accurate ways of measuring this 'biological aging' would help to assess which individuals in a population are aging faster, and why.
Epigenetic clocks measure the regular unfolding of chemical marks on DNA, and can predict chronological age – that is, the amount of time since birth (Horvath and Raj, 2018; Ryan, 2020). In many species, including humans, the difference between epigenetic and chronological age serves as an index for how quickly the body of an animal is aging. In fact, people who look epigenetically older than their chronological age tend to have shorter lives (Marioni et al., 2015). Now, in eLife, Jenny Tung and colleagues – including Jordan Anderson and Rachel Johnston as joint first authors – report that in a population of wild baboons from Amboseli National Park in Kenya, social factors might speed up epigenetic aging in unexpected ways (Anderson et al., 2021).
The team (who are based in various institutions in the United States and Kenya) developed an epigenetic clock that rivaled or exceeded better-established methods to estimate the chronological age of a baboon. Yet, despite this accuracy, some animals were predicted to be older or younger than their years. The Amboseli group has been closely observed for 50 years, and previous studies have shown that monkeys in this population had reduced lifespans if they faced challenges early in life (Alberts and Altmann, 2012). Such experiences included being born to a low-status mother, competing with siblings, and growing up during a drought or at times of high population density (Archie et al., 2014; Tung et al., 2016). In addition, having fewer social bonds has also been linked to reduced lifespans in this group (Silk et al., 2010). However, Anderson et al. found that none of these factors were associated with epigenetic aging.
In contrast, male baboons with higher dominance ranks – who fiercely compete for their place in the hierarchy – looked epigenetically older than their chronological age. This link was not seen in females, who do not fight for their social status but instead inherit it from their mother. To further explore the association between a male's place in the social hierarchy and his biological aging, the researchers tested whether males who increased or dropped in rank also experienced changes in their epigenetic age (Figure 1). As predicted, males' epigenetic clocks tended to accelerate with an increase in rank. Intriguingly, however, losing social status also made males look epigenetically younger. These findings suggest that the competitive behaviors which help males achieve dominance and increase mating opportunities also come at the price of biological wear and tear, and a sped-up epigenetic clock. However, these costs seem to be temporary and reversible.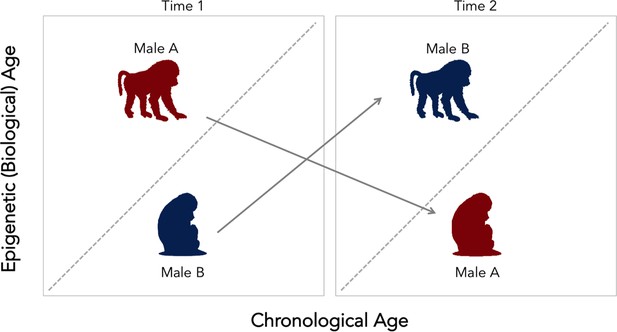 This study is among the first to develop an epigenetic clock to explore the social determinants of epigenetic aging in a wild animal population, and confirm that this method tracks chronological age quite well. Yet the findings by Anderson et al. also raise new questions about the dimensions of biological change that epigenetic clocks may capture. For instance, it is still unclear why dominance rank predicts the acceleration of epigenetic age in male baboons, while other factors associated with lifespan in both sexes do not. More generally, the biological meaning of this sped-up clock remains to be explored in this population. If males can appear older or younger than their chronological age based on their current dominance rank, how do these transient effects impact their lifespan or functional decline – as similar measures have been shown to do in other species (Marioni et al., 2015; Stubbs et al., 2017)?
The transient effect of dominance on epigenetic age was a surprising finding that will likely require more work to unpack. The epigenetic clock that Anderson et al. developed was based upon analysis of genetic material from immune cells present in the blood, and may therefore reflect changes in the immune profile of an individual at the time they were sampled. In fact, switches in dominance rank in male baboons are accompanied by shifts in immune function (Lea et al., 2018); this might explain how the clocks could temporarily reflect a male's current status. Future research in wild animals like the Amboseli baboons, especially in the social and natural environments in which they evolved, will help further dissect epigenetic clocks, and clarify what makes them tick.
Article and author information
Author details
© 2021, Ryan and Kuzawa
This article is distributed under the terms of the Creative Commons Attribution License, which permits unrestricted use and redistribution provided that the original author and source are credited.
1,036

Page views

56

Downloads

0

Citations
Article citation count generated by polling the highest count across the following sources: Crossref, PubMed Central, Scopus.
A two-part list of links to download the article, or parts of the article, in various formats.
Downloads
(link to download the article as PDF)
Open citations
(links to open the citations from this article in various online reference manager services)
Cite this article
(links to download the citations from this article in formats compatible with various reference manager tools)
Calen P Ryan
Christopher W Kuzawa
Aging: The temporary cost of dominance
eLife 10:e68790.
https://doi.org/10.7554/eLife.68790
Further reading
Evolutionary Biology
Genetics and Genomics

Aging, for virtually all life, is inescapable. However, within populations, biological aging rates vary. Understanding sources of variation in this process is central to understanding the biodemography of natural populations. We constructed a DNA methylation-based age predictor for an intensively studied wild baboon population in Kenya. Consistent with findings in humans, the resulting 'epigenetic clock' closely tracks chronological age, but individuals are predicted to be somewhat older or younger than their known ages. Surprisingly, these deviations are not explained by the strongest predictors of lifespan in this population, early adversity and social integration. Instead, they are best predicted by male dominance rank: high-ranking males are predicted to be older than their true ages, and epigenetic age tracks changes in rank over time. Our results argue that achieving high rank for male baboons – the best predictor of reproductive success – imposes costs consistent with a 'live fast, die young' life-history strategy.

Evolutionary Biology
Microbiology and Infectious Disease

Viruses have evolved diverse mechanisms to antagonize host immunity such as direct inhibition and relocalization of cellular APOBEC3B (A3B) by the ribonucleotide reductase (RNR) of Epstein-Barr virus. Here, we investigate the mechanistic conservation and evolutionary origin of this innate immune counteraction strategy. First, we find that human gamma-herpesvirus RNRs engage A3B via largely distinct surfaces. Second, we show that RNR-mediated enzymatic inhibition and relocalization of A3B depend upon binding to different regions of the catalytic domain. Third, we show that the capability of viral RNRs to antagonize A3B is conserved among gamma-herpesviruses that infect humans and Old World monkeys that encode this enzyme but absent in homologous viruses that infect New World monkeys that naturally lack the A3B gene. Finally, we reconstruct the ancestral primate A3B protein and demonstrate that it is active and similarly engaged by the RNRs from viruses that infect humans and Old World monkeys but not by the RNRs from viruses that infect New World monkeys. These results combine to indicate that the birth of A3B at a critical branchpoint in primate evolution may have been a driving force in selecting for an ancestral gamma-herpesvirus with an expanded RNR functionality through counteraction of this antiviral enzyme.

Evolutionary Biology
Neuroscience

The evolution of human right-handedness has been intensively debated for decades. Manual lateralization patterns in non-human primates have the potential to elucidate evolutionary determinants of human handedness, but restricted species samples and inconsistent methodologies have so far limited comparative phylogenetic studies. By combining original data with published literature reports, we assembled data on hand preferences for standardized object manipulation in 1786 individuals from 38 species of anthropoid primates, including monkeys, apes, and humans. Based on that, we employ quantitative phylogenetic methods to test prevalent hypotheses on the roles of ecology, brain size, and tool use in primate handedness evolution. We confirm that human right-handedness represents an unparalleled extreme among anthropoids and found taxa displaying population-level handedness to be rare. Species-level direction of manual lateralization was largely uniform among non-human primates and did not strongly correlate with any of the selected biological predictors, nor with phylogeny. In contrast, we recovered highly variable patterns of hand preference strength, which show signatures of both ecology and phylogeny. In particular, terrestrial primates tend to display weaker hand preferences than arboreal species. These results challenge popular ideas on primate handedness evolution, including the postural origins hypothesis. Furthermore, they point to a potential adaptive benefit of disparate lateralization strength in primates, a measure of hand preference that has often been overlooked in the past. Finally, our data show that human lateralization patterns do not align with trends found among other anthropoids, suggesting that unique selective pressures gave rise to the unusual hand preferences of our species.