Cancer: Beware the algorithm
Spliced peptides present on tumor cells can help to mount an immune response, but algorithms offer limited help in predicting which ones actually exist and perform this role in vivo.
The human immune system is a formidable surveillance system that helps to keep cancers in check. Killer T cells, for example, can spot and deactivate tumors: more precisely, they can recognize short peptides which are displayed on the surface of harmful cells by a group of molecules called human leukocyte antigens or HLA (Klein and Sato, 2000). Many variations of the HLA genes exist, each coding for a slightly different molecule that can only bind to a limited set of peptides. In turn, these peptides are created inside target cells through a complex protein degradation process supported by a large enzyme known as the proteasome (Rock et al., 2010). For killer T cells to specifically deactivate tumors, cancer cells should be carrying at least one type of HLA molecule that can bind to peptides produced exclusively or primarily in these diseased cells. It is very rare, however, to find a peptide that is only present on tumors.
One way to overcome this obstacle is to focus on the altered peptides produced by driver mutations in genes that regulate cell growth, and are therefore often changed in cancer (Blankenstein et al., 2015). Algorithms could help in that search. These computer-implementable instructions are developed using existing data to 'automatically' predict the outcomes of complex biological processes, such as which peptides could be generated by the protein degradation process. Yet algorithms are never failsafe, and they can even be treacherous when fed sketchy data. Now, in eLife, Gerald Willimsky, Peter Kloetzel and colleagues at the Charité hospital in Berlin and various German institutions report having experienced this the hard way (Willimsky et al., 2021).
The team was hunting peptides that could trigger or boost the activity of killer T cells against tumors, seeking to exploit the KRASG12V and RAC2P29L driver mutations. But they found that the peptides coded by the mutated genes could not bind to HLA-A2, the most frequent HLA variant in Caucasians. This led the researchers to turn to a published algorithm that predicted the production of 'spliced peptides' that fit the HLA-A2 molecule (Mishto et al., 2019).
Peptide slicing is a fairly new and partly controversial concept in immunology. It proposes that the proteasome sometimes produces two peptides which can fuse, resulting in a 'spliced peptide' containing two fragments of the source protein but lacking several amino acids in-between (Vigneron et al., 2017). Solid data show that a small number of these peptides are actually produced in vitro, in isolated live cells, and in vivo: according to some authors, up to 25% of all proteins that bind to HLA molecules are thought to be spliced peptides – but this value could be much lower (Liepe et al., 2016; Mylonas et al., 2018). A small number of spliced peptides have been shown to activate specific killer cell responses in mouse models (Hanada et al., 2004; Warren et al., 2006).
When Willimsky et al. used the algorithm to predict which spliced peptides could match the HLA-A2 allele, several sequences were returned both for KRASG12V and RAC2P29L. This prompted the team to embark on a series of in vitro and in vivo experiments to check whether these peptides could actually bind to HLA-A2. And indeed, when mice that had been genetically modified to express human HLA-A2 were exposed to the peptides, this led to the production of killer T cells that could react to these sequences. Willimsky et al. then genetically modified certain human immune cells to express specific T cell receptors, and these could spot and kill HLA-A2-expressing cells that had been pre-incubated with the relevant peptides. Both mice and human killer cells were therefore perfectly able to respond to the mutant tumor peptides.
However, further in vitro experiments showed that proteasome digestions only produced the RAC2P29L spliced peptide. More importantly, highly sensitive killer T cells were unable to recognize and deactivate tumor cell lines that expressed the mutant proteins, even when the cells overexpressed pieces of the mutant proteins containing the two fragments that fuse together to form the spliced peptide. This means that, in live cells, the splicing either did not happen or it did not create enough peptide to activate a response by the killer T cells (Figure 1).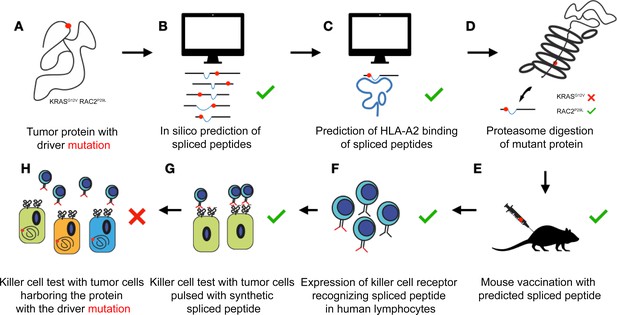 What can be learnt from what Willimsky et al. certainly considered a setback? These results could be dismissed simply as bad luck: after all, the non-spliced peptides predicted by an algorithm also are not fully foolproof. Even without considering peptide splicing, the outcome of protein degradation in cells is notoriously difficult to predict. In future research, it is certainly sensible to test early on whether predicted spliced peptides are actually produced in live cells.
Nevertheless, it is likely that using algorithms to predict spliced peptides production is still premature. There is still a lack of high quality data which verify that these putative sequences are indeed produced in vitro under physiologic conditions, as well as in live cells. These studies are sorely needed to improve future algorithms and find new targets for cancer treatment.
Article and author information
Author details
© 2021, van Endert
This article is distributed under the terms of the Creative Commons Attribution License, which permits unrestricted use and redistribution provided that the original author and source are credited.
672

Page views

44

Downloads

0

Citations
Article citation count generated by polling the highest count across the following sources: Crossref, PubMed Central, Scopus.
A two-part list of links to download the article, or parts of the article, in various formats.
Downloads
(link to download the article as PDF)
Open citations
(links to open the citations from this article in various online reference manager services)
Cite this article
(links to download the citations from this article in formats compatible with various reference manager tools)
Peter van Endert
Cancer: Beware the algorithm
eLife 10:e69657.
https://doi.org/10.7554/eLife.69657
Further reading
Biochemistry and Chemical Biology
Immunology and Inflammation

Proteasome-catalyzed peptide splicing (PCPS) of cancer-driving antigens could generate attractive neoepitopes to be targeted by T cell receptor (TCR)-based adoptive T cell therapy. Based on a spliced peptide prediction algorithm, TCRs were generated against putative KRASG12V- and RAC2P29L-derived neo-splicetopes with high HLA-A*02:01 binding affinity. TCRs generated in mice with a diverse human TCR repertoire specifically recognized the respective target peptides with high efficacy. However, we failed to detect any neo-splicetope-specific T cell response when testing the in vivo neo-splicetope generation and obtained no experimental evidence that the putative KRASG12V- and RAC2P29L-derived neo-splicetopes were naturally processed and presented. Furthermore, only the putative RAC2P29L-derived neo-splicetopes was generated by in vitro PCPS. The experiments pose severe questions on the notion that available algorithms or the in vitro PCPS reaction reliably simulate in vivo splicing and argue against the general applicability of an algorithm-driven 'reverse immunology' pipeline for the identification of cancer-specific neo-splicetopes.

Biochemistry and Chemical Biology
Neuroscience

Dynamic Ca2+ signals reflect acute changes in membrane excitability, and also mediate signaling cascades in chronic processes. In both cases, chronic Ca2+ imaging is often desired, but challenged by the cytotoxicity intrinsic to calmodulin (CaM)-based GCaMP, a series of genetically-encoded Ca2+ indicators that have been widely applied. Here, we demonstrate the performance of GCaMP-X in chronic Ca2+ imaging of cortical neurons, where GCaMP-X by design is to eliminate the unwanted interactions between the conventional GCaMP and endogenous (apo)CaM-binding proteins. By expressing in adult mice at high levels over an extended time frame, GCaMP-X showed less damage and improved performance in two-photon imaging of sensory (whisker-deflection) responses or spontaneous Ca2+ fluctuations, in comparison with GCaMP. Chronic Ca2+ imaging of one month or longer was conducted for cultured cortical neurons expressing GCaMP-X, unveiling that spontaneous/local Ca2+ transients progressively developed into autonomous/global Ca2+ oscillations. Along with the morphological indices of neurite length and soma size, the major metrics of oscillatory Ca2+, including rate, amplitude and synchrony were also examined. Dysregulations of both neuritogenesis and Ca2+ oscillations became discernible around 2–3 weeks after virus injection or drug induction to express GCaMP in newborn or mature neurons, which were exacerbated by stronger or prolonged expression of GCaMP. In contrast, neurons expressing GCaMP-X were significantly less damaged or perturbed, altogether highlighting the unique importance of oscillatory Ca2+ to neural development and neuronal health. In summary, GCaMP-X provides a viable solution for Ca2+ imaging applications involving long-time and/or high-level expression of Ca2+ probes.

Biochemistry and Chemical Biology
Chromosomes and Gene Expression

N6-methyladenosine (m6A) RNA modification impacts mRNA fate primarily via reader proteins, which dictate processes in development, stress, and disease. Yet little is known about m6A function in Saccharomyces cerevisiae, which occurs solely during early meiosis. Here we perform a multifaceted analysis of the m6A reader protein Pho92/Mrb1. Cross-linking immunoprecipitation analysis reveals that Pho92 associates with the 3'end of meiotic mRNAs in both an m6A-dependent and independent manner. Within cells, Pho92 transitions from the nucleus to the cytoplasm, and associates with translating ribosomes. In the nucleus Pho92 associates with target loci through its interaction with transcriptional elongator Paf1C. Functionally, we show that Pho92 promotes and links protein synthesis to mRNA decay. As such, the Pho92-mediated m6A-mRNA decay is contingent on active translation and the CCR4-NOT complex. We propose that the m6A reader Pho92 is loaded co-transcriptionally to facilitate protein synthesis and subsequent decay of m6A modified transcripts, and thereby promotes meiosis.