Statistics: Sex difference analyses under scrutiny
A survey reveals that many researchers do not use appropriate statistical analyses to evaluate sex differences in biomedical research.
Scientific research requires the use of appropriate methods and statistical analyses, otherwise results and interpretations can be flawed. How research outcomes differ by sex, for example, has historically been understudied, and only recently have policies been implemented to require such consideration in the design of a study (e.g., NIH, 2015).
Over two decades ago, the renowned biomedical statistician Doug Altman labeled methodological weaknesses a "scandal", raising awareness of shortcomings related to the representativeness of research as well as inappropriate research designs and statistical analysis (Altman, 1994). These methodological weaknesses extend to research on sex differences: simply adding female cells, animals, or participants to experiments does not guarantee an improved understanding of this field of research. Rather, the experiments must also be correctly designed and analyzed appropriately to examine such differences. While guidance exists for proper analysis of sex differences, the frequency of errors in published research articles related to this topic has not been well understood (e.g., Beltz et al., 2019).
Now, in eLife, Yesenia Garcia-Sifuentes and Donna Maney of Emory University fill this gap by surveying the literature to examine whether the statistical analyses used in different research articles are appropriate to support conclusions of sex differences (Garcia-Sifuentes and Maney, 2021). Drawing from a previous study that surveyed articles studying mammals from nine biological disciplines, Garcia-Sifuentes and Maney sampled 147 articles that included both males and females and performed an analysis by sex (Woitowich et al., 2020).
Over half of the articles surveyed (83, or 56%) reported a sex difference. Garcia-Sifuentes and Maney examined the statistical methods used to analyze sex differences and found that over a quarter (24 out of 83) of these articles did not perform or report a statistical analysis supporting the claim of a sex difference. A factorial design with sex as a factor is an appropriate way to examine sex differences in response to treatment, by giving each sex each treatment option (such as a treatment or control diet; see Figure 1A). A slight majority of all articles (92, or 63%) used a factorial design. Within the articles using a factorial design, however, less than one third (27) applied and reported a method appropriate to test for sex differences (e.g., testing for an interaction between sex and the exposure, such as different diets; Figure 1B). Similarly, within articles that used a factorial design and concluded a sex-specific effect, less than one third (16 out of 53) used an appropriate analysis.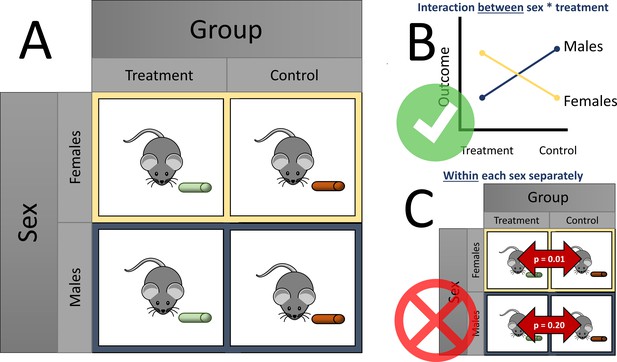 Notably, nearly half of the articles (24 out of 53) that concluded a sex-specific effect statistically tested the effect of treatment within each sex and compared the resulting statistical significance. In other words, when one sex had a statistically significant change and the other did not, the authors of the original studies concluded that a sex difference existed. This approach, which is sometimes called 'differences in nominal significance', or 'DINS' error (George et al., 2016), is invalid and has been found to occur for decades among several disciplines, including neuroscience (Nieuwenhuis et al., 2011), obesity and nutrition (Bland and Altman, 2015; George et al., 2016; Vorland et al., 2021), and more general areas (Gelman and Stern, 2006; Makin, 2019; Matthews and Altman, 1996; Sainani, 2010; Figure 1C).
This approach is invalid because testing within each sex separately inflates the probability of falsely concluding that a sex-specific effect is present compared to testing between them directly. Other inappropriate analyses that were identified in the survey included testing sex within treatment and ignoring control animals; not reporting results after claiming to do an appropriate analysis; or claiming an effect when the appropriate analysis was not statistically significant despite subscribing to 'null hypothesis significance' testing. Finally, when articles pooled the data of males and females together in their analysis, about half of them did not first test for a sex difference, potentially masking important differences.
The results of Garcia-Sifuentes and Maney highlight the need for thoughtful planning of study design, analysis, and communication to maximize our understanding and use of biological sex differences in practice. Although the survey does not quantify what proportion of this research comes to incorrect conclusions from using inappropriate statistical methods, which would require estimation procedures or reanalyzing the data, many of these studies' conclusions may change if they were analyzed correctly. Misleading results divert our attention and resources, contributing to the larger problem of 'waste' in biomedical research, that is, the avoidable costs of research that does not contribute to our understanding of what is true because it is flawed, methodologically weak, or not clearly communicated (Glasziou and Chalmers, 2018).
What can the scientific enterprise do about this problem? The survey suggests that there may be a large variability in discipline-specific practices in the design, reporting, and analysis strategies to examine sex differences. Although larger surveys are needed to assess these more comprehensively, they may imply that education and support efforts could be targeted where they are most needed. Compelling scientists to publicly share their data can facilitate reanalysis when statistical errors are discovered – though the burden on researchers performing the reanalysis is not trivial. Partnering with statisticians in the design, analysis, and interpretation of research is perhaps the most effective means of prevention.
Scientific research often does not reflect the diversity of those who benefit from it. Even when it does, using methods that are inappropriate fails to support the progress toward equity. Surely this is nothing less than a scandal.
Article and author information
Author details
© 2021, Vorland
This article is distributed under the terms of the Creative Commons Attribution License, which permits unrestricted use and redistribution provided that the original author and source are credited.
2,130

Page views

183

Downloads

1

Citations
Article citation count generated by polling the highest count across the following sources: Crossref, PubMed Central, Scopus.
A two-part list of links to download the article, or parts of the article, in various formats.
Downloads
(link to download the article as PDF)
Open citations
(links to open the citations from this article in various online reference manager services)
Cite this article
(links to download the citations from this article in formats compatible with various reference manager tools)
Colby J Vorland
Statistics: Sex difference analyses under scrutiny
eLife 10:e74135.
https://doi.org/10.7554/eLife.74135
Further reading
As part of an initiative to improve rigor and reproducibility in biomedical research, the U.S. National Institutes of Health now requires the consideration of sex as a biological variable in preclinical studies. This new policy has been interpreted by some as a call to compare males and females with each other. Researchers testing for sex differences may not be trained to do so, however, increasing risk for misinterpretation of results. Using a list of recently published articles curated by Woitowich et al. (eLife, 2020; 9:e56344), we examined reports of sex differences and non-differences across nine biological disciplines. Sex differences were claimed in the majority of the 147 articles we analyzed; however, statistical evidence supporting those differences was often missing. For example, when a sex-specific effect of a manipulation was claimed, authors usually had not tested statistically whether females and males responded differently. Thus, sex-specific effects may be over-reported. In contrast, we also encountered practices that could mask sex differences, such as pooling the sexes without first testing for a difference. Our findings support the need for continuing efforts to train researchers how to test for and report sex differences in order to promote rigor and reproducibility in biomedical research.

Computational and Systems Biology

Medicine

We proposed a population graph with Transformer-generated and clinical features for the purpose of predicting overall survival (OS) and recurrence-free survival (RFS) for patients with early stage non-small cell lung carcinomas and to compare this model with traditional models.

The study included 1705 patients with lung cancer (stages I and II), and a public data set for external validation (n=127). We proposed a graph with edges representing non-imaging patient characteristics and nodes representing imaging tumour region characteristics generated by a pretrained Vision Transformer. The model was compared with a TNM model and a ResNet-Graph model. To evaluate the models' performance, the area under the receiver operator characteristic curve (ROC-AUC) was calculated for both OS and RFS prediction. The Kaplan–Meier method was used to generate prognostic and survival estimates for low- and high-risk groups, along with net reclassification improvement (NRI), integrated discrimination improvement (IDI), and decision curve analysis. An additional subanalysis was conducted to examine the relationship between clinical data and imaging features associated with risk prediction.

Our model achieved AUC values of 0.785 (95% confidence interval [CI]: 0.716–0.855) and 0.695 (95% CI: 0.603–0.787) on the testing and external data sets for OS prediction, and 0.726 (95% CI: 0.653–0.800) and 0.700 (95% CI: 0.615–0.785) for RFS prediction. Additional survival analyses indicated that our model outperformed the present TNM and ResNet-Graph models in terms of net benefit for survival prediction.

Our Transformer-Graph model was effective at predicting survival in patients with early stage lung cancer, which was constructed using both imaging and non-imaging clinical features. Some high-risk patients were distinguishable by using a similarity score function defined by non-imaging characteristics such as age, gender, histology type, and tumour location, while Transformer-generated features demonstrated additional benefits for patients whose non-imaging characteristics were non-discriminatory for survival outcomes.

The study was supported by the National Natural Science Foundation of China (91959126, 8210071009), and Science and Technology Commission of Shanghai Municipality (20XD1403000, 21YF1438200).

Background: Notch signaling dictates cell fate decisions in mammalian cells including megakaryocytes. Existence of functional Notch signaling in enucleate platelets remains elusive.

Methods: Transcripts/peptides of Notch1 and Delta-like ligand (DLL)-4 were detected in platelets isolated from human blood by RT-qPCR, Western analysis and flow cytometry. Platelet aggregation, granule secretion and platelet-leucocyte interaction were analyzed by lumi-aggregometry and flow cytometry. Platelet-derived extracellular vesicles were documented with Nanoparticle Tracking Analyzer. Platelet thrombus on immobilized collagen was quantified using microfluidics platform. Intracellular calcium was monitored by fluorescence spectrophotometry. Whole blood coagulation was studied by thromboelastography. Ferric chloride-induced mouse mesenteric arteriolar thrombosis was imaged by intravital microscopy.

Results: We demonstrate expression of Notch1, its ligand DLL-4 and their respective transcripts in human platelets. Synthesis and surface translocation of Notch1 and DLL-4 were upregulated by thrombin. DLL-4, in turn, instigated neighbouring platelets to switch to 'activated' phenotype through cleavage of Notch receptor and release of its intracellular domain (NICD), which was averted by inhibition of γ-secretase and phosphatidylinositol-3-kinase (PI3K). Inhibition of Notch signaling, too, restrained agonist-induced platelet activation, and significantly impaired arterial thrombosis in mice. Strikingly, prevention of DLL-4-Notch1 interaction by a blocking antibody abolished platelet aggregation and extracellular vesicle shedding induced by thrombin.

Conclusions: Our study presents compelling evidence in support of non-canonical juxtacrine Notch signaling within platelet aggregates that synergizes with physiological agonists to generate occlusive intramural thrombi. Thus, Notch pathway can be a potential anti-platelet/anti-thrombotic therapeutic target.

Funding: Research was supported by grants received by DD from JC Bose Fellowship (JCB/2017/000029), ICMR (71/4/2018-BMS/CAR), DBT (BT/PR-20645/BRB/10/1541/2016) and SERB (EMR/2015/000583). SNC, ME and VS are recipients of ICMR-Scientist-C, CSIR-SRF and UGC-SRF support, respectively. Funders had no role in design, analysis and reporting of study.