The Opto-inflammasome in zebrafish as a tool to study cell and tissue responses to speck formation and cell death
The inflammasome is a conserved structure for the intracellular detection of danger or pathogen signals. As a large intracellular multiprotein signaling platform, it activates downstream effectors that initiate a rapid necrotic programmed cell death (PCD) termed pyroptosis and activation and secretion of pro-inflammatory cytokines to warn and activate surrounding cells. However, inflammasome activation is difficult to control experimentally on a single-cell level using canonical triggers. We constructed Opto-ASC, a light-responsive form of the inflammasome adaptor protein ASC (Apoptosis-Associated Speck-Like Protein Containing a CARD) which allows tight control of inflammasome formation in vivo. We introduced a cassette of this construct under the control of a heat shock element into zebrafish in which we can now induce ASC inflammasome (speck) formation in individual cells of the skin. We find that cell death resulting from ASC speck formation is morphologically distinct from apoptosis in periderm cells but not in basal cells. ASC-induced PCD can lead to apical or basal extrusion from the periderm. The apical extrusion in periderm cells depends on Caspb and triggers a strong Ca2+ signaling response in nearby cells.
This important study describes a novel optogenetic approach to study the responses to inflammasome activation and cell death in zebrafish. The validation of the model is compelling, and its application reveals novel insights in the response to cell death. This new model should help further advance future efforts centered on cell death responses in vivo.
https://doi.org/10.7554/eLife.86373.sa0
The innate immune system plays a crucial role in the early recognition and eradication of potentially dangerous microorganisms. Inflammasomes are among the best characterized components of innate antimicrobial defense in vertebrates. Inflammasome activation is induced following recognition of pathogen-associated molecular patterns (PAMPs) or danger-associated molecular patterns (DAMPs) by intracellular pattern-recognition receptors, such as NOD-like receptors (NLRs) and AIM2-like receptors (ALRs). This leads to the formation of large multiprotein platforms, which often contain the adaptor molecule ASC (apoptosis-associated speck-like protein containing a CARD), that can recruit and activate proinflammatory caspases (Martinon et al., 2002). These caspases cleave and thereby activate downstream effector molecules, including the pore-forming Gasdermins (GSDMs) and pro-inflammatory cytokines such as interleukin-1β (IL-1β) and interleukin-18 (IL-18), which are then released through the GSDM pores (Evavold et al., 2018; Heilig et al., 2018).
Inflammasome pathway components are expressed in immune and non-immune cells, but have been studied mostly in cultured cells or bone marrow derived macrophages (see e.g. Tweedell et al., 2020). Recent studies also highlight their involvement in the antimicrobial defense in epithelial tissues (Santana et al., 2016; Churchill et al., 2022).
Epithelia are the first point of contact between the host organism and microbial invaders. Although the role of inflammasome components can be studied in vivo using epithelial infection models, little is known about the direct effects of inflammasome formation on cells and their neighbours in the context of the live tissue. Thus, analysis of this dynamic and rapid process would benefit from precise spatial control of inflammasome formation and live imaging of the ensuing physiological events.
Zebrafish are well suited to study innate and adaptive immunity in vivo (Novoa and Figueras, 2012; Renshaw and Trede, 2012). Their transparency in early stages and a multitude of fluorescent reporter lines offer ideal conditions for real-time visualization of cellular processes in tissues. Some of the genes encoding core components of innate immune signaling pathways are highly conserved in the zebrafish (Stein et al., 2007), while others, like those encoding the fish-specific NLR proteins, are more divergent (Howe et al., 2016). The adaptor protein ASC is among the most highly conserved inflammasome components in all vertebrates. ASC consists of a pyrin domain (PYD) and a caspase recruitment domain (CARD) connected by a flexible linker. Once activated, ASC undergoes prion-like oligomerization, concentrating the entire pool of ASC in the cell in one spot to form a dense fibrous structure, the ASC speck (Dick et al., 2016).
In the zebrafish, ASC is expressed both in epithelial and immune cells, such as macrophages and neutrophils (Kuri et al., 2017). The larval zebrafish skin consists of two cell layers. The outer cell layer, the periderm, consists of tightly connected keratinocytes with characteristic actin ridges; the underlying layer consists of basal cells which in adult zebrafish harbor a stem cell pool to replace dying cells in the skin (Lee et al., 2014). During larval development the periderm is gradually replaced and until then grows by divisions and asymmetric fission (Chan et al., 2022). A functional inflammasome can be experimentally induced in both layers of the larval zebrafish skin by over-expressing ASC-mKate2, leading to immediate cell death (Kuri et al., 2017).
As in mammals, caspases in the zebrafish are recruited to the ASC speck (Kuri et al., 2017). The zebrafish genome encodes three inflammatory caspases which contain a PYD domain rather than the CARD found in other vertebrates, Caspa, Caspb (Masumoto et al., 2003) and Casp19b (Spead et al., 2018) to the ASC speck. The functional homologues of mammalian Caspase-1 in zebrafish, Caspa and Caspb, are both able to induce cell death in zebrafish (Kuri et al., 2017; Shkarina et al., 2022), and GSDMD cleavage and pyroptosis in human cells (Shkarina et al., 2022). Caspb has been shown to cleave the zebrafish Gasdermins, Gsdmea and Gsdmeb, in vitro (Chen et al., 2021), while Caspa has been shown to co-localize with ASC-specks (Masumoto et al., 2003; Kuri et al., 2017).
Upon cleavage, GSDMs assemble into pores in the plasma membrane and lead to the release of the cell's cytosol, including inflammatory cytokines (Kayagaki et al., 2015; Shi et al., 2015; Liu et al., 2016; Sborgi et al., 2016), a hallmark of pyroptotic cell death (Rühl and Broz, 2022). In the absence of GSDMD, mammalian caspase-1 activates apoptosis as a default pathway (Heilig et al., 2020; Tsuchiya et al., 2021), and the same was found for ASC-containing inflammasomes in the absence of caspase-1 (Sagulenko et al., 2013; Kitazawa et al., 2017; Lee et al., 2018). Apoptosis is morphologically distinct from pyroptosis and characterized by preservation of membrane integrity, characteristic membrane blebbing and progressive fragmentation of the cell, in contrast to pyroptosis, which most commonly leads to a characteristic cell swelling.
We have previously developed optogenetic variants for human and zebrafish caspases which can be activated by light-induced oligomerization of Cry2olig, a photosensitive protein that undergoes rapid homo-oligomerization in response to blue light (Taslimi et al., 2014; Shkarina et al., 2022). This enabled us to selectively induce multiple forms of programmed cell death (PCD) in different cell types in vitro, in organoids and in live zebrafish larvae. We observed that zebrafish periderm cells are apically extruded from their surrounding epithelium upon stimulation of the inflammatory caspases but are basally extruded after activation of the apoptotic caspase-8 (Shkarina et al., 2022).
To further study inflammasome formation and the resulting cell death in the zebrafish skin upstream of inflammatory caspases, we have now generated an optogenetic variant of zebrafish ASC (Opto-ASC), which efficiently induces speck formation in single cells in both layers of the larval skin. Opto-ASC specks cause inflammatory cell death followed by apical or basal extrusion in periderm cells, which is morphologically distinct from apoptosis. ASC-speck-induced cell death requires Caspa and Caspb but we could not confirm the role of GSDMs in this process; we therefore refrain from calling it pyroptosis. We show that Opto-ASC specks efficiently trigger cell death in the periderm via inflammatory apical or basal extrusion.
Our results demonstrate that Opto-ASC is an efficient tool to induce inflammasome formation and ASC-dependent cell death in zebrafish. Compared to over-expression of ASC in our earlier studies (Kuri et al., 2017), or infection models (Forn-Cuní et al., 2019), it allows a more precise spatial and temporal manipulation of inflammasome activation and cell death. Heat-shock induced expression of Opto-ASC is highly variable between cells within individual larvae and between larvae, which has both advantages and disadvantages. Mosaically distinct ASC levels allow the assessment of the role of ASC levels and the response of neighboring cells within the same experimental animal. If a more uniform expression of Opto-ASC were desired, this could be achieved by the expression of Opto-ASC under the control of tissue-specific promoters combined with Cre-Lox or trans-activator-induced expression (Knopf et al., 2010; Mosimann et al., 2011; Gerety et al., 2013).
Opto-ASC oligomerization is efficiently induced within minutes by constant exposure to 488 nm light. After a single light pulse, specks were often not observed immediately, but appeared with a delay of up to 40 min. This is unexpected, because it is unlikely that Cry2-olig would remain active for so long that dimerization could be delayed for more than a few minutes (Taslimi et al., 2014), and one would expect that even a single initial dimerization of Opto-ASC would have led to the immediate recruitment of the endogenous ASC that is available throughout the cell. Our observations may suggest that the initial seeding event could have created a dimer that was not yet active, but that a second step of maturation could subsequently occur. This highlights the fact that we still know very little about the unusual dynamics of speck assembly, or the mystery why the cell normally always forms only one single speck.
In response to the formation of an Opto-ASC speck periderm cells died in two morphologically different ways. Cells were extruded either apically or basally, and some cells were simultaneously extruded in both ways. Apical extrusion of periderm cells has been described not only in response to infection, but also in response to treatment with the antibiotic geneticin (G418) (Eisenhoffer and Rosenblatt, 2011) and during tissue homeostasis as a response to cell crowding (Eisenhoffer et al., 2012). Apoptotic stimuli like geneticin have been shown to induce extrusion via sphingosine-1 phosphate (S1P) and its receptor, which is expressed in the surrounding cells. We have previously shown that S1P signaling does not seem to drive extrusion of pyroptotic cells in Caco-2 cell co-cultures (Shkarina et al., 2022), but so far it is unclear if S1P signaling or another mechanism activated downstream of the inflammasome is responsible for apical extrusion. Although the factors determining the direction of extrusion remain to be discovered, the different ratios of apical and basal extrusion of periderm cells in different zebrafish strains suggest a genetic component.
These findings indicate that different types of cell death are not entirely separable, but that they represent different manifestations of parallel and interconnected signaling pathways, the overall balance of which defines the final outcomes. This is also evident from other studies in the past, where disrupting one pathway directs the cell towards a different pathway that may have a different phenotypic outcome (Tsuchiya et al., 2019). Perhaps it is only through experimental activation of the most downstream effector that a 'pure' phenotype can be induced.
In the case of zebrafish periderm, we identified Caspb as essential for apical extrusion. In the absence of Caspb, cells die with an apoptotic morphology in response to speck formation. The requirement for Caspb for apical extrusion and lysis might also explain the difference in the response to ASC-speck formation between the periderm and the underlying basal cells. According to cell-type-specific RNA sequencing data (Cokus et al., 2019), basal cells express ten times lower levels of Caspb than periderm cells.
Although Caspa localizes to the ASC speck (Kuri et al., 2017) and is necessary for rapid cell death if no Caspb is present, we did not find it to be necessary for speck induced extrusion. This contradicts our own previous work, in which we identified Caspa as responsible for fast extrusion after speck formation (Kuri et al., 2017). We have now re-analyzed our previous data (Figure 7—figure supplement 2) and found that the delay between speck formation and cell death can be partially explained by the type of cell that was imaged, namely basal cells, although we observed a much stronger delay between speck formation and cell death in Caspa deficient cells than in wildtype basal cells.
Zebrafish Caspa and Caspb are thus redundant in their role as rapid cell death inducers, but the downstream mechanisms that lead to either extrusion or apoptosis of periderm cells are yet to be identified. These mechanisms may be deployed differently in different situations. For example, in Caco-2 cell monolayers caspase-1 causes pyroptosis with rapid apical extrusion and a lamellipodial response in neighbouring cells which close the wound within approximately 70 min (Bonfim-Melo et al., 2022). Wound closure after ASC-induced apical extrusion of zebrafish periderm cells is much faster (around 10 min). Basal cells on the other hand trigger a lamellipodial response in neighbouring cells and take longer to close the gap (Figure 6—figure supplement 3B), similar to Caco-2 cells.
Apoptosis and ASC-induced cell death are both initiated within a short time after speck formation and cause the recruitment of actin in surrounding periderm cells to the side facing the dying cells. The closure of the surrounding epithelium above or below the extruded cell is faster for ASC-induced extrusion than for apoptosis. This difference in rate of wound closure could be caused by different dynamics in the cell itself, or in the surrounding cells. The fact that we observe an immediate Ca2+ response in the case of ASC-induced death, but not apoptosis, indicates signalling from the dying cell to the surrounding epithelium, and this signal differs between cells dying apoptotically or by ASC-induced death. Caspase-8-induced apical extrusion of MDCK cells is preceded by a strong calcium wave in surrounding cells (Takeuchi et al., 2020), further suggesting that the Ca2+ wave correlates with the mode of extrusion rather than the trigger for cell death. The fast apical extrusion and the rapid Ca2+ response require Caspb, pointing to a Caspb-dependent signalling event. A similar reaction was observed in cultured intestinal epithelial cells in which a bacterial infection sensed by the NAIP/NLRC4 inflammasome induce a fast myosin-dependent contraction in surrounding cells. This reaction was dependent on the activation of sub-lytic GSDMD pores and the resulting ion flux and independent of the cell death or extrusion of the cell (Samperio Ventayol et al., 2021).
Zebrafish do not have a direct homolog of GsdmD but two homologues of GsdmE (Gsdmea/b). Human GsdmE is activated downstream of caspase-3 during apoptosis (Wang et al., 2017) and it plays a role in the caspase-3-mediated lytic death of primary human keratinocytes after viral inactivation of the Bcl-2 pathway (Orzalli et al., 2021). Both zebrafish gasdermins can be cleaved by Caspb and other apoptotic caspases (but not Caspa) in vitro (Chen et al., 2021). It was therefore surprising to find that we did not see a change in peridermal keratinocyte cell death after ASC-speck formation when we knocked out Gsdme a and b by CRISPR/Cas9. also treated larvae with inhibitors of Gasdermin D pore formation but did not see any effect on ASC-speck-induced apical extrusion. Although the CRISPR/Cas 9 strategy is highly efficient, and in our hands has worked well for other genes, we cannot rule out that Gsdme a and b are redundant in their function to mediate Caspb dependent extrusion and that a small amount is sufficient to induce this form of cell death. Additionally, we find that cells which are extruded do not lyse immediately upon swelling which is normally the case in pyroptotic cultured cells (Shkarina et al., 2022). Since we find a Caspb-dependent difference in cell death phenotypes, the question arises which other components could cause the apical extrusion of cells and the wave-like Ca2+ signaling response in surrounding cells. Possible candidates could be pannexins, especially pannexin1a, which is expressed in skin cells (Cokus et al., 2019) and is necessary downstream of caspase-11 to induce pyroptosis in response to LPS in mouse macrophages (Yang et al., 2015). The release of ATP caused by pannexin pores might explain the strong calcium wave in the Caspb-dependent extrusion of peridermal keratinocytes (Mori et al., 2022).
Appendix 1—key resources table
Constructs used to generate transgenic fish lines for this work are deposited in the European Plasmid Repository (https://www.plasmids.eu) under Accession Numbers indicated in the Key Resource Table. Fishlines are available are kept in the EMBL fish facility and are available on request. Sequences of sgRNA used for the F0 KO screen are included in the key resource table. Raw imaging data is available at BioImage Archive (https://www.ebi.ac.uk/bioimage-archive/) under the accession S-BIAD796.
BioImage Archive

ID S-BIAD796. The Opto-inflammasome in zebrafish: a tool to study cell and tissue responses to speck formation and cell death.
Book

The Zebrafish Book. A Guide for the Laboratory Use of Zebrafish (Danio rerio) (4th edn)

University of Oregon Press.
Carla V Rothlin

Senior and Reviewing Editor; Yale University, United States
In the interests of transparency, eLife publishes the most substantive revision requests and the accompanying author responses.
[Editors' note: this paper was reviewed by Review Commons.]
https://doi.org/10.7554/eLife.86373.sa1
General Statements [optional]

We are obviously very pleased with the general support expressed by the referees, and appreciate their critical comments. We detail below how we propose to respond to their suggestions and queries.

In view of the fact that my lab is no longer in existence, I will have to rely on the kind generosity of my colleagues at EMBL to host former team members (the two first authors) for a limited period to come back to Heidelberg to carry out any further experimental work that may be needed. This means we will have to limit the work we can do to those experiments with the highest priority. However, we are optimistic that we will be able to obtain indicative results.

We will also follow most of the referees' other suggestions and requests for additional data and quantifications, as outlined (or already included) below.

Description of the planned revisions

Reviewer #1 (Evidence, reproducibility and clarity (Required)):

Minor comments

1. Specific experimental issues that are easily addressable:

There's a significant concern with the use of LDC7559 (line 387) as a putative small molecule inhibitor of gasdermin D function to test roles (or lack thereof) of the zebrafish gasdermins in the ASC-triggered lytic cell death responses. A recent study (Amara et al. 2021. Cell. PMID34320407) has reported that LDC7559 does not inhibit gasdermin D (and possibly other gasdermins) but rather acts as an allosteric activator of PFKL (phosphofructosekinase-1 liver type) in neutrophils and thereby suppress generation of the NADPH required for the phagocytic oxidative burst and consequent NETosis. Thus, use of LDC7559 as a presumed gasdermin inhibitor in the current manuscript is problematic and should be deleted. As an alternative pharmacological approach to suppress gasdermin function, the authors might consider the use of either disulfiram (Hu et al. 2020. Nature Immunology. PMID32367036) and/or dimethylfumarate (Humphries et al. Science. 2020. PMID32820063). These would be straightforward additional experiments.
We have ordered the reagents to do these experiments. We are optimistic that we will obtain data that will strengthen this part of the ms and be a pointer for future studies by others.
We propose to keep the information on LDC7559 included, but to discuss the reservations the referee lists above – otherwise, others might ask why we did not even try this inhibitor.
2. Are prior studies referenced appropriately? there are some problems; see below.

2a. One paper is cited twice in lines 724-726 and 727-729.

2b. Another paper is cited twice in lines 790-792 and 793-795.

2c. No journal is included for the referenced study by Shkarina et al. in lines 827-828.

2d. No journal is included for the referenced study by Stein et al. in lines 831-832.

2e. No journal is included for the referenced study by Masumoto et al. in lines 793-795.

2f. No journal is included for the referenced study by Kuri et al. in lines 774-775.
We are embarrassed about these omissions and mistakes and have corrected them..
3. Are the text and figures clear and accurate? Generally, yes but with a few exceptions noted below:

3a. line 28: "morphological distinct" should read "morphologically distinct".

3b. line 161: this sentence contains in parentheses "for how long?" I think this was a comment by one author that wasn't removed from the final submitted manuscript.

3c. line 945: spelling "balck" > "black".

3d. line 268: "whereas showed a delayed speck formation": the authors need to specify what model/ condition showed a delayed speck formation.

3e. line 262: spelling "egnerated" > "generated".
Thank you, all corrected.
Reviewer #2 (Evidence, reproducibility and clarity (Required)):

1. In Figure 3 and Figure 4, the majority of Opto-Asc localizes to the plasma membrane but not endogenous Asc. It seems that tagging affects its localization, which could potentially explain its slow kinetics in oligomerization.
That is an interesting suggestion. The membrane enrichment is indeed reproducible and we have no full explanation for it. However, ASC itself seems to have some affinity for the cell cortex as seen by its association with the apical actin ridges in keratinocytes in the resting state (see e.g. figure 3A). Affinity of ASC for actin is also documented in the literature:(F-actin dampens NLRP3 inflammasome activity via flightless-1 and LRRFIP2 OPEN; https://doi.org/10.1038/srep29834).
Perhaps the fusion to the optogenetic module somehow enhances the affinity through the initial dimerization. But we can only speculate and have no further evidence that would allow reliable conclusions.
2. In Figure 7, the authors showed that deletion of Caspb, but not Caspa, affected the apical extrusion, without affecting cell death. This may indicate that other caspases, like Caspase-8 or/and caspase-3 were involved. This could be addressed through deletion of Caspase-8 or/and caspase-3.
These are experiments we had in fact done. Unfortunately, they did not allow us to address the question, because the deletions resulted in embryonic lethality. We have added this information to the text.
3. It is very surprising that Opto-Asc-mediated cell death is not dependent on Gasdermins, at least in Caspb-dependent apically extruded dead cells.
Indeed – but see comment by and our response to reviewer 1. We hope to be able to provide additional data.
Reviewer #3 (Evidence, reproducibility and clarity (Required)):

Main points:

1. So far, it remains a bit unclear how the authors define precisely speck versus any aggregate and the light induced clusters of Cry2 olig. Is it related to the timescale of formation and/or the lifetime of the aggregates? Is it related to their size?
There Is no 'formal' definition of an inflammatory speck apart from it being the unusually large aggregates that ASC forms once it is activated. Light-induced clusters of Cry2Olig alone, or of Cry2olig fusions with proteins that do not normally oligomerize are much smaller (extensive documentation in the literature).
A speck is thus a stable aggregate of ASC which is usually around 1 µm in size and is able to activate downstream caspases. But neither of these aspects alone are unique to ASC: prion-like structures can also be large aggregates (indeed ASC-specks have been compared to prions), and much smaller molecular assemblies can activate caspases. Thus 'speck' is more an operational definition, and 'natural' specks do have both of these properties, but as our experiments show, the properties can actually be separated. I would rather not try to narrow or change the definition, but leave any further discussion to the experts in the field.
Figure 4E shows a number of variants of 'speck'-like and other multimers: ASC-mKate and Opto-ASC form large single specks in the presence of endogenous ASC. Opto-ASC specks are only slightly smaller than those formed by endogenously tagged ASC-GFP (see also Supplementary Figure 2E). Opto-PYD recruits endogenous ASC and becomes incorporated into a speck of approximately the same size, while Opto-CARD does so less efficiently. All of these kill cells. In the absence of endogenous ASC, Opto-ASC forms much smaller specks, and very many in each cell, but these are still functional as seen by the fact that they still kill cells (not the large spot at t = 60 min in the right half of Figure 4E is not a speck, but the contracted dying cell). Both Opto-PYD and Opto-CARD also form only the small aggregates (quantification will be included), with Opto-PYD still killing the cell by virtue of its ability to recruit caspases via their PYD, whereas Opto-CARD does not.
Since the authors use most of the time constant blue light illumination, could they also assess how long the speck remains after stopping blue light exposure and quantify their lifetime (relative to the CRY2olig cluster lifetime)?
Briefly, any speck that contains a functional ASC moiety remains stable and does not disassemble once the blue light is turned off. In skin cells it is not possible to make quantitative measurements because they are killed by the speck. Opto-ASC specks remain stable until they are taken up by macrophages, as originally reported for ASC-GFP specks in Kuri et al. 2017.
Stability can best be assessed in muscle cells, which do not die upon speck formation. The figure below shows that specks begin to form within minutes of a short pulse of illumination and remain stable (and indeed grow further) for at least 60 min.
Author response image 1 has an example:

Similarly could they provide some comparison of the size and localisation of CRY2 olig clusters compared to the speck.
For size, see above. In addition, the size of the Cry2 oligomers as well as of Opto-ASC specks can vary with expression levels.
For location, Cry2olig clusters are usually distributed throughout the cell, as seen in most of the right panels in Figure 4E, and in earlier work in cultured cells (e.g. Taslimi et al. 2014). ASC specks can form anywhere in the cell, while Cry2olig-ASC has a preference for the cell cortex, but this is not absolute. In keratinocytes, but not in basal cells, the speck usually forms close to the lateral membrane. In the absence of endogenous ASC no real speck is formed but Opto-ASC in this case shows no clear localisation of Opto-ASC to the membrane.
In view of the variation we see, a strict quantification is difficult: what would be the 'correct' definition of classes to look at? To make statistically significant statements, we would need an enormous number of examples in which we could control for all of the variation of expression levels, cell size, day to day variation etc, and we currently don't have these. We hope the qualitative evidence in the micrographs we show represents the differences well, and we will be happy to provide a larger number of images, if the referees feel this would be helpful.
With the non functional CRY2olig Asc fusion (Cter fusion), do they still see transient olig2 clustering which then reverse when blue light illumination is gone? I think it might be useful to clarify these points in the main text since most of the quantifications are based on speck localisation/numbering, so their characteristics have to be very well defined.
That would be interesting to work out, but after our initial experiments with this construct, we did not pursue this further, since it was not a pressing issue at the time. If we can fit this into our planned experimental time table, we will re-assess it. However, while of interest, we feel these data would not add substantially to what we know at this point.
2. In all the snapshots of speck formation, there seems to be a relative enrichment of the ASC signal at the cytoplasmic membrane (relative to the cytoplasm) prior to strong speck formation. This seems specific of optoASC as it does not seem to happen for the endogeneous ASC or upon overexpression of ASC-mKate (both in this study and in the previous study published by the same group). Is this apparent membrane enrichment something reproducible? (I see that on pretty much every example of this manuscript). If so what could be the explanation? Is there an actual recruitment at the membrane or is it because the membrane/cortical pool takes longer to be recruited in the speck (hence looking relatively more enriched at intermediate time points).
See our speculations in response to point 1 of the first referee.
We too would really like to understand this, but see no easy and efficient way of testing it at this point.
3. There is also a very distinctive ring accumulation that seems to match with apical constriction and/or a putative actomyosin ring (since this is perfectly round, it could match with a structure with high line tension) (see Figure 1E, Figure 3B, Figure 4D…). Is it something already known? Could the authors comment a bit more on this? This could suggest that ASC accumulates in actomyosin cortex, which would be a very interesting property.
We see that we had failed to be clear about this.
There are two types of actin-labelled rings that appear around dying cells. One is formed by the epithelial cells that surround the dying cell. This structure becomes visible as soon as the cell begins to shrink. That it is formed by the surrounding cells is clear from mosaics where the dying cell does not express the actin marker (e.g. suppl. Figure 4A) and the parts of the ring are seen only in the subset of surrounding cells that do express the marker. This ring is also not circular, but follows the polygonal shape of the shrinking cell. We believe that this is the contractile structure that closes the wound, as observed in many other cases of wound healing.
The other is the one the referee describes here. It is formed within the dying cell, as shown by the fact that it is visible in labelled cells when all the surrounding cells are negative for the marker. The other difference is that it appears only once the dying cell has already contracted considerably and begins to round up and be extruded (most clearly seen in Figure 1E). The third referee had raised a similar point in relation to the same structure seen in Figure 6C, and we provide below the requested analysis. It relies on resolution in the y-axis, which is unsatisfactory, but nevertheless, it is clear that this ring is in a plane above the apical surface of the epithelium (marked by the red membrane marker, i.e is present in the detaching cell). It may well simply be actin appearing in the entire cortex of the cell as it rounds up and looking like a ring when seen from above. A completely different method for imaging would have to be set up to document this reliably, but we hope that these explanations help to clarify the confusion we may have created.
We do not see this accumulation in cells that leave the epithelium towards the interior (see figure in the response to 'minor points' below).
4. In the end, since cell death can also occur without visible speck formation, I am wondering if they are eventually the most relevant structure to be quantified. Is it because speck can be dissolved upon caspase activation and could it relates to the speed at which caspase are activated (which may not leave enough time for strong aggregation and visible speck formation)? I believe it would help to get more explanation/discussion on this point.
As already mentioned above, it is indeed not obvious what the significance of the large speck is (and it is extremely puzzling why it is that normally one a single one forms in each cell). We agree that it is not necessarily functionally relevant for the signalling outcome to quantify this property – but nor was this the purpose of this work. Regardless of what kind of aggregate is formed, the optogenetic tool allows the induction of ASC-dependent cell death, and therefore the study of the ensuing cellular events.
5. The compensatory mechanisms that lead to cell death/extrusion despite depletion of caspb is very interesting. Could the authors use some pan caspase inhibitor (like zvad FMK) to confirm that this block opto-ASC cell death also in this context? Alternatively could they check the status of effector caspase activation using live probe (nucview) or immunostaining in the context of caspb depletion?
Those would be interesting avenues to pursue. However, for the reason stated above (Leptin lab closing down, members of fish group no longer at EMBL), we are forced to restrict ourselves to the most important experiments, and think we should prioritize the ones mentioned above.
6. If I understand well, Figure 7C on the right side suggest that the double KO cells don't extrude (if indeed "no change" mean no extrusion, by the way this nomenclature may deserve some clarification in the legend). I don't think these results are mentioned at any point in the main text, but it would be important to include them (since this is an important control).
This interpretation is in fact correct, and we have changed the labelling in the figure to 'no immediate death'
7. Waves of calcium following cell death and cell extrusion have been previously characterised (Takeushi et al. Curr Biol 2020, Y Fujita group). Interestingly, in this previous article they observed waves of calcium near Caspase8 induced death (in MDCK) as well as near laser induced death in zebrafish, while apparently the authors don't see such Calcium waves upon Caspase8 activation in the zebrafish here. I think it would be important to include a comparison of the authors results with this previous paper in the discussion
We have included this in our discussion.
8. There is also a previous study which characterised the impact of caspase1 on cell extrusion (Bonfim Melo et al. Cell Report 2022, A. Yap lab) which promotes apical extrusion in Caco2 cells. I think it would also be important to include this work in the discussion and to compare with the results obtain here in vivo.
We have included this in our discussion.
Other minor points:

1. Line 439: are the numbers given in percentage? if these are absolute numbers, it is out of how many cells ? Same remark line 445: what are the number of cases representing? (percentage?)
We have rephrased this to make it unambiguous.
2. Figure 5: could the authors show periderm and basal cell extrusion with the same type of markers? (membrane or actin or ZO1)? This would help to really compare accurately the morphology and the remodellings associated.
We used Utr-mNeonGreen to lable actin both in periderm and basal cells. Actin labeling of extruded periderm cells is shown in figure 6C, actin labeling of a dying basal cells and the overlying periderm cells is shown in supplementary figure 5A.
3. Is there any obvious differences in cell size or characteristic cell shape between the classic lab strains (golden, AB, AB2B2) and the WIK and experiment strain used here? I do acknowledge that this is clearly not the focus of this study, but given this striking difference (which is related to an important question in the field of extrusion), it would interesting to mention this if there is anything obvious.
We will make these measurements and include the data.
4. Figure 6C: what is exactly the localisation in Z of this strong actin accumulation observed during apical extrusion? Is it apical or is it rather on the basal side of the cell? A lateral view of actin could be useful in this figure for all the different conditions described.
See response to 'main point 3' above.
The images that show this are below. However, even from these images it is hard to appreciate the locations. They are in fact much easier to see by following the movies over time, and through the z-sections at any given time point. We will of course submit the movies with the manuscript.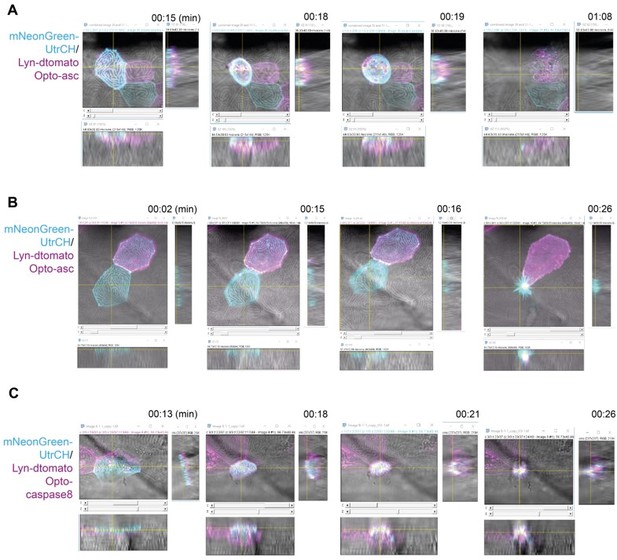 5. Figure S3B: could the authors show the utrophin-neonGreen channel separatly? Is there a ring of actin in the dying cell? Also are the membrane protrusion formed more basally? (I suspect this is a z projection, but this would need to be specified in the legend).

6. Figure 4A legend: I guess the authors meant red arrowheads rather than frame ?
This has been corrected
7. I list below a number of typos I could find in the main text
Thanks for noticing these, we have corrected all of these, as well as further typos we found.
Line 29: in.

Line 30: but.

Line 151 : from the …[…] (tissue ?)

Line 161: there is most likely a text commenting that was not removed (for how long?)

Line 262: generated (egnrtd).

Line 268: whereas showed a delay (the subject is missing).

Line 269: a point is missing.

Line 362: which the lack.

Line 368: a point is missing.

Line 400: a space is lacking "cellsdepending".

Line 438: shrinkwe (space).

Line 459 : or I infections.

Line 525: there is a point missing.

Description of the revisions that have already been incorporated in the transferred manuscript

We have thoroughly re-edited the text, not only for the typos etc. mentioned by the referees, but also for other aspects of grammar, ambiguity etc. We also added text on the additional points in the main text and discussion as suggested by the referees. We will obviously have to do a final edit once we have carried out the additional experiments.

Description of analyses that authors prefer not to carry out

As indicated in the introductory note, we would love to continue this project, including in the directions the referees propose, but we will have to limit ourselves to those that are most important to strengthen the points we make. The experiments mentioned by referee 3 under point 5 would take some testing of conditions and reagents, and while we will give it a try while the two first authors will have the opportunity to return to EMBL for additional experimental work, we can only do this if the experiments with higher priority will work as smoothly and efficiently as we are hoping they will. And we agree with the referee that this is an interesting avenue to pursue, but feel it is not essential to support the validation of the tools we describe or support the other results we present.

5. The compensatory mechanisms that lead to cell death/extrusion despite depletion of caspb is very interesting. Could the authors use some pan caspase inhibitor (like zvad FMK) to confirm that this block opto-ASC cell death also in this context? Alternatively could they check the status of effector caspase activation using live probe (nucview) or immunostaining in the context of caspb depletion?
Those would be interesting avenues to pursue. However, for the reason stated above (Leptin lab closing down, members of fish group no longer at EMBL), we are forced to restrict ourselves to the most important experiments, and think we should prioritize the ones mentioned above.
https://doi.org/10.7554/eLife.86373.sa2
Article and author information
Author details
European Research Council (ERC2017-CoG-770988-InflamCellDeath)
Swiss National Science Foundation (175576)
Swiss National Science Foundation (198005)
The funders had no role in study design, data collection and interpretation, or the decision to submit the work for publication.
The authors thank the Advanced Light Microscopy Facility (AMLF) at the EMBL-Heidelberg for their continued support and Manuel Gunkel for his help with laser intensity measurements. The authors thank Darren Gilmour and Jonas Hartmann for providing the Tg(6xUAS:mneonGreen-UtrCH) zebrafish line. We thank Alexandre Paix for providing guidance and material for CRISPR/Cas9 experiments and Takehito Tomita for help with analysis of GCamp6 imaging data. We thank Girogia Rapti for providing lab space for and Christina Pallares Cartes and Jayan Nair for helping with revision experiments. ML thanks EMBL and the Developmental Biology unit for space and general support, and EMBO for funding. The work in PB's lab was supported by grants from the ERC (ERC2017-CoG-770988-InflamCellDeath), the Swiss National Science Foundation (175576 and 198005), the OPO Stiftung and Novartis.
All experimental procedures were approved by the EMBL Institutional; Animal Care and Use Committee (IACUC nos. 2019-03-19ML).
Senior and Reviewing Editor
Carla V Rothlin, Yale University, United States
© 2023, Hasel de Carvalho et al.
This article is distributed under the terms of the Creative Commons Attribution License, which permits unrestricted use and redistribution provided that the original author and source are credited.
939

Page views

71

Downloads

0

Citations
Article citation count generated by polling the highest count across the following sources: Crossref, PubMed Central, Scopus.
A two-part list of links to download the article, or parts of the article, in various formats.
Downloads
(link to download the article as PDF)
Open citations
(links to open the citations from this article in various online reference manager services)
Cite this article
(links to download the citations from this article in formats compatible with various reference manager tools)
Eva Hasel de Carvalho
Shivani S Dharmadhikari
Kateryna Shkarina
Jingwei Rachel Xiong
Bruno Reversade
Petr Broz
Maria Leptin
The Opto-inflammasome in zebrafish as a tool to study cell and tissue responses to speck formation and cell death
eLife 12:e86373.
https://doi.org/10.7554/eLife.86373
Further reading
Immunology and Inflammation

The co-expression of inhibitory receptors (IRs) is a hallmark of CD8+ T-cell exhaustion (Tex) in people living with HIV-1 (PLWH). Understanding alterations of IRs expression in PLWH on long-term antiretroviral treatment (ART) remains elusive but is critical to overcoming CD8+ Tex and designing novel HIV-1 cure immunotherapies. To address this, we combine high-dimensional supervised and unsupervised analysis of IRs concomitant with functional markers across the CD8+ T-cell landscape on 24 PLWH over a decade on ART. We define irreversible alterations of IRs co-expression patterns in CD8+ T cells not mitigated by ART and identify negative associations between the frequency of TIGIT+ and TIGIT+ TIM-3+ and CD4+ T-cell levels. Moreover, changes in total, SEB-activated, and HIV-1-specific CD8+ T cells delineate a complex reshaping of memory and effector-like cellular clusters on ART. Indeed, we identify a selective reduction of HIV-1 specific-CD8+ T-cell memory-like clusters sharing TIGIT expression and low CD107a that can be recovered by mAb TIGIT blockade independently of IFNγ and IL-2. Collectively, these data characterize with unprecedented detail the patterns of IRs expression and functions across the CD8+ T-cell landscape and indicate the potential of TIGIT as a target for Tex precision immunotherapies in PLWH at all ART stages.

Genetics and Genomics
Immunology and Inflammation

Age-associated DNA methylation in blood cells convey information on health status. However, the mechanisms that drive these changes in circulating cells and their relationships to gene regulation are unknown. We identified age-associated DNA methylation sites in six purified blood-borne immune cell types (naive B, naive CD4+ and CD8+ T cells, granulocytes, monocytes, and NK cells) collected from healthy individuals interspersed over a wide age range. Of the thousands of age-associated sites, only 350 sites were differentially methylated in the same direction in all cell types and validated in an independent longitudinal cohort. Genes close to age-associated hypomethylated sites were enriched for collagen biosynthesis and complement cascade pathways, while genes close to hypermethylated sites mapped to neuronal pathways. In silico analyses showed that in most cell types, the age-associated hypo- and hypermethylated sites were enriched for ARNT (HIF1β) and REST transcription factor (TF) motifs, respectively, which are both master regulators of hypoxia response. To conclude, despite spatial heterogeneity, there is a commonality in the putative regulatory role with respect to TF motifs and histone modifications at and around these sites. These features suggest that DNA methylation changes in healthy aging may be adaptive responses to fluctuations of oxygen availability.

Immunology and Inflammation
Neuroscience

Infection with Influenza A virus (IAV) causes the well-known symptoms of the flu, including fever, loss of appetite, and excessive sleepiness. These responses, mediated by the brain, will normally disappear once the virus is cleared from the system, but a severe respiratory virus infection may cause long-lasting neurological disturbances. These include encephalitis lethargica and narcolepsy. The mechanisms behind such long lasting changes are unknown. The hypothalamus is a central regulator of the homeostatic response during a viral challenge. To gain insight into the neuronal and non-neuronal molecular changes during an IAV infection, we intranasally infected mice with an H1N1 virus and extracted the brain at different time points. Using single-nucleus RNA sequencing (snRNA-seq) of the hypothalamus, we identify transcriptional effects in all identified cell populations. The snRNA-seq data showed the most pronounced transcriptional response at 3 days past infection, with a strong downregulation of genes across all cell types. General immune processes were mainly impacted in microglia, the brain resident immune cells, where we found increased numbers of cells expressing pro-inflammatory gene networks. In addition, we found that most neuronal cell populations downregulated genes contributing to the energy homeostasis in mitochondria and protein translation in the cytosol, indicating potential reduced cellular and neuronal activity. This might be a preventive mechanism in neuronal cells to avoid intracellular viral replication and attack by phagocytosing cells. The change of microglia gene activity suggest that this is complemented by a shift in microglia activity to provide increased surveillance of their surroundings.