Electron Microscopy: Tomography gives a new dimension to an ancient organelle
When Antoni van Leeuwenhoek—who is often considered to be the 'Father of Microbiology'—looked down his microscope in 1675, he saw that some single-celled microbes had hair-like projections that moved with a sweeping motion. These organelles later came to be known as cilia, and they have been studied by countless biologists ever since (Beales and Jackson, 2012). These investigations have revealed that cilia can have a range of different structures and perform many different functions. We now know how a cell builds an individual cilium, but we still do not fully understand the range of cilia structures and functions observed in nature. Since the disruption of cilia can cause kidney disease, male infertility, neuropsychiatric disorders and various other 'ciliopathies', there are strong motivations to understand how this diversity of structures and functions arises.
In addition to the 'sweeping' cilia that were observed first, many cells have cilia that do not move. On neurons, these non-motile cilia are involved in detecting touch, specific chemicals, or changes in temperature. The nervous system of the worm Caenorhabditis elegans has been an important model for both functional and developmental neurobiology since the late 1960s (Ankeny, 2001), and a number of important breakthroughs were made in the mid-1980s. In particular, the 'wiring diagram' for the 302 neurons in C. elegans was elucidated (White et al., 1986), and the details of the sensory systems in the head and tail were worked out (Perkins et al., 1986).
Now, in eLife, a collaboration led by Piali Sengupta and Daniela Nicastro of Brandeis University—including David Doroquez and Cristina Berciu of Brandeis as joint first authors, and James Anderson of the University of Utah—has generated a three-dimensional reconstruction of the different ciliated-neurons and associated support cells from the head of C. elegans in unprecedented detail (Doroquez et al., 2014). By using the latest methods in tissue preservation and high-resolution electron tomography, Doroquez, Berciu et al. have, in effect, been able to transform old-fashioned black and white 'snapshots' into breathtaking 3D-models and movies.
Rapidly freezing the worms in a high-pressure environment immobilized the sample within a fraction of a millisecond and minimized shifts in the components of each cell. The worms were then cut into extremely thin slices, and electron tomography was used to create 3D models of the cells in the worm's head from 2D electron microscopy images of each slice (for a review, see Lucic et al., 2005).
Although these techniques have already been used to examine the internal structures of cilia, this is the first time that they have been used to study a range of different types of cilia in an intact sensory system. Not surprisingly, this unprecedented level of detail revealed some features that had not been seen before (Figure 1). For example, C. elegans cilia were shown to lack the so-called 'transition fibers' that connect the cilium and the cilia base; this means that structures that were previously interpreted as transition fibers were in fact imaging artifacts. Doroquez, Berciu et al. also observed vesicles—small membrane-bound packages that move molecules around within cells—within the ciliary base or transition zone. In the past it had been assumed that cilia did not contain vesicles, so their presence suggests that an alternative means of transporting molecules might operate within a cilium.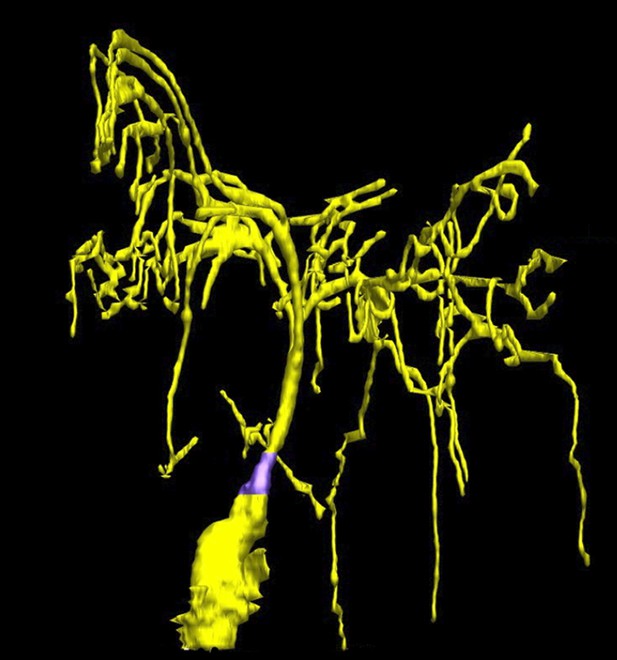 Cilia are supported from within by a molecular scaffold that is made of hollow filaments called microtubules. Previous studies revealed the presence of 'electron-dense material', largely proteins, inside the microtubules of the long cilia—sometimes called flagella—that are found in single-celled microorganisms and sea urchin sperm (Heuser et al., 2009; Pigino et al., 2012). Some cilia from C. elegans also had electron-dense material inside certain microtubules that are linked together via thin fibers. These C. elegans cilia are important for worm foraging and for avoiding danger, and they resemble touch-sensitive receptors called campaniform mechanoreceptors that are found in insects. This observation suggests a correlation between these specific adaptations in the shape of cilia and the cilia being particularly sensitive to touch.
The high-resolution reconstruction of the sensory system in the head of C. elegans reveals previously unknown and unforeseen associations between ciliated-sensory neurons and their supporting cells, called glia. Cilia and the branches of neurons, called dendritic spines, have been proposed to be comparable in their ability to convey environmental signals and nerve impulses, respectively (Nechipurenko et al., 2013). This raises an interesting question: Do cilia-associated glia function in a similar way to those at the junctions between neurons, and do they modulate a cilium's ability to receive and/or transmit a signal?
The work of Doroquez, Berciu et al. also raises other questions. How are the elaborate ciliated-endings that are observed in the images actually sculpted? What is the biological or functional relevance of the physical connection between neuronal cilia and glial support cells? A challenge going forward is to link this reconstruction with advances in imaging. This could include tracking changes in the concentration of ions, such as calcium, that are involved in nerve impulses in living animals. Alternatively, super-resolution microscopy could be used to visualize structures of biomolecules in order to understand how sensory information is received and processed by the nervous system. This work sets the stage to address these questions, and to apply what has been learned in the C. elegans paradigm to more complex sensory systems and to ciliated cells hidden deep in the mammalian body, such as in the brain.
Article and author information
Author details
© 2014, Silva and Barr
This article is distributed under the terms of the Creative Commons Attribution License, which permits unrestricted use and redistribution provided that the original author and source are credited.
688

Page views

43

Downloads

0

Citations
Article citation count generated by polling the highest count across the following sources: Crossref, PubMed Central, Scopus.
A two-part list of links to download the article, or parts of the article, in various formats.
Downloads
(link to download the article as PDF)
Open citations
(links to open the citations from this article in various online reference manager services)
Cite this article
(links to download the citations from this article in formats compatible with various reference manager tools)
Malan Silva
Maureen M Barr
Electron Microscopy: Tomography gives a new dimension to an ancient organelle
eLife 3:e02589.
https://doi.org/10.7554/eLife.02589
Further reading
Structural Biology and Molecular Biophysics

Cell Biology

Many primary sensory cilia exhibit unique architectures that are critical for transduction of specific sensory stimuli. Although basic ciliogenic mechanisms are well described, how complex ciliary structures are generated remains unclear. Seminal work performed several decades ago provided an initial but incomplete description of diverse sensory cilia morphologies in C. elegans. To begin to explore the mechanisms that generate these remarkably complex structures, we have taken advantage of advances in electron microscopy and tomography, and reconstructed three-dimensional structures of fifty of sixty sensory cilia in the C. elegans adult hermaphrodite at high resolution. We characterize novel axonemal microtubule organization patterns, clarify structural features at the ciliary base, describe new aspects of cilia–glia interactions, and identify structures suggesting novel mechanisms of ciliary protein trafficking. This complete ultrastructural description of diverse cilia in C. elegans provides the foundation for investigations into underlying ciliogenic pathways, as well as contributions of defined ciliary structures to specific neuronal functions.

Cell Biology

Structural Biology and Molecular Biophysics

Dynein harnesses ATP hydrolysis to move cargo on microtubules in multiple biological contexts. Dynein meets a unique challenge in meiosis by moving chromosomes tethered to the nuclear envelope to facilitate homolog pairing essential for gametogenesis. Though processive dynein motility requires binding to an activating adaptor, the identity of the activating adaptor required for dynein to move meiotic chromosomes is unknown. We show that the meiosis-specific nuclear-envelope protein KASH5 is a dynein activating adaptor: KASH5 directly binds dynein using a mechanism conserved among activating adaptors and converts dynein into a processive motor. We map the dynein-binding surface of KASH5, identifying mutations that abrogate dynein binding in vitro and disrupt recruitment of the dynein machinery to the nuclear envelope in cultured cells and mouse spermatocytes in vivo. Our study identifies KASH5 as the first transmembrane dynein activating adaptor and provides molecular insights into how it activates dynein during meiosis.

Structural Biology and Molecular Biophysics

The acidic luminal pH of lysosomes, maintained within a narrow range, is essential for proper degrative function of the organelle and is generated by the action of a V-type H+ ATPase, but other pathways for ion movement are required to dissipate the voltage generated by this process. ClC-7, a Cl-/H+ antiporter responsible for lysosomal Cl- permeability, is a candidate to contribute to the acidification process as part of this 'counterion pathway' The signaling lipid PI(3,5)P2 modulates lysosomal dynamics, including by regulating lysosomal ion channels, raising the possibility that it could contribute to lysosomal pH regulation. Here, we demonstrate that depleting PI(3,5)P2 by inhibiting the kinase PIKfyve causes lysosomal hyperacidification, primarily via an effect on ClC-7. We further show that PI(3,5)P2 directly inhibits ClC-7 transport and that this inhibition is eliminated in a disease-causing gain-of-function ClC-7 mutation. Together, these observations suggest an intimate role for ClC-7 in lysosomal pH regulation.