RNA Localization: Finding FISH in a small pond
It makes sense to organize manufacturing around infrastructure. For example, if you are building ships, it is better to build them by the sea than inland. The major form of manufacturing in a cell is protein synthesis and, like shipbuilders, cells often make proteins at the sites where they are needed (Buxbaum et al., 2015). This is possible because mobile mRNA molecules can carry genetic information from the chromosomes to other sites in the cell.
Most genes in eukaryotes reside in the nucleus, but the mRNAs must be translated into proteins outside of the nucleus in the cytosol. It is thus understandable why most researchers interested in mRNA localization study the process in eukaryotic cells rather than in bacteria (which, of course, don't have a nucleus). Bacterial cells are also, as a rule, smaller than those of eukaryotes. In fact, most bacteria are not much bigger than the diffraction limit of light. This means that it is difficult to distinguish between different structures within a bacterium under a conventional light microscope, which is likely another reason why we know much less about RNA localization in bacteria.
Now, in eLife, Xiaowei Zhuang and colleagues at Harvard University – including Jeffrey Moffitt as first author – report that the bacterium Escherichia coli also localizes its mRNAs within its cells (Moffitt et al., 2016). The Harvard team solved the problem related to the bacterium's small size by combining a super-resolution microscopy technique called STORM (Huang et al., 2008) with a labeling technique called FISH (short for "fluorescent in situ hybridization"). Their labeling approach relied on engineering fluorescent probes that bind to specific subsets of mRNAs. These probes revealed that, like in eukaryotes, different mRNAs in bacterial cells are organized at different locations (Figure 1). Specifically, Moffitt et al. found that mRNAs that encode proteins destined for the inner membrane of the bacterium were enriched at this membrane.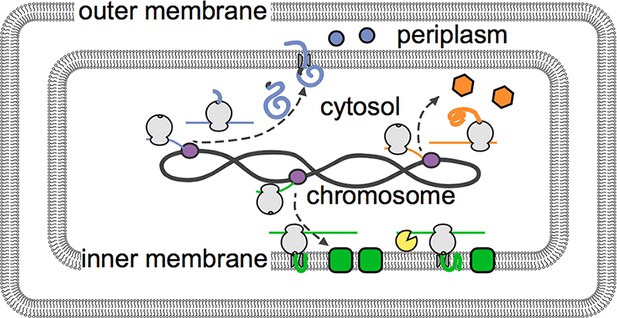 Most membrane proteins insert into membranes via hydrophobic (or 'water-hating') sections that sit within the oil-like interior of a membrane (Sharpe et al., 2010). However, these hydrophobic sections also make the proteins prone to aggregating in the cytosol, which is mostly water. Inserting the proteins into the membrane whilst they are being built neatly solves this problem.
A protein-RNA complex called the signal recognition particle (SRP) recognizes a hydrophobic portion of a membrane protein as it emerges from the ribosome (the cellular machine that translates mRNA molecules into proteins). The SRP then shields this part of the protein, which is referred to as a signal peptide, from the watery cytosol and brings it to the membrane. In eukaryotes, a specific part of the SRP temporarily pauses the ribosome until it reaches the membrane. The SRP in bacteria lacks this part (Halic et al., 2004), yet it can nevertheless interact with an active ribosome (Noriega et al., 2014). This suggested that the SRP might still work in a similar way in eukaryotes and bacteria.
Moffitt et al. decided to test this idea. They found that mRNAs for a synthetic protein with a signal peptide did indeed localize to the inner membrane of E. coli. However, this didn't happen if an antibiotic called kasugumycin prevented the translation process from starting. Together, these data show that the signal peptide recruits mRNAs to the membrane.
A complex of enzymes that processes and degrades RNA also localizes to the inner membrane of E. coil (Mackie, 2013). This led Moffitt et al. to ask if membrane-localized mRNAs are less stable than their counterparts in the cytosol. The answer to this question is yes: on average, membrane-associated mRNAs have shorter lives than those in the cytosol. Inhibiting translation, which is required for localization to the membrane, counteracted this effect. Preventing the RNA-degrading enzyme complex from localizing to the membrane also protected the membrane-associated mRNAs. Further research is now required to understand the biological consequences of coupling membrane localization with enhanced breakdown of RNAs.
The Nobel prize-winning biologist Jacques Monod famously quipped, "what's true of E. coli is true of the elephant, only more so." Moffitt et al. have now once again proven Monod right. Both E. coli and elephants (as an example of a eukaryote) localize many mRNAs within their cells. Equipped with new and powerful techniques, it will be exciting to see what else elephants can teach us about bacteria and vice versa.
Article and author information
Author details
© 2016, Jan
This article is distributed under the terms of the Creative Commons Attribution License, which permits unrestricted use and redistribution provided that the original author and source are credited.
1,486

Page views

176

Downloads

2

Citations
Article citation count generated by polling the highest count across the following sources: Crossref, Scopus, PubMed Central.
A two-part list of links to download the article, or parts of the article, in various formats.
Downloads
(link to download the article as PDF)
Open citations
(links to open the citations from this article in various online reference manager services)
Cite this article
(links to download the citations from this article in formats compatible with various reference manager tools)
Calvin H Jan
RNA Localization: Finding FISH in a small pond
eLife 5:e16598.
https://doi.org/10.7554/eLife.16598
Further reading
Spatial organization of the transcriptome has emerged as a powerful means for regulating the post-transcriptional fate of RNA in eukaryotes; however, whether prokaryotes use RNA spatial organization as a mechanism for post-transcriptional regulation remains unclear. Here we used super-resolution microscopy to image the E. coli transcriptome and observed a genome-wide spatial organization of RNA: mRNAs encoding inner-membrane proteins are enriched at the membrane, whereas mRNAs encoding outer-membrane, cytoplasmic and periplasmic proteins are distributed throughout the cytoplasm. Membrane enrichment is caused by co-translational insertion of signal peptides recognized by the signal-recognition particle. Time-resolved RNA-sequencing revealed that degradation rates of inner-membrane-protein mRNAs are on average greater that those of the other mRNAs and that this selective destabilization of inner-membrane-protein mRNAs is abolished by dissociating the RNA degradosome from the membrane. Together, these results demonstrate that the bacterial transcriptome is spatially organized and suggest that this organization shapes the post-transcriptional dynamics of mRNAs.

Structural Biology and Molecular Biophysics

Calcium ion movements between cellular stores and the cytosol govern muscle contraction, the most energy-consuming function in mammals, which confers skeletal myofibers a pivotal role in glycemia regulation. Chronic myoplasmic calcium elevation ("calcium stress"), found in malignant hyperthermia-susceptible (MHS) patients and multiple myopathies, has been suggested to underlie the progression from hyperglycemia to insulin resistance. What drives such progression remains elusive. We find that muscle cells derived from MHS patients have increased content of an activated fragment of GSK3β — a specialized kinase that inhibits glycogen synthase, impairing glucose utilization and delineating a path to hyperglycemia. We also find decreased content of junctophilin1, an essential structural protein that colocalizes in the couplon with the voltage-sensing CaV1.1, the calcium channel RyR1 and calpain1, accompanied by an increase in a 44 kDa junctophilin1 fragment (JPh44) that moves into nuclei. We trace these changes to activated proteolysis by calpain1, secondary to increased myoplasmic calcium. We demonstrate that a JPh44-like construct induces transcriptional changes predictive of increased glucose utilization in myoblasts, including less transcription and translation of GSK3β and decreased transcription of proteins that reduce utilization of glucose. These effects reveal a stress-adaptive response, mediated by the novel regulator of transcription JPh44.

Cell Biology
Structural Biology and Molecular Biophysics

The lissencephaly 1 protein, LIS1, is mutated in type-1 lissencephaly and is a key regulator of cytoplasmic dynein-1. At a molecular level, current models propose that LIS1 activates dynein by relieving its autoinhibited form. Previously we reported a 3.1 Å structure of yeast dynein bound to Pac1, the yeast homologue of LIS1, which revealed the details of their interactions (Gillies et al., 2022). Based on this structure, we made mutations that disrupted these interactions and showed that they were required for dynein's function in vivo in yeast. We also used our yeast dynein-Pac1 structure to design mutations in human dynein to probe the role of LIS1 in promoting the assembly of active dynein complexes. These mutations had relatively mild effects on dynein activation, suggesting that there may be differences in how dynein and Pac1/LIS1 interact between yeast and humans. Here, we report cryo-EM structures of human dynein-LIS1 complexes. Our new structures reveal the differences between the yeast and human systems, provide a blueprint to disrupt the human dynein-LIS1 interactions more accurately, and map type-1 lissencephaly disease mutations, as well as mutations in dynein linked to malformations of cortical development/intellectual disability, in the context of the dynein-LIS1 complex.