RNA Localization: Finding FISH in a small pond
It makes sense to organize manufacturing around infrastructure. For example, if you are building ships, it is better to build them by the sea than inland. The major form of manufacturing in a cell is protein synthesis and, like shipbuilders, cells often make proteins at the sites where they are needed (Buxbaum et al., 2015). This is possible because mobile mRNA molecules can carry genetic information from the chromosomes to other sites in the cell.
Most genes in eukaryotes reside in the nucleus, but the mRNAs must be translated into proteins outside of the nucleus in the cytosol. It is thus understandable why most researchers interested in mRNA localization study the process in eukaryotic cells rather than in bacteria (which, of course, don't have a nucleus). Bacterial cells are also, as a rule, smaller than those of eukaryotes. In fact, most bacteria are not much bigger than the diffraction limit of light. This means that it is difficult to distinguish between different structures within a bacterium under a conventional light microscope, which is likely another reason why we know much less about RNA localization in bacteria.
Now, in eLife, Xiaowei Zhuang and colleagues at Harvard University – including Jeffrey Moffitt as first author – report that the bacterium Escherichia coli also localizes its mRNAs within its cells (Moffitt et al., 2016). The Harvard team solved the problem related to the bacterium's small size by combining a super-resolution microscopy technique called STORM (Huang et al., 2008) with a labeling technique called FISH (short for "fluorescent in situ hybridization"). Their labeling approach relied on engineering fluorescent probes that bind to specific subsets of mRNAs. These probes revealed that, like in eukaryotes, different mRNAs in bacterial cells are organized at different locations (Figure 1). Specifically, Moffitt et al. found that mRNAs that encode proteins destined for the inner membrane of the bacterium were enriched at this membrane.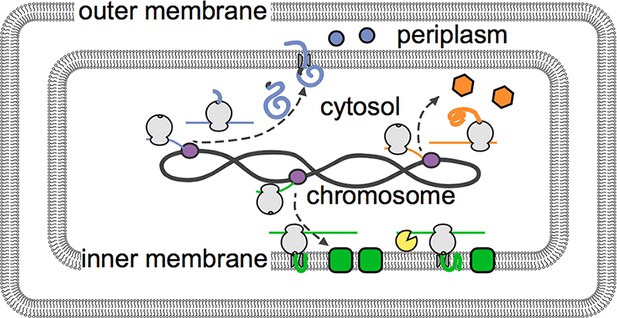 Most membrane proteins insert into membranes via hydrophobic (or 'water-hating') sections that sit within the oil-like interior of a membrane (Sharpe et al., 2010). However, these hydrophobic sections also make the proteins prone to aggregating in the cytosol, which is mostly water. Inserting the proteins into the membrane whilst they are being built neatly solves this problem.
A protein-RNA complex called the signal recognition particle (SRP) recognizes a hydrophobic portion of a membrane protein as it emerges from the ribosome (the cellular machine that translates mRNA molecules into proteins). The SRP then shields this part of the protein, which is referred to as a signal peptide, from the watery cytosol and brings it to the membrane. In eukaryotes, a specific part of the SRP temporarily pauses the ribosome until it reaches the membrane. The SRP in bacteria lacks this part (Halic et al., 2004), yet it can nevertheless interact with an active ribosome (Noriega et al., 2014). This suggested that the SRP might still work in a similar way in eukaryotes and bacteria.
Moffitt et al. decided to test this idea. They found that mRNAs for a synthetic protein with a signal peptide did indeed localize to the inner membrane of E. coli. However, this didn't happen if an antibiotic called kasugumycin prevented the translation process from starting. Together, these data show that the signal peptide recruits mRNAs to the membrane.
A complex of enzymes that processes and degrades RNA also localizes to the inner membrane of E. coil (Mackie, 2013). This led Moffitt et al. to ask if membrane-localized mRNAs are less stable than their counterparts in the cytosol. The answer to this question is yes: on average, membrane-associated mRNAs have shorter lives than those in the cytosol. Inhibiting translation, which is required for localization to the membrane, counteracted this effect. Preventing the RNA-degrading enzyme complex from localizing to the membrane also protected the membrane-associated mRNAs. Further research is now required to understand the biological consequences of coupling membrane localization with enhanced breakdown of RNAs.
The Nobel prize-winning biologist Jacques Monod famously quipped, "what's true of E. coli is true of the elephant, only more so." Moffitt et al. have now once again proven Monod right. Both E. coli and elephants (as an example of a eukaryote) localize many mRNAs within their cells. Equipped with new and powerful techniques, it will be exciting to see what else elephants can teach us about bacteria and vice versa.
Article and author information
Author details
© 2016, Jan
This article is distributed under the terms of the Creative Commons Attribution License, which permits unrestricted use and redistribution provided that the original author and source are credited.
1,473

Page views

176

Downloads

2

Citations
Article citation count generated by polling the highest count across the following sources: Crossref, Scopus, PubMed Central.
A two-part list of links to download the article, or parts of the article, in various formats.
Downloads
(link to download the article as PDF)
Open citations
(links to open the citations from this article in various online reference manager services)
Cite this article
(links to download the citations from this article in formats compatible with various reference manager tools)
Calvin H Jan
RNA Localization: Finding FISH in a small pond
eLife 5:e16598.
https://doi.org/10.7554/eLife.16598
Further reading
Spatial organization of the transcriptome has emerged as a powerful means for regulating the post-transcriptional fate of RNA in eukaryotes; however, whether prokaryotes use RNA spatial organization as a mechanism for post-transcriptional regulation remains unclear. Here we used super-resolution microscopy to image the E. coli transcriptome and observed a genome-wide spatial organization of RNA: mRNAs encoding inner-membrane proteins are enriched at the membrane, whereas mRNAs encoding outer-membrane, cytoplasmic and periplasmic proteins are distributed throughout the cytoplasm. Membrane enrichment is caused by co-translational insertion of signal peptides recognized by the signal-recognition particle. Time-resolved RNA-sequencing revealed that degradation rates of inner-membrane-protein mRNAs are on average greater that those of the other mRNAs and that this selective destabilization of inner-membrane-protein mRNAs is abolished by dissociating the RNA degradosome from the membrane. Together, these results demonstrate that the bacterial transcriptome is spatially organized and suggest that this organization shapes the post-transcriptional dynamics of mRNAs.

Structural Biology and Molecular Biophysics

Gasdermin-D (GSDMD) is the ultimate effector of pyroptosis, a form of programmed cell death associated with pathogen invasion and inflammation. After proteolytic cleavage by caspases, the GSDMD N-terminal domain (GSDMDNT) assembles on the inner leaflet of the plasma membrane and induces the formation of membrane pores. We use atomistic molecular dynamics simulations to study GSDMDNT monomers, oligomers, and rings in an asymmetric plasma membrane mimetic. We identify distinct interaction motifs of GSDMDNT with phosphatidylinositol-4,5-bisphosphate (PI(4,5)P2) and phosphatidylserine (PS) headgroups and describe their conformational dependence. Oligomers are stabilized by shared lipid binding sites between neighboring monomers acting akin to double-sided tape. We show that already small GSDMDNT oligomers support stable, water-filled, and ion-conducting membrane pores bounded by curled beta-sheets. In large-scale simulations, we resolve the process of pore formation from GSDMDNT arcs and lipid efflux from partial rings. We find that high-order GSDMDNT oligomers can crack under the line tension of 86 pN created by an open membrane edge to form the slit pores or closed GSDMDNT rings seen in atomic force microscopy experiments. Our simulations provide a detailed view of key steps in GSDMDNT-induced plasma membrane pore formation, including sublytic pores that explain nonselective ion flux during early pyroptosis.

Neuroscience
Structural Biology and Molecular Biophysics

Piezo1 is a stretch-gated ion channel required for mechanosensation in many organ systems. Recent findings point to a new role for Piezo1 in the gut, suggesting that it is a sensor of microbial single-stranded RNA (ssRNA) rather than mechanical force. If true, this would redefine the scope of Piezo biology. Here, we sought to replicate the central finding that fecal ssRNA is a natural agonist of Piezo1. While we observe that fecal extracts and ssRNA can stimulate calcium influx in certain cell lines, this response is independent of Piezo1. Additionally, sterilized dietary extracts devoid of gut biome RNA show similar cell line-specific stimulatory activity to fecal extracts. Together, our data highlight potential confounds inherent to gut-derived extracts, exclude Piezo1 as a receptor for ssRNA in the gut, and support a dedicated role for Piezo channels in mechanosensing.