Membranes, energetics, and evolution across the prokaryote-eukaryote divide
The evolution of the eukaryotic cell marked a profound moment in Earth's history, with most of the visible biota coming to rely on intracellular membrane-bound organelles. It has been suggested that this evolutionary transition was critically dependent on the movement of ATP synthesis from the cell surface to mitochondrial membranes and the resultant boost to the energetic capacity of eukaryotic cells. However, contrary to this hypothesis, numerous lines of evidence suggest that eukaryotes are no more bioenergetically efficient than prokaryotes. Thus, although the origin of the mitochondrion was a key event in evolutionary history, there is no reason to think membrane bioenergetics played a direct, causal role in the transition from prokaryotes to eukaryotes and the subsequent explosive diversification of cellular and organismal complexity.
https://doi.org/10.7554/eLife.20437.001
Over time, life on Earth has evolved into three large groups: archaea, bacteria, and eukaryotes. The most familiar forms of life – such as fungi, plants and animals – all belong to the eukaryotes. Bacteria and archaea are simpler, single-celled organisms and are collectively referred to as prokaryotes.
The hallmark feature that distinguishes eukaryotes from prokaryotes is that eukaryotic cells contain compartments called organelles that are surrounded by membranes. Each organelle supports different activities in the cell. Mitochondria, for example, are organelles that provide eukaryotes with most of their energy by producing energy-rich molecules called ATP. Prokaryotes lack mitochondria and instead produce their ATP on their cell surface membrane.
Some researchers have suggested that mitochondria might actually be one of the reasons that eukaryotic cells are typically larger than prokaryotes and more varied in their shape and structure. The thinking is that producing ATP on dedicated membranes inside the cell, rather than on the cell surface, boosted the amount of energy available to eukaryotic cells and allowed them to diversify more. However, other researchers are not convinced by this view. Moreover, some recent evidence suggested that eukaryotes are no more efficient in producing energy than prokaryotes.
Lynch and Marinov have now used computational and comparative analysis to compare the energy efficiency of different organisms including prokaryotes and eukaryotes grown under defined conditions. To do the comparison, the results were scaled based on cell volume and the total surface area deployed in energy production.
From their findings, Lynch and Marinov concluded that mitochondria did not enhance how much energy eukaryotes could produce per unit of cell volume in any substantial way. Although the origin of mitochondria was certainly a key event in evolutionary history, it is unlikely to have been responsible for the diversity and complexity of today's life forms.
https://doi.org/10.7554/eLife.20437.002
The hallmark feature distinguishing eukaryotes from prokaryotes (bacteria and archaea) is the universal presence in the former of discrete cellular organelles enveloped within lipid bilayers (e.g. the nucleus, mitochondria, endoplasmic reticulum, golgi, vacuoles, vesicles, etc.). Under a eukaryocentric view of life, these types of cellular features promoted the secondary origin of genomic modifications that ultimately led to the adaptive emergence of fundamentally superior life forms (Martin and Koonin, 2006; Lane and Martin, 2010). Most notably, it has been proposed that the establishment of the mitochondrion provided an energetic boost that fueled an evolutionary revolution responsible for all things eukaryotic, including novel protein folds, membrane-bound organelles, sexual reproduction, multicellularity, and complex behavior (Lane, 2002, 2015).
However, despite having more than two billion years to impose their presumed superiority, eukaryotes have not driven prokaryotes extinct. Prokaryotes dominate eukaryotes both on a numerical and biomass basis (Whitman et al., 1998; Lynch, 2007), and harbor most of the biosphere's metabolic diversity. Although there is no logical basis for proclaiming the evolutionary inferiority of prokaryotes, one central issue can be addressed objectively – the degree to which the establishment of eukaryotic-specific morphology altered energetic efficiency at the cellular level.
Drawing on observations from biochemistry, physiology, and cell biology, we present a quantitative summary of the relative bioenergetic costs and benefits of the modified architecture of the eukaryotic cell. The data indicate that once cell-size scaling is taken into account, the bioenergetic features of eukaryotic cells are consistent with those in bacteria. This implies that the mitochondrion-host cell consortium that became the primordial eukaryote did not precipitate a bioenergetics revolution.
Lane (2015) and Lane and Martin (2010) have proposed a scenario for how the mitochondrion became established by a series of adaptive steps, arguing that the eukaryotic leap to increased gene number and cellular complexity, and a subsequent adaptive cascade of morphological diversification, 'was strictly dependent on mitochondrial power'. However, the scaling of the costs of building and maintaining cells is inconsistent with an abrupt shift in volumetric bioenergetic capacity of eukaryotic cells, and although the absolute costs of biosynthesis, maintenance, and operation of individual genes are much greater in eukaryotes, the proportional costs are less (Lynch and Marinov, 2015). This means that evolutionary additions and modifications of genes are more easily accrued in eukaryotic genomes from a bioenergetics perspective, regardless of their downstream fitness effects.
The analyses presented here reveal a number of additional scaling features involving cellular bioenergetic capacity that appear to transcend the substantial morphological differences across the bacterial-eukaryotic divide. There is not a quantum leap in the surface area of bioenergetic membranes exploited in eukaryotes relative to what would be possible on the cell surface alone, nor is the idea that ATP synthesis is limited by total membrane surface area supported. Moreover, the numbers of both ribosomes and ATP synthase complexes per cell, which jointly serve as indicators of a cell's capacity to convert energy into biomass, scale with cell size in a continuous fashion both within and between bacterial and eukaryotic groups. Although there is considerable room for further comparative analyses in this area, when one additionally considers the substantial cost of building mitochondria, it is difficult to accept the idea that the establishment of the mitochondrion led to a major advance in net bioenergetic capacity.
Most discussion of the origin of the mitochondrion by endosymbiosis starts (and often ends) with a consideration of the benefits gained by the host cell. This ignores the fact that the eukaryotic consortium consists of two participants. At least initially, the establishment of a stable symbiotic relationship requires that each member of the pair gain as much from the association as is lost by relinquishing independence. Under the scenario painted by Lane and Martin (2010), and earlier by Martin and Müller (1998), the original mitochondrial-host cell affiliation was one in which the intracellular occupant provided hydrogen by-product to fuel methanogenesis in the host cell, while eventually giving up access to external resources and thereby coming to rely entirely on the host cell for organic substrates. For such a consortium to be evolutionarily stable as a true mutualism, both partners would have to acquire more resources than would be possible by living alone, in which case this novel relationship would be more than the sum of its parts.
Although some scenario like this might have existed in the earliest stages of mitochondrial establishment, it is also possible that one member of the original consortium was a parasite rather than a benevolent partner (made plausible by the fact that many of the -protobacteria to which mitochondria are most closely related are intracellular parasites). Despite its disadvantages, such a system could be rendered stable if one member of the pair (the primordial mitochondrion) experienced relocation of just a single self-essential gene to the other member's genome, while the other lost a key function that was complemented by the presence of the endosymbiont. This scenario certainly applies today, as all mitochondria have relinquished virtually all genes for biosynthesis, replication, and maintenance, and as a consequence depend entirely on their host cells for these essential metabolic functions. In contrast, all eukaryotes have relocated membrane bioenergetics from the cell surface to mitochondrial membranes.
Such an outcome represents a possible grand example of the preservation of two ancestral components by complementary degenerative mutations (Force et al., 1999). Notably, this process of subfunctionalization is most likely to proceed in relatively small populations because the end state is slightly deleterious from the standpoint of mutational vulnerability, owing to the fact that the original set of tasks becomes reliant on a larger set of genes (Lynch et al., 2001). Thus, a plausible scenario is that the full eukaryotic cell plan emerged at least in part by initially nonadaptive processes made possible by a very strong and prolonged population bottleneck (Lynch, 2007; Koonin, 2015).
The origin of the mitochondrion was a singular event, and we may never know with certainty the early mechanisms involved in its establishment, nor the order of prior or subsequent events in the establishment of other eukaryotic cellular features (Koonin, 2015). However, the preceding observations suggest that if there was an energetic boost associated with the earliest stages of mitochondrial colonization, this has subsequently been offset by the loss of the use of the eukaryotic cell surface for bioenergetics and the resultant increase in costs associated with the construction of internal membranes. Rather than a major bioenergetic revolution being provoked by the origin of the mitochondrion, at best a zero-sum game is implied.
Thus, if the establishment of the mitochondrion was a key innovation in the adaptive radiation of eukaryotes, the causal connection does not appear to involve a boost in energy acquisition. Notably, a recent analysis suggests that the origin of the mitochondrion postdated the establishment of many aspects of eukaryotic cellular complexity (Pittis and Gabaldón, 2016). It is plausible, that phagocytosis was a late-comer in this series of events, made possible only after the movement of membrane bioenergetics to the mitochondrion, which would have eliminated the presumably disruptive effects of ingesting surface membranes containing the ETC and ATP synthase.
The results in this paper are derived from an integration of bioenergetic analyses based on known biochemical pathways and existing morphological observations on a variety of cell-biological features. The sources of this information, as well as the basic approaches employed can be found in the Appendix (where not mentioned directly in the text). The central analyses involve: (1) estimation of the biosynthetic costs for lipid-molecule production (in terms of ATP equivalents per molecule produced); (2) mitochondrial surface areas and cell membrane areas; (3) investments in lipids at the cell-membrane and organelle levels; and (4) numbers of ATP synthase complexes, ETC complexes, and ribosomes per cell.
The biosynthetic costs of lipid molecules
The vast majority of lipids in most membranes are phospholipids, with a polar (hydrophilic) head group attached to a negatively charged phosphate, which in turn is attached to a glycerol-3-phosphate (G3P), which links to two fatty-acid chains. Diversity within this lipid family is associated with variation in: the nature of the head groups; the number of carbon atoms in the fatty-acid chains; and the number of double bonds connecting such carbon atoms (their presence leading to 'unsaturated' fatty acids). Common head groups are choline, ethanolamine, serine, glycerol, inositol, and phosphatidyl glycerol. In both bacteria and eukaryotes, fatty-acid chains usually contain 12 to 22 carbons, and only rarely harbor more than three unsaturated bonds.
Evaluation of the total cost of synthesizing a lipid molecule requires a separate consideration of the investments in the three molecular subcomponents: the fatty-acid tails; head groups; and linkers. As adhered to in Lynch and Marinov (2015), such costs will be quantified in units of ATP usage, specifically relying on the number of phosphorus atoms released via hydrolyses of ATP molecules, the primary source of energy in most endergonic cellular reactions. CTP, which is utilized in a few reaction steps in lipid biosynthesis, will be treated as equivalent to ATP, and electron transfers resulting from conversions of NADH to NAD, NADPH to NADP, and FADH to FAD will be taken to be equivalent to 3, 3, and 2 ATP hydrolyses, respectively (all conventions in biochemistry based on energetic analyses; it is assumed that NADP/NADPH is efficiently recycled and obtained from sources other than action of the NADH kinase, which would elevate the cost to four high-energy phosphate groups). The following results are derived from observations cataloged in most biochemistry text books:
The starting point for the synthesis of most fatty acids is the production of one particular linear chain, palmitate, which contains 16 carbon atoms. Synthesis of this molecule takes place within a large complex, known as fatty-acid synthase. In bacteria, biosynthesis of each palmitate molecule requires the consumption of 8 acetyl-CoA molecules, 7 ATPs, and reductions of 14 NADPHs. Each molecule of acetyl-CoA is generally derived from a pyruvate molecule, but each acetyl-CoA molecule diverted to lipid production deprives the cell of one rotation of the energy producing citric-acid cycle, which would otherwise yield 3 NADH, 1 FADH, and 1 ATP per rotation; this leads to a net loss to the cell of the equivalent of 12 ATPs per acetyl-CoA molecule. Thus, the total cost of production of one molecule of palmitate in bacteria is ATP.Fatty-acid production is slightly more expensive in nonphotosynthetic eukaryotes, where acetyl-CoA is produced in the mitochondrion and reacts with oxaloacetate to produce citrate, which must then be exported. Cleavage of oxaloacetate in the cytosol regenerates acetyl-CoA at the expense of 1 ATP, and a series of reactions serve to return oxaloacetate to the citric-acid cycle in an effectively ATP neutral way. Thus, the cost of palmitate increases to ATP.

Each additional pair of carbons added to the palmitate chain requires one additional acetyl-CoA, one additional ATP, and two additional NADPHs, or an equivalent of 19 ATPs in bacteria, and accounting for mitochondrial export increases this to 20 in eukaryotes.

Each subsequent desaturation of a fatty-acid bond consumes one NADPH, or 3 ATP equivalents.

The G3P linker emerges from one of the last steps in glycolysis, and its diversion to lipid production deprives the cell of one further step of ATP production as well as a subsequent pyruvate molecule. As pyruvate normally can yield the equivalent of 3 ATPs in the conversion to acetyl-CoA, which then would generate a net 12 ATPs following entry into the citric-acid cycle, the use of G3P as a linker in a lipid molecule has a cost of ATP. Linking each fatty-acid tail requires 1 ATP, and linking the head group involves two CTP hydrolyses.

All that remains now is to add in the cost of synthesis of the head group, which we do here still assuming 16 saturated bonds in each fatty acid. In the case of phosphatidylglycerol, the head group is G3P, the cost of which is 16 ATP as just noted, so the total cost of this molecule in a bacterium is  ATP. From Akashi and Gojobori (2002), the cost of a serine is 10 ATP, so the total cost of a phosphatidylserine is 320 ATP, and because ethanolamine and choline are simple derivatives of serine, this closely approximates the costs of both phosphatidylethanolamine and phosphatidylcholine. The headgroup of phosphatidylinositol is inosital, which is derived from glucose-6-phosphate, diverting the latter from glycolysis and depriving the cell of the equivalent of 9 ATPs, so the total cost of production of this molecule is 319 ATP. As a first-order approximation, we will assume all of the above molecules to have a cost of 321 ATP when containing fully saturated fatty acids with chain length 16. Finally, cardiolipin is synthesized by the fusion of two phosphatidylglycerols and the release of one glycerol, so taking the return from the latter to be 15 ATP, the total cost per molecule produced is 637 ATP.
Estimation of absolute protein copy numbers per cell
Information on absolute protein copy numbers per cell was collected from publicly available proteomics measurements (Lu et al., 2007; Wiśniewski et al., 2012, 2014; Maass et al., 2011; Maier et al., 2011; Schmidt et al., 2011; Beck et al., 2009; Kulak et al., 2014; Ghaemmaghami et al., 2003; Marguerat et al., 2012; Schwanhäusser et al., 2011) as well as from ribosome profiling data (as described in Lynch and Marinov, 2015).
The number of protein complexes was calculated as follows:
where are the estimated per cell copy numbers for each subunit with a stoichiometric ratio . Clear outliers (i.e., subunits with zero or near-zero counts) were removed from the calculation.
As proteomics measurements may not be absolutely reliable, the raw estimates were then further corrected where possible by taking advantage of the availability of direct counts of the number of ribosomes per cell:
where the ribosomal correction factor is determined as follows:
where refers to the estimated ribosome copy numbers derived as above, while is obtained from direct measurements of ribosome copies per cell.
The composition of the E. coli F-particle is 1:2:10–12 while that of the F-particle is 3:3:1:1:1 (Jonckheere et al., 2012; Capaldi et al., 2000), where the individual subunits are encoded by the following genes:
| Subunit | Gene |
| --- | --- |
| | atpB |
| | atpF |
| | atpE |
| | atpA |
| | atpD |
| | atpG |
| | atpH |
| | atpC |
The same composition and stoichiometry was also assumed for other prokaryotes.
The composition of the yeast F-particle is 3:3:1:1:1:1OSCP (Jonckheere et al., 2012). The F-particle has 10 copies of subunit 9 (equivalent to ), and one copy each of subunits 6 (equivalent to ), 8, 4 (equivalent to ), , , , , , and , where the individual subunits are encoded by the following genes:
| Subunit | Gene |
| --- | --- |
| | ATP1 |
| | ATP2 |
| | ATP3 |
| | ATP16 |
| | ATP15 |
| | MT-ATP6 |
| | ATP4 |
| | ATP9 |
| | MT-ATP8 |
| | ATP7 |
| | ATP21 |
| | ATP14 |
| | ATP17 |
| | ATP20 |
| | ATP18 |
| | ATP19 |
| OSCP | ATP5 |
The composition of the mammalian F-particle is 3:3:1:1:1:1OSCP (Jonckheere et al., 2012). The F-particle has 8 copies of subunit , and one copy each of subunits , 8, , , , , , and , where the individual subunits are encoded by the following genes:
Subunit
Gene
ATP5A1
ATP5B
ATP5C1
ATP5D
ATP5E
MT-ATP6
ATP5F1
ATP5G1
ATP5G2
ATP5G3
MT-ATP8
ATP5H
ATP5I
ATP5J
ATP5J2
ATP5L
OSCP
ATP5O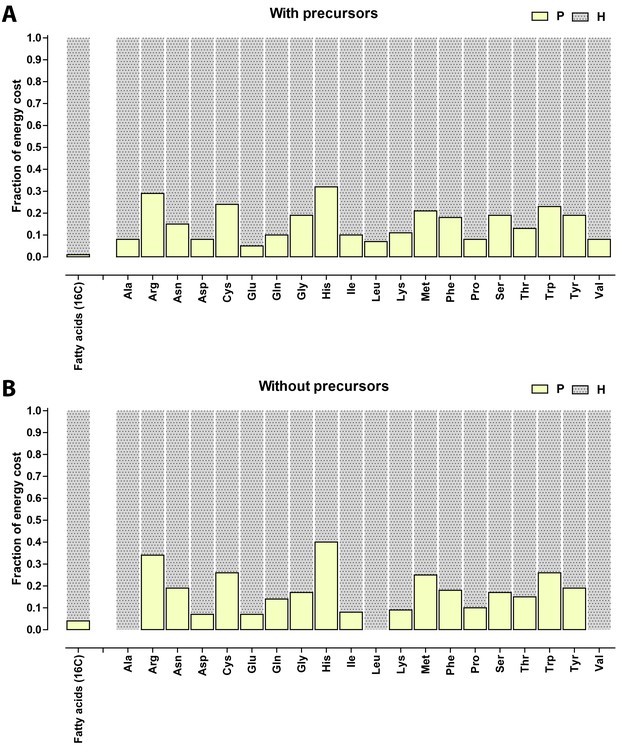 1

2

3

4

Levels and rates of synthesis of ribosomal ribonucleic acid, transfer ribonucleic acid, and protein in neurospora crassa in different steady states of growth

The Journal of Biological Chemistry 250:4381–4388.

5

6

7

8

9

10

11

12

13

14

15

16

17

Cellular content of ribonucleic acid and protein in Saccharomyces cerevisiae as a function of exponential growth rate: calculation of the apparent peptide chain elongation rate

Journal of Bacteriology 121:429–433.

18

19

20

21

Studies on the structure and cellular location of various ribosome and ribosomal RNA species in the green alga Chlamydomonas reinhardi

Journal of Cell Science 8:153–183.

22

Escherichia Coli and Salmonella Typhimurium: Cellular and Molecular Biology, Vol. 97

1559, Modulation of chemical composition and other parameters of the cell by growth rate, Escherichia Coli and Salmonella Typhimurium: Cellular and Molecular Biology, Vol. 97, 2nd edn.

23

Effects of temperature on composition and cell volume of Candida utilis

Journal of Bacteriology 97:261–270.

24

25

26

27

Regulation of protein synthesis in Tetrahymena. Quantitative estimates of the parameters determining the rates of protein synthesis in growing, starved, and starved-deciliated cells

The Journal of Biological Chemistry 258:6887–6898.

28

29

Cross-linking and electron microscopy studies of the structure and functioning of the Escherichia coli ATP synthase

The Journal of Experimental Biology 203:29–33.

30

Lipid composition of Zymomonas mobilis: effects of ethanol and glucose

Journal of Bacteriology 154:1291–1300.

31

32

33

34

35

Membrane phospholipid composition of Caulobacter crescentus

Journal of Bacteriology 135:1130–1136.

36

Fatty acid and phospholipid composition of the cellular slime mold, Dictyostelium discoideum. The occurance of previously undescribed fatty acids

The Journal of Biological Chemistry 238:3199–3209.

37

38

Macromolecular composition during steady-state growth of Escherichia coli B-r

Journal of Bacteriology 119:270–281.

39

40

Identification and quantitation of levels of protein synthesis initiation factors in crude HeLa cell lysates by two-dimensional polyacrylamide gel electrophoresis

The Journal of Biological Chemistry 258:7228–7235.

41

42

43

Implications of rRNA operon copy number and ribosome content in the marine oligotrophic ultramicrobacterium Sphingomonas sp. strain RB2256

Applied and Environmental Microbiology 64:4433–4438.

44

45

Preservation of duplicate genes by complementary, degenerative mutations

Genetics 151:1531–1545.

46

Synthesis of the inner mitochondrial membrane and the intercalation of respiratory enzymes during the cell cycle of Chlorella

Journal of Cell Science 21:329–340.

47

48

49

50

51

52

53

54

55

56

Fatty acids of mitochondrial membranes from Tetrahymena pyriformis

Journal of Lipid Research 17:16–20.

57

58

59

60

61

62

63

The shape of mitochondria and the number of mitochondrial nucleoids during the cell cycle of Euglena gracilis

Journal of Cell Science 93:565–570.

64

65

66

67

68

69

Cellular and thylakoid-membrane phospholipids of Chlamydomonas reinhardtii 137+

Journal of Lipid Research 22:1126–1130.

70

71

72

73

74

A colloidal gold labeling technique for the direct determination of the surface area of eukaryotic cells

European Journal of Cell Biology 48:19–26.

75

76

77

78

79

80

81

82

83

84

85

Power, Sex, Suicide: Mitochondria and the Meaning of Life

Oxford, UK: Oxford Univ. Press.

86

The Vital Question

 New York, NY: W. W. Norton & Co., Inc.

87

88

89

90

91

92

93

94

95

The Origins of Genome Architecture

Sunderland, MA:  Sinauer Assocs., Inc.

96

97

98

99

100

101

102

Translational control of protein synthesis in Staphylococcus aureus

Journal of Bacteriology 122:1136–1143.

103

104

105

106

107

Cell Biology by the Numbers

New York, NY: Garland Science, Taylor & Francis Group.

108

109

110

111

112

113

114

115

116

117

118

119

120

Mitochondria of Tetrahymena pyriformis: enumeration and sizing of isolated organelles using a coulter counter and pulse-height analyser

Journal of Cell Science 61:437–451.

121

Effect of growth rate on the macromolecular composition of Prototheca zopfii, a colorless alga which divides by multiple fission

Journal of Bacteriology 113:203–211.

122

123

Cardiolipin accumulation in the inner and outer membranes of Escherichia coli mutants defective in phosphatidylserine synthetase

Journal of Bacteriology 139:544–551.

124

The inner membrane of mitochondria under influence of triiodothyronine and riboflavin deficiency in rat heart muscle and liver: a quantitative electronmicroscopical and biochemical study

Experimental Cell Research 77:1–14.

125

Polymorphic regulation of membrane phospholipid composition in Escherichia coli

The Journal of Biological Chemistry 268:12427–12433.

126

127

128

129

130

131

132

133

134

135

Bacillus subtilis cell cycle as studied by fluorescence microscopy: constancy of cell length at initiation of DNA replication and evidence for active nucleoid partitioning

Journal of Bacteriology 180:547–555.

136

137

138

139

140

141

142

Three-dimensional behaviour of mitochondria during cell division and germ tube formation in the dimorphic yeast Candida albicans

Journal of Cell Science 73:207–220.

143

144

145

146

147

148

149

150

151

152

153

Effect of growth rate on the amounts of ribosomal and transfer ribonucleic acids in yeast

Journal of Bacteriology 122:855–865.

154

155

156

The lipid composition and membrane fluidity of Dictyostelium discoideum plasma membranes at various stages during differentiation

Journal of Lipid Research 21:681–686.

157

158

159

160

161

162

163

164

165

166

167

168

169

170

171
Paul G Falkowski

Reviewing Editor; Rutgers University, United States
In the interests of transparency, eLife includes the editorial decision letter and accompanying author responses. A lightly edited version of the letter sent to the authors after peer review is shown, indicating the most substantive concerns; minor comments are not usually included.
Thank you for submitting your article "Membranes, Energetics, and Evolution Across the Prokaryote-Eukaryote Divide" for consideration by eLife. Your article has been reviewed by two peer reviewers, and the evaluation has been overseen by Paul Falkowski as the Reviewing Editor and Patricia Wittkopp as the Senior Editor. The following individual involved in review of your submission has agreed to reveal his identity: Ron Milo (Reviewer #2).
The reviewers have discussed the reviews with one another and the Reviewing Editor has drafted this decision to help you prepare a revised submission.
Summary: Both reviewers identified many strengths of this work, but also have identified additional elements to consider. I hope you find their detailed and constructive reviews helpful. We anticipate that this work will be an important contribution to the field that will spark additional discussion and debate.
Essential revisions: Both reviewers have provided detailed reviews of this manuscript, and we believe that considering all of their comments will be beneficial in this case. These comments are provided in their entirety below. The most essential comment from the reviewers that must be addressed is: The "possibility that protein packing density in the membranes under consideration is a fundamental limitation needs to be taken into account."
Reviewer #1:
This is an interesting analysis of the relative bioenergetic characteristics in the growth of prokaryotic and eukaryotic cells. The article addresses the basic conjecture, that the evolution of the eukaryotic type, specifically the development of mitochondrial systems, endowed the eukaryotes with energetic advantages over the prokaryotic cellular organization. The authors are challenging this often-made, yet largely unsubstantiated, assumption that the presence of mitochondria in eukaryotes confers a large bioenergetic advantage owing to a corresponding increase in internal membrane surface area due to the presence of the mitochondrial inner membrane. To address this question, the authors perform an analysis based upon previous scaling relationships they have developed between quantities such as the volume of a cell and the rates of ATP consumption and combined these with a new analysis that includes protein and lipid abundances combined with estimations, from the literature, of their costs as expressed in terms of ATP equivalents.
The authors note that the energetics of the cell can be divided into maintenance costs and the costs of duplicating the parental cell and their analysis goes on from there. Basically, they are concluding that if there ever was an energetic advantage (e.g. on a cell volume basis), then it no longer exists and that the eukaryotic cell type does not confer energetic advantages. Overall, I think the article is sound, albeit, it is difficult for this reviewer to critically assess the validity of their calculations, which on the surface seems sound. On the other hand, the article is written in a with the tenor of a polemic and is a bit rambling. Consequently, I believe it needs to be considerably shortened (25%).
1) Subsection "The energetic costs of building and maintaining a cell", second paragraph: authors should cite Daniel Atkinson on the biosynthetic costs.
2)Subsection "The energetic costs of building and maintaining a cell", last paragraph: A relatively simple scaling relationship for bacterial growth may apply for certain species, but it needs to be pointed out that at either end of the range in size there are slowdowns in growth rate, with certain larger bacteria, for example, having more protracted cell division times.
3) The possibility that protein packing density in the membranes under consideration is a fundamental limitation needs to be taken into account. My recollection is that many membrane systems are at least 50% protein by weight. It may be true that the bioenergetic machinery responsible for ATP production only occupies several percent of the total area, but this may be the upper limit for the bioenergetic system reflecting and optimal allocation of different protein functions, such as transporters, also necessary for metabolism. Presumably, the other mitochondrial components especially are present in an optimal stoichiometric ratio with respect to the ATP synthase and may indeed occupy much more of the membrane area. For example, if the ATP synthase has an intrinsically higher enzymatic turnover frequency than the enzymes powering the generation of proton motive force, then it's amount can be comparatively small on a stoichiometric basis and the other membrane complexes may occupy a large fraction of the membrane surface.
Reviewer #2:
The authors revisit the hypothesis that the mitochondria were essential for the development of eukaryotic complexity for energetic reasons. The authors thoroughly analyze the ATP and other investments as performed by current eukaryotic cells and compare them to prokaryotes. They use empirical scaling laws to see if the observed changes are more than one would expect from simple scaling with cell volume. They find no strong evidence for a significant energetic benefit from mitochondria which leads them to cast doubt on high profile earlier reports.
I find the study scientifically sound and interesting. I have suggestions for improvement in terms of clarity and accuracy as given below.
Main text, third paragraph: "This implies that the mitochondrion-host cell consortium that became the primordial eukaryote did not precipitate a bioenergetics revolution."
In order to say it did not cause a bioenergetics revolution I need to have a definition of what is the definition such a revolution in as rigorous terms as possible. Either by the authors or by them repeating in detail a definition from previous authors.
Throughout the paper the scaling laws have no uncertainty ranges on their parameter values. This makes it hard to understand how predictive they are and should be corrected.
Subsection "The energetic costs of building and maintaining a cell", fourth paragraph: "that a shift of bioenergetics from the cell membrane in prokaryotes to the mitochondria of eukaryotes conferred no directly favorable energetic effects. In fact, the effect appears to be negative."
One could claim that because prokaryotic ATP production is associated with the cell membrane and it scales like the surface area an exponent of 1 with cell volume is not what one would expect (but rather 2/3) and the evidence supporting an approx ~1 exponent suggests there is some favorable energetic effect. I am not saying this is proof of such an effect but I think this point should be acknowledged/discussed.
Subsection "Energy production and the mitochondrion", last sentence: "and that the corresponding hypothetical packing density for eukaryotes would be 30% (if in the cell membrane)."
The authors do not seem to reflect more on this value they derive but it seems like a very high value to me. Given that packing of equally sized circles on a sphere cannot achieve more than I think about 60% usage of the sphere area this is not far from the maximal possible and this is before considering all the other protein machines needed in the membrane real estate or the requirements for lipids.
Subsection "The biosynthetic cost of lipids": "and Escherichia coli (… 0.98 μm3, respectively)"
The volume of an E. coli cell can easily change by a factor of 5 depending on growth rate so giving the volume as 0.98 μm3 without stating anything about growth conditions is odd. Better state as ~1 μm3 or the like.
Discussion, fifth paragraph: "because the end state is slightly deleterious owing to the additional investment required to carry out individual tasks (Lynch et al. 2001)."
I found it hard to follow the logic here and I think other readers might have this problem. It is worth explaining in a bit more detail what is meant.
Discussion, last paragraph: "It is plausible, that phagocytosis was a late-comer in this series of events, made possible only after the movement of membrane bioenergetics to the mitochondrion, which would have eliminated the disruptive effects of surface membrane ingestion on the ETC and ATP synthase."
I did not understand the connection here. Please clarify.
https://doi.org/10.7554/eLife.20437.012
Article and author information
Author details
National Science Foundation (MCB-1050161)
Michael Lynch
Georgi K Marinov
National Institute of General Medical Sciences (R01-GM036827)
Michael Lynch
Georgi K Marinov
US Army Research Office (W911NF-14-1-0411)
The funders had no role in study design, data collection and interpretation, or the decision to submit the work for publication.
Support was provided by the Multidisciplinary University Research Initiative awards W911NF-09-1-0444 and W911NF-14-1-0411 from the US Army Research Office, National Institutes of Health award R01-GM036827, and National Science Foundation award MCB-1050161. This material is also based upon work supported by the National Science Foundation grant CNS-0521433. We are grateful to J Dacks, D Devos, J McKinlay, J Murray, and R Phillips for helpful comments.
Paul G Falkowski, Reviewing Editor, Rutgers University, United States
© 2017, Lynch et al.
This article is distributed under the terms of the Creative Commons Attribution License, which permits unrestricted use and redistribution provided that the original author and source are credited.
2,032

Page views

419

Downloads

11

Citations
Article citation count generated by polling the highest count across the following sources: Crossref, Scopus, PubMed Central.
A two-part list of links to download the article, or parts of the article, in various formats.
Downloads
(link to download the article as PDF)
Download citations
(links to download the citations from this article in formats compatible with various reference manager tools)
Open citations
(links to open the citations from this article in various online reference manager services)
Further reading
Evolutionary Biology

Genetics and Genomics