Cancer Immunotherapy: A peptide puzzle
Why does cancer develop in situations where the immune system is perfectly capable of eliminating it?
The primary function of the immune system is to detect and eliminate any abnormal cells in the body. To detect these abnormal cells, immune cells called 'killer cells' look for changes in the peptides that are present on the surface of all cells. In healthy cells these peptides stand for normal proteins made inside the cell. However, if new peptides are found, the killer cells take that as evidence of abnormality, such as a virus infection or cancer, and they destroy the abnormal cells to limit the spread of an infection or the growth of a cancer. So why do the killer cells fail to prevent the growth of some tumors in the first place?
The idea that immune system could contain the growth of tumors has been controversial for many decades (Burnet, 1967; Hellström et al., 1968). However, the recent success of immunotherapy – which was highlighted when the 2018 Nobel Prize in Physiology or Medicine was awarded to James Allison and Tasuku Honjo – has dramatically improved the prospects of cancer treatment. Many, but not all, patients with previously incurable cancers have effectively been cured by immunotherapy.
Making further improvements, to help patients who are not responsive to immunotherapy at present, will require a better understanding of how the body regulates the response of killer cells to cancer. This is especially important during the early stages of cancer when there are relatively few abnormal cells. Now, in eLife, David Scheinberg and colleagues at Weill Cornell Medicine and Memorial Sloan Kettering Cancer Center – including Ron Gejman and Aaron Chang as joint first authors – report the results of studies in which an elegant new experimental platform called PresentER was used to study the response of killer cells to thousands of different peptides in mice (Gejman et al., 2018).
Cancer cells were injected into immunocompetent mice and left to grow for several weeks. Some cancer cells were detected and destroyed by the immune system, while others failed to be eliminated and grew into tumors. When Gejman et al. analyzed the cells in these tumors they found to their surprise that, in general, the presence of a particular peptide did not result in detection and rejection: this was also true even for immunogenic peptides (that is, for peptides that are known to elicit a strong response from the immune system). Rather, the tumors that developed tended to contain cells expressing a wide range of different immunogenic peptides. This suggests that the immune system can only detect and reject a tumor when a certain fraction of the cells in the tumor display the same immunogenic peptide. This behavior is particularly interesting because it is similar to what is seen in human cancer patients who do not benefit from immunotherapy (McGranahan et al., 2016).
Why does the immune system fail to reject cancer cells that display a heterogenous mix of peptides? To explore this question Gejman et al. injected mice with mixtures of cancer cells in which some of the cells displayed immunogenic peptide, while the rest displayed non-immunogenic peptides. When the fraction of cells with immunogenic peptides was low, the cells were not eliminated (Figure 1). Moreover, the minimum fraction required to generate an effective immune response varied between different peptides, suggesting that some as-yet-unknown features of the peptides were important.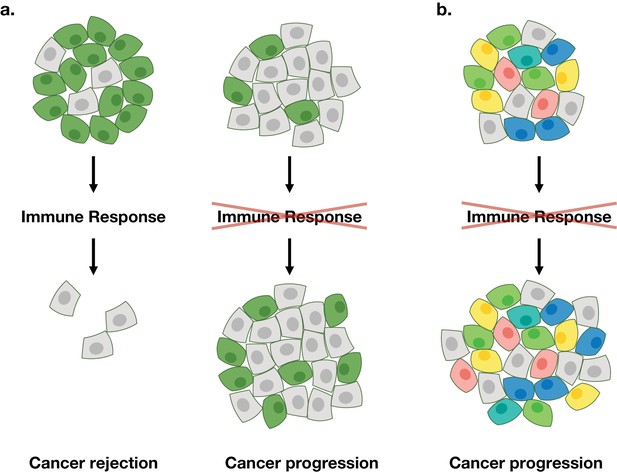 The work of Gejman et al. establishes that peptide heterogeneity within cancer cells has an impact on the detection of cancer and also on the responsiveness to immunotherapy. It also highlights the influence of the fraction of the immunogenic cells in a given cancer, a factor that has largely been underestimated up until now, and the need for a better understanding of the role of immunogenic peptides in the generating an effective immune response to cancer. And last, but not least, this latest work shows the potential of the PresentER approach to be used in large-scale screening studies of potentially immunogenic peptides.
Article and author information
Author details
© 2018, Guan and Shastri
This article is distributed under the terms of the Creative Commons Attribution License, which permits unrestricted use and redistribution provided that the original author and source are credited.
2,205

Page views

239

Downloads

1

Citations
Article citation count generated by polling the highest count across the following sources: Crossref, PubMed Central, Scopus.
A two-part list of links to download the article, or parts of the article, in various formats.
Downloads
(link to download the article as PDF)
Open citations
(links to open the citations from this article in various online reference manager services)
Cite this article
(links to download the citations from this article in formats compatible with various reference manager tools)
Jian Guan
Nilabh Shastri
Cancer Immunotherapy: A peptide puzzle
eLife 7:e41524.
https://doi.org/10.7554/eLife.41524
Further reading
Tumors often co-exist with T cells that recognize somatically mutated peptides presented by cancer cells on major histocompatibility complex I (MHC-I). However, it is unknown why the immune system fails to eliminate immune-recognizable neoplasms before they manifest as frank disease. To understand the determinants of MHC-I peptide immunogenicity in nascent tumors, we tested the ability of thousands of MHC-I ligands to cause tumor subclone rejection in immunocompetent mice by use of a new 'PresentER' antigen presentation platform. Surprisingly, we show that immunogenic tumor antigens do not lead to immune-mediated cell rejection when the fraction of cells bearing each antigen ('clonal fraction') is low. Moreover, the clonal fraction necessary to lead to rejection of immunogenic tumor subclones depends on the antigen. These data indicate that tumor neoantigen heterogeneity has an underappreciated impact on immune elimination of cancer cells and has implications for the design of immunotherapeutics such as cancer vaccines.

Cancer Biology

Genetics and Genomics

Sequencing of cell-free DNA (cfDNA) is currently being used to detect cancer by searching both for mutational and non-mutational alterations. Recent work has shown that the length distribution of cfDNA fragments from a cancer patient can inform tumor load and type. Here, we propose non-negative matrix factorization (NMF) of fragment length distributions as a novel and completely unsupervised method for studying fragment length patterns in cfDNA. Using shallow whole-genome sequencing (sWGS) of cfDNA from a cohort of patients with metastatic castration-resistant prostate cancer (mCRPC), we demonstrate how NMF accurately infers the true tumor fragment length distribution as an NMF component - and that the sample weights of this component correlate with ctDNA levels (r=0.75). We further demonstrate how using several NMF components enables accurate cancer detection on data from various early stage cancers (AUC = 0.96). Finally, we show that NMF, when applied across genomic regions, can be used to discover fragment length signatures associated with open chromatin.

Cancer Biology

Chromosomes and Gene Expression

The transformation of normal to malignant cells is accompanied by substantial changes in gene expression programs through diverse mechanisms. Here, we examined the changes in the landscape of transcription start sites and alternative promoter (AP) usage and their impact on the translatome in TCL1-driven chronic lymphocytic leukemia (CLL). Our findings revealed a marked elevation of APs in CLL B cells from Eµ-Tcl1 transgenic mice, which are particularly enriched with intra-genic promoters that generate N-terminally truncated or modified proteins. Intra-genic promoter activation is mediated by (1) loss of function of 'closed chromatin' epigenetic regulators due to the generation of inactive N-terminally modified isoforms or reduced expression; (2) upregulation of transcription factors, including c-Myc, targeting the intra-genic promoters and their associated enhancers. Exogenous expression of Tcl1 in MEFs is sufficient to induce intra-genic promoters of epigenetic regulators and promote c-Myc expression. We further found a dramatic translation downregulation of transcripts bearing CNY cap-proximal trinucleotides, reminiscent of cells undergoing metabolic stress. These findings uncovered the role of Tcl1 oncogenic function in altering promoter usage and mRNA translation in leukemogenesis.