Immunology: Identifying a nuclear passport for HIV
Identification of a protein that pulls HIV into the nucleus explains a key step in HIV infection.
Cells have many ways to fight pathogens, but they still manage to evade our defenses. HIV, for example, is able to enter a cell, cross the cytoplasm, and then pass through the nuclear pore complex to reach the cell nucleus. The DNA within the virus is surrounded by a capsid that protects against defense mechanisms of the host, such as nucleic acid sensors and nucleases (Yan et al., 2010; Jacques et al., 2016; Francis and Melikyan, 2018; Burdick et al., 2017; Rasaiyaah et al., 2013).
Previously, it was thought that the capsid cannot enter the nucleus, but demonstration that the capsid depends on a nuclear protein called CPSF6 suggested that it might (Price et al., 2014; Lee et al., 2010). Now, in eLife, Hans-Georg Kräusslich and colleagues – including David Alejandro Bejarano and Ke Peng as joint first authors – report new insights into the role of CPSF6 and the entry of the capsid into the nucleus (Bejarano et al., 2019). The researchers – who are based at the University of Heidelberg and the Chinese Academy of Sciences – tagged HIV molecules with fluorescent markers and observed how HIV infected macrophages. The capsids and CPSF6 proteins were labeled with antibodies.
Bejarano et al. found that, contrary to previous assumptions, CPSF6 is essential for HIV to travel through the nuclear pore into the nucleus of macrophages. They also found that CPSF6 associated with capsids inside the nucleus, suggesting that intact capsids may cross the nuclear pore. When CPSF6 was depleted, or could no longer bind to the capsid, the virus accumulated outside the nucleus. This indicates a key role for CPSF6 in viral nuclear entry. However, similar to previous experiments, removing CPSF6 only modestly reduced the infection levels in macrophages because the capsids used the remaining low CPSF6 levels.
It is known that the capsid also binds a nuclear pore protein called Nup153 (Price et al., 2014). Bejarano et al. suggest that the capsid first interacts with Nup153 inside the nuclear pore complex; Nup153 is then displaced by nuclear CPSF6, which helps to pull the capsid inside the nucleus (Figure 1). They also propose an intriguing model to explain how the viral DNA could integrate into host DNA in the absence of CPSF6. In line with the hypotheses proposed in other studies (Achuthan et al., 2018; Schaller et al., 2011; Sowd et al., 2016), Bejarano et al. suggest that, in the absence of CPSF6, the capsid pokes through the nuclear pore complex enough for the integration of DNA to take place at the periphery of the nucleus.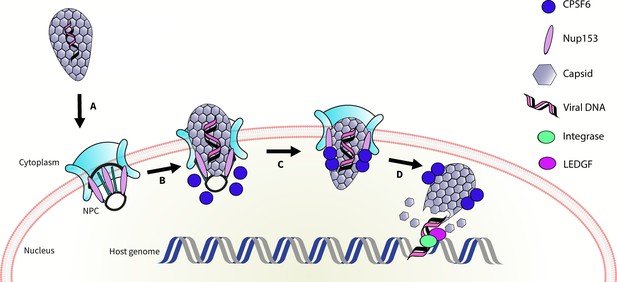 Two key questions remain. First, why is CPSF6 required for replication in macrophages but not in cell lines? One reason for this might be that, in the absence of binding to a cofactor such as CPSF6, HIV-1 triggers the production of interferon in macrophages (Rasaiyaah et al., 2013). We can think of this in terms of cell lines 'licensing' otherwise 'illegal' behaviors by viruses. For example, capsid uncoating in the cytoplasm is 'illegal' in macrophages: that is, it does not lead to infection. However, such behaviour is licensed in cell lines and results in infection. This might be because, in macrophages, interferon suppresses mutant HIV-1 infection and uncoated cytosolic capsids are degraded. In cell lines, on the other hand, these 'illegal' viral behaviours are allowed and the virus can replicate.
Second, what is the role of CPSF6 in T cells (the immune cells that are the main target of HIV)? Given their small size and minimal cytoplasm, T cells are less suitable for microscopy, although nuclear transport can be studied in them (Achuthan et al., 2018). A better understanding of how HIV replicates in T cells, and where capsid uncoating occurs, may reveal fundamental differences in infection mechanisms between T cells and macrophages. In turn, this may help us understand the relative importance of HIV replication in macrophages and T cells in vivo.
This elegant study is a real technical tour de force, which has overcome significant experimental challenges to answer key questions in the field. As the techniques used by Bejarano et al. become widely adopted, we look forward to rapid advances in our understanding of the basic biology of HIV that may ultimately lead to more effective ways to treat, and eventually cure, HIV and AIDS.
Article and author information
Author details
© 2019, Zuliani-Alvarez and Towers
This article is distributed under the terms of the Creative Commons Attribution License, which permits unrestricted use and redistribution provided that the original author and source are credited.
1,622

Page views

200

Downloads

1

Citations
Article citation count generated by polling the highest count across the following sources: Crossref, PubMed Central, Scopus.
A two-part list of links to download the article, or parts of the article, in various formats.
Downloads
(link to download the article as PDF)
Open citations
(links to open the citations from this article in various online reference manager services)
Cite this article
(links to download the citations from this article in formats compatible with various reference manager tools)
Lorena Zuliani-Alvarez
Greg J Towers
Immunology: Identifying a nuclear passport for HIV
eLife 8:e45580.
https://doi.org/10.7554/eLife.45580
Further reading
Cell Biology
Microbiology and Infectious Disease

Nuclear entry of HIV-1 replication complexes through intact nuclear pore complexes is critical for successful infection. The host protein cleavage-and-polyadenylation-specificity-factor-6 (CPSF6) has been implicated in different stages of early HIV-1 replication. Applying quantitative microscopy of HIV-1 reverse-transcription and pre-integration-complexes (RTC/PIC), we show that CPSF6 is strongly recruited to nuclear replication complexes but absent from cytoplasmic RTC/PIC in primary human macrophages. Depletion of CPSF6 or lack of CPSF6 binding led to accumulation of HIV-1 subviral complexes at the nuclear envelope of macrophages and reduced infectivity. Two-color stimulated-emission-depletion microscopy indicated that under these circumstances HIV-1 complexes are retained inside the nuclear pore and undergo CA-multimer dependent CPSF6 clustering adjacent to the nuclear basket. We propose that nuclear entry of HIV-1 subviral complexes in macrophages is mediated by consecutive binding of Nup153 and CPSF6 to the hexameric CA lattice.

The immunoglobulin-like lectin receptor CD169 (Siglec-1) mediates the capture of HIV-1 by activated dendritic cells (DCs) through binding to sialylated ligands. These interactions result in a more efficient virus capture as compared to resting DCs, although the underlying mechanisms are poorly understood. Using a combination of super-resolution microscopy, single-particle tracking and biochemical perturbations we studied the nanoscale organization of Siglec-1 on activated DCs and its impact on viral capture and its trafficking to a single viral-containing compartment. We found that activation of DCs leads to Siglec-1 basal nanoclustering at specific plasma membrane regions where receptor diffusion is constrained by Rho-ROCK activation and formin-dependent actin polymerization. Using liposomes with varying ganglioside concentrations, we further demonstrate that Siglec-1 nanoclustering enhances the receptor avidity to limiting concentrations of gangliosides carrying sialic ligands. Binding to either HIV-1 particles or ganglioside-bearing liposomes lead to enhanced Siglec-1 nanoclustering and global actin rearrangements characterized by a drop in RhoA activity, facilitating the final accumulation of viral particles in a single sac-like compartment. Overall, our work provides new insights on the role of the actin machinery of activated DCs in regulating the formation of basal Siglec-1 nanoclustering, being decisive for the capture and actin-dependent trafficking of HIV-1 into the virus-containing compartment.

The specific functional properties of a tissue are distributed amongst its component cell types. The various cells act coherently, as an ensemble, in order to execute a physiologic response. Modern approaches for identifying and dissecting novel physiologic mechanisms would benefit from an ability to identify specific cell types in live tissues that could then be imaged in real-time. Current techniques require the use of fluorescent genetic reporters that are not only cumbersome, but which only allow the simultaneous study of 3 or 4 cell types at a time. We report a non-invasive imaging modality that capitalizes on the endogenous autofluorescence signatures of the metabolic cofactors NAD(P)H and FAD. By marrying morphological characteristics with autofluorescence signatures, all seven of the airway epithelial cell types can be distinguished simultaneously in mouse tracheal explant in real-time. Furthermore, we find that this methodology for direct cell type specific identification avoids pitfalls associated with the use of ostensibly cell type-specific markers that are, in fact, altered by clinically relevant physiologic stimuli. Finally, we utilize this methodology to interrogate real-time physiology and identify dynamic secretory cell associated antigen passages (SAPs) that form in response to cholinergic stimulus. The identical process has been well documented in the intestine where the dynamic formation of secretory and goblet cell associated antigen passages (SAPs and GAPs) enable luminal antigen sampling. Given that airway secretory cells can be stimulated to make mucous within hours, we suspect that both SAPs and GAPs are also used for luminal antigen sampling in the airway. This hypothesis is supported by our observation that secretory cells with airway SAPs are frequently juxtaposed to antigen presenting cells.