Gene Transfer: Adapting for life in the extreme
Red algae have adapted to extreme environments by acquiring genes from bacteria and archaea.
Most humans have nearly the same complement of genes, all of which have come from our primate ancestors (Salzberg, 2017). On the other hand, even closely related strains of the bacterium Escherichia coli can differ by hundreds of genes (Touchon et al., 2009) despite having a much smaller genome. These genes have been acquired via a process called horizontal gene transfer (HGT), which is an important driver of adaptation, as it allows bacteria and other prokaryotes to gain the genes they need in order to thrive in certain environments (Koonin et al., 2001). Moreover, this exchanging of genes has resulted in many genetic elements in prokaryotes becoming highly mobile, making it easier for DNA to be transferred to a diverse range of hosts.
HGT has also been observed in animals, plants and other eukaryotes (Husnik and McCutcheon, 2018), but its role in determining genome composition and facilitating adaptation in these species remains unclear (Ku and Martin, 2016). Now, in eLife, Andreas Weber and co-workers at Heinrich Heine University, Arizona State University and Rutgers University – including Alessandro Rossoni as first author – report evidence for HGT between prokaryotes and the red alga Cyanidiales (Rossoni et al., 2019). These are remarkable single-cell organisms that can perform photosynthesis at temperatures up to 56°C, and can live in extreme environments such as hot springs and acid rivers (Schönknecht et al., 2013). Cyanidiales can also be used to investigate HGT over geological timescales because they share a common ancestor that dates back 800 million years to a time before animals had even evolved.
Based on an analysis of ten new and three previously reported Cyanidiales genomes, Rossoni et al. found that 1% of genes had been obtained via HGT. Moreover, many of these genes coded for proteins that were needed to survive in extreme environments (such as proteins involved in detoxifying heavy metals like arsenic or mercury, or removing free radicals; Figure 1). Additionally, prokaryotes adapted to the same extreme environment as Cyanidiales were commonly identified as the source of these genes. It seems likely, therefore, that HGT influenced the evolution of Cyanidiales, especially because the criterion used to detect HGT was conservative and the study did not attempt to detect gene transfer from other eukaryotes.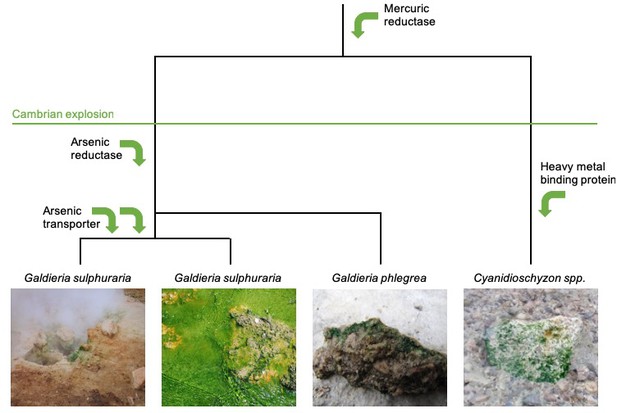 Comparing the new Cyanidiales genes to genes found in present-day bacteria and archaea databases did not yield any recent examples of HGT. This absence of recent events is unsurprising, as Rossoni et al. estimated that Cyanidiales acquire just one gene via HGT every 14.6 million years – the same amount of time it took for humans to diverge from the orangutan. Such a low rate makes finding a fresh transfer in a small number of genomes unlikely. Instead, the majority of HGT candidate genes found by Rossoni et al. have acquired introns (non-protein coding segments of DNA), and then persisted over hundreds of millions of years.
Despite there being evidence to show HGT occurred, it still remains unclear how these transfers took place. The best-studied mechanisms by which eukaryotes acquire DNA from other organisms are sexual reproduction and by transferring DNA from symbionts (biological organisms that live cooperatively with other organisms). However, meiotic sex only occurs between closely related species, and therefore cannot explain how Cyanidiales appear to have gained DNA from such a diverse range of prokaryotes: moreover, the evolution of symbiotic transfer is uncommon in most taxonomic groups. Instead DNA was more likely obtained via viral infection or plasmids (circular molecules of double stranded DNA) being transferred between prokaryotes and eukaryotes (Heinemann and Sprague, 1989). Indeed, a recent study has shown that many eukaryotes, including red algae, can acquire plasmids carrying genes derived from plants, viruses and bacteria (Lee et al., 2016).
The work of Rossoni et al. suggests that, in terms of gene content evolution, Cyanidiales are more similar to humans than to E. coli, which is consistent with previous qualitive comparisons of HGT patterns in eukaryotes and prokaryotes (Ku and Martin, 2016). However, a number of mysteries still remain. For example, what are the most common modes of plasmid transmission in Cyanidiales? How do plasmids maintain themselves in populations? How often do they jump between species, and how far do they jump? To answer these questions we should first observe what is happening all around us today (Popa et al., 2017) and, if possible, study events that occur more frequently than once every 14.6 million years.
Article and author information
Author details
© 2019, Kobras and Falush
This article is distributed under the terms of the Creative Commons Attribution License, which permits unrestricted use and redistribution provided that the original author and source are credited.
2,882

Page views

207

Downloads

0

Citations
Article citation count generated by polling the highest count across the following sources: Crossref, PubMed Central, Scopus.
A two-part list of links to download the article, or parts of the article, in various formats.
Downloads
(link to download the article as PDF)
Open citations
(links to open the citations from this article in various online reference manager services)
Cite this article
(links to download the citations from this article in formats compatible with various reference manager tools)
Carolin M Kobras
Daniel Falush
Gene Transfer: Adapting for life in the extreme
eLife 8:e48999.
https://doi.org/10.7554/eLife.48999
Further reading
The role and extent of horizontal gene transfer (HGT) in eukaryotes are hotly disputed topics that impact our understanding of the origin of metabolic processes and the role of organelles in cellular evolution. We addressed this issue by analyzing 10 novel Cyanidiales genomes and determined that 1% of their gene inventory is HGT-derived. Numerous HGT candidates share a close phylogenetic relationship with prokaryotes that live in similar habitats as the Cyanidiales and encode functions related to polyextremophily. HGT candidates differ from native genes in GC-content, number of splice sites, and gene expression. HGT candidates are more prone to loss, which may explain the absence of a eukaryotic pan-genome. Therefore, the lack of a pan-genome and cumulative effects fail to provide substantive arguments against our hypothesis of recurring HGT followed by differential loss in eukaryotes. The maintenance of 1% HGTs, even under selection for genome reduction, underlines the importance of non-endosymbiosis related foreign gene acquisition.

Ecology

Evolutionary Biology

Sustainable cities depend on urban forests. City trees-pillars of urban forests - improve our health, clean the air, store CO2, and cool local temperatures. Comparatively less is known about city tree communities as ecosystems, particularly regarding spatial composition, species diversity, tree health, and the abundance of introduced species. Here, we assembled and standardized a new dataset of N=5,660,237 trees from 63 of the largest US cities with detailed information on location, health, species, and whether a species is introduced or naturally occurring (i.e., 'native'). We further designed new tools to analyze spatial clustering and the abundance of introduced species. We show that trees significantly cluster by species in 98% of cities, potentially increasing pest vulnerability (even in species-diverse cities). Further, introduced species significantly homogenize tree communities across cities, while naturally occurring trees (i.e., 'native' trees) comprise 0.51%-87.3% (median=45.6%) of city tree populations. Introduced species are more common in drier cities, and climate also shapes tree species diversity across urban forests. Parks have greater tree species diversity than urban settings. Compared to past work which focused on canopy cover and species richness, we show the importance of analyzing spatial composition and introduced species in urban ecosystems (and we develop new tools and datasets to do so). Future work could analyze city trees and socio-demographic variables or bird, insect, and plant diversity (e.g., from citizen-science initiatives). With these tools, we may evaluate existing city trees in new, nuanced ways and design future plantings to maximize resistance to pests and climate change. We depend on city trees.

Evolutionary Biology

Genetics and Genomics

Polygenic adaptation is thought to be ubiquitous, yet remains poorly understood. Here, we model this process analytically, in the plausible setting of a highly polygenic, quantitative trait that experiences a sudden shift in the fitness optimum. We show how the mean phenotype changes over time, depending on the effect sizes of loci that contribute to variance in the trait, and characterize the allele dynamics at these loci. Notably, we describe the two phases of the allele dynamics: The first is a rapid phase, in which directional selection introduces small frequency differences between alleles whose effects are aligned with or opposed to the shift, ultimately leading to small differences in their probability of fixation during a second, longer phase, governed by stabilizing selection. As we discuss, key results should hold in more general settings, and have important implications for efforts to identify the genetic basis of adaptation in humans and other species.