Autoimmunity: Bringing on the itch
Neutrophils are the first immune cells that enter the skin and cause itch in atopic dermatitis.
Atopic dermatitis is characterized by debilitating chronic itch and affects about 12% of children and 7% of adults in the United States (Silverberg, 2017). Most itching is harmless, and it can act as a defense mechanism when it triggers scratching behaviors that remove macroscopic parasites or harmful substances from the skin. But the itch associated with atopic dermatitis is far from harmless, being linked to loss of sleep, reduced quality of life and psychiatric symptoms (Chiesa Fuxench et al., 2019).
To date, the most successful treatment for atopic dermatitis is dupilumab, an antibody that regulates two signaling pathways (the IL-4 and IL-13 pathways) by binding to a receptor called IL-4Ra. In clinical trials of adult patients with moderate-to-severe atopic dermatitis, approximately half showed a reduction in the severity of the itch after a year of dupilumab injections and treatment with corticosteroids (Blauvelt et al., 2017). While this confirms that IL-4Ra has a role in causing the itch associated with atopic dermatitis, the fact that a significant number of patients did not respond to treatment makes it clear that our understanding of this condition is far from complete. Now, in eLife, Diana Bautista (University of California, Berkeley) and colleagues – including Carolyn Walsh and Rose Hill as joint first authors – report that white blood cells called neutrophils also have a central role in atopic dermatitis (Walsh et al., 2019).
Walsh et al. exposed mice to calcipotriol, a chemical that induces symptoms similar to human atopic dermatitis, and analyzed its effect on the behavior of the mice, and also its effect at the cellular and molecular level. Calcipotriol is known to induce the production of TSLP, a cytokine that activates several types of immune cells (including CD4+ T cells, eosinophils and mast cells). These cells are commonly associated with itch, which leads to scratching behavior in mice (Li et al., 2006; Yoo et al., 2005; Mack and Kim, 2018).
The experiments of Walsh et al. showed that neutrophils infiltrated the exposure site before any of the other immune cells associated with the response to TSLP. Neutrophil infiltration occurred at the same time as the mice started scratching the site of calcipotriol application, a behavior that was significantly reduced when neutrophils were depleted. Furthermore, injecting a chemokine that recruits neutrophils into mice that had not been exposed to calcipotriol was sufficient to induce scratching behavior. These results indicate that neutrophils may be causing some of the itch associated with atopic dermatitis.
Next, Walsh et al. used mice that had been genetically modified to lack the TSLP receptor (TSLPR), also called TSLPR knock-out mice. When these mice were exposed to calcipotriol, fewer basophils, CD4+ T cells and mast cells were recruited to the exposure site, confirming that TSLP had a role in recruiting these itch-inducing cells. However, the knock-out mice still exhibited scratching behavior in the early stages of calcipotriol application, even though the behavior decreased significantly later on. This suggests that TSLP has a role in causing itch in later stages of atopic dermatitis, but other mechanisms must be responsible for causing itch early on. Neutrophil infiltration was not affected in TSLPR knock-out mice. These results indicate that neutrophils have an early (as well as a sustained) role in the progression of the itch associated with atopic dermatitis.
Analyzing the gene expression of mice exposed to calcipotriol showed that genes affecting how the skin acts as a barrier changed quickly after exposure, followed by alterations in neuronal and cytokine genes. The activity of some cytokine genes increased when both neutrophils and TSLPR were present, while others were upregulated independently of neutrophils but dependent on TSLPR. Yet other genes coding for cytokines such as CXCL10 depended on the presence of neutrophils but not TSLPR.
CXCL10 is a cytokine that can be produced by neutrophils and is known to signal through CXCR3 in sensory neurons to drive scratching behavior (Qu et al., 2015). Walsh et al. showed that blocking CXCR3 attenuated both the early and late scratching behavior induced by calcipotriol. Thus, early infiltration by neutrophils may induce innervation of the affected skin and sensitize the neuronal circuits responsible for scratching behavior by signaling through CXCL10 and CXCR3.
The work of Walsh et al. reveals a new mechanism contributing to the itch associated with atopic dermatitis and reinforces the concept that there are multiple drivers in this disease. Along with TSLP and IL4/IL-13, CXCL10 may cause some of the symptoms of atopic dermatitis, although the role of this cytokine in the disease remains to be fully characterized. Importantly, neutrophils and TSLP represent independent pathways in the chronic phase of calcipotriol treatment in mice (Figure 1). This suggests that a subset of human patients with atopic dermatitis may be more sensitive to TSLP, and another more sensitive to neutrophils. This neutrophil-sensitive group of patients may benefit from treatments that interfere with neutrophil activity or with the communication between neutrophils and neurons through CXCL10/CXCR3.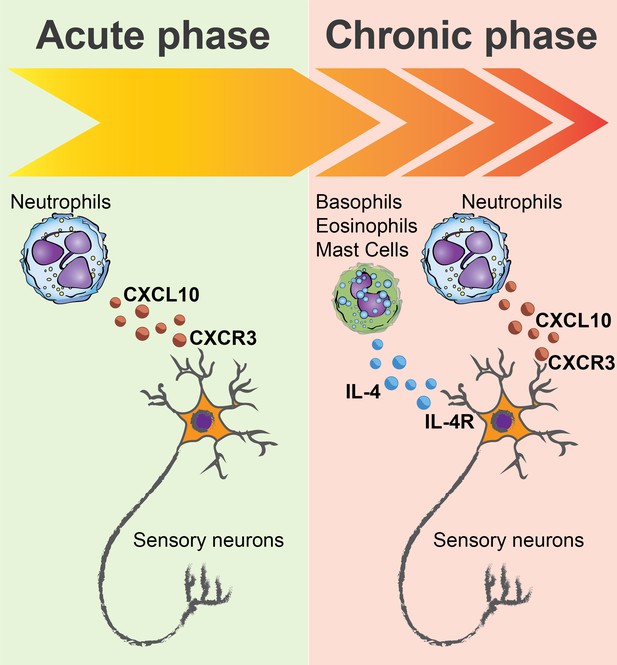 Article and author information
Author details
© 2019, Waizman et al.
This article is distributed under the terms of the Creative Commons Attribution License, which permits unrestricted use and redistribution provided that the original author and source are credited.
1,166

Page views

127

Downloads

0

Citations
Article citation count generated by polling the highest count across the following sources: Crossref, PubMed Central, Scopus.
A two-part list of links to download the article, or parts of the article, in various formats.
Downloads
(link to download the article as PDF)
Open citations
(links to open the citations from this article in various online reference manager services)
Cite this article
(links to download the citations from this article in formats compatible with various reference manager tools)
Daniel A Waizman
Sourav Ghosh
Carla V Rothlin
Autoimmunity: Bringing on the itch
eLife 8:e52931.
https://doi.org/10.7554/eLife.52931
Further reading
Immunology and Inflammation
Neuroscience

Chronic itch remains a highly prevalent disorder with limited treatment options. Most chronic itch diseases are thought to be driven by both the nervous and immune systems, but the fundamental molecular and cellular interactions that trigger the development of itch and the acute-to-chronic itch transition remain unknown. Here, we show that skin-infiltrating neutrophils are key initiators of itch in atopic dermatitis, the most prevalent chronic itch disorder. Neutrophil depletion significantly attenuated itch-evoked scratching in a mouse model of atopic dermatitis. Neutrophils were also required for several key hallmarks of chronic itch, including skin hyperinnervation, enhanced expression of itch signaling molecules, and upregulation of inflammatory cytokines, activity-induced genes, and markers of neuropathic itch. Finally, we demonstrate that neutrophils are required for induction of CXCL10, a ligand of the CXCR3 receptor that promotes itch via activation of sensory neurons, and we find that that CXCR3 antagonism attenuates chronic itch.

Chromosomes and Gene Expression
Immunology and Inflammation

Maternal pre-pregnancy (pregravid) obesity is associated with adverse outcomes for both mother and offspring. Amongst the complications for the offspring is increased susceptibility and severity of neonatal infections necessitating admission to the intensive care unit, notably bacterial sepsis and enterocolitis. Previous studies have reported aberrant responses to LPS and polyclonal stimulation by umbilical cord blood monocytes that were mediated by alterations in the epigenome. In this study, we show that pregravid obesity dysregulates umbilical cord blood monocyte responses to bacterial and viral pathogens. Specifically, interferon-stimulated gene expression and inflammatory responses to respiratory syncytial virus (RSV) and E. coli were significantly dampened, respectively . Although upstream signaling events were comparable, translocation of the key transcription factor NF-κB and chromatin accessibility at pro-inflammatory gene promoters following TLR stimulation was significantly attenuated. Using a rhesus macaque model of western style diet-induced obesity, we further demonstrate that this defect is detected in fetal peripheral monocytes and tissue-resident macrophages during gestation. Collectively, these data indicate that maternal obesity alters metabolic, signaling, and epigenetic profiles of fetal monocytes leading to a state of immune paralysis during late gestation and at birth.

Immunology and Inflammation

A defining feature of successful vaccination is the ability to induce long-lived antigen-specific memory cells. T follicular helper (Tfh) cells specialize in providing help to B cells in mounting protective humoral immunity in infection and after vaccination. Memory Tfh cells that retain the CXCR5 expression can confer protection through enhancing humoral response upon antigen re-exposure but how they are maintained is poorly understood. CXCR5+ memory Tfh cells in human blood are divided into Tfh1, Tfh2, and Tfh17 cells by the expression of chemokine receptors CXCR3 and CCR6 associated with Th1 and Th17, respectively. Here, we developed a new method to induce Tfh1, Tfh2, and Tfh17-like (iTfh1, iTfh2, and iTfh17) mouse cells in vitro. Although all three iTfh subsets efficiently support antibody responses in recipient mice with immediate immunization, iTfh17 cells are superior to iTfh1 and iTfh2 cells in supporting antibody response to a later immunization after extended resting in vivo to mimic memory maintenance. Notably, the counterpart human Tfh17 cells are selectively enriched in CCR7+ central memory Tfh cells with survival and proliferative advantages. Furthermore, the analysis of multiple human cohorts that received different vaccines for HBV, influenza virus, tetanus toxin or measles revealed that vaccine-specific Tfh17 cells outcompete Tfh1 or Tfh2 cells for the persistence in memory phase. Therefore, the complementary mouse and human results showing the advantage of Tfh17 cells in maintenance and memory function supports the notion that Tfh17-induced immunization might be preferable in vaccine development to confer long-term protection.