Cortical Development: Do progenitors play dice?
The wide range of cell types produced by single progenitors in the neocortex of mice may result from stochastic rather than deterministic processes.
Understanding how the many different cell types that make up an adult organism emerge from the successive divisions of a single cell is a central question in biology. In particular, given the numerous random interactions that happen between and within cells (Vogt, 2015; Symmons and Raj, 2016; Hiesinger and Hassan, 2018), how do these multiple cell types reproducibly organize themselves into a robust body structure?
Consider the neocortex, a region of the brain that is involved in higher-order functions such as cognition and language. The neocortex contains a large number of different types of nerve cells called neurons, which are organized into six distinct layers. Neurons within each layer express specific genes and have distinct patterns of connections, which are key features for establishing proper brain circuitry (Jabaudon, 2017).
As the embryo develops, neurons are generated from mother cells called progenitors located below the neocortex: deep-layer neurons are born first, followed by superficial-layer neurons, in an 'inside-out' pattern during neocortical development. Although molecularly distinct mature neocortical neurons have been identified within each of the six layers (Tasic et al., 2016), a corresponding set of molecularly diverse neocortical progenitors has not been found (Telley et al., 2019). Thus, it remains unclear how exactly distinct neuron types emerge from a seemingly more uniform pool of progenitor cells.
Now, in eLife, Oscar Marín from King's College London and co-workers – including Alfredo Llorca as first author – report that stochastic, random processes may explain how single progenitors are able to generate a wide range of neuron types (Llorca et al., 2019). The team – which includes researchers at King's College, the IST in Austria, the University of Freiburg and the University of Sussex – used three different techniques to genetically label progenitor cells, and then mapped the lineages (i.e. the neocortical clone) produced by each progenitor, focusing on progenitors that started generating neurons early during neocortical development. Of the clones that Llorca et al. were able to characterize, ~80% had daughter neurons in both the deep and superficial layers of the neocortex, while only ~20% had daughter neurons restricted to one of these two tiers. The neurons generated from individual progenitors also showed various axonal projection patterns and molecular identities, which corresponded to their layer position.
While this type of analyses has been done previously (Gao et al., 2014), these results provide important and thorough cross-validations of experimentally challenging approaches. In addition, Llorca et al. went one step further and developed mathematical models that could emulate their biological observations. They found that a model containing two types of progenitor cell which could randomly generate diverse ranges of neuron types was the best fit for their experimental results. These computer simulations suggest that a limited number of progenitors with a stochastic neuronal output can in principle account for the diverse clone types observed in the adult neocortex (Figure 1).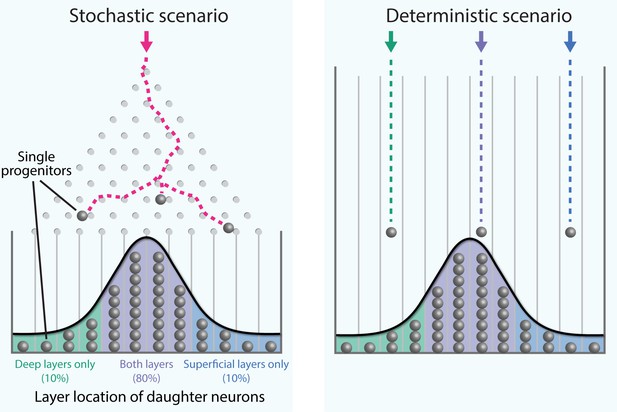 Stochastic events are critical for other developmental processes (Vogt, 2015; Symmons and Raj, 2016; Hiesinger and Hassan, 2018), including the fate choices of blood cell progenitors (Chang et al., 2008). However, distinguishing genuinely stochastic processes from unidentified deterministic processes is difficult. While modern technologies are becoming more sensitive, their signal-to-noise ratio is not infinite, which means that complex deterministic processes involving multiple factors can appear to be stochastic.
Although the stochastic hypothesis of Llorca et al. is based on simulations, it is provocative and raises exciting questions that can be experimentally tested. For example, can the two progenitor subtypes proposed by the model be molecularly identified? Do stochastic events occur within progenitors themselves or in their neuronal progenies? And when it comes to shaping the fate of a neuronal cell, what are the relative contributions of stochastic and deterministic processes?
Most importantly perhaps, this study highlights the limits of a reductionist, cell-by-cell description of neocortical and embryo development. If dynamic cellular features are predictable at a population rather than single-cell level, developmental processes may be most efficiently addressed by understanding the emergent properties of populations of cells rather than by a detailed account of their individual components.
Article and author information
Author details
© 2020, Klingler and Jabaudon
This article is distributed under the terms of the Creative Commons Attribution License, which permits unrestricted use and redistribution provided that the original author and source are credited.
1,621

Page views

233

Downloads

3

Citations
Article citation count generated by polling the highest count across the following sources: PubMed Central, Crossref, Scopus.
A two-part list of links to download the article, or parts of the article, in various formats.
Downloads
(link to download the article as PDF)
Open citations
(links to open the citations from this article in various online reference manager services)
Cite this article
(links to download the citations from this article in formats compatible with various reference manager tools)
Esther Klingler
Denis Jabaudon
Cortical Development: Do progenitors play dice?
eLife 9:e54042.
https://doi.org/10.7554/eLife.54042
Further reading
Developmental Biology

Neuroscience

The cerebral cortex contains multiple areas with distinctive cytoarchitectonic patterns, but the cellular mechanisms underlying the emergence of this diversity remain unclear. Here, we have investigated the neuronal output of individual progenitor cells in the developing mouse neocortex using a combination of methods that together circumvent the biases and limitations of individual approaches. Our experimental results indicate that progenitor cells generate pyramidal cell lineages with a wide range of sizes and laminar configurations. Mathematical modeling indicates that these outcomes are compatible with a stochastic model of cortical neurogenesis in which progenitor cells undergo a series of probabilistic decisions that lead to the specification of very heterogeneous progenies. Our findings support a mechanism for cortical neurogenesis whose flexibility would make it capable to generate the diverse cytoarchitectures that characterize distinct neocortical areas.

Cell Biology

Developmental Biology

Spermatogenesis is a highly specialized differentiation process driven by a dynamic gene expression program and ending with the production of mature spermatozoa. Whereas hundreds of genes are known to be essential for male germline proliferation and differentiation, the contribution of several genes remains uncharacterized. The predominant expression of the latest globin family member, androglobin (Adgb), in mammalian testis tissue prompted us to assess its physiological function in spermatogenesis. Adgb knockout mice display male infertility, reduced testis weight, impaired maturation of elongating spermatids, abnormal sperm shape, and ultrastructural defects in microtubule and mitochondrial organization. Epididymal sperm from Adgb knockout animals display multiple flagellar malformations including coiled, bifid or shortened flagella, and erratic acrosomal development. Following immunoprecipitation and mass spectrometry, we could identify septin 10 (Sept10) as interactor of Adgb. The Sept10-Adgb interaction was confirmed both in vivo using testis lysates and in vitro by reciprocal co-immunoprecipitation experiments. Furthermore, the absence of Adgb leads to mislocalization of Sept10 in sperm, indicating defective manchette and sperm annulus formation. Finally, in vitro data suggest that Adgb contributes to Sept10 proteolysis in a calmodulin-dependent manner. Collectively, our results provide evidence that Adgb is essential for murine spermatogenesis and further suggest that Adgb is required for sperm head shaping via the manchette and proper flagellum formation.

Developmental Biology

Evolutionary Biology

Development of tooth shape is regulated by the enamel knot signalling centre, at least in mammals. Fgf signalling regulates differential proliferation between the enamel knot and adjacent dental epithelia during tooth development, leading to formation of the dental cusp. The presence of an enamel knot in non-mammalian vertebrates is debated given differences in signalling. Here, we show the conservation and restriction of fgf3, fgf10, and shh to the sites of future dental cusps in the shark (Scyliorhinus canicula), whilst also highlighting striking differences between the shark and mouse. We reveal shifts in tooth size, shape, and cusp number following small molecule perturbations of canonical Wnt signalling. Resulting tooth phenotypes mirror observed effects in mammals, where canonical Wnt has been implicated as an upstream regulator of enamel knot signalling. In silico modelling of shark dental morphogenesis demonstrates how subtle changes in activatory and inhibitory signals can alter tooth shape, resembling developmental phenotypes and cusp shapes observed following experimental Wnt perturbation. Our results support the functional conservation of an enamel knot-like signalling centre throughout vertebrates and suggest that varied tooth types from sharks to mammals follow a similar developmental bauplan. Lineage-specific differences in signalling are not sufficient in refuting homology of this signalling centre, which is likely older than teeth themselves.