Histone Methylation: Navigating the structure of COMPASS
Cryo-electron microscopy reveals how ubiquitination promotes the methylation of histone H3 by the histone-modifying complex COMPASS.
Chromatin packages DNA by wrapping it around a core made of eight histone proteins to form individual units called nucleosomes which can be stored inside the nucleus (Luger et al., 1997). Each core contains four different types of histone, which each have flexible extensions called N-terminal tails. Certain modifications to these tails allow proteins to be recruited to the nucleosome, which can alter the structure of chromatin and make various regions of DNA more or less accessible. As a result, histone modifications regulate many genetic processes, including transcription, DNA repair and replication.
One modification that is particularly important for both transcription and repair is the addition of methyl groups to a lysine residue that sits within the N-terminal tail of histone H3 (Kouzarides, 2007). In yeast, methylation of this residue (also known as H3K4) relies on an enzyme called Set1 which forms part of the protein complex COMPASS (Figure 1A; Miller et al., 2001). Previous work has shown that for COMPASS to be recruited to the nucleosome, a ubiqutin group must be attached to a lysine residue in another histone called H2B (Kim et al., 2013). However, this lysine residue is far away from the N-terminal tail of H3: so why does COMPASS need H2B to be ubiquitinated in order to methylate this region?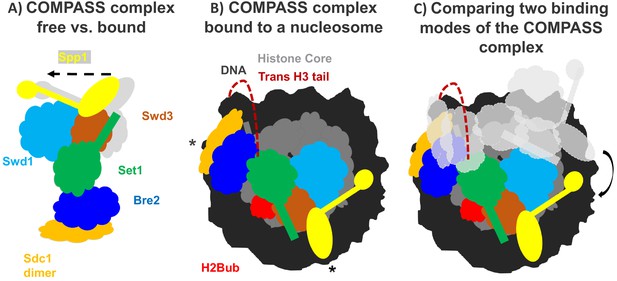 A common way to understand how histone modifying proteins interact with the nucleosome is to determine their structure using cryo-electron microscopy (Zhou et al., 2019; Worden et al., 2019). Now, in eLife, Evan Worden, Xiangbin Zhang and Cynthia Wolberger from Johns Hopkins University School of Medicine report how they used this technique to understand how COMPASS recognizes nucleosomes containing ubiquitinated H2B and uses this site to add a methyl group to histone H3 (Worden et al., 2020).
Worden et al. collaborated with another research group to develop a semi-synthetic H2B protein with a ubquitin chain attached to the correct lysine (Morgan et al., 2016). The team then used cryo-electron microscopy to produce a high-resolution structure of COMPASS from yeast that was bound to a nucleosome made with the semi-synthetic histone protein. This revealed that COMPASS spans the entire face of the nucleosome, making contacts with DNA at three distinct locations, two of which are at opposing edges of the nucleosome (Figure 1B).
The structure also showed that COMPASS makes extensive interactions with the histone core, molding itself over the surface of the nucleosome at the site where H2B binds together with another histone called H2A. Compared to structures of isolated COMPASS (Qu et al., 2018; Takahashi et al., 2011), three of the subunits in the bound complex were found to rotate towards the nucleosome and strengthen this interaction. This rotation also slightly shifts the position of the Set1 enzyme so that it can accept the H3 tail and allow methylation to occur (Figure 1A,B).
Worden et al. found that three of the COMPASS subunits cluster together to interact with the ubiquitin modification attached to the tip of H2B. This helps form a stronger attachment between COMPASS and H2B, and explains the preference for ubiquitinated nucleosomes. Additionally, this extensive interaction positions COMPASS so that the H3 tail can reach into the active site of the enzymatic subunit Set1. Although the tail of H3 is disordered as it emerges from the tightly-coiled DNA superhelix, it is still possible to see the tail tip sitting within the active site of COMPASS. This suggests that the N-terminal tail snakes around the outside of the nucleosome to reach the active site (Figure 1B,C). This could prohibit spontaneous conformational changes that expose regions of DNA (also known as DNA breathing) and affect the stability of the nucleosome.
Next, Worden et al. set out to find if the structural features predicted to be important for methylation had an effect in vivo. They found that introducing mutations which prevented COMPASS from interacting with the nucleosome, or which disrupted the interactions with the ubiquitin chains on H2B, led to reduced H3K4 methylation. These in vivo results represent a near-perfect match with the structural data and support this newly identified structure of COMPASS.
Other research groups have recently defined the structures of additional COMPASS complexes, including the human COMPASS complex MLL1 and a nucleosome-bound complex from a different strain of yeast (Park et al., 2019; Xue et al., 2019; Hsu et al., 2019). Out of the seven COMPASS structures determined, the three that were bound to ubiquitinated nucleosomes had nearly identical structures. The remaining four structures were bound to unmodified nucleosomes: whilst two of the structures had a similar conformation to COMPASS complexes bound to modified nucleosomes, in the other two structures COMPASS was rotated away from the histone core.
The structural differences between COMPASS proteins bound to modified and unmodified nucleosomes suggest that the ubiquitination of H2B (and the additional interactions with COMPASS) stabilizes the complex in a better position for promoting H3K4 methylation (Figure 1C). Taken together, these findings provide a new insight into how modifications across different histones can work together to regulate gene expression. Further work should focus on how the strength of the interaction between COMPASS and the ubiquitinated nucleosome influences the methylation of H3K4.
Article and author information
Author details
© 2020, Luger and Markert
This article is distributed under the terms of the Creative Commons Attribution License, which permits unrestricted use and redistribution provided that the original author and source are credited.
1,193

Page views

131

Downloads

0

Citations
Article citation count generated by polling the highest count across the following sources: Crossref, PubMed Central, Scopus.
A two-part list of links to download the article, or parts of the article, in various formats.
Downloads
(link to download the article as PDF)
Open citations
(links to open the citations from this article in various online reference manager services)
Cite this article
(links to download the citations from this article in formats compatible with various reference manager tools)
Karolin Luger
Jonathan W Markert
Histone Methylation: Navigating the structure of COMPASS
eLife 9:e54767.
https://doi.org/10.7554/eLife.54767
Further reading
Chromosomes and Gene Expression
Structural Biology and Molecular Biophysics

Methylation of histone H3K4 is a hallmark of actively transcribed genes that depends on mono-ubiquitination of histone H2B (H2B-Ub). H3K4 methylation in yeast is catalyzed by Set1, the methyltransferase subunit of COMPASS. We report here the cryo-EM structure of a six-protein core COMPASS subcomplex, which can methylate H3K4 and be stimulated by H2B-Ub, bound to a ubiquitinated nucleosome. Our structure shows that COMPASS spans the face of the nucleosome, recognizing ubiquitin on one face of the nucleosome and methylating H3 on the opposing face. As compared to the structure of the isolated core complex, Set1 undergoes multiple structural rearrangements to cement interactions with the nucleosome and with ubiquitin. The critical Set1 RxxxRR motif adopts a helix that mediates bridging contacts between the nucleosome, ubiquitin and COMPASS. The structure provides a framework for understanding mechanisms of trans-histone cross-talk and the dynamic role of H2B ubiquitination in stimulating histone methylation.

Chromosomes and Gene Expression
Immunology and Inflammation

To mount a protective response to infection while preventing hyperinflammation, gene expression in innate immune cells must be tightly regulated. Despite the importance of pre-mRNA splicing in shaping the proteome, its role in balancing immune outcomes remains understudied. Transcriptomic analysis of murine macrophage cell lines identified Serine/Arginine Rich Splicing factor 6 (SRSF6) as a gatekeeper of mitochondrial homeostasis. SRSF6-dependent orchestration of mitochondrial health is directed in large part by alternative splicing of the pro-apoptosis pore-forming protein BAX. Loss of SRSF6 promotes accumulation of BAX-κ, a variant that sensitizes macrophages to undergo cell death and triggers upregulation of interferon stimulated genes through cGAS sensing of cytosolic mitochondrial DNA. Upon pathogen sensing, macrophages regulate SRSF6 expression to control the liberation of immunogenic mtDNA and adjust the threshold for entry into programmed cell death. This work defines BAX alternative splicing by SRSF6 as a critical node not only in mitochondrial homeostasis but also in the macrophage's response to pathogens.

Chromosomes and Gene Expression
Genetics and Genomics

Asynchronous replication of chromosome domains during S phase is essential for eukaryotic genome function, but the mechanisms establishing which domains replicate early versus late in different cell types remain incompletely understood. Intercalary heterochromatin domains replicate very late in both diploid chromosomes of dividing cells and in endoreplicating polytene chromosomes where they are also underrelicated. Drosophila SNF2-related factor SUUR imparts locus-specific underreplication of polytene chromosomes. SUUR negatively regulates DNA replication fork progression; however, its mechanism of action remains obscure. Here we developed a novel method termed MS-Enabled Rapid protein Complex Identification (MERCI) to isolate a stable stoichiometric native complex SUMM4 that comprises SUUR and a chromatin boundary protein Mod(Mdg4)-67.2. Mod(Mdg4) stimulates SUUR ATPase activity and is required for a normal spatiotemporal distribution of SUUR in vivo. SUUR and Mod(Mdg4)-67.2 together mediate the activities of gypsy insulator that prevent certain enhancer-promoter interactions and establish euchromatin-heterochromatin barriers in the genome. Furthermore, SuUR or mod(mdg4) mutations reverse underreplication of intercalary heterochromatin. Thus, SUMM4 can impart late replication of intercalary heterochromatin by attenuating the progression of replication forks through euchromatin/heterochromatin boundaries. Our findings implicate a SNF2 family ATP-dependent motor protein SUUR in the insulator function, reveal that DNA replication can be delayed by a chromatin barrier and uncover a critical role for architectural proteins in replication control. They suggest a mechanism for the establishment of late replication that does not depend on an asynchronous firing of late replication origins.