Contraception: Stopping sperm in their tracks
An automated high-throughput platform can screen for molecules that change the motility of sperm cells and their ability to fertilize.
From 2010 to 2014, about 44% of pregnancies worldwide were unplanned, and over half of these ended in abortion in both developed and developing countries (Bearak et al., 2018). Moreover, these terminations frequently result in the death of women in some regions of the world (Ganatra et al., 2017; WHO, 2011). These statistics confirm the need to make effective family planning more widely available to those who want to adopt it, as this brings positive outcomes to women, families, countries and the environment (Starbird et al., 2016).
Precursors to the modern condom were used in ancient Egypt, and hormone-based female oral contraceptives have been used since the middle of the twentieth century (Khan et al., 2013; Dhont, 2010). Today, most contraceptives are for use by women. Traditional male options include condoms, which are only partially effective, and vasectomies, which men may be hesitant to get because they cannot always be reversed (Manetti and Honig, 2010; Gava and Meriggiola, 2019). There is therefore a need for new male contraceptives, with sperm being an obvious target.
Sperm cells are equipped with a tail-like structure that allows them to be motile and to travel through the female reproductive tract to reach the egg. There, they undergo the acrosome reaction: this involves the sperm cell releasing digestive enzymes that allow it to come into close contact and fuse with an egg. Successful fertilization requires both motility and a successful acrosome reaction, so targeting and disrupting these processes is a good strategy to develop effective male contraceptives.
Now, in eLife, Franz Gruber, Zoe Johnston, Christopher Barratt and Paul Andrews at the University of Dundee report having developed a new screening platform to evaluate the effects of small molecules on the motility of sperm cells and their ability to go through the acrosome reaction (Gruber et al., 2020). The team used a collection of about 12,000 clinical or preclinical small molecules for which human safety data are already available.
To evaluate the effect these molecules have on sperm motility, a robotics system was used to incubate each small molecule with separate batches of sperm for 10 minutes (Figure 1); the cells were then imaged using a camera with a high frame rate to capture motion. In total, 63 candidates were identified as reducing motility by 15% or more, with 29 being confirmed when retested. Some of the hits were promising, such as Disulfiram and KF-4939. Disulfiram has been used to treat alcohol dependency and is known to dampen sperm motility (Lal et al., 2016). KF-4939 is thought to inhibit platelet aggregation factors, which have already been used in male infertility treatments to improve sperm motility (Roudebush et al., 2004). The experiment also highlighted a large number of small molecules that increase, rather than decrease, sperm motility: these molecules need to be investigated further as they could be used to treat infertility.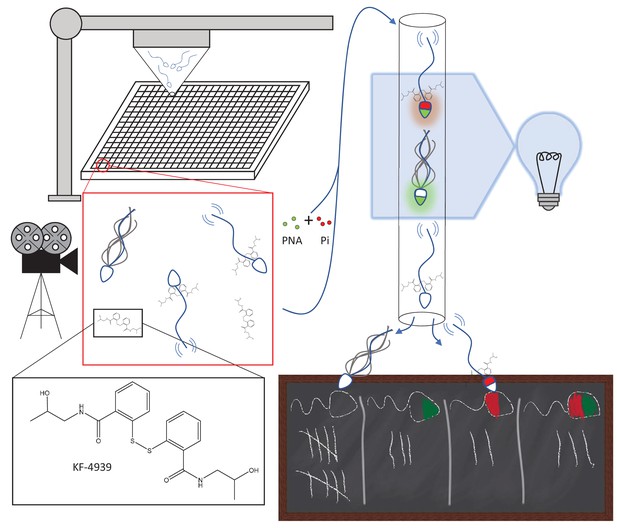 To improve the efficiency of the screen, the same cells that had been assessed for motility were also examined for the acrosome reaction. Two fluorescent tags, called peanut agglutinin and propidium iodide, helped to detect sperm cells that had gone through the reaction after being exposed to the small molecules. Peanut agglutinin only binds to the heads of sperm cells that have undergone the acrosome reaction, and propidium iodide exclusively attaches to dead cells. An automated technique called flow cytometry was used to record whether the tags were bound to a given cell, therefore measuring the percentage of live cells that had undergone the acrosome reaction after being exposed to the small molecules. However, all nine hits proved to be false positives as the small molecules themselves were fluorescent, highlighting a need to carry on such screenings while being wary of artefacts.
The high-throughput screening platform developed by Gruber et al. has the potential to make important contributions to the search for contraceptives and male infertility drugs. This work only examined one collection of molecules, and two sperm parameters, motility and acrosome reaction. Going forward, it would be interesting to apply this platform to target other aspects of sperm biology that are critical for fertilization, such as hyperactivated motility (when sperm cells vigorously and asymmetrically wag their tail-like structures to enter the egg), or the binding of sperm cells to specific egg proteins.
Article and author information
Author details
© 2020, McGoldrick and Chung
This article is distributed under the terms of the Creative Commons Attribution License, which permits unrestricted use and redistribution provided that the original author and source are credited.
1,667

Page views

123

Downloads

0

Citations
Article citation count generated by polling the highest count across the following sources: Crossref, PubMed Central, Scopus.
A two-part list of links to download the article, or parts of the article, in various formats.
Downloads
(link to download the article as PDF)
Open citations
(links to open the citations from this article in various online reference manager services)
Cite this article
(links to download the citations from this article in formats compatible with various reference manager tools)
Luke L McGoldrick
Jean-Ju Chung
Contraception: Stopping sperm in their tracks
eLife 9:e55396.
https://doi.org/10.7554/eLife.55396
Further reading
There is an urgent need to develop new methods for male contraception, however a major barrier to drug discovery has been the lack of validated targets and the absence of an effective high-throughput phenotypic screening system. To address this deficit, we developed a fully-automated robotic screening platform that provided quantitative evaluation of compound activity against two key attributes of human sperm function: motility and acrosome reaction. In order to accelerate contraceptive development, we screened the comprehensive collection of 12,000 molecules that make up the ReFRAME repurposing library, comprising nearly all the small molecules that have been approved or have undergone clinical development, or have significant preclinical profiling. We identified several compounds that potently inhibit motility representing either novel drug candidates or routes to target identification. This platform will now allow for major drug discovery programmes that address the critical gap in the contraceptive portfolio as well as uncover novel human sperm biology.

In vitro fertilization (IVF) has resulted in the birth of over 8 million children. Although most IVF-conceived children are healthy, several studies suggest an increased risk of altered growth rate, cardiovascular dysfunction, and glucose intolerance in this population compared to naturally conceived children. However, a clear understanding of how embryonic metabolism is affected by culture condition and how embryos reprogram their metabolism is unknown. Here, we studied oxidative stress and metabolic alteration in blastocysts conceived by natural mating or by IVF and cultured in physiologic (5%) or atmospheric (20%) oxygen. We found that IVF-generated blastocysts manifest increased reactive oxygen species, oxidative damage to DNA/lipid/proteins, and reduction in glutathione. Metabolic analysis revealed IVF-generated blastocysts display decreased mitochondria respiration and increased glycolytic activity suggestive of enhanced Warburg metabolism. These findings were corroborated by altered intracellular and extracellular pH and increased intracellular lactate levels in IVF-generated embryos. Comprehensive proteomic analysis and targeted immunofluorescence showed reduction of lactate dehydrogenase-B and monocarboxylate transporter 1, enzymes involved in lactate metabolism. Importantly, these enzymes remained downregulated in the tissues of adult IVF-conceived mice, suggesting that metabolic alterations in IVF-generated embryos may result in alteration in lactate metabolism. These findings suggest that alterations in lactate metabolism are a likely mechanism involved in genomic reprogramming and could be involved in the developmental origin of health and disease.

Morphogenetic events during development of the fetal ovary are crucial to the establishment of female fertility. However, the effects of structural rearrangements of the ovary and surrounding reproductive tissues on ovary morphogenesis remain largely uncharacterized. Using tissue clearing and lightsheet microscopy, we found that ovary folding correlated with regionalization into cortex and medulla. Relocation of the oviduct to the ventral aspect of the ovary led to ovary encapsulation, and mutual attachment of the ovary and oviduct to the cranial suspensory ligament likely triggered ovary folding. During this process, the rete ovarii elaborated into a convoluted tubular structure extending from the ovary into the ovarian capsule. Using genetic mouse models in which the oviduct and rete ovarii are perturbed, we found the oviduct is required for ovary encapsulation. This study reveals novel relationships among the ovary and surrounding tissues and paves the way for functional investigation of the relationship between architecture and differentiation of the mammalian ovary.