Imaging: The many facets of brain aging
Applying big-data analytic techniques to brain images from 18,707 individuals is shedding light on the influence of aging on the brain.
We are not all equal when it comes to brain aging: while some people manage to maintain well-preserved cognitive function into old age, others do not (Nyberg et al., 2012). Brain-imaging studies have attempted to capture brain aging by exploring age-related changes to specific structures and different kinds of brain tissue (Good et al., 2001; Walhovd et al., 2005). But a more recent approach has been to use one or more brain-imaging techniques to define a global, single brain-age for each individual (Franke et al., 2010). This estimate is then used to derive a measure called brain-age delta, which represents the gap between the age expected from the brain status and the actual age of the individual. Now, in eLife, Stephen Smith (University of Oxford) and colleagues report a refined brain-age approach that might better represent how aging affects the biological processes of the brain (Smith et al., 2020).
From a sample of 21,407 participants of the UK Biobank study, Smith et al. reported the data of 18,707 individuals over the age of 45 whose brains have been imaged using the same MRI and fMRI protocols. The team then generated 3913 imaging-derived phenotypes: each of the phenotypes represents a different aspect of brain structure or function, such as how specific regions are connected or the structure of certain cortical areas (Figure 1A).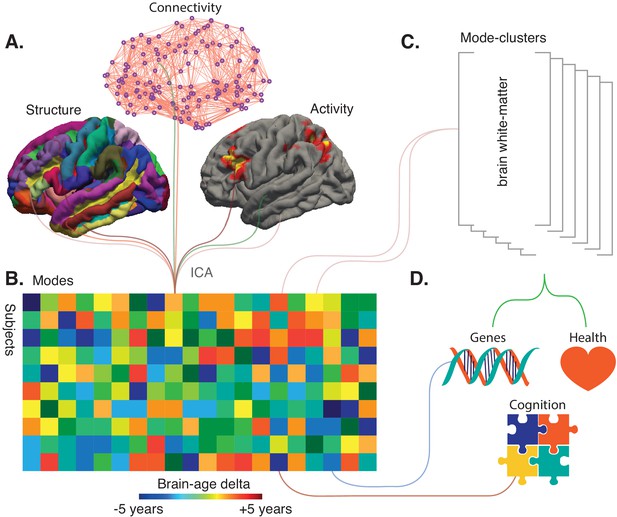 Further computational analyses were conducted to combine the phenotypes that vary together with age across subjects. In total, 62 of these groups (termed 'modes') were established, each potentially representing a biological process affected by aging: for instance, changes in white-matter microstructure could reflect degeneration of axons. These modes were then weighted to describe how strongly each is present in an individual.
The next step was to try to use the modes to assess how an individual would fare in comparison to others, and to examine whether these new measures could correlate with genetic factors. The modes were first grouped to create an 'all-in-one' brain-age delta for each participant, a measure that turned out not to be associated with a genetic signature. Next, each specific mode was used to create a brain-age delta that assesses the gap between the participant and the population for this particular mode (Figure 1B). Most of these 'mode-specific' brain-age deltas turned out to be associated with the genetic makeup of the individuals. This demonstrates that superimposing distinct brain aging processes in an all-in-one brain-age may obscure biological relations.
While the individual modes might be related to specific biological processes, Smith et al. used data-driven optimization to group the 62 modes into coarser 'mode-clusters' (Figure 1C). The six clusters that emerged helped to understand larger patterns of age-related brain changes, and how these relate to other 'non-imaging' variables such as health parameters. The mode-cluster that was associated with the greatest aging effect, for example, linked cognitive processing speed with brain patterns like ventricular volume and white-matter microstructure. Diabetes, hypertension, and smoking were all risk factors distributed across mode-clusters, suggesting that different aspects of vascular health influence brain aging through different biological processes.
This work highlights the challenge in determining the optimal balance between integration and diversification in studies of brain aging, where a single brain-age is at the extreme end of integration. An argument in favor of diversification is the fact that, unlike the all-in-one brain-age delta, deltas defined from modes and mode-clusters were associated with genetics (Figure 1D). But what will the optimal 'unit' of brain aging turn out to be in the end? Should it be six (as the mode-clusters suggest), 62 (from the analyses of the 3913 imaging-derived phenotypes), or another figure altogether? The relevant number will depend on the type of imaging used in a specific dataset – for example, if it includes both MRI and PET images or MRI alone. Unique brain-age deltas may be revealing a gap between chronological and actual brain age – thus stressing the vast heterogeneity in the older population – but the work by Smith et al. represents the next generation of analytic methods that can help to decode the complexity of brain aging. In the future, genetics and cognition may even be considered in the early stages of analysis, when distinct modes are initially computed.
As imaging data continue to be gathered at a large scale, it is becoming increasingly relevant to examine the complex intrinsic structure of data collected through different imaging methods (Bzdok and Yeo, 2017). Techniques such as the ones used by Smith et al. reduce complexity while respecting the patterns created by actual biological processes, thereby limiting the dilution and potential loss of valuable information. As big-data approaches continue to be refined, they will be able to detect biological processes from brain images, and ultimately these mechanisms might be linked to models of brain aging established at the cellular level.
Article and author information
Author details
© 2020, Nyberg and Wåhlin
This article is distributed under the terms of the Creative Commons Attribution License, which permits unrestricted use and redistribution provided that the original author and source are credited.
1,459

Page views

191

Downloads

3

Citations
Article citation count generated by polling the highest count across the following sources: Crossref, PubMed Central, Scopus.
A two-part list of links to download the article, or parts of the article, in various formats.
Downloads
(link to download the article as PDF)
Open citations
(links to open the citations from this article in various online reference manager services)
Cite this article
(links to download the citations from this article in formats compatible with various reference manager tools)
Lars Nyberg
Anders Wåhlin
Imaging: The many facets of brain aging
eLife 9:e56640.
https://doi.org/10.7554/eLife.56640
Further reading
Brain imaging can be used to study how individuals' brains are aging, compared against population norms. This can inform on aspects of brain health; for example, smoking and blood pressure can be seen to accelerate brain aging. Typically, a single 'brain age' is estimated per subject, whereas here we identified 62 modes of subject variability, from 21,407 subjects' multimodal brain imaging data in UK Biobank. The modes represent different aspects of brain aging, showing distinct patterns of functional and structural brain change, and distinct patterns of association with genetics, lifestyle, cognition, physical measures and disease. While conventional brain-age modelling found no genetic associations, 34 modes had genetic associations. We suggest that it is important not to treat brain aging as a single homogeneous process, and that modelling of distinct patterns of structural and functional change will reveal more biologically meaningful markers of brain aging in health and disease.

The treatment of neurodegenerative diseases is hindered by lack of interventions capable of steering multimodal whole-brain dynamics towards patterns indicative of preserved brain health. To address this problem, we combined deep learning with a model capable of reproducing whole-brain functional connectivity in patients diagnosed with Alzheimer's disease (AD) and behavioral variant frontotemporal dementia (bvFTD). These models included disease-specific atrophy maps as priors to modulate local parameters, revealing increased stability of hippocampal and insular dynamics as signatures of brain atrophy in AD and bvFTD, respectively. Using variational autoencoders, we visualized different pathologies and their severity as the evolution of trajectories in a low-dimensional latent space. Finally, we perturbed the model to reveal key AD- and bvFTD-specific regions to induce transitions from pathological to healthy brain states. Overall, we obtained novel insights on disease progression and control by means of external stimulation, while identifying dynamical mechanisms that underlie functional alterations in neurodegeneration.

Previous research has associated alpha-band [8–12 Hz] oscillations with inhibitory functions: for instance, several studies showed that visual attention increases alpha-band power in the hemisphere ipsilateral to the attended location. However, other studies demonstrated that alpha oscillations positively correlate with visual perception, hinting at different processes underlying their dynamics. Here, using an approach based on traveling waves, we demonstrate that there are two functionally distinct alpha-band oscillations propagating in different directions. We analyzed EEG recordings from three datasets of human participants performing a covert visual attention task (one new dataset with N = 16, two previously published datasets with N = 16 and N = 31). Participants were instructed to detect a brief target by covertly attending to the screen's left or right side. Our analysis reveals two distinct processes: allocating attention to one hemifield increases top-down alpha-band waves propagating from frontal to occipital regions ipsilateral to the attended location, both with and without visual stimulation. These top-down oscillatory waves correlate positively with alpha-band power in frontal and occipital regions. Yet, different alpha-band waves propagate from occipital to frontal regions and contralateral to the attended location. Crucially, these forward waves were present only during visual stimulation, suggesting a separate mechanism related to visual processing. Together, these results reveal two distinct processes reflected by different propagation directions, demonstrating the importance of considering oscillations as traveling waves when characterizing their functional role.