Genome streamlining in a minute herbivore that manipulates its host plant
The tomato russet mite, Aculops lycopersici, is among the smallest animals on earth. It is a worldwide pest on tomato and can potently suppress the host's natural resistance. We sequenced its genome, the first of an eriophyoid, and explored whether there are genomic features associated with the mite's minute size and lifestyle. At only 32.5 Mb, the genome is the smallest yet reported for any arthropod and, reminiscent of microbial eukaryotes, exceptionally streamlined. It has few transposable elements, tiny intergenic regions, and is remarkably intron-poor, as more than 80% of coding genes are intronless. Furthermore, in accordance with ecological specialization theory, this defense-suppressing herbivore has extremely reduced environmental response gene families such as those involved in chemoreception and detoxification. Other losses associate with this species' highly derived body plan. Our findings accelerate the understanding of evolutionary forces underpinning metazoan life at the limits of small physical and genome size.
Arthropods are a group of invertebrates that include insects – such as flies or beetles – arachnids – like spiders or scorpions – and crustaceans – including shrimp and woodlice. One of the tiniest species of arthropods, measuring less than 0.2 millimeters, is the tomato russet mite Aculops lycopersici. This arachnid is among the smallest animals on Earth, even smaller than some single-celled organisms, and only has four legs, unlike other arachnids. It is a major pest on tomato plants, which are toxic to many other animals, and it feeds on the top cell layer of the stems and leaves. Tomato growers need a way to identify and treat tomato russet mite infestations, but this tiny species remains something of a mystery.
One way to tackle this pest may be to take a closer look at its genome, as this could reveal what genes the mite uses to detoxify its diet. Examining the mite's genome could also reveal information about how evolution handles creatures becoming smaller. An area of particular interest is the overall size of its genome. Not all of the DNA in a genome is part of genes that code for proteins; there are also sections of so-called 'non-coding' DNA. These sequences play important roles in controlling how and when cells use their genes. In the human genome, for example, just 1% of the DNA codes for protein. In fact, most human protein-coding genes are interrupted by sequences of non-coding DNA, called introns.
Here, Greenhalgh, Dermauw et al. sequence the entire tomato russet mite genome and reveal that not only is the mite's body size miniature: these tiny animals have the smallest arthropod genome reported to date, almost a hundred times smaller than the human genome. Part of this genetic miniaturization seems to be down to massive loss of non-coding DNA. Around 40% of the mite genome codes for protein, and 80% of its protein coding genes contain no introns. The rest of the miniaturization involves loss of genes themselves. The mites have lost some of the genes that determine body structure, which could explain why they have fewer legs than other arachnids. Additionally, they only carry a small set of genes involved in sensing chemicals and clearing toxins, which could explain why they are mostly found on tomato plants.
Greenhalgh, Dermauw et al.'s findings shed light on what may happen to the genome at the extremes of size evolution. Sequencing the genomes of other mites could reveal when in evolutionary history this genetic miniaturization occurred. Furthermore, a better understanding of the tomato russet mite genome could lead to the development of methods to detect the infestation of plants earlier and be highly beneficial for tomato agriculture.
The free-living microarthropod Aculops lycopersici (Tryon) belongs to the superfamily of the Eriophyoidea (Arthropoda: Chelicerata: Acari: Acariformes) that harbors the smallest plant-eating animals on earth (Keifer, 1946; Navia et al., 2010; Sabelis and Bruin, 1996). Eriophyoids are known by many names including gall, blister, bud, and rust mites, depending on the type of damage they cause (Hoy, 2004). Since the 1930s, the tomato russet mite A. lycopersici has been reported as a minor pest of cultivated tomato (Solanum lycopersicum L.) worldwide (Massee, 1937). For unknown reasons, it has emerged in recent years as a significant pest of tomatoes in European greenhouses (Moerkens et al., 2018). While it is extremely small – only ~50 μm wide and 175 μm in length (Figure 1a,b) – it can reach high population densities (Figure 1c). The damage it causes to plants superficially resembles that of microbial disease (Figure 1d), for which it is often misdiagnosed, and controlling it is troublesome (Gerson and Weintraub, 2012; Van Leeuwen et al., 2010).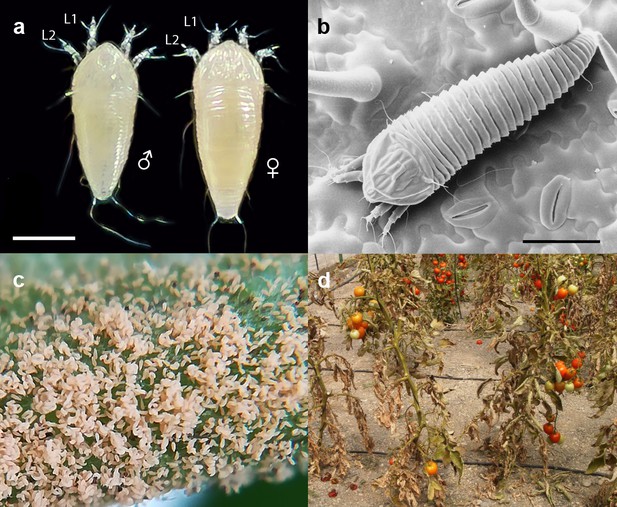 The mite feeds on plant epidermal cells (Royalty and Perring, 1988), which are relatively low in nutrients, with needle-shaped mouth parts (stylets) that allow the transfer of saliva and the uptake of cell contents (Nuzzaci and Alberti, 1996). The first visible signs of a russet mite infestation are a rapid local collapse of the leaf hairs (trichomes) on the stem, leaflet or petiole upon which the mites are feeding (van Houten et al., 2013). This is followed by withering and necrosis of infested leaves, which ultimately leads to a bronzed or russet color, from which the mite owes its name (Jeppson et al., 1975; Kawai and Haque, 2004). Although it is now a global pest on tomato, it can survive on many related solanaceous plants (nightshade family) such as potato, tobacco, petunia, nightshade, and various peppers (Perring and Farrar, 1986), as well as on a few hosts outside the nightshade family (Perring and Royalty, 1996; Rice and Strong, 1962).
The Eriophyoidea belong to the Chelicerata, a subphylum of Arthropoda which includes spiders, scorpions, ticks, and mites. The Eriophyoidea consists of three families – Phytoptidae, Eriophyidae (or eriophyids, to which A. lycopersici belongs), and Diptilomiopidae, and comprises 357 herbivorous genera found on more than 1800 different plant species (Oldfield, 1996; Zhang, 2011). Eriophyoids are known to manipulate host plant resource allocation and resistance, and many species do so by inducing the formation of plant galls (de Lillo et al., 2018), possibly by secreting molecular mimics of plant hormones in their saliva (De Lillo and Monfreda, 2004; de Lillo and Skoracka, 2010). Although A. lycopersici is not a gall-inducing species, it nevertheless manipulates the defense mechanisms of its tomato host to its benefit. Through an unknown mechanism during feeding, this mite suppresses the jasmonic acid (JA) signaling pathway (Glas et al., 2014; Schimmel et al., 2018). This blocks the ability of the tomato host plant to produce defensive metabolites and proteins against herbivorous insects and mites (Alba et al., 2015; Howe and Jander, 2008), thereby rendering the plant defenseless. The consequences of suppressing host defenses for the herbivore's selective environment may be variable depending on the degree of host specialization (Blaazer et al., 2018; Kant et al., 2015) but for mite species that can feed on multiple hosts, there are indications of a trade-off between the ability to suppress defenses and the ability to cope with xenobiotics (Kant et al., 2008; Wybouw et al., 2015). Many species of eriophyoid mites cause little damage to their hosts (Jeppson et al., 1975), or alternatively induce damage indirectly as vectors of pathogens (Navia et al., 2013). In contrast, while A. lycopersici is not known to vector plant diseases, its ability to alter the chemistry and morphology of tomato severely weakens the plants, which are then overwhelmed and killed by exponentially growing A. lycopersici populations (Figure 1c,d; Perring, 1996).
In addition to being a priority pest of tomato, A. lycopersici and related eriophyoids are among the most extreme examples of miniaturization in arthropods. As one of the smallest documented animal species (Bailey and Keifer, 1943), with dimensions smaller than some single-celled organisms (Polilov, 2015), it is not surprising that A. lycopersici has a derived morphology. Compared to almost all adult arachnids outside of the Eriophyoidea, which have a body plan with eight legs, A. lycopersici has only four legs (Figure 1a,b). Further, reproductive structures, which are located at the terminal end in other mites, are positioned in the central ventral region (Nuzzaci and Alberti, 1996). This type of morphology has resulted in altered reproductive behavior wherein males, instead of direct insemination, deposit spermatophores (packets of sperm) in the environment that are subsequently picked up by females (Al-Azzazy and Alhewairini, 2018; Oldfield and Michalska, 1996). Despite these morphological and behavioral innovations, A. lycopersici retains the haplodiploid mechanism of sex determination characteristic of many other mite species (Anderson, 1954). Further, female A. lycopersici mites can lay up to four eggs per day, and the generation time is as little as 5 days under optimal conditions (Kawai and Haque, 2004; Rice and Strong, 1962). These features, which resemble those of other agriculturally important mite herbivores, result in rapid overexploitation of the host plant and have undoubtedly contributed to the importance of this species as a field and greenhouse pest of tomato.
Here, we present the genome of A. lycopersici, the first for an eriophyoid mite. At only 32.5 Mb, it is the smallest arthropod genome reported to date (Grbić et al., 2011; Waldron et al., 2017). As revealed by contrasting the genomic architecture of the tomato russet mite with other sequenced arthropods, including the two-spotted spider mite Tetranychus urticae (Grbić et al., 2011), a generalist herbivore often found in co-infestations alongside A. lycopersici (Glas et al., 2014), we elucidate mechanisms underlying dramatic genome reduction. In particular, we observed typical features of streamlined genomes (Arkhipova, 2018; Hessen et al., 2010a), including a marked reduction in the distance between adjacent genes, and few repetitive sequences. Massive loss of introns was apparent. Moreover, reductions in specific genes and gene families, such as environmental response genes, associate with A. lycopersici's ability to suppress host plant defenses as well as its derived morphology. The genome therefore sheds light not only on mechanisms of extreme metazoan genome reduction, but also on the interplay between gene content and the lifestyle of small herbivores that manipulate their environment.
Genome size varies enormously within the Acari. While tick genomes can be larger than 2 Gb (Gulia-Nuss et al., 2016), those of mite species belonging to the Acariformes are small (Gregory and Young, 2020). This is especially true for mites within the order Sarcoptiformes, including dust mites and scabies mites, for which genomes of lengths ~55-60 Mb have been reported (Chan et al., 2015; Rider et al., 2015). Eriophyoid mites like A. lycopersici have traditionally been placed in the order of the Trombidiformes, but recent work suggests they belong to the Sarcoptiformes, or a sister taxon (Arribas et al., 2020; Bolton et al., 2017; Klimov et al., 2018; Xue et al., 2017). Our work supports this conjecture, as within Acariformes, A. lycopersici fell in a well-supported clade with the house dust mite D. pteronyssinus (Sarcoptiformes), as opposed to T. urticae (Trombidiformes) (Figure 2—figure supplement 3).
Mirroring that of its closest sequenced relatives, the genome of A. lycopersici is tiny. At 32.5 Mb, it is the smallest reported to date for an arthropod and among the smallest metazoan genomes sequenced so far (Slyusarev et al., 2020). Its size is also consistent with cytological data that eriophyoid mites have few chromosomes that are extremely small (Helle and Wysoki, 1996; Helle and Wysoki, 1983) and with several trends. In broad terms eukaryotic genome sizes correlate positively with larger cell (nuclei) sizes, and vary inversely with cell division times (Elliott and Gregory, 2015; and references therein). While little is known about the minimal cell sizes for A. lycopersici, the whole mite is smaller than many single eukaryotic cells and neuron somata sizes of less than 1 μm have been observed for another eriophyoid mite of similar size (Whitmoyer et al., 1972). A. lycopersici is also half the size (or less) of mites like D. pteronyssinus, and its minute physical stature and genome size are consistent with a recent analysis that revealed a positive correlation within Acari between organismal size and haploid DNA content (Gregory and Young, 2020). The A. lycopersici generation time, a potential (albeit imperfect) proxy for cell cycle progression, is also near the minimum reported for other mites, or for microinsects (Danks, 2006; Kawai and Haque, 2004; Rice and Strong, 1962). The force(s) that have led to the small physical and genome size of A. lycopersici are not known. However, russet mites can use their short stylets only to feed on plant epidermal cells (Royalty and Perring, 1988). This is in contrast to many other (larger) herbivores, including other herbivorous mites like T. urticae (Bensoussan et al., 2016), that can reach and consume the photosynthetically active, sugar-rich mesophyll cells (Borsuk and Brodersen, 2019; Koroleva et al., 2000) underneath the epidermis. The nutrient-poor diet of A. lycopersici may favor small physical size, and under some conditions, nutrient limitations have been proposed to select specifically for low DNA content (Hessen et al., 2010a). Regardless, the rapid generation time of A. lycopersici facilitates dense populations on its host (Figure 1c,d), and outcrossing by deposition of spermatophores (Al-Azzazy and Alhewairini, 2018) in the environment may approximate panmixia, and hence high effective population sizes, and therefore more efficient selection against the accumulation of non-coding sequences associated with large eukaryotic genomes (Lynch et al., 2011). Therefore, a collection of life history features may underlie the streamlining observed in the A. lycopersici genome.
In addition to a very low content of repetitive sequences, a derived genomic organization underpins the reduced A. lycopersici genome. As compared to the ~3 fold larger T. urticae genome (Grbić et al., 2011), the relative intergenic and intronic fractions are reduced, while compared to the ~2 fold larger D. pteronyssinus genome (Waldron et al., 2017), the intergenic fraction is nearly identical, while the genomic percent in introns is less. The latter reduction reflects massive intron loss in A. lycopersici, as 83.7% of genes were intronless, a value more than threefold higher than for T. urticae or D. pteronyssinus. As observed in other intron-poor species (Mourier and Jeffares, 2003), we observed greater retention of 5′ introns in A. lycopersici, potentially a consequence of intron loss via 3′-biased intron removal by recombination with cDNAs following reverse transcription of spliced transcripts (also known as Reverse Transcriptase-Mediated Intron Loss, or RTMIL) (Mourier and Jeffares, 2003; Roy and Gilbert, 2005). Alternatively, or in concert, the pattern may reflect retention of 5′ introns rich in cis regulatory sequences (Roy and Gilbert, 2005), an explanation consistent with A. lycopersici's relatively long median intron lengths as compared to other insects and mites with compact genomes (Table 1, Figure 2—figure supplement 6). Previously, comparisons of intron loss events among close relatives, where few mutational steps have occurred, have been important in establishing plausible mechanisms of intron loss (Yenerall et al., 2011; Zhu and Niu, 2013). Such analyses are challenging to perform for A. lycopersici, as the time of divergence from the most recent common ancestor with a sequenced genome is hundreds of millions of years. Nevertheless, for a set of A. lycopersici intron losses in highly conserved genes – for which confident assignment of intron positions could be made in multi-species protein alignments – the overwhelming majority of loss events were consistent with precise intron excisions (i.e. Figure 2c). This pattern is consistent with a major role for intron removal via RTMIL, which has also been suggested to be a frequent mechanism underlying intron loss events in the genomes of (comparatively) closely related Drosophila species (Yenerall et al., 2011). However, a more prominent role for precise (or nearly precise) genomic deletions of introns as a loss mechanism in A. lycopersici cannot be ruled out, especially as our analysis necessarily involved conserved genes for which imprecise intronic deletions would likely be highly detrimental. A. lycopersici also has a very rapid generation time, and as it is evolutionary distant from its closest sequenced relatives (Figure 3), many lineage-specific uncommon mutation events (such as genomic deletion of introns) have potentially been sampled. Currently, more closely related genomes are needed to distinguish between RTMIL or genomic deletions as the predominant driver of intron loss in A. lycopersici, as well as to assess contributions of other possible mechanisms – for instance, retrotransposition by target-primed reverse transcription of spliced transcripts (Cordaux and Batzer, 2009; Wang et al., 2014), with subsequent loss of source, intron-containing loci. Likewise, more closely related genomes will be critical to establish the timing of intron losses. As additional genomes in this lineage become available, eriophyoid mites promise to be an attractive system to investigate the dynamics of intron evolution.
Apart from the dearth of introns, the complement of coding genes in the A. lycopersici genome deviates from that of relatives with larger genomes, and seems to be associated with its reduced morphology and distinct life history (Lindquist and Oldfield, 1996). Compared to other arthropods, a mere handful of gene families were expanded, including one that encodes a troponin domain. While this result was unexpected, as troponin performs a conserved role in muscle contraction and is single or low copy number in most arthropods, in a transcriptome assembly of Aceria tosichella, a non-galling eriophyoid pest of wheat and other grasses, an expansion of troponin-encoding genes was also observed (Gupta et al., 2019). Possibly, this expansion may be related to the derived body musculature of eriophyoids, as their skeletal and peripheral musculature is very pronounced, with the latter enabling the maintenance of body turgidity (Nuzzaci and Alberti, 1996). Nevertheless, the dominant force in shaping the genic composition of A. lycopersici is loss, including for genes involved in highly conserved metazoan or arthropod cell processes (e.g. for the Golgi apparatus), as well as gene families and specific genes (or conserved domains) involved in many aspects of arthropod development and physiology. The latter include Hairy Orange domain proteins, nuclear receptors, and other transcription factors that have broadly conserved roles in animal development (Holland, 2013; Iso et al., 2003; Pflugfelder et al., 2017; Sebé-Pedrós and Ruiz-Trillo, 2017; Shimeld et al., 2010), and whose reduction (or simplification by domain loss) in A. lycopersici may be related to the eriophyoid body plan. For example, in contrast to other mites, A. lycopersici has no orthologue of the T-box gene org-1, which in D. melanogaster plays a pivotal role in diversification of circular visceral muscle (Schaub and Frasch, 2013). This musculature is reduced in the Eriophyoidea (Nuzzaci and Alberti, 1996; Whitmoyer et al., 1972) compared to other mites (Alberti and Crooker, 1985; Coons, 1978; Mathieson and Lehane, 2002), as it also is in studied microinsects (Polilov, 2015). Furthermore, in most chelicerates, the Hox gene pb is expressed in the pedipalps and in three to four pairs of legs (Barnett and Thomas, 2013; Schwager et al., 2015; Telford and Thomas, 1998). Whether the lack of pb in the A. lycopersici genome is related to the reduction in legs in Eriophyoidea is unknown; however, pb has also been lost in other ecdysozoan animals such as Nematoda (Aboobaker and Blaxter, 2003) and Tardigrada (Smith et al., 2016; Yoshida et al., 2017), lineages that either lack legs (Nematoda) or in which leg formation has been suggested to be highly aberrant ('walking heads', Maderspacher, 2016) from the panarthropodan ancestor (Tardigrada, Smith and Goldstein, 2017). Further, in D. melanogaster mutants of both dachs and four-jointed, each of which is absent in A. lycopersici, have similar phenotypes including shortened legs (Buckles et al., 2001). A. lycopersici-specific losses in cell cycle regulatory genes like unkempt and fat are also candidates to underlie allometric changes in tissues and organs, a general feature of diminutive mites (like A. lycopersici) and microinsects (Danks, 2006; Polilov, 2015).
A remarkable feature of the genome of T. urticae is the presence of hundreds of genes acquired from fungal or bacterial sources, including microbe-derived UGTs (Wybouw et al., 2018). While a modest number of UGTs of putative bacterial origin are present in A. lycopersici, horizontally transferred genes were otherwise absent, except for two genes in the pathway for the synthesis of pantothenate, an essential B vitamin. Previous studies have shown that pantothenate biosynthetic genes have been laterally transferred into tetranychid mites, the silverleaf whitefly, and nematodes (Chen et al., 2016; Craig et al., 2009; Wybouw et al., 2018; Ren et al., 2020). In A. lycopersici, the HGT event of ketopantoate hydroxymethyltransferase appears to be distinct from the transfer in the tetranychid mite lineage. The apparent independent HGT of pantothenate biosynthetic genes in Acariformes, coupled with acquisitions in insect lineages, is a strong signal of adaptive significance for de novo pantothenate biosynthesis in arthropod herbivores.
Finally, nowhere were reductions in A. lycopersici gene families more striking than in genes associated with host plant use. Recently, the importance of chemosensory receptors in host plant use and breadth has attracted intense interest (Gloss et al., 2019; Ngoc et al., 2016). A. lycopersici completely lacks the expansion of chemosensory receptors reported (to varying extents) in nearly all other arthropods, as only a handful of members are present for any of the characterized chemosensory receptor families. This finding is consistent with a reduced role for chemosensation in specialist herbivores, although it may also reflect a more general loss of sensory structures during miniaturization, as the number of sensilla (which include sites of chemosensation) are dramatically reduced in microinsects (Polilov, 2015), as well as in eriophyoid mites (Figure 1a,b; Lindquist and Oldfield, 1996). Next to chemosensory receptor genes, the detoxification gene complement of A. lycopersici is minimal compared to the generalist herbivore T. urticae (Dermauw et al., 2013b; Grbić et al., 2011), as well as to insect herbivores (Rane et al., 2019). This was particularly striking for CCEs and GSTs, for which lineage-specific expansions are absent, and for which most members are in highly conserved clades that likely perform more general (non-detoxification) roles. Several of the few notable lineage-specific expansions in A. lycopersici do involve subfamilies of the MFS. However, while some MFS genes are differentially regulated upon host shift or xenobiotic exposure in T. urticae (Dermauw et al., 2013b), MFS proteins have diverse roles, and additional work is needed to assess if MFS mini-expansions in A. lycopersci are associated with host use.
The minimal detoxification gene repertoire and the paucity of chemoreceptor genes in A. lycopersici are in line with ecological specialization theory that predicts that herbivores with a narrow host range only need a limited number of environmental response genes (Berenbaum, 2002; Rane et al., 2019). However, although A. lycopersici has a narrow host-range relative to the spider mite T. urticae, it can be found on related solanaceous plant species (Perring and Farrar, 1986), as well as on several hosts outside the nightshade family (Perring and Royalty, 1996; Rice and Strong, 1962). Hence, the extent to which this mite has specialized on these hosts is unclear. Nevertheless, the minimal detoxification and chemoreception repertoire gene sets support the idea that modification of the local environment by defense suppression may alter selection imposed by the environment, thereby reducing the requirement for environmental response genes (Laland et al., 2016). How eriophyoids manipulate their hosts is unknown, but likely involves orally delivered salivary metabolites (De Lillo and Monfreda, 2004), or alternatively secreted proteins, termed effectors. Currently, the molecular nature of herbivore effectors, and their mechanisms of action, are poorly understood (Blaazer et al., 2018; Erb and Reymond, 2019). However, proteins secreted by the larvae of several lepidopteran species have been shown to attenuate plant defenses, including by physical interaction with a component of the JA signal transduction pathway (Chen et al., 2019; Musser et al., 2002). Further, a salivary ferritin from the whitefly Bemisia tabaci suppresses oxidative signals in tomato, and blunts JA-mediate defense responses (Su et al., 2019), and expression of salivary products of unknown molecular function from spider mites in plants was recently demonstrated to impair defense signaling downstream of the phytohormone salicylic acid (Villarroel et al., 2016), and may also act to suppress JA signaling (Schimmel et al., 2017). The divergent molecular nature of these effectors mirrors findings from plant-pathogen (Toruño et al., 2016) and plant-nematode (Rehman et al., 2016) systems, where secreted effectors can be highly species-specific, hindering identification based solely on sequence information. These findings highlight the need for functional studies to establish if secreted proteins (or metabolites) in A. lycopersici saliva underlie this mite's ability to potently suppress tomato defenses. More generally, as additional genomes of herbivores that induce or suppress plant defenses become available – and that vary in their magnitude and mechanisms of host suppression – the A. lycopersici genome will serve as a key reference for comparative studies to test hypotheses surrounding the evolution of gene families that respond to or modulate plant defenses.
At only 32.5 Mb, the A. lycopersici genome is the smallest sequenced arthropod genome to date. In contrast to its closest sequenced relatives, the majority of genes lack introns, few repetitive sequences are present, and many genes conserved in most animals are absent. Compared to its larger relatives, the simplification of A. lycopersici's body plan, and that of eriophyoid mites more generally, is reminiscent of that observed in other microarthropods (Maderspacher, 2016). The compressed genome architecture of A. lycopersici is in line with genome streamlining concepts (Hessen et al., 2010a; Hessen et al., 2010b), some of which speculate that maintaining a high growth rate in nutritionally limited environments (in this study the plant epidermis) may be a driver for the evolution of compact genomes. Further, the extreme reduction of several environmental response gene families aligns with predictions that follow from ecological specialization theories (Devictor et al., 2010; Futuyma and Moreno, 1988; Laland et al., 2016) since the mite's suppression of plant defenses may allow for such families to minimize during the course of its evolution. Finally, this first eriophyoid genome provides a resource for methods of early detection of mite infestations using molecular markers, and its reduced complement of defense genes – a common source of pesticide resistance – may also reveal novel Achilles' heels for the control of A. lycopersici. But foremost, this genome is a milestone for accelerating our understanding of the evolutionary forces underpinning metazoan life at the limits of small physical and genome size.
The genomic and 454 transcriptomic datasets generated by this project are available under BioProject accessions PRJNA588358 and PRJNA588365, respectively; the Illumina transcriptome data are available under BioProject accession PRJNA588358. This Whole Genome Shotgun project has been deposited at DDBJ/ENA/GenBank under the accession WNKI00000000. The version described in this paper is version WNKI01000000. Additional datasets are hosted by the Online Resource for Community Annotation of Eukaryotes (ORCAE) at https://bioinformatics.psb.ugent.be/orcae/, where the annotation can be viewed and de novo transcriptomes (Illumina and 454) can be downloaded.
NCBI BioProject

ID PRJNA588358. Aculops lycopersici genome sequencing and assembly and Illumina transcriptome sequencing.

NCBI BioProject

ID PRJNA588365. Aculops lycopersici Transcriptome or gene expression.

NCBI Nucleotide

ID WNKI00000000. Aculops lycopersici, whole genome shotgun sequencing project.
Book

1.1.2 Internal anatomy

In: Helle W, Sabelis M. W, editors. Spider Mites: Their Biology, Natural Enemies, and Control, Volume 1A, World Crop Pests. Amsterdam, The Netherlands: Elsevier. pp. 29–58.

four-jointed interacts with Dachs, abelson and enabled and feeds back onto the notch pathway to affect growth and segmentation in the Drosophila leg

Development 128:3533–3542.

Evidence for horizontally transferred genes involved in the biosynthesis of vitamin B1, B5, and B7 in Heterodera glycines

Journal of Nematology 41:281–290.

A rapid DNA isolation procedure for small quantities of fresh leaf tissue

Phytochemical Bulletin 19:11–15.

Book

Mites Injurious to Economic Plants

Univ of California Press.

Report

Historical Perspective and Current World Status of the Tomato Russet Mite (Acari: Eriophyidae)

Entomological Soc America.