Immunogenetics: Untangling the immune basis of disease susceptibility
Interactions between immune cell receptors and proteins that determine disease susceptibility shed light on how different arms of the immune system are involved in three viral infections and Crohn's disease.
Why do people respond differently to the same infectious agent? A possible answer is that differences in the immune responses of individuals, caused by genetic variability between them, are responsible. Indeed, many studies have looked for associations between genes involved in immunity and disease outcome (Buniello et al., 2019), and it has been found that a gene complex called the human leukocyte antigen (HLA) system has a central role (Matzaraki et al., 2017).
The HLA genes encode the major histocompatibility complex (MHC). MHC proteins are found on the surface of cells and each one presents peptides from proteins within the cell (either proteins native to the cell or from foreign entities like bacteria) to immune cells. Thus, MHC proteins allow immune cells to recognize if a given cell is dangerous or not. For example, immune cells called CD8+ T lymphocytes recognize cells that have been infected with viruses because receptors on these T cells bind specific MHC proteins loaded with viral peptides on the surface of the infected cells. Likewise, other types of immune cells – such as natural killer cells, macrophages and dendritic cells – have receptors that bind to other parts of the MHC protein displayed by infected cells (Augusto and Petzl-Erler, 2015; Hudson and Allen, 2016).
The HLA is extremely diverse among individuals. It has been assumed that the association between some diseases and certain HLA alleles is evidence for a central role of CD8+ T cells in that disease. However, given that the HLA can also interact with receptors on other immune cells, disentangling the contributions of the different arms of the immune system remains a challenge. Now, in eLife, Becca Asquith of Imperial College and colleagues – including Bisrat Debebe as first author, researchers from various institutes in the UK and US, and the IAVI Protocol C Investigators – report the results of a new approach to disentangling these contributions (Debebe et al., 2020).
Debebe et al. reasoned that it may be possible to predict which immune cells are responsible for fighting a specific disease since receptors from particular immune cells interact with different regions of the MHC protein. For example, susceptibility to a disease may be associated with individuals carrying MHC proteins that are similar in the region that presents protein fragments to the T-cell receptor (which can be thought of as being similar in 'T-cell receptor space'). If this is the case, then CD8+ T cells are likely involved in fighting the disease. The same reasoning can be made for associations with the other receptors, such as the killer immunoglobulin-like receptor (KIR) receptors in natural killer cells and leukocyte immunoglobulin-like receptor (LILR) in myeloid cells (Figure 1).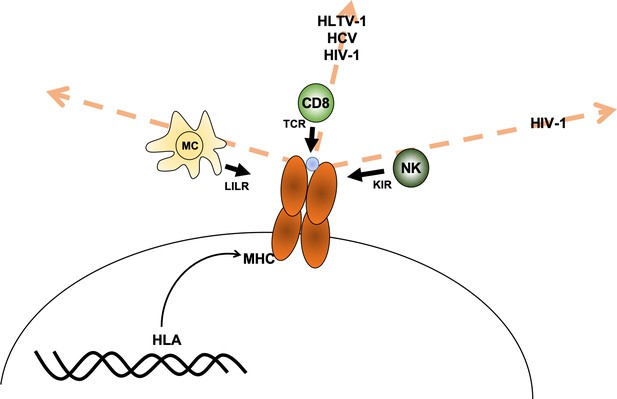 The challenge in this method is defining MHC similarity. Debebe et al. did so by taking an HLA known to associate with a specific disease outcome and predicting its ability to bind to different immune cell receptors. Next, they compared this predicted binding ability to that of all other HLAs, and found the HLAs with the highest binding similarity. Finally, they checked if these HLAs are also associated with disease susceptibility.
Debebe et al. applied this method to three infections (human T-cell leukemia virus type one or HTLV-1; hepatitis C virus; and HIV-1) and one autoimmune disease (Crohn's disease). They used well-characterized cohorts where both the HLA and the outcome of the disease were known for each individual.
They studied three known HLA-outcome associations for HTLV-1 and found that other HLAs that were similar in T-cell receptor space were also associated with HTLV-1. However, other HLAs that were similar to these three HLAs in LILR space or KIR space (see Figure 1) were not associated with HTLV-1. Thus, they concluded that HTLV-1 is most likely controlled by CD8+ T cells. They also studied three HLA-outcome associations for hepatitis C, reaching the same conclusion: disease outcome is mostly controlled by CD8+ T cells. For HIV-1, Debebe et al. found that natural killer cells and CD8+ T cells both have a role, which is consistent with previous results (Bashirova et al., 2011; McBrien et al., 2018). They also studied two known HLA-outcome associations for Crohn's disease in a large sample (2650 individuals), but other HLAs that were similar in T-cell, LILR or KIR space did not have significant effect on Crohn's disease outcome.
The approach suggested by Debebe et al. generates insights into which immune cells may be involved in fighting a disease. There are two issues that need to be explored further. First, while we know a great deal about T-cell receptors, we know less about KIR, and even less about LILR binding (Hirayasu and Arase, 2015). This knowledge (or lack thereof) is part of the definition of similarity used by Debebe et al., which can and should be updated as more data becomes available (Gwozdowicz et al., 2019). The second issue pertains to the fact that it may be possible to define similarity in other ways, leading to different results that provide further insights into how genetic variability affects the immune response.
Article and author information
Author details
© 2020, Ribeiro and Graca
This article is distributed under the terms of the Creative Commons Attribution License, which permits unrestricted use and redistribution provided that the original author and source are credited.
2,526

Page views

271

Downloads

0

Citations
Article citation count generated by polling the highest count across the following sources: Crossref, PubMed Central, Scopus.
A two-part list of links to download the article, or parts of the article, in various formats.
Downloads
(link to download the article as PDF)
Open citations
(links to open the citations from this article in various online reference manager services)
Cite this article
(links to download the citations from this article in formats compatible with various reference manager tools)
Ruy M Ribeiro
Luis Graca
Immunogenetics: Untangling the immune basis of disease susceptibility
eLife 9:e56886.
https://doi.org/10.7554/eLife.56886
Further reading
Computational and Systems Biology
Immunology and Inflammation

Variation in the risk and severity of many autoimmune diseases, malignancies and infections is strongly associated with polymorphisms at the HLA class I loci. These genetic associations provide a powerful opportunity for understanding the etiology of human disease. HLA class I associations are often interpreted in the light of 'protective' or 'detrimental' CD8+ T cell responses which are restricted by the host HLA class I allotype. However, given the diverse receptors which are bound by HLA class I molecules, alternative interpretations are possible. As well as binding T cell receptors on CD8+ T cells, HLA class I molecules are important ligands for inhibitory and activating killer immunoglobulin-like receptors (KIRs) which are found on natural killer cells and some T cells; for the CD94:NKG2 family of receptors also expressed mainly by NK cells and for leukocyte immunoglobulin-like receptors (LILRs) on myeloid cells. The aim of this study is to develop an immunogenetic approach for identifying and quantifying the relative contribution of different receptor-ligand interactions to a given HLA class I disease association and then to use this approach to investigate the immune interactions underlying HLA class I disease associations in three viral infections: Human T cell Leukemia Virus type 1, Human Immunodeficiency Virus type 1 and Hepatitis C Virus as well as in the inflammatory condition Crohn's disease.

Computational and Systems Biology
Ecology

High proportions of gut bacteria that produce their own food can be an indicator for poor gut health.

Computational and Systems Biology
Neuroscience

Cerebellar climbing fibers convey diverse signals, but how they are organized in the compartmental structure of the cerebellar cortex during learning remains largely unclear. We analyzed a large amount of coordinate-localized two-photon imaging data from cerebellar Crus II in mice undergoing 'Go/No-go' reinforcement learning. Tensor component analysis revealed that a majority of climbing fiber inputs to Purkinje cells were reduced to only four functional components, corresponding to accurate timing control of motor initiation related to a Go cue, cognitive error-based learning, reward processing, and inhibition of erroneous behaviors after a No-go cue. Changes in neural activities during learning of the first two components were correlated with corresponding changes in timing control and error learning across animals, indirectly suggesting causal relationships. Spatial distribution of these components coincided well with boundaries of Aldolase-C/zebrin II expression in Purkinje cells, whereas several components are mixed in single neurons. Synchronization within individual components was bidirectionally regulated according to specific task contexts and learning stages. These findings suggest that, in close collaborations with other brain regions including the inferior olive nucleus, the cerebellum, based on anatomical compartments, reduces dimensions of the learning space by dynamically organizing multiple functional components, a feature that may inspire new-generation AI designs.