Isolation and transcriptomic analysis of Anopheles gambiae oenocytes enables the delineation of hydrocarbon biosynthesis
The surface of insects is coated in cuticular hydrocarbons (CHCs); variations in the composition of this layer affect a range of traits including adaptation to arid environments and defence against pathogens and toxins. In the African malaria vector, Anopheles gambiae quantitative and qualitative variance in CHC composition have been associated with speciation, ecological habitat and insecticide resistance. Understanding how these modifications arise will inform us of how mosquitoes are responding to climate change and vector control interventions. CHCs are synthesised in sub-epidermal cells called oenocytes that are very difficult to isolate from surrounding tissues. Here we utilise a transgenic line with fluorescent oenocytes to purify these cells for the first time. Comparative transcriptomics revealed the enrichment of biological processes related to long chain fatty acyl-CoA biosynthesis and elongation of mono-, poly-unsaturated and saturated fatty acids and enabled us to delineate, and partially validate, the hydrocarbon biosynthetic pathway in An. gambiae.
The bodies of insects are encased in an exoskeleton or cuticle that is key for their survival. The cuticle helps protect insects against damage, prevents water loss and can defend against pesticides. A better understanding of the role of the cuticle for survival in mosquitoes and other insects could lead to new ways to prevent the spread of diseases such as malaria.
The cuticle is coated with various molecules from a group of chemicals called hydrocarbons. This coating is made by specialized cells called oenocytes and helps to protect insects. Hydrocarbons can also influence communications between certain insects by acting as recognition signals. In mosquitoes, oenocytes make several hydrocarbons using a set of processes that are not well understood, and the types of hydrocarbons they make can vary between individuals of the same species. It is unclear how this mixture of hydrocarbons is generated and how differences in the mixture can determine how mosquitoes adapt to their surroundings.
Grigoraki et al. studied the genes that were active in isolated oenocytes from the mosquito Anopheles gambiae, which carries the parasite that causes malaria. The study revealed a set of genes which are highly active in oenocytes and control the production of fatty acids, a group of molecules used to make hydrocarbons. Other genes involved in creating hydrocarbons were also found. Grigoraki et al. further investigated a specific gene called FAS1899 and showed that loss of this gene reduces overall hydrocarbon production by 25%. Additionally, genes for transporting and recycling molecules and for producing fats were also shown to be active, which may indicate that oenocytes have a variety of unexplored roles besides making hydrocarbons.
Grigoraki et al. identify the genes involved in producing the hydrocarbon coating of mosquitoes and demonstrate their significance. Further work is needed to understand the precise roles of each of these genes and how they are regulated to adapt the hydrocarbon coating to different situations. This can help explain how the hydrocarbon coating changes in mosquitoes, for example in response to the use of insecticides or climate change. This information is important to adapt and develop new tools to improve mosquito control.
The cuticle, also known as the exoskeleton, is the outermost part of the insect body and plays a pivotal role in its physiology and ability to adapt and survive in terrestrial environments. The cuticle consists of multiple layers with different composition and properties. The thickest layer, the procuticle, is divided into the endo- and exo-cuticle, both of which are rich in chitin and cuticular proteins. The outer layer, or epi-cuticle, is mainly composed of lipids and hydrocarbons (Lockey, 1988). Cuticular hydrocarbons (CHCs) are relatively simple molecules but form complex and varied mixtures of n-alkanes, unsaturated hydrocarbons (alkenes), and terminally and internally methyl-branched alkanes/alkenes. These mixtures of CHCs protect insects from desiccation, are the first barrier to infections from microorganisms and can act as mating recognition signals (pheromones)(Blomquist, 2010). The cuticle composition has also been associated with resistance to insecticides, via reduced penetration, in several insect species (reviewed in Balabanidou et al., 2018).
Anopheles mosquitoes are intensively studied because of their importance as vectors of malaria and lymphatic filariasis that together affect millions of people every year causing intolerable levels of mortality and morbidity. Recently it was shown that populations of the major African malaria vector Anopheles gambiae have developed a thicker cuticle with elevated amounts of hydrocarbons and this is associated with a reduction in the penetration rate of pyrethroid insecticides contributing to the high levels of resistance observed (Balabanidou et al., 2016). The emergence of pyrethroid resistance is a major concern for vector control strategies as it threatens the efficiency of the insecticide treated nets, all of which contain this insecticide class, that have proven so successful in reducing the malaria burden in Africa (Bhatt et al., 2015). CHCs are also important in conferring desiccation tolerance in An. gambiae, which may be vital in adaptation to arid conditions and survival during the dry season (Reidenbach et al., 2014; Arcaz et al., 2016).
Cuticular hydrocarbons are synthesised in oenocytes which are secretory cells of ectodermal origin found in most, if not all, pterygote insects (Makki et al., 2014). In adult mosquitoes oenocytes are found in characteristic, predominantly ventral, subcuticular clumps that form rows in each segment, while in larval stages they are located in small groups underneath each of the abdominal appendages (Lycett et al., 2006).
The biosynthesis of hydrocarbons has been studied using radiolabelled precursors (Dillwith et al., 1981) and the biochemical steps of their biosynthetic pathway have been established (Blomquist, 2010; Chung and Carroll, 2015). The pathway starts with a fatty acid synthase (FAS) that uses malonyl-CoA to generate a fatty acyl-CoA. In the case of methyl-branched hydrocarbons propionyl-CoA groups (as methyl-malonyl-CoA) are also incorporated in the growing fatty acyl-CoA chain. The fatty acyl-CoA chain is further extended by elongases, which extend the chain to different lengths depending on their specificity. Desaturases introduce double bonds, contributing to the generation of unsaturated hydrocarbons, and reductases convert the generated acyl-CoA to aldehydes. These aldehydes serve as substrates for the final step of the pathway, which involves a single carbon chain-shortening conversion to hydrocarbons catalysed by P450 enzymes (Qiu et al., 2012). Only this latter step has been delineated in Anopheles mosquitoes with two P450 decarbonylases identified, Cyp4G16 and Cyp4G17 (Balabanidou et al., 2016; Kefi et al., 2019).
Only a subset of the large number of lipid metabolic enzymes encoded in the genome are likely to be significant players in CHC synthesis, but we hypothesised that transcripts from these genes will be specifically enriched in oenocytes to enable this function. Here we report the isolation of oenocytes from adult An. gambiae mosquitoes using a transgenic line with fluorescently tagged oenocytes (Lynd et al., 2019). RNAseq of the isolated oenocytes identified the key biological processes enriched in these cells and revealed candidate genes for each step of the CHC biosynthetic pathway. A member of the putative pathway was validated by perturbing expression of the AGAP001899 fatty acid synthase (hereafter called FAS1899). The elucidation of this pathway is a major milestone in delineating the role of variable hydrocarbon composition on key traits that impact vectorial capacity of these important vectors of human disease.
CHCs affect key traits in Anopheles mosquitoes that determine their fitness and thus vectorial capacity. The difficulties in isolating the CHC synthesising cells in adult mosquitoes, due to their close association with fat body cells within the abdomen, and the absence of clear one to one orthologs with Drosophila in some families (Figure 4), has hindered the identification of genes involved in mosquito CHC production. In this study we describe the FACS purification of fluorescently tagged oenocytes from adult An. gambiae mosquitoes, and the subsequent transcriptomic analysis of the purified cells which enabled us to identify key candidate genes in the CHC biosynthetic pathway.
The samples analysed consisted of total cells recovered from dissected abdomen integument, containing ~12% of tagged oenocyte cells, which were then compared to purified oenocyte cells isolated by passage through the FACS. The abdomen tissue is mainly composed of fat body and epithelial cells, neither of which are expected to synthesise hydrocarbons. Fat bodies do however have a primary role in lipid biosynthesis, which has several steps in common with the CHC biosynthetic pathway, both utilising fatty acid synthases, elongases and desaturases. The analysis pathway was purposively designed to reveal genes and isoforms that are predominantly enriched in oenocytes and thus likely to be involved in CHC biosynthesis but a limitation, in our goal to delineate the entire CHC pathway, is that it will likely fail to detect genes that are expressed at similar levels in fat bodies and oenocytes and are involved in both CHC and lipid biosynthesis (Wicker-Thomas et al., 2015).
Our data set is the first transcriptomic data for adult mosquito oenocytes. Limited depth transcriptional analysis of larval Ae. aegypti oenocytes that persist during early pupal development, and are relatively easily dissected in pure form due to their distinct large size and loose attachment as clumps of cells to the integument (Makki et al., 2014), has previously been performed (Martins et al., 2011). Comparison of the partial oenocyte Aedes transcriptome with our adult Anopheles oenocyte data set provides insights into key genes potentially involved in CHC synthesis throughout development. Seven genes involved in lipid biosynthesis were detected in Aedes larval oenocytes, including one acetyl-coA synthetase (AAEL007283), two elongases (AAEL008219 and AAEL013542), two desaturases (AAEL003611 and AAE004278) and the two orthologs of Cyp4G16 and Cyp4G17 (AAEL004054 and AAEL006824). Clear orthologs for five of these larval oenocyte expressed genes (except for the desaturase AAEL004278) were present in our An. gambiae adult oenocyte transcriptome (Figure 4). Further work to characterise Anopheles oenocyte transcriptomes at earlier life stages will be facilitated by this FACS approach to enable functional analysis of these cells during mosquito development.
In addition to genes involved in lipid and hydrocarbon biosynthesis, genes associated with the biological processes of synaptic vesicle coating and docking, and nerve impulse transmission were found enriched in the oenocyte transcriptome. The Oeno-Gal4 driver line used to generate the mosquito population with fluorescent oenocytes has a red fluorescent marker (dsRed) under the control of the 3xP3 promoter that drives expression in the eyes and nerve cord. A small contamination of the FACS isolated oenocytes with cells of the nerve cord could be speculated, although nerve cells were not observed when visually observing the isolated cells with confocal microscopy. Moreover, oenocytes have been reported to play a role in the neuronal processes during D. melanogaster embryogenesis through the secretion of semaphorin (Sema2a), a peptide that drives axon elongation; ablation of oenocytes results in sensory axon defects similar to the sema2a mutant phenotype (Bates and Whitington, 2007). In addition, the development of oenocytes and of sensory organ precursors (SOPs) in the peripheral nervous system is intimately linked. A previous study has shown that in D. melanogaster embryos primary SOPs signal, via the EGFR pathway, to the overlying ectoderm. This results in the differentiation of signal receiving cells into oenocytes, in the presence of the Sal transcription factor, or into secondary SOPs in the absence of Sal (Rusten et al., 2001).
Thus, oenocytes likely have a variety of currently unexplored functions, which is also supported by our gene enrichment analysis. A further interesting aspect is their potential role in lipid synthesis, processing and secretion (signalling), as reviewed in Makki et al., 2014 and suggested by the enrichment in our dataset of sphingolipid and fatty acid biosynthesis and endocytic recycling. Further studies are needed to explore these functions in more detail and to investigate the potential cross talk (regulation) of oenocytes with other tissues. For example D. melanogaster larval oenocytes are thought to produce a VLCFA dependent signal that controls remotely the water-tightness of the respiratory system (Parvy et al., 2012). Thus, oenocyte regulated lipid signalling under normal and stressful developmental conditions would be an interesting area of future research.
We functionally validated the role of the fatty acid synthase FAS1899 in CHC biosynthesis, by stably knocking down its expression during mosquito development. Oenocyte specific knock down of FAS1899 was lethal at the L2/L3 larvae stages, showing its important role for the normal mosquito development, possibly by synthesising Very Long Chain Fatty Acids (VLCFA) that are utilised at the larvae stage either for waterproofing the respiratory system (Parvy et al., 2012) or for other metabolic purposes. Lethality was also reported for the RNAi-mediated knock down of its ortholog (CG17374) in D. melanogaster before adult eclosion (Chung et al., 2014). Silencing of the FAS1899 expression using the polyubiquitin (Ubi) promoter also resulted in high levels of mortality (70–80%), but this time at the pupae stage and during adult emergence. This milder phenotype could be explained by the fact that the Ubi promoter drives lower levels of expression in oenocytes, which is supported also by the quantitative real time PCR data (26% knock down of the FAS1899 in adult progeny of the UAS-FAS1899i x Ubi-A10 Gal4 cross compared to the 70% of knock down seen in L2/L3 progeny of the UAS-FAS1899i x Oeno-Gal4 cross).
The relative expression levels of FAS1899 affect both the quantity and composition of CHCs produced in adult oenocytes. A 25% reduction in the total amount of hydrocarbons was observed for adults surviving knock down of FAS1899 and the CHC profile showed a decrease in the total proportion of methyl branched CHCs and an increase in saturated and un-saturated straight-chain hydrocarbons. Silencing Cyp4G16 or Cyp4G17 transcript levels in An. gambiae oenocytes by approximately 90% resulted in high mortality in late pupae, pharate adults and during adult emergence and, in surviving adults, a 50% reduction in the total amount of CHCs was observed (Lynd et al., 2019). The Cyp4G16 and Cyp4G17 P450s catalyse the final decarbonylation step in the cuticular hydrocarbon synthetic pathway, while FAS1899 is thought to catalyse the first step using acetyl-CoA to generate and elongate a fatty acyl-CoA chain. Thus, perturbing both extremes of the pathway can influence the final amount of synthesised hydrocarbons.
Partial knock down of the Desat3050 transcripts in larval oenocytes was correlated with larval lethality, similar to FAS1899 knock down. High levels of mortality were also observed when using the weaker oenocyte line (but more widespread driver line). However, no qualitative or quantitative differences in the CHC profile were observed in surviving adults. Further work is required, but it may indicate that Desat3050 catalyses the formation of unsaturated lipids that are not converted to hydrocarbons but are important in development, such that even a slight perturbance in the expression levels of this gene can have severe developmental effect. In D. melanogaster, either deletion or strong over-expression of the desaturase, desat1, result in larval mortality, showing that correct regulation of this gene is critical for development (Köhler et al., 2009). In addition desat1 was shown to affect not only the biosynthesis of unsaturated lipids, but also the availability of saturated lipids, as a reduction in its activity results in decreased amounts of both unsaturated and saturated fatty acids (Ueyama et al., 2005). Thus, a perturbance in the function of a desaturase enzyme can have a broader effect on lipid metabolism potentially leading to developmental abnormalities or lethality.
Variations in the relative abundance of CHCs on the cuticular surface have been correlated in Anopheles mosquitoes with species, karyotype, age and mating status (Caputo et al., 2005; Polerstock et al., 2002). Sex specific differences in the relative abundance of some CHC compounds have also been reported in An. gambiae (Caputo et al., 2005), but in contrast to other insects like Drosophila melanogaster (Coyne and Oyama, 1995), sexual dimorphism in CHCs in mosquitoes has not been reported. This lack of sex specificity is reflected in the absence of sex specific expression of CHC synthesising genes in our analysis. However, interestingly we did identify some splice variants of Cyp4G16, encoding for a different C-terminus, to be differentially expressed between male and female oenocytes, but further work is needed to validate this observation. A change in C- terminus is likely to alter the intracellular location of proteins through removal of the ER retention signal. Previous work on females has demonstrated enriched localisation of CYP4G16 on the oenocyte plasma membrane surface (Balabanidou et al., 2016). It would be interesting to examine males in comparison.
Variation in the abundance of CHCs has been associated in An. coluzzii with insecticide resistance; a 30% increase in CHC content has been correlated with a decrease in the penetration rate of pyrethroid insecticides (Balabanidou et al., 2016). Several of the genes implicated in CHC biosynthesis from the results of the current study are expressed at elevated levels in pyrethroid resistant mosquitoes and may provide useful genetic markers for detecting this emerging resistance phenotype. For example FAS1899 is a member of the Cyp4G16 correlation network and is over-expressed in pyrethroid insecticide resistant An. gambiae and An. coluzzii populations from Burkina Faso and Côte d'Ivoire (data from the IR-TEx web-based application [Ingham et al., 2018]). Thus, this gene could be implicated in cuticular resistance, through the production of a thicker cuticle with more hydrocarbons.
In addition to insecticide exposure, environmental factors can also select for changes in the CHC profile; relative proportions of unsaturated and methyl-branched CHCs altered following exposure to arid conditions in the insectary (Reidenbach et al., 2014) and these arid conditions were also associated with an enrichment of genes involved in lipid biosynthesis, including six elongases (Cheng et al., 2018), four of which overlap with the oenocyte enriched elongases identified in this study. The pleiotropic effect of alterations in CHC composition has important implications. Selection pressures that alter the CHC composition, for example the extensive use of insecticides, or an increase in aridity due to climate change, could have multiple effects on mosquito fitness and impacts on disease transmission. Investigating how the different traits influence one another and how this is regulated by the CHC composition is a key next step to understand how mosquitoes adapt and survive in a changing environment and in response to disease control interventions.
Differential expression of splice isoforms in oenocytes
We investigated whether specific gene isoforms are differentially expressed in oenocytes (at a p<0.05). 672 genes were found to have at least one isoform differentially expressed in female oenocytes compared to female carcass cells and 752 to have at least one isoform differentially expressed in male oenocytes compare to male carcass cells. The same analysis was performed for female and male oenocytes showing 578 genes to have at least one isoform differentially expressed between sexes (Appendix 1—figure 1A). Five genes belonging to the six gene families implicated in the hydrocarbon biosynthetic pathway (the elongase AGAP004373, the desaturases AGAP003051, AGAP004572 and AGAP01713 and the decarbonylase P450 Cyp4G16) had at least one isoform differentially expressed in at least two of the three comparisons (female oenocytes vs female total carcass cells, male oenocytes vs male total carcass cells and female vs male oenocytes) (Appendix 1—figure 1B). Most of the isoforms for these genes differ solely in the untranslated regions. Exceptions are the RD isoform of Cyp4G16 that encodes for a slightly truncated protein with a different C-terminus (last 19 a.a) compared to the other isoforms, and isoforms RA and RB of the desaturase AGAP003051, which encode proteins with highly diverged C-termini. We need however to point out that the two predicted isoforms for AGAP003051 might be affected by some annotation error, as the AGAP003051-RB isoform is identical with the adjacent AGAP003050 transcript after nucleotide 407 (total length of 1038 nt). The AGAP003051-RB isoform was more abundant in oenocytes compared to total Carcass cells and more abundant in female oenocytes compared to male oenocytes, although this latter difference was clearly driven by one of the male oenocyte replicates. The Cyp4G16-RD isoform was enriched in female oenocytes in comparison to both female carcass cells and male oenocytes (Appendix 1—figure 1B).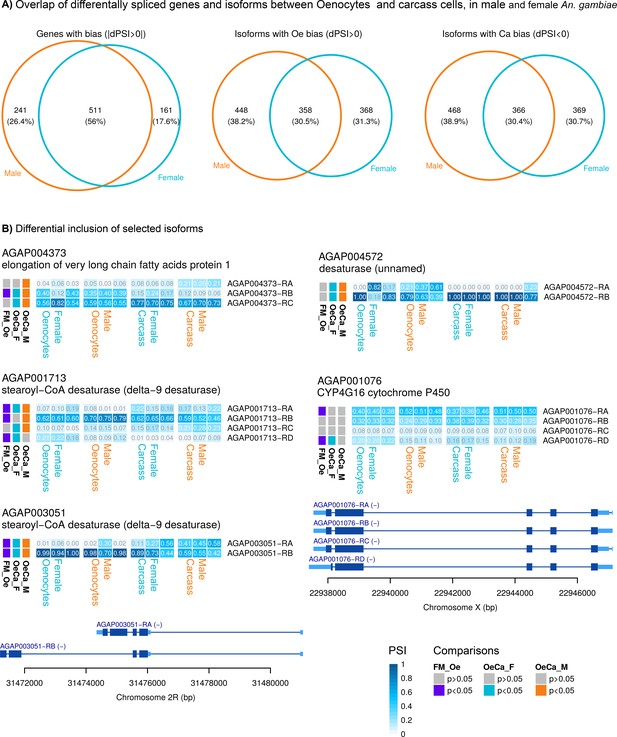 Appendix 1—figure 1—source data 1
Transcriptome sequencing has been deposited in the European Nucleotide Archive (ENA), under PRJEB37240 project. All data generated or analysed during this study are included in the manuscript and supporting files. Source data files have been provided for Figures 1, 2, 3 and 5.
Spalt modifies EGFR-mediated induction of chordotonal precursors in the embryonic PNS ofDrosophilapromoting the development of oenocytes

Development 128:711–722.
Malcolm J McConville

Reviewing Editor; The University of Melbourne, Australia

Michael A Marletta

Senior Editor; University of California, Berkeley, United States

Malcolm J McConville

Reviewer; The University of Melbourne, Australia
In the interests of transparency, eLife publishes the most substantive revision requests and the accompanying author responses.
Acceptance summary:
This study provides new insights into the enzyme machinery involved in the biosynthesis of outer layer cuticle hydrocarbons in the Anopheles mosquito. Candidate hydrocarbon biosynthetic genes were identified following transcriptional analysis of oenocytes, specialized secretory cells in the subdermis, and the function of a putative fatty acid synthase validated by genetic knock-down studies. This approach can be used to identify other genes involved in cuticle biogenesis with important implications for understanding the biology and the malarial vectorial capacity of Anopheles mosquitoes.
Decision letter after peer review:
Thank you for submitting your article "Cuticular hydrocarbon biosynthesis in malaria vectors: insights from the adult oenocyte transcriptome" for consideration by eLife. Your article has been reviewed by three peer reviewers, including Malcolm J McConville as the Reviewing Editor and Reviewer #1, and the evaluation has been overseen by Michael Marletta as the Senior Editor. The following individual involved in review of your submission has agreed to reveal their identity: Nora Besansky (Reviewer #3).
The reviewers have discussed the reviews with one another and the Reviewing Editor has drafted this decision to help you prepare a revised submission.
We would like to draw your attention to changes in our revision policy that we have made in response to COVID-19 (https://elifesciences.org/articles/57162). Specifically, we are asking editors to accept without delay manuscripts, like yours, that they judge can stand as eLife papers without additional data, even if they feel that they would make the manuscript stronger. Thus the revisions requested below only address clarity and presentation.
Summary:
This study provides new insights into the enzyme machinery involved in the biosynthesis of outer layer cuticle hydrocarbons in the Anopheles mosquito. Cuticle hydrocarbons are synthesized in oenocytes, specialized secretory cells in the subdermis. These cells were purified from a transgenic Anopheles gambiae line containing fluorescently tagged oenocytes and RNAseq used to identify candidate genes for each step in cuticle hydrocarbon biosynthesis. Genetic knock-down of an oenocyte-enriched fatty acid synthase supported the role of this enzyme in cuticle hydrocarbon biosynthesis. The study represents a rich resource for further studies delineating the role of variable hydrocarbon composition on the biology and the malarial vectorial capacity of Anopheles mosquitoes.
Essential revisions:
1) Please better explain possible reasons for the Ubi-gal4 x uas.desat30501 no significant silencing/no change in CHC, but mortality, related to the oenocytes.
2) Please provide better images if available showing adulty mortality in the supplement (not clear if they suffer from desiccation).
3) Is there any possible explanation, why 58% of the RNAseq transcripts map top the genome? (compared to other studies)
4) Could the authors possibly expand on the possibility that oenocytes have roles in neurogenesis during Drosophila embryonic development.
https://doi.org/10.7554/eLife.58019.sa1
Essential revisions:

1) Please better explain possible reasons for the Ubi-gal4 x uas.desat30501 no significant silencing/no change in CHC, but mortality, related to the oenocytes.
We added additional text in the Discussion (eighth paragraph) expanding on possible reasons for the mortality seen in progeny of the Ubi-Gal4 x UAS Desat3050 cross, despite the absence of clear changes in their cuticular hydrocarbon profile. Whilst we cannot be certain for the reasons behind this observation, we highlight examples from Drosophila where perturbation of desaturase levels affected development.
2) Please provide better images if available showing adulty mortality in the supplement (not clear if they suffer from desiccation).
Whilst, under normal circumstances, we would be very happy to comply with this request, this is extremely challenging under current working conditions. Unfortunately we don't have alternative images showing the adult mortality of the Desat3050i and FAS1899i individuals available. Hence, to obtain these we would have to set up new crosses and rear their progeny to adulthood, which would take at least four weeks of extra work, something quite difficult at the moment due to restrictions imposed to our work by the Covid-19 pandemic. We would kindly request to retain the original supplementary figures. We do accept that the quality could be improved, but the originals do clearly show the high mortality of individuals following knock-down of the two studied genes, in the pupae and adult stages, compared to wild type individuals. It is most possible that mortality is related to desiccation as the reviewer suggested, although this would best be tested by monitoring water loss before a definitive statement could be made.
3) Is there any possible explanation, why 58% of the RNAseq transcripts map top the genome? (compared to other studies)
We attributed this relatively low mapping rate to a combination of factors.
1) Our read sets contained a certain amount of short reads that, whilst having high-quality base calls, could not be aligned to the predicted transcriptome. Specifically, we used a stringent mapping procedure that relied on a minimum alignment length ofk=31 base pairs so as to take advantage of our long reads (average length = 150 bp), as per the recommended good practice in thesalmonaligner. However, as part of read quality pre-processing, we shortened reads by removing low-quality base calls (Phred < 20), which resulted in a small amount of reads pairs with one pair shorter thank=31 base pairs (~2% reads were <31 bp) A similar effect might originate from reads that retain the transcript's poly-A tails (a further ~1% reads per sample). These two groups of reads are not derived from sequencing errors, but they cannot be aligned and thus drive down mapping rates. While they are often removed from RNA-seq libraries because they can hinder transcriptome assemblies, this is not a problem in our analyses because we relied on the high-quality gene annotations from theAnopheles gambiaegenome.
2) It is also worth mentioning thatthesalmonaligner relies on mapping reads to a set of spliced, predicted transcripts instead of the genome. Thus, any reads containing retained introns due to alternative splicing would not align. This is an important difference with commonly used read mappers that support spliced reads on the genome, such asSTAR.
3) Finally, another possible cause of lowered mapping rates is the high frequency of single nucleotide polymorphisms inAnopheles gambiaegenomes, where up to 30% of genomic bases have variants (Miles et al. 2017, Nature doi:10.1038/nature24995). To test the effect of genetic distance to the reference on mapping rates, we have aligned our reads to the contigs from ade novoassembled transcriptome that could be aligned to the reference transcriptome (same alignment parameters as in the paper), and we have observed ~25% higher mapping rates across all samples.
Given the increased mapping rates observed in our tests against ade novoassembled transcriptome (point 3), it is worth emphasising our reasons for using genome-derived gene models in our main analyses:
1) by doing so we are able to interpret our results using the curated gene models available forAnopheles gambiaerather than often-fragmented assembled transcripts;
2) in principle, low mapping rates in SNP-rich transcripts would affect all samples equally and thus not alter the results of our differential expression analyses; and
3) in fact, we found no indication that SNP-rich transcripts had lower mapping rates in our samples. Specifically, there was no significant negative correlation between mapping rates (either measured as TPMs or number of mapped reads per transcript) and SNP density (using SNPs from coding sequences retrieved from the Anopheles gambiae 1000 genomes project), according to a Pearson's correlation test (significance threshold p<0.01).
4) Could the authors possibly expand on the possibility that oenocytes have roles in neurogenesis during Drosophila embryonic development.
We added an extra paragraph in the Discussion (fourth paragraph) expanding on the link between oenocytes and nervous system development in D. melanogaster. We have also expanded on oenocyte's potential role in lipid, synthesis and secretion (signalling), which is another function suggested by the biological processes enriched in our oenocyte transcriptome dataset.
https://doi.org/10.7554/eLife.58019.sa2
Article and author information
Author details
Wellcome Trust (Sir Henry Wellcome Postdoctoral Fellowship (215894/Z/19/Z))
Liverpool School of Tropical Medicine (Director's Catalyst Fund)
The funders had no role in study design, data collection and interpretation, or the decision to submit the work for publication.
We would like to thank Jesus Reiner (LSTM) for performing the FACS; Mark Prescott and Rob Beynon (University of Liverpool) who performed the CHC analysis at the Centre for Proteome Research, University of Liverpool; Simon Wagstaff (LSTM) for his advice on the RNAseq; Andriana Adolfi (LSTM) for providing the Ubi-A10 line; Rachel Davies (LSTM) for her assistance with mosquito rearing, Amalia Anthousi and Fraser Colman (LSTM) for long term maintenance and provision of stock driver and docking lines and Manuela Bernardi for preparation of figures. Flow cytometric sorting was performed on a BD FacsAria III funded by a Wellcome Trust Multi-User Equipment Grant (104936/Z/14/Z). This study was funded by the Wellcome Trust (Sir Henry Wellcome Postdoctoral fellowship (Grant reference number: 215894/Z/19/Z); a Director Catalyst Fund (pump priming award from LSTM) to LG.
Michael A Marletta, University of California, Berkeley, United States
Malcolm J McConville, The University of Melbourne, Australia
Malcolm J McConville, The University of Melbourne, Australia
Nora Besansky
© 2020, Grigoraki et al.
This article is distributed under the terms of the Creative Commons Attribution License, which permits unrestricted use and redistribution provided that the original author and source are credited.
1,352

Page views

219

Downloads

11

Citations
Article citation count generated by polling the highest count across the following sources: Crossref, PubMed Central, Scopus.
A two-part list of links to download the article, or parts of the article, in various formats.
Downloads
(link to download the article as PDF)
Open citations
(links to open the citations from this article in various online reference manager services)
Cite this article
(links to download the citations from this article in formats compatible with various reference manager tools)
Linda Grigoraki
Xavier Grau-Bové
Henrietta Carrington Yates
Gareth J Lycett
Hilary Ranson
Isolation and transcriptomic analysis of Anopheles gambiae oenocytes enables the delineation of hydrocarbon biosynthesis
eLife 9:e58019.
https://doi.org/10.7554/eLife.58019
Further reading
Epidemiology and Global Health
Medicine

Although there are several efficacious vaccines against COVID-19, vaccination rates in many regions around the world remain insufficient to prevent continued high disease burden and emergence of viral variants. Repurposing of existing therapeutics that prevent or mitigate severe COVID-19 could help to address these challenges. The objective of this study was to determine whether prior use of bisphosphonates is associated with reduced incidence and/or severity of COVID-19.

A retrospective cohort study utilizing payer-complete health insurance claims data from 8,239,790 patients with continuous medical and prescription insurance January 1, 2019 to June 30, 2020 was performed. The primary exposure of interest was use of any bisphosphonate from January 1, 2019 to February 29, 2020. Bisphosphonate users were identified as patients having at least one bisphosphonate claim during this period, who were then 1:1 propensity score-matched to bisphosphonate non-users by age, gender, insurance type, primary-care-provider visit in 2019, and comorbidity burden. Main outcomes of interest included: (a) any testing for SARS-CoV-2 infection; (b) COVID-19 diagnosis; and (c) hospitalization with a COVID-19 diagnosis between March 1, 2020 and June 30, 2020. Multiple sensitivity analyses were also performed to assess core study outcomes amongst more restrictive matches between BP users/non-users, as well as assessing the relationship between BP-use and other respiratory infections (pneumonia, acute bronchitis) both during the same study period as well as before the COVID outbreak.

A total of 7,906,603 patients for whom continuous medical and prescription insurance information was available were selected. A total of 450,366 bisphosphonate users were identified and 1:1 propensity score-matched to bisphosphonate non-users. Bisphosphonate users had lower odds ratios (OR) of testing for SARS-CoV-2 infection (OR = 0.22; 95%CI:0.21–0.23; p<0.001), COVID-19 diagnosis (OR = 0.23; 95%CI:0.22–0.24; p<0.001), and COVID-19-related hospitalization (OR = 0.26; 95%CI:0.24–0.29; p<0.001). Sensitivity analyses yielded results consistent with the primary analysis. Bisphosphonate-use was also associated with decreased odds of acute bronchitis (OR = 0.23; 95%CI:0.22–0.23; p<0.001) or pneumonia (OR = 0.32; 95%CI:0.31–0.34; p<0.001) in 2019, suggesting that bisphosphonates may protect against respiratory infections by a variety of pathogens, including but not limited to SARS-CoV-2.

Prior bisphosphonate-use was associated with dramatically reduced odds of SARS-CoV-2 testing, COVID-19 diagnosis, and COVID-19-related hospitalizations. Prospective clinical trials will be required to establish a causal role for bisphosphonate-use in COVID-19-related outcomes.

This study was supported by NIH grants, AR068383 and AI155865, a grant from MassCPR (to UHvA) and a CRI Irvington postdoctoral fellowship, CRI2453 (to PH).

Epidemiology and Global Health

A large observational study has found that irregular sleep-wake patterns are associated with a higher risk of overall mortality, and also mortality from cancers and cardiovascular disease.

Epidemiology and Global Health

Irregular sleep-wake timing may cause circadian disruption leading to several chronic age-related diseases. We examined the relationship between sleep regularity and risk of all-cause, cardiovascular disease (CVD), and cancer mortality in 88,975 participants from the prospective UK Biobank cohort.

The sleep regularity index (SRI) was calculated as the probability of an individual being in the same state (asleep or awake) at any two time points 24 hr apart, averaged over 7 days of accelerometry (range 0–100, with 100 being perfectly regular). The SRI was related to the risk of mortality in time-to-event models.

The mean sample age was 62 years (standard deviation [SD], 8), 56% were women, and the median SRI was 60 (SD, 10). There were 3010 deaths during a mean follow-up of 7.1 years. Following adjustments for demographic and clinical variables, we identified a non-linear relationship between the SRI and all-cause mortality hazard (p [global test of spline term]<0.001). Hazard ratios, relative to the median SRI, were 1.53 (95% confidence interval [CI]: 1.41, 1.66) for participants with SRI at the 5th percentile (SRI = 41) and 0.90 (95% CI: 0.81, 1.00) for those with SRI at the 95th percentile (SRI = 75), respectively. Findings for CVD mortality and cancer mortality followed a similar pattern.

Irregular sleep-wake patterns are associated with higher mortality risk.

National Health and Medical Research Council of Australia (GTN2009264; GTN1158384), National Institute on Aging (AG062531), Alzheimer's Association (2018-AARG-591358), and the Banting Fellowship Program (#454104).