FRET-based dynamic structural biology: Challenges, perspectives and an appeal for open-science practices
Single-molecule FRET (smFRET) has become a mainstream technique for studying biomolecular structural dynamics. The rapid and wide adoption of smFRET experiments by an ever-increasing number of groups has generated significant progress in sample preparation, measurement procedures, data analysis, algorithms and documentation. Several labs that employ smFRET approaches have joined forces to inform the smFRET community about streamlining how to perform experiments and analyze results for obtaining quantitative information on biomolecular structure and dynamics. The recent efforts include blind tests to assess the accuracy and the precision of smFRET experiments among different labs using various procedures. These multi-lab studies have led to the development of smFRET procedures and documentation, which are important when submitting entries into the archiving system for integrative structure models, PDB-Dev. This position paper describes the current 'state of the art' from different perspectives, points to unresolved methodological issues for quantitative structural studies, provides a set of 'soft recommendations' about which an emerging consensus exists, and lists openly available resources for newcomers and seasoned practitioners. To make further progress, we strongly encourage 'open science' practices.
Understanding how biomolecules couple structural dynamics with function is at the heart of several disciplines and remains an outstanding goal in biology. Linking conformational states and their transitions to biochemical function requires the ability to precisely resolve the structure and dynamics of a biological system, which is often altered upon ligand binding or influenced by the chemical and physical properties of its environment. The most well-established structural biology tools have provided high-resolution 'snapshots' of states in a crystallized or frozen form (e.g., X-ray crystallography and single-particle cryo-electron microscopy, cryoEM) or an ensemble average of all contributing conformations (e.g., nuclear magnetic resonance, NMR; small-angle X-ray scattering, SAXS; small-angle neutron scattering, SANS; double electron-electron resonance, DEER; cross-linking mass spectrometry, XL-MS; ensemble-FRET). In recent years, further developments have enabled these conventional structural tools to detect conformational dynamics and reaction intermediates. For example, NMR techniques (Anthis and Clore, 2015; Clore and Iwahara, 2009; Palmer, 2004; Ravera et al., 2014; Sekhar and Kay, 2019) and electron paramagnetic resonance techniques (Jeschke, 2018; Jeschke, 2012; Krstić et al., 2011) have been advanced to study conformational dynamics and capture transient intermediates. Time-resolved crystallographic investigations have been employed to resolve functionally relevant structural displacements associated with a biological function (Kupitz et al., 2014; Moffat, 2001; Schlichting et al., 1990; Schlichting and Chu, 2000; Schotte et al., 2003). Advances in microfluidic mixing and spraying devices have enabled time-resolved cryoEM (Feng et al., 2017; Kaledhonkar et al., 2018) and cross-linking mass spectrometry (XL-MS or CL-MS) (Braitbard et al., 2019; Brodie et al., 2019; Chen et al., 2020; Iacobucci et al., 2019; Murakami et al., 2013; Slavin and Kalisman, 2018). Progress in computational methods has also afforded novel tools for examining biomolecular structure and dynamics. Each of these advances highlights an increased awareness that one needs to directly and continuously track the dynamical properties of individual biomolecules in order to understand their function and regulation.
In this context, FRET (referred to as fluorescence resonance energy transfer or Förster resonance energy transfer [Braslavsky et al., 2008]) studies at the ensemble and single-molecule levels have emerged as important tools for measuring structural dynamics over at least 12 orders of magnitude in time and mapping the conformational and functional heterogeneities of biomolecules under ambient conditions. FRET studies probing fluorescence decays at the ensemble level (Grinvald et al., 1972; Haas et al., 1975; Haas and Steinberg, 1984; Hochstrasser et al., 1992) (time-resolved FRET) permitted already in the early 1970s the study of structural heterogeneities on timescales longer than the fluorescence lifetime (a few ns). This approach is still used nowadays (Becker, 2019; Orevi et al., 2014; Peulen et al., 2017) and has been transferred to single-molecule studies. The ability to measure FRET in single molecules (Deniz et al., 1999; Ha et al., 1996; Lerner et al., 2018a) has made the method even more appealing. The single-molecule FRET (smFRET) approach has been extensively used to study conformational dynamics and biomolecular interactions under steady-state conditions (Dupuis et al., 2014; Larsen et al., 2019; Lerner et al., 2018a; Lipman et al., 2003; Margittai et al., 2003; Mazal and Haran, 2019; Michalet et al., 2006; Orevi et al., 2014; Ray et al., 2019; Sasmal et al., 2016; Schuler et al., 2005; Schuler et al., 2002; Steiner et al., 2008; Zhuang et al., 2000). It is notable that, in many mechanistic studies, it suffices to use FRET for distinguishing different conformations and determining kinetic rates such that absolute FRET efficiencies and thereby distances do not need to be determined. However, the ability to measure accurate distances and kinetics with smFRET has led to its emergence as an important tool in this new era of 'dynamic structural biology' for mapping biomolecular heterogeneities and for measuring structural dynamics over a wide range of timescales (Lerner et al., 2018a; Mazal and Haran, 2019; Sanabria et al., 2020; Schuler and Hofmann, 2013; Weiss, 1999).
Single-molecule FRET (smFRET) approaches have many advantages as a structural biology method, including:
sensitivity to macro-molecular distances (2.5–10 nm),

the ability to resolve structural and dynamic heterogeneities,

high-quality measurements with low sample consumption of the molecules of interest (low concentrations and low volumes), as the sample is analyzed one molecule at a time,

determination of structural transitions in equilibrium, hence without the need for synchronization,

the ability to detect (very) rare events. Indeed, in biology, the most interesting molecules to study are often the sparse, functionally active ones amidst a sea of inactive molecules,

high sensitivity and specificity for labeled molecules. As only the labeled molecule uniquely contributes to the detected signal, these tracers can also be applied as FRET-reporters in crowded environments (Dupuis et al., 2014; Soranno et al., 2014; Zosel et al., 2020b) (hence smFRET can be used to validate results determined in isolation or detect the modulation of conformational preferences and/or structural dynamics through so-called quinary interactions [Guin and Gruebele, 2019]), and

high specificity for residues/domains via specific labeling. Biomolecules can be specifically labeled by a unique dye pair enabling smFRET measurements to be applicable on all sizes of molecules, including large complex assemblies (see Figure 1 [Kilic et al., 2018]), active biological machines (e.g., the ribosomes) (Dunkle et al., 2011) and even on whole native virions (Lu et al., 2019; Munro et al., 2014).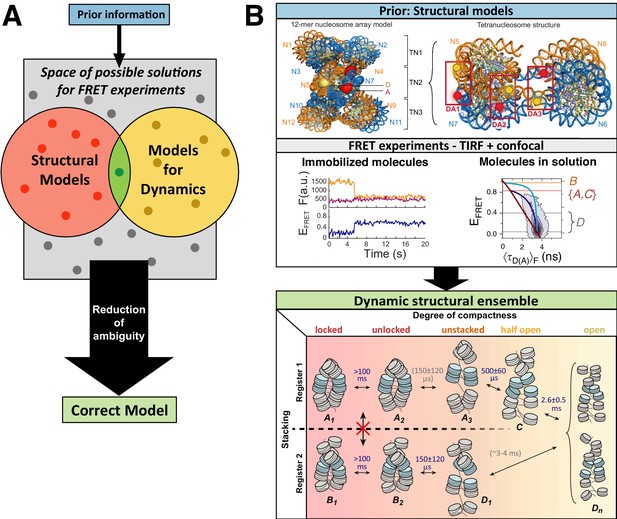 Several methods have been utilized to determine structural ensembles such as NMR, single-particle cryoEM or XL-MS, and, recently, also smFRET in an integrative/hybrid (I/H) approach with computational modeling to overcome the sparsity of experimental data with respect to an atomistic description (Berman et al., 2019; de Souza and Picotti, 2020; Dimura et al., 2020; Gauto et al., 2019; Koukos and Bonvin, 2020; Na and Paek, 2020; Tang and Gong, 2020; Webb et al., 2018). I/H structural models derived from smFRET experiments using inter-dye distances as restraints were reported for flexible folded proteins (Brunger et al., 2011; Hellenkamp et al., 2017; Margittai et al., 2003; McCann et al., 2012), conformational ensembles of disordered/unstructured and unfolded proteins (Borgia et al., 2018; Holmstrom et al., 2018; Schuler et al., 2020), nucleic acids and protein-nucleic acid complexes (Craggs et al., 2019; Craggs and Kapanidis, 2012; Kalinin et al., 2012; Lerner et al., 2018b; Muschielok et al., 2008; Wozniak et al., 2008).
A further unique aspect of smFRET studies is that structural, kinetic, and spectroscopic information on large and complex systems can be recorded simultaneously in a single measurement. This facilitates linking dynamic and structural information in an integrative approach to (Figure 1A) (Hellenkamp et al., 2017; Kilic et al., 2018; Li et al., 2020b; Sanabria et al., 2020; Wasserman et al., 2016; Yanez Orozco et al., 2018):
define the number of possible structures consistent with data,

potentially reduce the ambiguity between different structural models compatible with the experimental data, and

reveal the dynamic exchange pathways that are structurally allowed.
As an example, Figure 1B shows the outcome of a multimodal smFRET study on the conformational landscape of a 12-mer chromatin array (~2.5 MDa) (Kilic et al., 2018) with dynamics occurring on timescales from nanoseconds to hours. SmFRET experiments could detect the flexible chromatin conformations (Figure 1B, middle panel), revealing their dynamic structural heterogeneity (Figure 1B, bottom panel), in contrast to the well-ordered static structures of chromatin fibers (Figure 1B, top panel). These flexible, partially-open and open conformations that are quite abundant in solution (population of >70%; Figure 1B, bottom panel) were not resolved before, although they are essential for proper gene organization and function. They represent the central interconversion hub for the distinct stacking registers of chromatin and are difficult to detect with other structural techniques. This approach of visualizing biomolecules in action under ambient conditions emphasizes the importance of their dynamic nature by resolving transitions between various conformational states, which, in many cases, promotes function (Aviram et al., 2018; Henzler-Wildman et al., 2007; Iljina et al., 2020; Lerner et al., 2018b; Sanabria et al., 2020; Tassis et al., 2020).
SmFRET measurements are typically performed using two approaches: with surface-immobilized molecules using total internal reflection fluorescence microscopy (TIRFM) and camera-based detection, or with freely diffusing molecules in solution using confocal microscopy and point detectors. Experimental systems are available commercially but are typically home-built. Samples are prepared and the data collected using lab-specific protocols, where data are stored in a variety of file formats and analyzed using an array of increasingly powerful software. For the field in general and for structural studies in particular, it is important to demonstrate that smFRET, as a method, is reproducible and reliable regardless of where and how the sample is measured. To this end, in an effort led by Thorsten Hugel, twenty laboratories joined in measuring smFRET on several dsDNA constructs (Hellenkamp et al., 2018a). Studying six distinct samples with different dyes and varying inter-dye distances, the mean FRET efficiencies obtained by the participating labs exhibited a surprisingly high degree of agreement (a between 0.02 and 0.05 depending on the details of the sample). The quantitative assessment and reproducibility of the intensity-based smFRET measurements and discussions about data analysis was an important milestone. These dsDNA FRET standards are now available for every day calibration and are especially useful for new groups joining the community.
Encouraged by the insights gained in the above-mentioned FRET endeavor (Hellenkamp et al., 2018a), new multi-lab blind studies have been initiated. The next comparative FRET study, led by Thorben Cordes, investigates the robustness and reliability of smFRET experiments on proteins undergoing ligand-induced conformational changes (Gebhardt et al., in preparation). This study uses two distinct model proteins to assess the reproducibility and accuracy of protein-based smFRET for inter-dye distance determination measurements. Protein systems bring new challenges, including statistical dye labeling, site-specific dye properties, protein stability, shipping, storage and conformational dynamics. Hence, the study also assesses the ability of smFRET to discover and quantify dynamics on different timescales from microseconds to seconds. Another FRET challenge, initiated by Sonja Schmid, is the kinSoftChallenge (http://www.kinsoftchallenge.com, Götz et al., in preparation), which evaluates existing tools for extracting kinetic information from single-molecule time trajectories. This challenge aims to: (1) demonstrate the ability of smFRET-based kinetic analyses to accurately infer dynamic information and (2) provide the community with the means of evaluating the different available software tools.
One important outcome of the various multi-lab FRET studies was that, although the agreement was good, it could be improved even further. In particular, the data analysis, and specifically corrections, can have an impact on the determined FRET efficiencies and resulting distances. Hence, an open discussion regarding which approaches work most reliably under what conditions is necessary. Access to the primary data and the ability to process them with various analysis approaches is, and will remain, the most transparent way to move the field forward. Currently, this is difficult given the many variations in methods employed, their documentation, file formats and experimental procedures implemented across laboratories establishing the optimal conditions, workflow and best practices even for existing, well-tested methods is challenging since a comparison of these methods is time-consuming and the necessary information is, in many cases, not available. With the increase in open scientific practices and submission of published data to repositories, a consensus is needed regarding what data and metadata should be stored and in which possible formats so that it can be readily utilized by the community.
Due to these considerations and the many opportunities for growth of the smFRET community, several laboratories with expertise in FRET, without pretension to be exhaustive or exclusive, have gathered to endorse these efforts and propose steps to organize the community around consistent and open-science practices. This action translates into general methodological recommendations or suggestions, which we introduce following the typical workflow of a smFRET experiment, including sample preparation and characterization, setup description, data acquisition and preservation, and data analysis. These recommendations on how to 'practice' smFRET are not an attempt to regiment the community but rather an initial suggestion that aims at encouraging an open dialog about existing practices in our field and leads to higher reproducibility in the results from smFRET experiments. We then discuss open science practices as well as the first steps that have been taken to form an international FRET community. We end with highlighting a few of the areas where we see smFRET making a big impact in various scientific fields in the near future.
State of the art of single-molecule FRET experiments
Within the FRET community, considerable know-how and expertise exists for the design, measurement and analysis of FRET experiments. In this section of the paper, we:
review the workflow of smFRET experiments,

discuss practical problems and potential pitfalls,

provide recommendations for good practice, and

list key scientific challenges that the field faces.
In the following, we consider each of these four aspects at every step of the smFRET workflow, from the choice of instrumentation all the way to the generation of structural and dynamic models.
One of the cornerstones of the scientific method is the ability to reproduce experimental results. As experiments become more sophisticated, a clear description of the experiments is crucial. Recent trends toward Open Science practices call for full transparency of the scientific process, as has been formulated in the FAIR principle that data should be 'Findable, Accessible, Interoperable, and Re-usable' (Wilkinson et al., 2016). To this end, the procedures taken to acquire, analyze, and interpret experimental data should be provided. That includes describing each step, the reasons for taking the step and the information associated with the step. To ensure that the analysis remains transparent and tractable, code should generally be openly available and all parameters and settings used in the analysis should be stored.
Funding agencies embracing this philosophy (e.g., https://datascience.nih.gov/strategicplan) expect grantees to publish in open-access (OA) journals (and pay for the corresponding OA fees) or deposit manuscripts on preprint servers (e.g., Pubmed Central, arXiv, bioRxiv, ChemRxiv, medRxiv), and deposit data (sometimes also raw data) in repositories (e.g., Zenodo, the Dryad Digital Repository, FigShare) as well as analyses codes (e.g., GitHub). Open science disseminates knowledge by freely sharing results and the tools developed by independent scientists or teams working as part of a collaborative network. We would like to see the FRET community embrace and be committed to open science. Some tools are already in place, while others still need to be developed to make it easier to communicate the continuously growing knowledge and experience present in the FRET community.
Community actions to bring FRET scientists together
To better achieve a consensus on the current and the future directions of the smFRET community, an open forum is needed where the current issues, needs, and desires could be discussed. We propose the following tools to organize the community around standardization efforts and open science practices. Some of these tools have already been put in place.
Community website as a central hub
A website for the FRET community has been established at https://www.fret.community. The community is open to everybody and registered members can populate their user profiles with additional information such as a description of their scientific interests or a list of key-publications. Besides providing regular updates on the activities within the community, the website also provides resources such as a curated list of software packages (see Table 1) and offers a discussion platform through an integrated forum. The website serves as a platform for ongoing discussions, announcements of accepted relevant papers, notifications about upcoming meetings, workshops, competitions and other activities that might be relevant to the community. An advisory board, elected by the community, moderates the website. One can also envision adding an educational section, much like the popular website for general microscopy education (https://micro.magnet.fsu.edu).
To facilitate the dissemination of important information to the FRET community, an electronic mailing list (Listserv) has been established. In order to subscribe to it, smFRET practitioners are requested to register (free of charge) using the following link: https://www.fret.community/register. The members will be informed through the email list about ongoing activities and developments within the community, such as experimental or computational challenges, key publications in the fields, and workshops or meetings.
A repository will be established, which will be accessible through the community website, to host a collection of software packages and facilitate the community-driven joint development of analysis tools. The repository will contain dedicated sections for acquisition software, raw data, analysis codes, analyzed data files, and file conversion utilities. In order to deposit code in the repository, guidelines for the required documentation will be provided.
The concept of the repository is to support open science and transparency. Anyone registered on the website will be able to access raw data, and analyze and compare performances of the various analysis codes. Moreover, the codes can be updated and expanded (while keeping original versions) by anyone. In this way, improvements and enhancements can be implemented and tested. In that context, it is important to mention that such a repository can also serve the purpose of source data deposition, nowadays required by many scientific journals.
Participation in CASP(-like) competitions
Critical Assessment of protein Structure Prediction (CASP, http://predictioncenter.org/) is a grass-roots effort for predicting a three-dimensional protein structure from its amino acid sequence. CASP has been run, since 1994, as a double-blind competition. It provides research groups with an opportunity to test their structure prediction methods objectively. CASP has been exploring modeling methods based, in part, on sparse experimental data, including data from SAXS, NMR, crosslinking, and FRET. This integrative CASP experiment was highlighted at the recent CASP13 meeting (http://www.predictioncenter.org/), where the carbohydrate-binding module (CBM56) of a β−1,3-glucanase from Bacillus circulans with 184 amino acids (18.9 kDa) was studied as the first FRET data-assisted target F0964. In CASP14, the single-model protein structure prediction by the artificial intelligence (AI) network AlphaFold2, which was developed by Google's AI offshoot DeepMind (https://deepmind.com), has approached perfection (Callaway, 2020). This deep-learning program combines the evolutionary information from multiple sequence alignments with structural information from the PDB for computing 3D structural models of a protein from its amino-acid sequence.
However, one has to be aware that many proteins do not only adopt their thermodynamically most stable conformation but frequently exist as ensembles of conformations that have high functional relevance. Thus, mapping dynamic ensembles represents the subsequent challenge of structural biology for the next decades. Due to their high time-resolution, smFRET-studies and integrative modeling can contribute a lot to solving this problem. We propose that members of the smFRET community who are interested in using smFRET for integrative structural biology participate in the CASP competition. Involvement could progress in several stages: (1) Predicting single- and multi-state structural models: the smFRET community will only submit distances that will be evaluated with respect to the known (but undisclosed) crystal structure(s). (2) Predicting ensembles as in the case of CBM56: for targets that are identified as difficult by the predictors and for which multiple possible folds are submitted without a clear winner, a FRET-assisted round could be insightful where the FRET distances distributions can be used as an experimental 'ground truth' for checking whether multiple conformations in an exchange are present.
These recommendations apply mostly to present and future practitioners of smFRET-driven integrative modeling. That being said, smFRET is one of many biophysical techniques that can provide experimental restraints in integrative modeling (XL-MS, single-particle cryoEM, NMR, SAXS). Therefore, we propose that, at a later stage, an all-biophysics integrative structural biology competition be established.
Several gatherings of FRET practitioners at the Annual Biophysical Society Meetings, supported by the Biological Fluorescence subgroup, provided a platform for planning future activities and establishing the FRET community. As further joint actions, satellite meetings to the Conference on Methods and Applications in Fluorescence (MAF) have been organized to discuss practices, standards, competitions, and joint publications. We envision an occasional dedicated meeting for the smFRET community, such as the Bunsen meetings on FRET held in 2011 and the international discussion meeting in 2016 at the Max Planck Institute for Biophysical Chemistry in Göttingen, Germany (http://fret.uni-duesseldorf.de/cms/home.html). However, to open these meetings to smFRET practitioners outside of Europe, we propose to rotate the venue among continents. We also suggest using the satellite meetings and workshops to disseminate information (details of accurate FRET measurements, common practices, standards and competitions) and to give newcomers the chance to interact with the experienced researchers in the field.
Inspired by the online seminars emerging in response to the COVID-19 pandemic, smFRET webinars and web conferences open to all should be pursued. They provide FRET researchers the unique opportunity to attend and socialize virtually and would be a forum for good scientific practice of open science for the FRET community.
Special issues in journals
To further stimulate newcomers to engage in advanced smFRET experiments, the FRET community could benefit by hosting special issues in journals dedicated to data analyses (e.g., Data in Brief, Methods in Molecular Biology, or Nature Protocols). Here, various laboratories can describe typical datasets or protocols for the methods they have developed. Also, journals disseminating methodologies and protocols from A-to-Z via video recordings could be useful. For example, there is a special issue focusing on FRET planned in the Journal of Visualized Experiments (https://www.jove.com/methods-collections/682).
With improved communication and dissemination within the FRET community and agreement on the standard information required for depositing FRET-based or integrative structural data, smFRET will be better positioned to impact the expanding field of dynamic structural biology. We expect integrated approaches such as combining smFRET with NMR (Aznauryan et al., 2016; Liu et al., 2018; Milles et al., 2015; Sottini et al., 2020; Tsytlonok et al., 2019; Voith von Voithenberg et al., 2016), EPR (Boura et al., 2011; Masliah et al., 2018; Peter et al., 2020; Peulen et al., 2020; Sanabria et al., 2020; Vöpel et al., 2014), cross-linking mass spectrometry (Calabrese et al., 2020; Liu et al., 2018; Tyagi and Lemke, 2015), hydrogen/deuterium exchange (Calabrese et al., 2020; Liu et al., 2018; Munro and Lee, 2018), and/or MD simulations (see section Structural modeling and below) will have a big impact in the future.
One example of a major area of interest that is profiting from these developments is the study of intrinsically disordered proteins using smFRET experiments (Gomes and Gradinaru, 2017; Gomes et al., 2020; LeBlanc et al., 2018; Lee et al., 2018; Metskas and Rhoades, 2020; Nasir et al., 2020; Schuler et al., 2016). The dynamic nature of these proteins and their interactions play major roles in numerous cellular processes, including the formation of membrane-less intracellular biomolecular condensates, a new paradigm that presents huge challenges for traditional tools of structural biology (Banani et al., 2017; Choi et al., 2020; van der Lee et al., 2014; Wright and Dyson, 2015). Many IDPs undergo large folding transitions in conjunction with binding to partners, while others remain disordered upon complex formation (Schuler et al., 2020; Wang and Wang, 2019; Wu et al., 2017). SmFRET studies of these systems began more than a decade ago and have tackled increasingly complex systems using more advanced methods, including three-color smFRET or complex labeling schemes (Borgia et al., 2018; Kim and Chung, 2020; Lee et al., 2018; Metskas and Rhoades, 2020; Milles et al., 2015; Nasir et al., 2019; Schuler et al., 2016; Yoo et al., 2020). A recent study that combined smFRET, NMR, and MD simulations to investigate the interaction of H1 with ProTα is highlighted in Figure 9 (Borgia et al., 2018).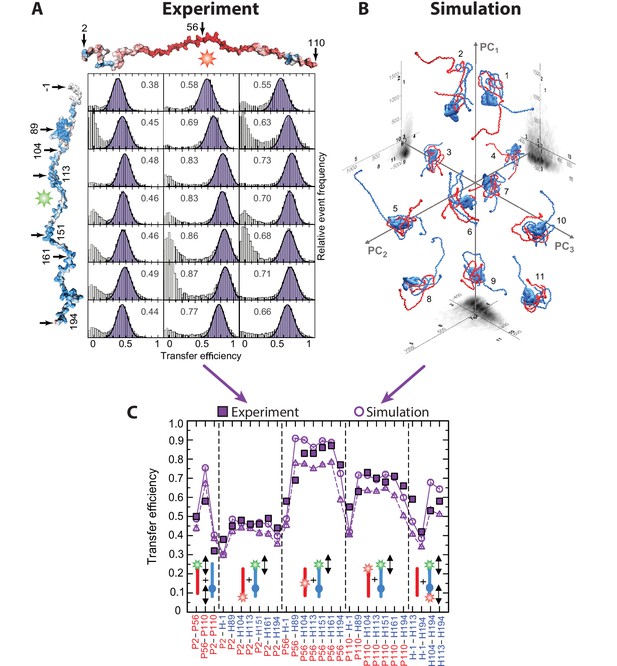 Studies of IDPs are even more challenging in heterogeneous environments such as phase-separated mesoscale structures (e.g., membrane-less organelles) or cells (Nasir et al., 2019). Here, the strengths of smFRET would be especially valuable, while the field, at the same time, will benefit from the methodological developments. The ultimate goal is to combine both the structural and dynamic information in order to reduce the ambiguity in the underlying structures of conformational states and to gain detailed information on kinetic pathways between the associated states.
Although we have focused mostly on kinetic studies, smFRET-based structure determination and structural dynamics in this paper, there are a myriad of other new exciting directions where smFRET will have future impact. A detailed description of the various possibilities is beyond the scope of this report, but it is worth mentioning a few of them below.
In this article, we have summarized current perspectives on the status of the smFRET field, limitations that still need to be overcome, and joint efforts towards the adoption of consistent methodologies and open-science practices. While this article encourages a discussion regarding optimal smFRET practices, it is important to remember that, as scientists, we should value independence of thought and creativity. Hence, our recommendations should be taken as constructive suggestions, and it is important to realize that many biological questions can be answered using multiple approaches. On the one hand, the reproducibility and reliability of smFRET measurements are currently limited by the variety of approaches taken to calculate the FRET efficiency and the resulting inter-dye distance. Combining years of experience from various experts in an open discussion can help us, as a community, to improve the methodology and overcome many of its challenges. On the other hand, it is important to be open to new ideas and approaches. Here is where open scientific practices can help the community to quickly exchange data and analysis approaches to test new ideas. Such a community effort is necessary to consolidate the role of smFRET as a useful tool in various fields and to jointly move the field forward. Our hope is that these efforts will benefit not only the smFRET community, but also the structural biology community and science in general.
Book

The bh TCSPC Handbook, Eighth Edition

Becker & Hickl GmbH.