Mutations: A larger target leads to faster evolution
The speed at which a cell fate decision in nematode worms evolves is due to the number of genes that control the decision, rather than to a high mutation rate.
Evolution is a two-step process: first, variation is generated, for example through random mutations; and then events such as natural selection determine whether specific traits become more or less common in a population. Some traits evolve faster than others, and different explanations for this emphasize the relative importance of one or the other of the two steps. For example, a fast-evolving trait could be under sustained and intense selection pressure, so that when a favorable new variant arises, it quickly spreads throughout the population. Alternatively, mutations might affect certain traits more than others, leading to more variation in these traits. Since variation is the fuel of evolution, this could make the affected traits change faster.
At the molecular level, two mechanisms can bias which traits are more likely to be affected by mutations. On one hand, the genes that affect a particular trait could be located in genomic areas with high mutation rates, known as 'mutational hotspots' (Fondon and Garner, 2004; Xie et al., 2019); on the other, a phenotype could depend on a large number genes, increasing the 'mutational target size' (Boyle et al., 2017).
Caenorhabditis elegans and C. briggsae worms have two sexes – males, which are very rare, and hermaphrodites. In hermaphrodites, the cell divisions and fate decisions that occur during development are nearly identical for individuals within a species. However, a cell called P3.p, which is involved in the development of the vulva, sometimes divides and sometimes does not, even among worms with the same genome (Sulston and Horvitz, 1977). A decade ago Marie-Anne Félix and colleagues reported that the frequency of this binary decision evolves more quickly than the cell fate decisions made by other early vulval cells, and that this fast evolution was probably due more to mutational biases – either hotspots or large target size – than selection effects (Braendle et al., 2010). Now, in eLife, Fabrice Besnard, Joao Picao-Osorio, Clément Dubois and Félix – who are based at laboratories in Lyon and Paris – report that this mutational bias is caused by a large mutational target size (Besnard et al., 2020).
To show this, Besnard et al. used mutation accumulation lines of either C. elegans or the closely related C. briggsae. These lines started from the offspring of a single individual and were bred in parallel. All of the lines were inbred: in each line a single selfing hermaphrodite was the parent of the next generation. This meant that if the parent had a new mutation, there would be a good chance that its offspring would inherit it. In this environment, the effects of natural selection were minimized because the only requirement for a line to endure was that a single hermaphrodite from that line survived and reproduced. After many generations, each line accumulated its own constellation of new mutations. Since the lines all started out genetically identical and selection was minimal, any differences in traits between the lines were be due to the different mutations.
The mutation accumulation lines used in these experiments were evolved for 250 generations (Baer et al., 2005), after which Besnard et al. chose to look at five lines in which the P3.p cell fate changed the most. By combining genomic sequencing and gene modification through CRISPR technology, they identified one gene in each line that was responsible for the change and showed that: (i) none of the genes are in a mutational hotspot in the genome; and (ii) only one of these genes was known to have a role specifically in vulval development. This suggests that the mutational target for P3.p cell fate is much broader than previously thought (Figure 1).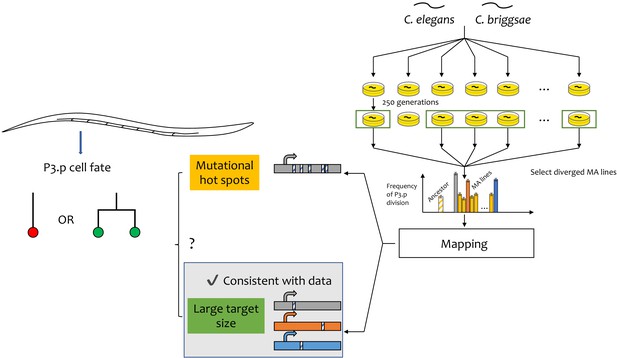 This broad mutational target is consistent with many genome-wide association studies and genetic mapping studies (Manolio et al., 2009; Shi et al., 2016). These experiments suggest that trait evolution tends not to be caused by one or two mutations with very large effects: rather, tens (or even hundreds) of genes carrying mutations with small effects seem to be responsible. These previous studies also suggest, rather unexpectedly, that a large fraction of the genes that underlie trait variation often have very little or no previously known functional relationships to the traits, and this is also the case in the work of Besnard et al. Therefore, there is a discrepancy between genetic pathways that have been described in the last century as being responsible for specific traits and the genes whose variation apparently fuels evolution.
The use of Caenorhabditis species in this work reinforces the power of this model system in research on developmental and evolutionary biology. Because so much is known about worm cell fates, Besnard et al. were able to go beyond identifying genes and pose testable hypotheses for why this particular cell was more variable than other vulval precursors. For example, they point out that the P3.p cell is at the far end of a gradient of cell fate-inducing molecules that are secreted from the tail end of the animal. The Félix lab previously showed that P3.p cell division is much more sensitive to variations in the dose of these molecules than cells closer to the source of the gradient (Pénigault and Félix, 2011). This suggests that the decision by P3.p to divide or not operates close to a concentration threshold for these molecules. This in turn means that mutations with small effects on the shape of the gradient, or on the responsiveness of P3.p to the molecules, could have large effects on the fate of the P3.p cell.
Developmental processes are responsible for generating the effects of many mutations. Therefore, to fully understand how mutations influence evolution, we must first understand the developmental context in which they occur.
Article and author information
Author details
© 2020, Yang and Rifkin
This article is distributed under the terms of the Creative Commons Attribution License, which permits unrestricted use and redistribution provided that the original author and source are credited.
1,701

Page views

94

Downloads

0

Citations
Article citation count generated by polling the highest count across the following sources: Crossref, PubMed Central, Scopus.
A two-part list of links to download the article, or parts of the article, in various formats.
Downloads
(link to download the article as PDF)
Open citations
(links to open the citations from this article in various online reference manager services)
Cite this article
(links to download the citations from this article in formats compatible with various reference manager tools)
Bing Yang
Scott A Rifkin
Mutations: A larger target leads to faster evolution
eLife 9:e62689.
https://doi.org/10.7554/eLife.62689
Further reading
Evolutionary Biology
Genetics and Genomics

The rapid evolution of a trait in a clade of organisms can be explained by the sustained action of natural selection or by a high mutational variance, that is the propensity to change under spontaneous mutation. The causes for a high mutational variance are still elusive. In some cases, fast evolution depends on the high mutation rate of one or few loci with short tandem repeats. Here, we report on the fastest evolving cell fate among vulva precursor cells in Caenorhabditis nematodes, that of P3.p. We identify and validate causal mutations underlying P3.p's high mutational variance. We find that these positions do not present any characteristics of a high mutation rate, are scattered across the genome and the corresponding genes belong to distinct biological pathways. Our data indicate that a broad mutational target size is the cause of the high mutational variance and of the corresponding fast phenotypic evolutionary rate.

Vertebrate limb morphology often reflects the environment due to variation in locomotor requirements. However, proximal and distal limb segments may evolve differently from one another, reflecting an anatomical gradient of functional specialization that has been suggested to be impacted by the timing of development. Here we explore whether the temporal sequence of bone condensation predicts variation in the capacity of evolution to generate morphological diversity in proximal and distal forelimb segments across more than 600 species of mammals. Distal elements not only exhibit greater shape diversity, but also show stronger within-element integration and, on average, faster evolutionary responses than intermediate and upper limb segments. Results are consistent with the hypothesis that late developing distal bones display greater morphological variation than more proximal limb elements. However, the higher integration observed within the autopod deviates from such developmental predictions, suggesting that functional specialization plays an important role in driving within-element covariation. Proximal and distal limb segments also show different macroevolutionary patterns, albeit not showing a perfect proximo-distal gradient. The high disparity of the mammalian autopod, reported here, is consistent with the higher potential of development to generate variation in more distal limb structures, as well as functional specialization of the distal elements.

Developmental Biology
Evolutionary Biology

We have focused on the mushroom bodies (MB) of Drosophila to determine how the larval circuits are formed and then transformed into those of the adult at metamorphosis. The adult MB has a core of thousands of Kenyon neurons; axons of the early-born g class form a medial lobe and those from later-born a'b' and ab classes form both medial and vertical lobes. The larva, however, hatches with only g neurons and forms a vertical lobe 'facsimile' using larval-specific axon branches from its g neurons. Computations by the MB involves MB input (MBINs) and output (MBONs) neurons that divide the lobes into discrete compartments. The larva has 10 such compartments while the adult MB has 16. We determined the fates of 28 of the 32 types of MBONs and MBINs that define the 10 larval compartments. Seven larval compartments are eventually incorporated into the adult MB; four of their larval MBINs die, while 12 MBINs/MBONs continue into the adult MB although with some compartment shifting. The remaining three larval compartments are larval specific, and their MBIN/MBONs trans-differentiate at metamorphosis, leaving the MB and joining other adult brain circuits. With the loss of the larval vertical lobe facsimile, the adult vertical lobes, are made de novo at metamorphosis, and their MBONs/MBINs are recruited from the pool of adult-specific cells. The combination of cell death, compartment shifting, trans-differentiation, and recruitment of new neurons result in no larval MBIN-MBON connections persisting through metamorphosis. At this simple level, then, we find no anatomical substrate for a memory trace persisting from larva to adult. For the neurons that trans-differentiate, our data suggest that their adult phenotypes are in line with their evolutionarily ancestral roles while their larval phenotypes are derived adaptations for the larval stage. These cells arise primarily within lineages that also produce permanent MBINs and MBONs, suggesting that larval specifying factors may allow information related to birth-order or sibling identity to be interpreted in a modified manner in these neurons to cause them to adopt a modified, larval phenotype. The loss of such factors at metamorphosis, though, would then allow these cells to adopt their ancestral phenotype in the adult system.