Telomeres: Change and HOAP for the best
HOAP is a telomere-binding protein that has a conserved role in Drosophila, but it also needs to evolve quickly to restrict telomeric retrotransposons.
Telomeres are specialized structures that 'cap' and protect the ends of linear chromosomes. They allow the cell to distinguish the ends of chromosomes from abnormal double-stranded breaks, and they protect the genetic information from being lost after replication (Barbero Barcenilla and Shippen, 2019). Losing telomeres leads to harmful anomalies, such as chromosomes fusing together: these structures are therefore conserved in all organisms with linear chromosomes, including (but not limited to) all animals, plants, insects and fungi (de Lange, 2018).
Telomeres are formed of dedicated protein complexes and sequences of repetitive DNA elements; these are tightly compacted into heterochromatin and therefore more difficult to transcribe. In Drosophila species, telomeres consist of a specialized type of genetic elements known as the HTT-array, which is then capped with a terminin complex that includes the proteins HOAP and HipHop (Casacuberta, 2017; Pardue and DeBaryshe, 2008). In fact, loss of terminin is lethal at the embryonic stage due to catastrophic chromosome fusions (Cenci et al., 2003; Mlotshwa et al., 2010). In addition, the DNA in Drosophila telomeres is wrapped around proteins decorated with a specific mark recognized by Heterochromatin Protein 1 (HP1 for short) to ensure that they remain in their compacted form. HP1 is also part of the telomere cap, as it directly interacts with HOAP and HipHop.
The HTT-array consists of 'parasitic' DNA sequences known as retrotransposons, which, when transcribed, can ultimately 'copy and paste' themselves into different regions in the genome. This ability plays a key role in lengthening and maintaining telomeres, as HTTs typically get inserted at chromosome-ends (Casacuberta, 2017), but they can also cause genome instability if these sequences replicate without control. Remarkably, when expressed, some HTT transcripts are processed into small RNAs that direct a silencing complex known as piRISC, which severs HTT transcripts, limiting their expression (Akkouche et al., 2017). In addition, piRISC guides the deposition of the genetic marks that help recruit HP1 and compact chromatin, also reducing the transcription of the retrotransposons (Sato and Siomi, 2018). In fact, loss of heterochromatin results in over-proliferation of retrotransposons and telomere deregulation (Akkouche et al., 2017; Khurana et al., 2010; Perrini et al., 2004; Radion et al., 2018).
Given the critical role of telomeres, it is intriguing that flies have evolved a protective mechanism that involves parasitic elements and factors like HOAP and HipHop, which are two of the fastest evolving proteins in Drosophila (Saint-Leandre and Levine, 2020). How can conserved functions be fulfilled by an ever-changing molecular machinery? Now, in eLife, Bastien Saint-Leandre, Courtney Christopher and Mia Levine, from the University of Pennsylvania, report that HOAP performs more than one function, which is why it needs to evolve fast (Saint-Leandre et al., 2020).
First, Saint-Leandre et al. analyzed the sequences of the cav gene, which encodes HOAP, in different Drosophila species. This revealed that advantageous mutations of the protein were being selected for, a hallmark of adaptive evolution. CRISPR/Cas9 technology was harnessed to generate mutant D. melanogaster flies with the gene from another Drosophila species, D. yakuba; D. melanogaster flies with a tagged version of the native HOAP (HOAP[mel]) served as a control. Flies expressing the D. yakuba version of HOAP (HOAP[yak]) were viable, confirming that the essential role of HOAP was conserved between species despite the two proteins having diverging sequences.
Next, Saint-Leandre et al. followed the phenotypes of telomeres in the engineered D. melanogaster flies expressing HOAP[yak] through fifty generations. This revealed that, in D. melanogaster, both versions of the HOAP protein protected telomere ends, but only HOAP[mel] regulated HTT expression and telomere length. The telomeres in flies carrying the D. yakuba variant did not have the genetic marks recognized by HP1 and recruited much less of this protein. Additionally, these insects accumulated less piRISC, despite the expression of the HTT-array being upregulated (Figure 1). This observation is consistent with previous studies showing that depleting telomeres of piRISC produces abnormal telomeric chromatin (Akkouche et al., 2017; Radion et al., 2018). Strikingly, HTT overexpression in flies expressing HOAP[yak] resulted in the array inserting itself outside telomeres, potentially disrupting essential genes. Indeed, these females produced fewer progeny over their lifetime than those expressing the native HOAP[mel]. This fitness cost is consistent with catastrophic genome damage.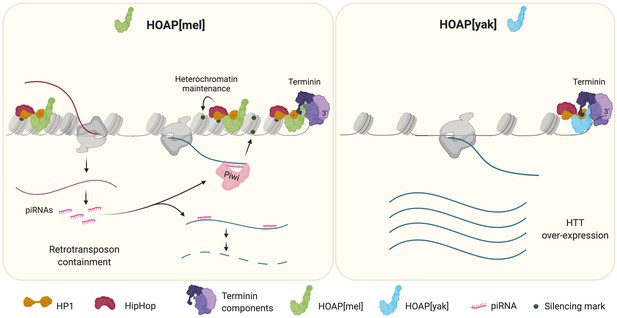 These results show that telomere-capping and HTT regulation are two independent functions converging in HOAP, and that while telomere-capping is essential and must be conserved, HTT regulation is not. Coupled with evidence that the D. melanogaster and D. yakuba genes have undergone adaptive evolution since their divergence, this indicates that it is HOAP's role in regulating the HTT-array that requires fast evolution. This is potentially in response to the HTT-array constantly adapting to escape control.
The work by Saint-Leandre et al. resolves the apparent paradox of a fast-evolving protein being responsible for an essential and strictly conserved role. It also predicts that HOAP, HipHop and HP1 participate in two independent complexes for telomere function: one which involves terminin and protects the ends of the chromosomes, and a second that demands constant innovation to contain the genetic parasitic elements that form telomeres. Understanding how retrotransposons are contained by this second complex and why females are more susceptible to dysregulation of HTT are two fascinating mysteries for future investigation.
Article and author information
Author details
© 2020, Castillo-González and Shippen
This article is distributed under the terms of the Creative Commons Attribution License, which permits unrestricted use and redistribution provided that the original author and source are credited.
423

Page views

51

Downloads

0

Citations
Article citation count generated by polling the highest count across the following sources: Crossref, PubMed Central, Scopus.
A two-part list of links to download the article, or parts of the article, in various formats.
Downloads
(link to download the article as PDF)
Open citations
(links to open the citations from this article in various online reference manager services)
Cite this article
(links to download the citations from this article in formats compatible with various reference manager tools)
Claudia Castillo-González
Dorothy E Shippen
Telomeres: Change and HOAP for the best
eLife 9:e64945.
https://doi.org/10.7554/eLife.64945
Further reading
Essential, conserved cellular processes depend not only on essential, strictly conserved proteins but also on essential proteins that evolve rapidly. To probe this poorly understood paradox, we exploited the rapidly evolving Drosophila telomere-binding protein, cav/HOAP, which protects chromosomes from lethal end-to-end fusions. We replaced the D. melanogaster HOAP with a highly diverged version from its close relative, D. yakuba. The D. yakuba HOAP ('HOAP[yak]') localizes to D. melanogaster telomeres and protects D. melanogaster chromosomes from fusions. However, HOAP[yak] fails to rescue a previously uncharacterized HOAP function: silencing of the specialized telomeric retrotransposons that, instead of telomerase, maintain chromosome length in Drosophila. Whole genome sequencing and cytogenetics of experimentally evolved populations revealed that HOAP[yak] triggers telomeric retrotransposon proliferation, resulting in aberrantly long telomeres. This evolution-generated, separation-of-function allele resolves the paradoxical observation that a fast-evolving essential gene directs an essential, strictly conserved function: telomeric retrotransposon containment, not end-protection, requires evolutionary innovation at HOAP.

As an adapting population traverses the fitness landscape, its local neighborhood (i.e., the collection of fitness effects of single-step mutations) can change shape because of interactions with mutations acquired during evolution. These changes to the distribution of fitness effects can affect both the rate of adaptation and the accumulation of deleterious mutations. However, while numerous models of fitness landscapes have been proposed in the literature, empirical data on how this distribution changes during evolution remains limited. In this study, we directly measure how the fitness landscape neighborhood changes during laboratory adaptation. Using a barcode-based mutagenesis system, we measure the fitness effects of 91 specific gene disruption mutations in genetic backgrounds spanning 8000–10,000 generations of evolution in two constant environments. We find that the mean of the distribution of fitness effects decreases in one environment, indicating a reduction in mutational robustness, but does not change in the other. We show that these distribution-level patterns result from differences in the relative frequency of certain patterns of epistasis at the level of individual mutations, including fitness-correlated and idiosyncratic epistasis.

Evolutionary Biology

Genetics and Genomics

Despite decades of research, knowledge about the genes that are important for development and function of the mammalian eye and are involved in human eye disorders remains incomplete. During mammalian evolution, mammals that naturally exhibit poor vision or regressive eye phenotypes have independently lost many eye-related genes. This provides an opportunity to predict novel eye-related genes based on specific evolutionary gene loss signatures. Building on these observations, we performed a genome-wide screen across 49 mammals for functionally uncharacterized genes that are preferentially lost in species exhibiting lower visual acuity values. The screen uncovered several genes, including SERPINE3, a putative serine proteinase inhibitor. A detailed investigation of 381 additional mammals revealed that SERPINE3 is independently lost in 18 lineages that typically do not primarily rely on vision, predicting a vision-related function for this gene. To test this, we show that SERPINE3 has the highest expression in eyes of zebrafish and mouse. In the zebrafish retina, serpine3 is expressed in Müller glia cells, a cell type essential for survival and maintenance of the retina. A CRISPR-mediated knockout of serpine3 in zebrafish resulted in alterations in eye shape and defects in retinal layering. Furthermore, two human polymorphisms that are in linkage with SERPINE3 are associated with eye-related traits. Together, these results suggest that SERPINE3 has a role in vertebrate eyes. More generally, by integrating comparative genomics with experiments in model organisms, we show that screens for specific phenotype-associated gene signatures can predict functions of uncharacterized genes.